100% Working Tutorial to Reduce JPEG Size on Windows, Mac and Mobile
There are many reasons why people need to compress JPEG images. First of all, though JPG is a compressed image format, some pictures are still too large to upload websites. Instagram, Facebook and other social networks have limit on the maximum of image file size. Moreover, it takes much longer time to share a large JPG image via Wi-Fi network. Plus, if you want to look at the pictures on smaller screen, such as iPhone and Android phone, compressed JPEG takes up little space and not impact visual experiences very much. Therefore, we are going to tell you how to perform JPEG compression on Windows, Mac and mobile devices in this tutorial.

Compress JPEG
Part 1: How to Compress and Resize JPEG Images and Photos Online
If search for jpg resizer in Google Search, you will get a very long list. It is true that there are many online services able to compress JPEG. The workflow is similar, ask you to upload a JPG or several JPG images, start resizing after upload, and finally you can download the smaller images on your hard drive. We use TinyJPG as the example to show you the detail.
Step 1 Type tinyjpg.com in the address bar of any browser to open the online jpeg resizer.
Step 2 Press the "down arrow" icon to upload all jpg images you want to compress, or drag and drop them into the dotted box. It is able to resize up to 20 images max 5MB each at one time.
Step 3 After uploaded, this online JPG resizer will compress the images automatically. When it finishes, click on "Download all" button to get the results offline. Or you can save them to Dropbox directly.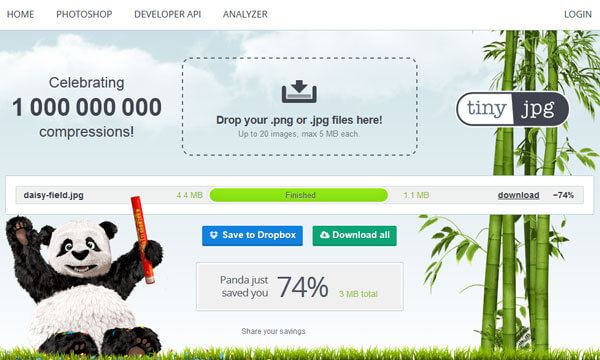 Part 2: How to Reduce Image File Size to Specified Size on Windows and Mac
As people increasingly worry about privacy leakage, online jpeg optimizers are apparently not the best option to handle private photos. On the other hand, online image compressors usually have limit on file size. Don't worry! You can get the best ways to reduce jpeg size on Windows and Mac.
How to reduce image file size to specified size on Windows
Windows Paint is a simple photo editor preinstalled on Windows 10/8/8.1/7/XP. And it is the easiest way to reduce JPEG size for Windows PC users.
Step 1 Locate to the JPG image you need to compress, right click on it and go to "Open with" > "Paint".
Step 2 After the image is opened in Windows Paint, click "Resize" in "Image" area on top ribbon. This will open the Resize window.
Step 3 Check the box next to "Maintain aspect ratio", select "Percentage" and change the value in "Horizontal" box, then "Vertical" value will be reset automatically.
Step 4 Click the "OK" button to confirm it, and then go to "File" > "Save As" and export the smaller image as JPEG.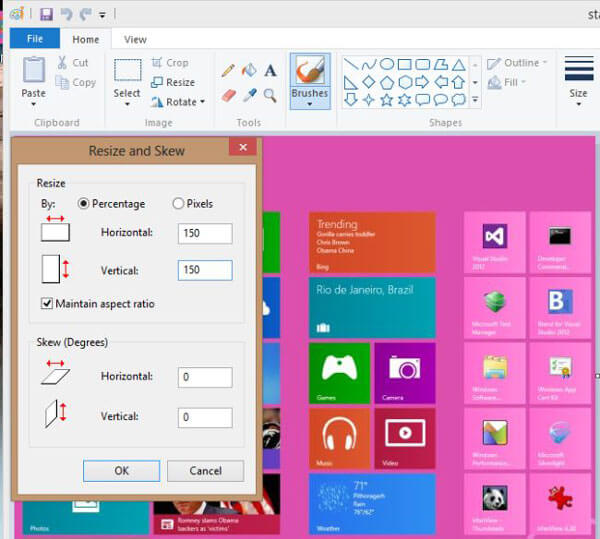 How to reduce image file size to specified size on Mac
Preview is a preinstalled utility on Mac. It is not only a file viewer and picture editor, but also a jpeg resizer.
Step 1 Open your JPEG image in Preview. You can find the Preview utility in your Applications folder.
Step 2 Head to the "Tools" menu on the top of the window, and select "Adjust Size" option to open the Resize dialog.
Step 3 Firstly, the "Fit into" dropdown menu offers several preset dimensions, and you can select a proper one. If you want to resize the picture manually, tick the checkboxes in front of "Scale proportionally" and "Resample image", then set up "Width" or "Height" as you wish. Then you can get the resulting size in at bottom of the window.
Step 4 Click "OK" button to confirm it and go back to main screen. In the end, go to "File" > "Save As" to save the result in JPEG. This will not overwrite the original JPEG.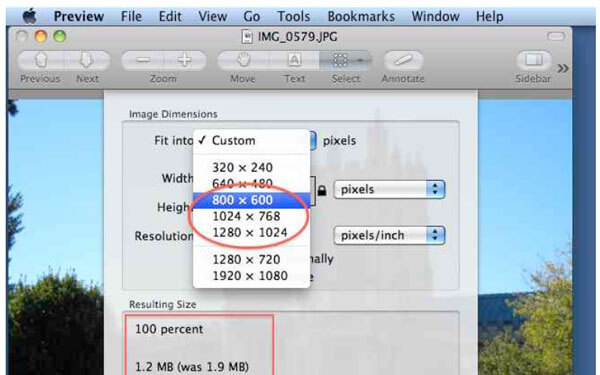 Part 3: How to Compress and Optimize JPG Photos on iPhone and Android
If you want to free up space on your iPhone or Android phone, photo resizer apps are proper tools able to compress JPEG photos quickly on mobile devices.
How to compress JPG photos on iPhone
Step 1 Search a JPEG optimizer app in App Store and install it on your iPhone, such as Photo Compress.
Step 2 Open the app from your home screen, permit it to visit your Camera Roll and import the large photos.
Step 3 When going into the setting screen, move the slider to adjust image size, tap "Preview" to look at the result. If you are satisfied with it, hit Continue to start reducing jpeg size.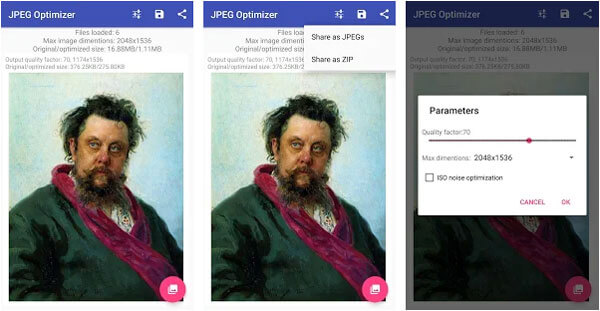 How to compress JPG pictures on Android
Step 1 The popular JPEG resizer in Android is Photo Compress 2.0. Open it after get it installed on your Android.
Step 2 Select a large image to compress from gallery and touch "Resize" to go to the Resize screen.
Step 3 Check the box of "Maintain aspect ratio", select "Percentage" or "Pixel" and drop proper values in "Width" and "Height". Once tap "Resize", your image will be compressed immediately.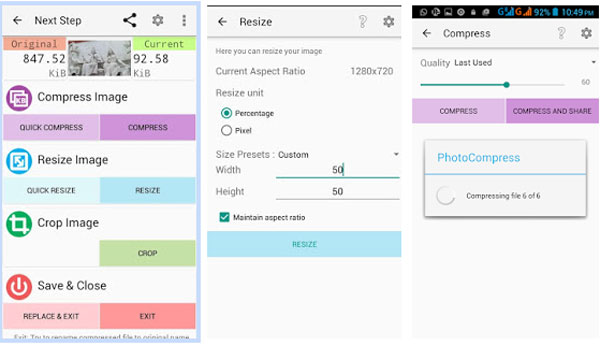 Recommendation: PDF Converter Ultimate (Convert PDF to JPG)
Aiseesoft PDF Converter Ultimate is a professional way to convert PDF to JPG.
Its benefits include:
1. Use advanced algorithm to optimize image quality while converting PDF to JPG.
2. Save multiple PDF files to images, editable document or other files at one time.
3. Extract a portion or certain pages from PDF and convert to images.
4. Offer a wider range of custom options, like set up the output image size or color.
5. Preview the results before converting.
6. Rely on OCR technology to accelerate the process.
7. Compatible with Windows and Mac.
Conclusion
In this tutorial, we have described how to compress JPEG images on Windows 10/8/7/XP, Mac OS, iPhone and Android. As you can see, there are many approaches to get smaller JPG images in order to share them quickly or free up space. Online JPEG optimizer is a portable option if you do not care about the downsides. Paint and Preview are built-in utilities on Windows and Mac able to reduce image size for free. On the other hand, we also told you the way to get smaller images via JPEG compression on mobile device.