How to Convert PDF to HTML with PDF to HTML Converter
Are you trying to find a way to read a PDF eBook on a device? PDF to ePub Converter will be a good choice for you to convert your PDFs to the popular ePub format, so that you can easily read them on any device.
PDF are a popular format of eBook. Now, ePub files are getting more and more popular. With the PDF to ePub Converter, you can quickly convert your PDF eBooks to ePub format. This article aims at showing you how to convert PDF eBooks to ePub online and on computer.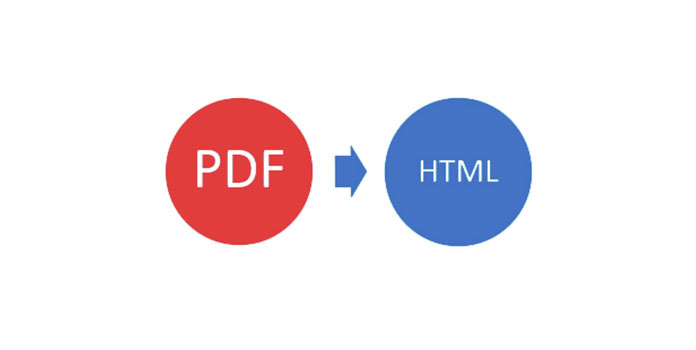 How do I take a large PDF, which has an index, linking to subsequent pages, into a similar thing in HTML, be it a single large HTML file with anchors and links, or several smaller HTML files, all linked to from the index file?"
-A guy asked in Adobe forum
Adobe Portable Document Format (PDF) is a great way to display documents that need to be printed, but might be too complex for a web page. Loading a PDF often causes the browser to "hang" while the PDF reader opens, and downloading a PDF often takes longer than viewing a web page because of the larger file size. Overuse of PDFs make web sites less friendly to visitors. Converting PDF to HTML page is an efficient solution to solve this problem.
So what is the best and quickest way to convert a PDF to HTML? The answer is: a PDF to HTML converter.
Aiseesoft PDF to HTML converter is such a professional yet easy to use PDF conversion application that helps you convert PDFs to HTML files while preserving font and formatting. With OCR technology, it even supports converting scanned PDF files to text-based HTML files. It supports converting more than one file at a time and allows you to convert all the PDF files or just the page or pages that you selected.
PDF Converter Ultimate
For Mac
Convert PDF files to HTML and editable Text, Microsoft Office 2007/2010/2013 Word (.docx)/Excel (.xlsx)/PowerPoint (.pptx), ePub, etc.
Change PDF files to images with output formats, including TIFF, JPEG, PNG, GIF, BMP, TGA, PPM and JPEG2000.
Support converting multilingual PDF files over 190 languages like English, French, or Chinese, artificial languages and programming languages, etc.
Extract the text out of images-based PDFs.
Import multiple PDF files and convert all of these PDF files to different output formats at one time.
Customize output files and improve the output effect, like the layout, text encoding, image format/resolution/size/color, etc.
1Download and install PDF to HTML Converter
Click the download button below to download Aiseesoft PDF converter Ultimate.
Install it on your computer and launch it. You will see the interface as below.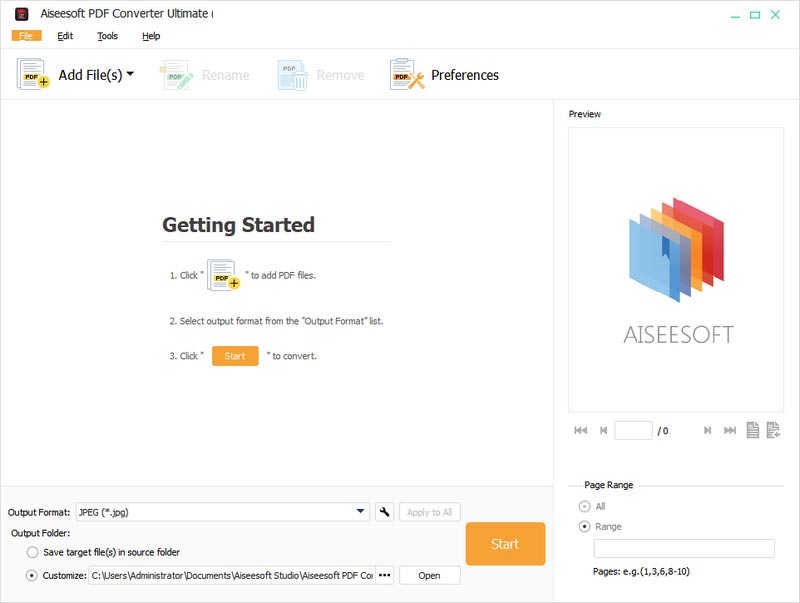 2Convert PDF to HTML page
As you see, it has a very user-friendly interface. Click "Add File(s)" button. Navigate to the PDF files you'd like to convert in the open window. Select them and click "Open" button. PDFs will be listed in the main panel. You can select the content you need to convert by specifying the pages at the right bottom of the interface. Click "PDF" button to start the PDF to HTML conversion. It will be complete quickly.
How to convert PDF to HTML online
If you are tired to download the software to convert PDF to HTML on your computer, then just try the online PDF to HTML converting tool.
Note: Online PDF converter will not guarantee you a high speed, and the private PDF files are not 100% safe.
There are various online PDF to HTML converters, and here we only take pdftohtml.net as the example.
1 Go to pdftohtml.net, click "UPLOAD" to import the PDF files from your computer. You are also allowed to drag and drop files directly. Definitely, you are capable of selecting files from Google Drive, OneDrive, and Dropbox.

2Download converted HTML file
After you uploading the PDF file, this online site will convert PDF to HTML automatically. So here, you just need to click "Free Download".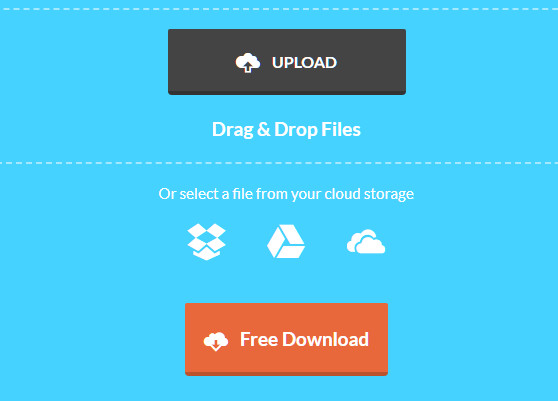 This online PDF to HTML converter requires no email and convert the native and scanned PDF files easily. More importantly, there are no limits on the number of files converted or the size.
This page is designed to show you 2 ways of converting PDF to HTML file. You can make PDF to HTML conversion on your computer quickly and safely. Surely, you are allowed to convert PDF to HTML online with the limit of speed and safety. Choose the better one way and start to make your PDF conversion now.