Believe It or Not, Here Are Much Simpler Ways to Convert BMP to PDF
Summary: Confused about how to convert BMP to PDF online or offline? For many people who do not want to pay money on those expensive BMP to PDF software, this post shows many tips and tricks, letting you efficiently make the conversion from BMP or Bitmap images to PDF.
What is a BMP File? BMP is the extension of Bitmap Image file. BMP file has raster graphics data. In other words, a BMP image can be viewed even when there is no graphics adapter. Bitmap image files can store two-dimensional digital images with both monochrome and color. Many Color Depths, alpha channels, color profiles and optional data compression are supported in this format. The BMP format is widely applied on Windows platform.
You may have the need to convert BMP to PDF for your iPhone or iPad. Here you have come to the right place. Are you looking forward to easier conversion without downloading or paying penny on any software? Let's show you how to convert BMP to PDF online or offline.
Convert BMP to PDF
Part 1. How to Convert BMP to PDF Online
1. online2pdf.com - A free amp; online BMP to PDF converting tool
URL: https://online2pdf.com/convert-bmp-to-pdf
The online BMP to PDF Converter can convert Bitmap files to PDF. In addition, the converter can be a flexible online PDF editor, providing many other features to merge, edit or unlock PDF files.
How to convert BMP to PDF in online2pdf.com
Step 1 Just click the "Select files" and choose the BMP images. And the output format is set to PDF (*.pdf).
Step 2 Then you are able to make settings on compression, view, layout, protection or header/footer.
Step 3 Finally, click the Convert button to start the BMP to PDF conversion.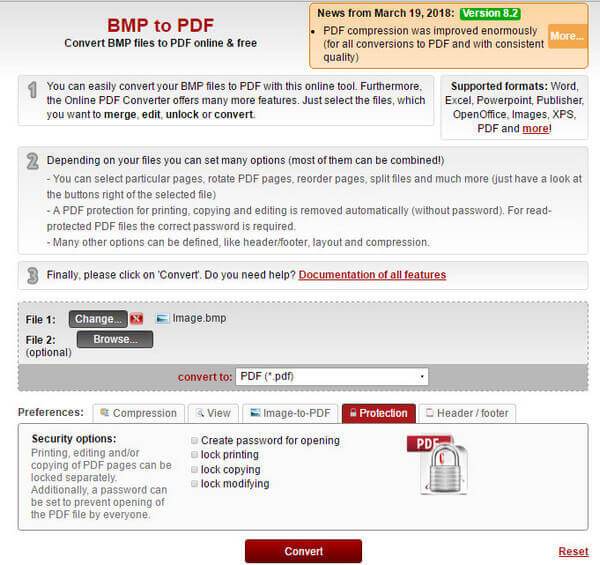 Pros:
Free and fast conversion.
More other files are supported like Word, Excel, PowerPoint, etc.
You can select particular pages, rotate PDF pages, reorder pages, and split files.
A PDF protection for printing, copying and editing is removed automatically (without password).
Many other options can be defined, like header/footer, layout and compression.
Cons:
The conversion speed will be affected if you have loaded large BMP files.
Many setting options might confuse you.
2. pdfconvertonline.com - A flexible BMP to PDF Converter
URL: https://www.pdfconvertonline.com/
pdfconvertonline.com is another tool for you to convert BMP to PDF online. It recognizes over 300 formats and call corresponding algorithm to make conversion.
How to Convert BMP to PDF in pdfconvertonline.com
Step 1 Under the tab of Create PDF, click the button "Choose File", and then choose a local BMP image file from the browse window. Hit the "Open" button. Not only BMP format, other image formats like PNG, JPEG, GIF, TIFF, etc. are also supported.
Step 2 Click the button "Convert Now" and start to convert the image. Wait seconds for the conversion to finish.
Step 3 The output PDF file can be viewed or downloaded after conversion.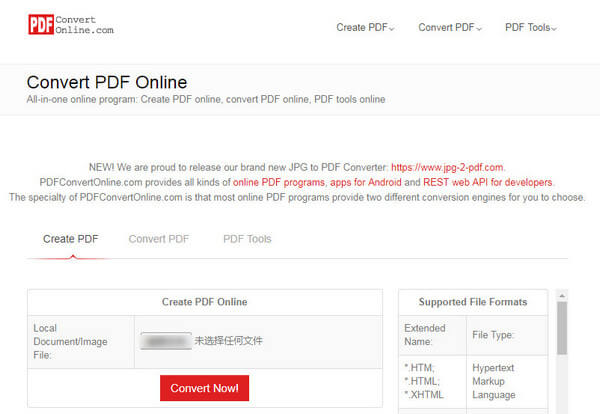 Pros:
This online PDF converter supports more than 100 image formats.
No email address required to receive files.
You can also use this PDF online tool to convert PDF, or do some PDF editing like split, encryption, watermark, etc.
Cons:
The conversion is not very fast.
NO URL method for uploading.
URL: https://pdfcandy.com/bmp-to-pdf.html
PDFCandy is a flexible Bitmap to PDF converter, supporting a large number of image formats and it is free to convert BMP image to PDF online.
How to Convert BMP to PDF in pdfcandy.com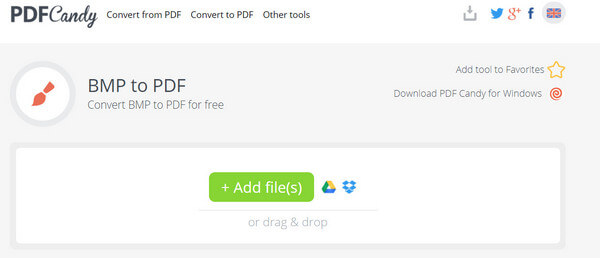 Step 1 Click the "Add file(s) button" or just drag amp;drop the BMP image into the blank.
Step 2 Click the "Convert file(s)" button and trigger the conversion.
Pros:
The original files will be optimized but the images themselves will not be anyhow distorted or modified.
You can benefit from the features of this online BMP to PDF converter at 100% no charge.
Cons:
The conversion speed is not very fast.
No URL files are supported.
4. convertimage.net – A Secure BMP to PDF Tool
URL: https://convertimage.net/convert-a-picture/to-pdf/?s=bmp-to-pdf
This is a secure converter and guarantees to perform secure conversion. By using ConvertImage.net, you can automatically transform all your BMP pictures online to the PDF. It's an easy and practical online service.
How to Convert BMP to PDF in convertimage.net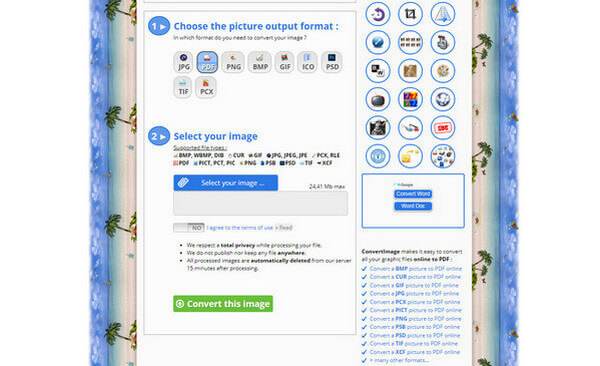 Step 1 Choose the picture output format. Here you can choose the second option "PDF".
Step 2 Select your image.
Step 3 Click the "Convert this image" button.
Pros:
The converter is secure by deleting the online images within an hour after conversion.
The conversions are made in the cloud, so that it does not drain any capacity from your computer.
Cons:
URL format is not supported.
The converted PDF files do not allow any edits or changes.
5. Zamzar – A Useful BMP to PDF Converter
URL: https://www.zamzar.com/
Zamzar can be an online BMP to PDF converter that can help you to convert image as well as video files without downloading software tools.
What's more, it supports more than 1000 different types of transformation for you to convert multiple image files.
How to Convert BMP to PDF in Zamzar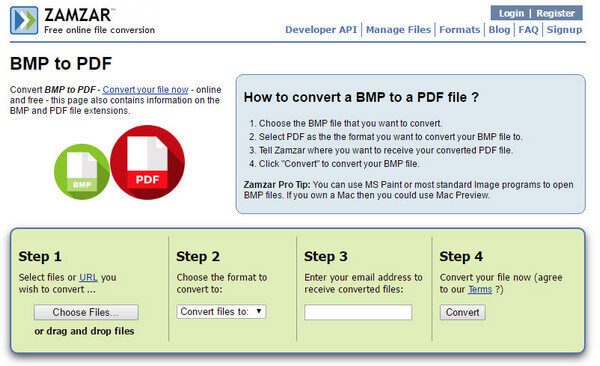 Step 1 Search online for Zamzar's site for BMP to PDF.
Step 2 Select BMP files or URL you wish to convert.
Step 3 Select PDF as the format you want to convert your BMP file to.
Step 4 Enter your email address where you receive converted files.
Step 5 Click the Convert button to export Bitmap to PDF.
Pros:
It is the most popular online file conversion site, covering most video, audio and image formats.
Support 4 kinds of conversion. You can do the conversion by uploading local files or entering URL address. Registered users can enjoy more.
Cons:
You need to leave an email address to receive the converted files.
Part 2. How to Convert BMP to PDF Offline
Alternatively, you are able to convert BMP file to PDF offline. The method we are going to show you works well when you have a lot of BMP images and want to put them into a PDF sheet. Let's see how it works.
Step 1 Put all your Windows Bitmap or OS2 Bitmap that you want to convert to PDF into one folder. Highlight one or more Bitmap images to be converted to PDF, and right-click the mouse. Choose Print from the pop-up menu.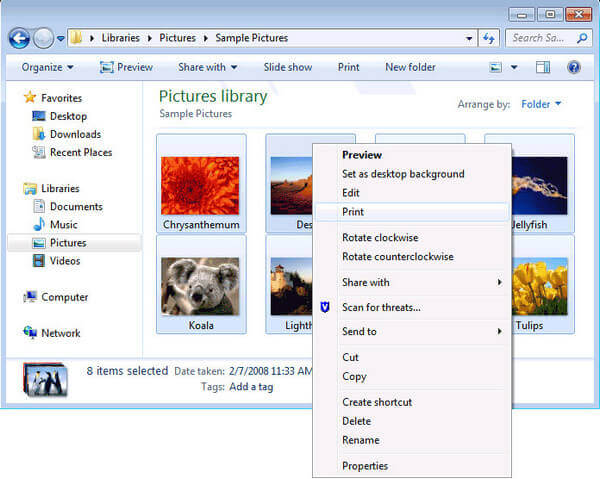 Step 2 When the Print Wizard pops up, follow the prompt and select a printer, paper size, and image quality. To convert BMP to Adobe PDF, a Virtual PDF Printer should be included in the printer list. By default you will get Full Page Photo (i.e. one picture for each PDF page) in the output PDF file.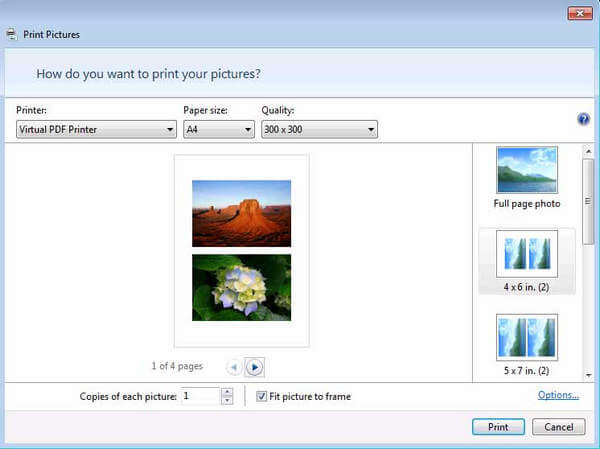 Step 3 Once you confirm that the printer is Virtual PDF Printer and paper size is right, just click Print button and get ready to convert Bitmap to PDF by printing method. You will be prompted to specify the output PDF file.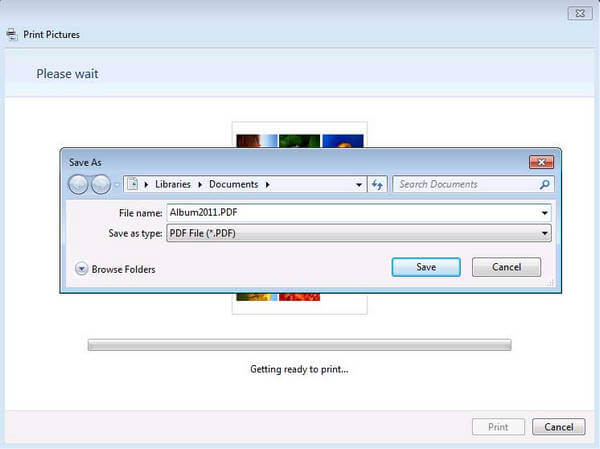 Step 4 Then we need to specify the name of the output PDF to be Album2011.PDF, and the destination location is Library\Documents on Windows 7. The Print Wizard will start the BMP or Bitmap images to PDF conversion.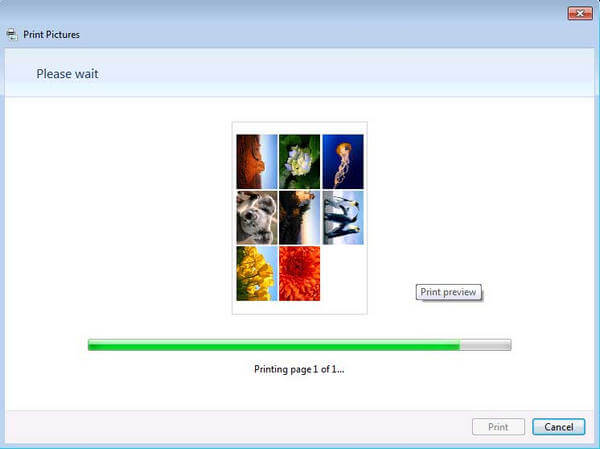 Step 5 When the conversion is done, you will get the output PDF file Alubm2011.pdf. Click twice to see the converted PDF file.
Conclusion
What method above do you prefer to convert BMP to PDF? Whether you need to convert the files on Windows, Mac or even online, you can find the suitable solutions from this post. If you have any query or suggestion about how to convert BMP to PDF, you can leave message below.