How to Merge PDF for Free with PDF Merger Online
Suppose you have four or five sections of a report that you created to separate PDF files from Word, your photo editor, and Excel. How do you get them all into a single PDF file? In this post, we will share top 5 ways to merge your PDF files online without paying a penny.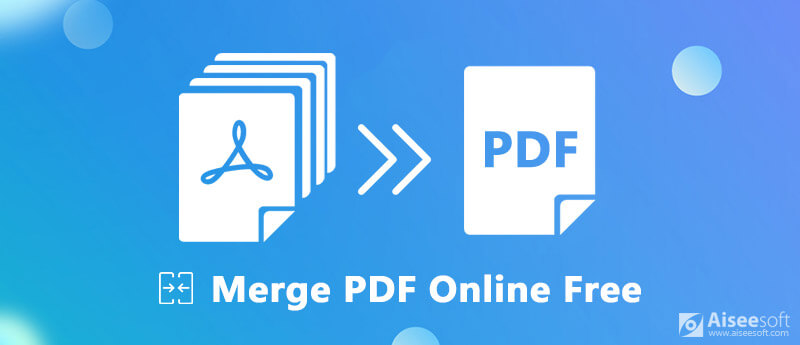 Merge PDF Online Free
Part 1: Merge PDF Online via EasePDF
As its name said, EasePDF is an easy way to edit your PDF files without installing any software on your PC. It has a dedicated PDF combiner. You can combine unlimited PDF files into a single one for free. Moreover, it is available in multiple languages, like English, French, German and more.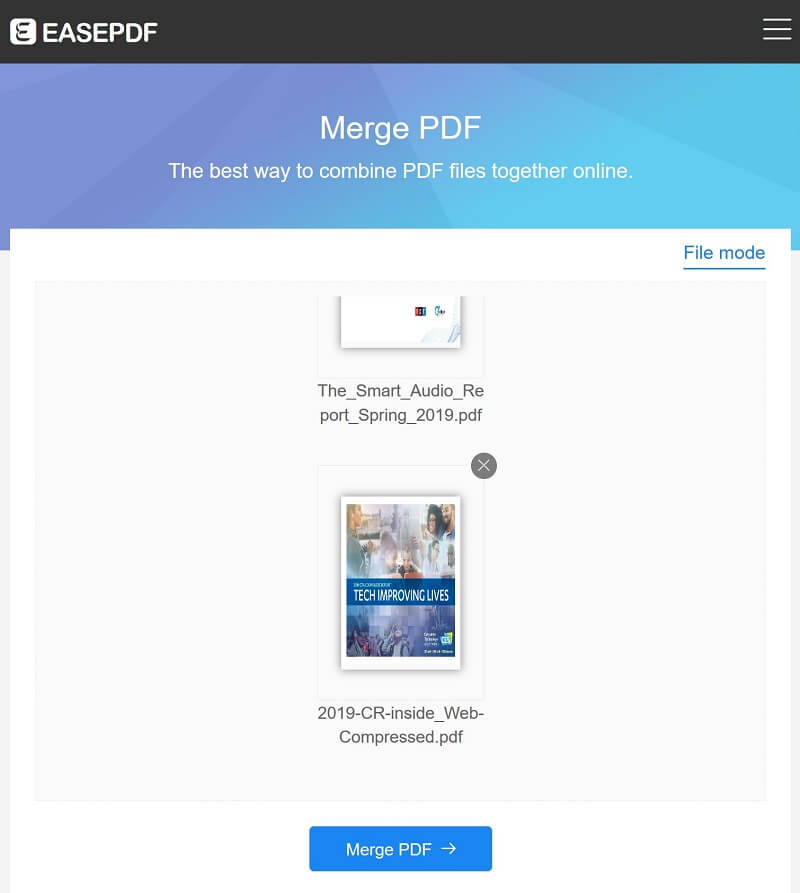 Step 1.
Open your browser and copy and paste https://www.easepdf.com/merge-pdf.html to the address bar. Hit the Enter button on your keyboard to open the online PDF merger page directly.
Step 2.
Run a Windows Explorer, locate the PDF files you want to merge, drag and drop them onto the page to import them. Adjust the sequence to the desired order.
Step 3.
Click the Merge PDF button to begin merging your PDF files online immediately.
Step 4.
When it is done, click the Download File button to get your PDF to your hard disk.
Part 2: Merge PDF Online with Sejda
Sejda is a well-known PDF solution with a wide range of tools. But it has some limitations for free users, processing up to 200 pages or 50MB PDF files per hour (PDF file is too big? Just compress it here.). The benefit is that you can merge PDF files and images to one PDF.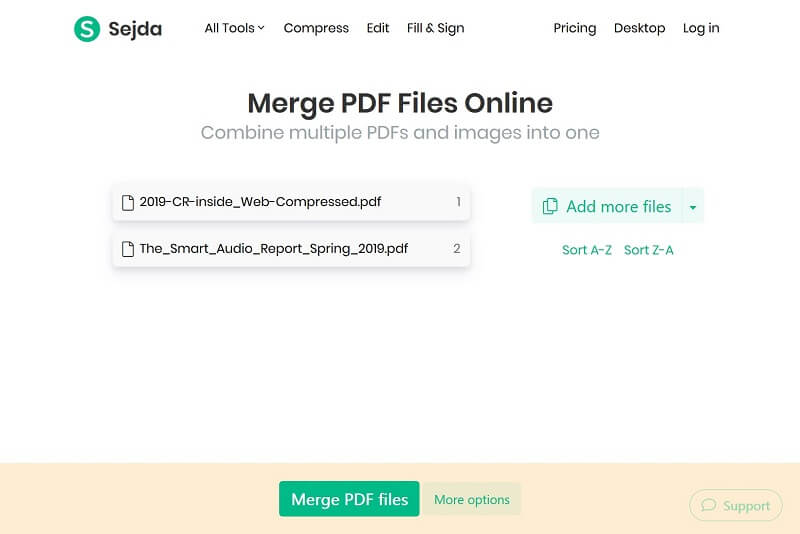 Step 1.
Access
Sejda
in your web browser, scroll down and select Merge to open the online PDF merger page.
Step 2.
Click Upload PDF & image files button to import PDFs from your computer, or hit the downward icon and upload files from Dropbox, Google Drive, OneDrive or URL.
Step 3.
Drag and drop the files to arrange them. To add bookmarks or table of contents, click More Options.
Step 4.
If you are ready, click the Merge PDF files button to start the process. After combination, hit the Download button to get the result or add it to your cloud account.
Part 3: Combine PDF Online through CombinePDF
Though CombinePDF does not include as many options as other online PDF mergers, it is a simple way to merge PDF online for free. The intuitive design is suitable to beginners.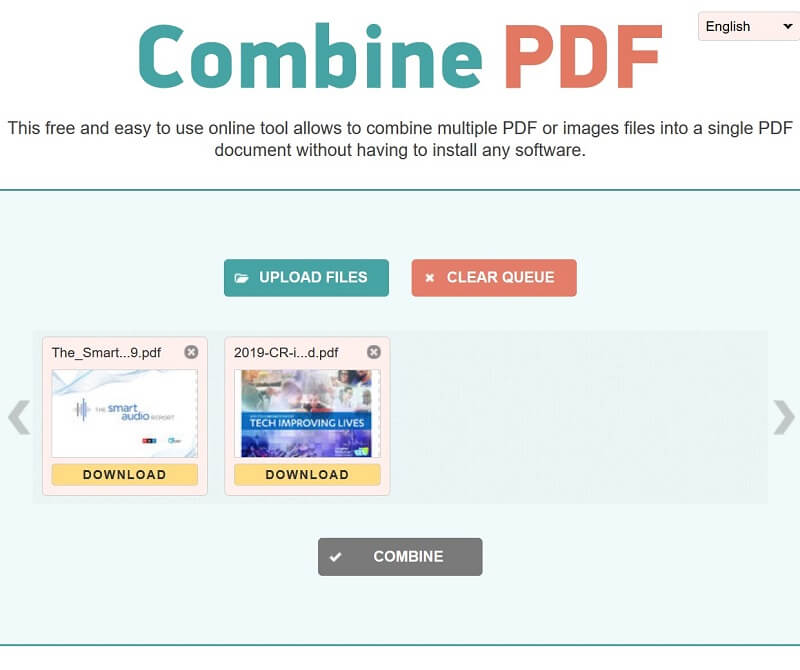 Step 1.
Visit https://combinepdf.com/ in any browser and open the home page of the online PDF combiner.
Step 2.
Hit the UPLOAD FILES button to trigger the open file dialog. Then add the files that you'd like to combine into a PDF, such as documents and images.
Step 3.
Once hit the COMBINE button, the free online PDF merger will work immediately.
Step 4.
When it finishes, the download dialog will pop up, and what you need to do is to get the result to your computer.
In addition to hard drives, it cannot transfer the result PDF to cloud services, such as Google Drive. Moreover, it responds pretty fast when combining PDF online. However, it may be too simple to tech savvy.
Part 4: Merge PDF Online Using Foxit
Not only as the PDF editor, Foxit is also the PDF merger which helps you to merge PDF online for free. It has the ability to free merge several files into a single PDF online, though it keeps popping up ads.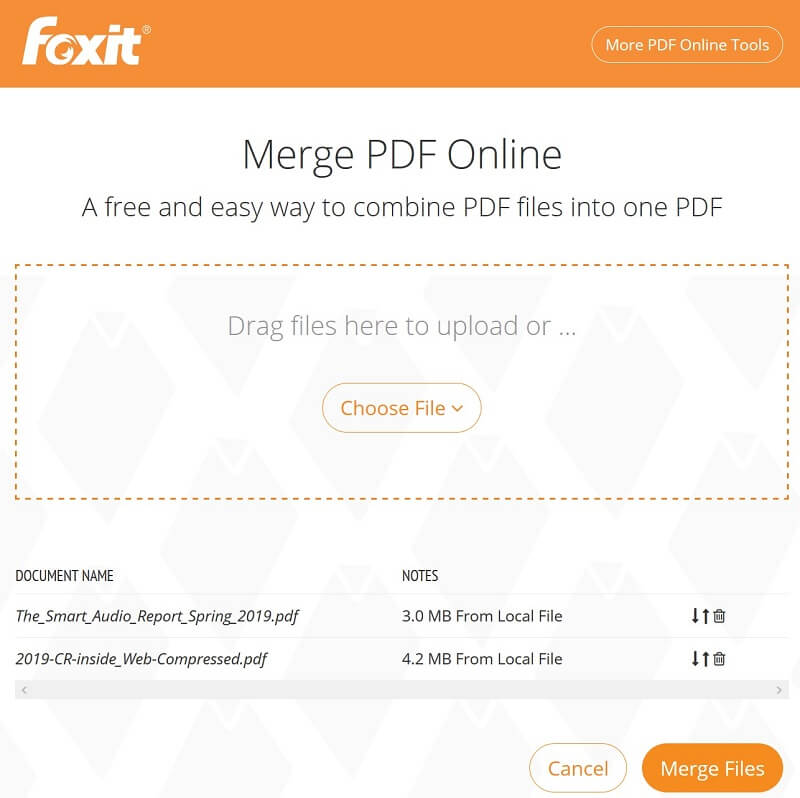 Step 1.
Launch your browser and access https://www.foxitsoftware.com/merge-pdf/
Step 2.
Click the Choose File button and select a source, like Local Document, One Drive, Box, Dropbox, or Google Drive, and upload your files.
It supports to upload up to 10 files per combination.
Step 3.
Then hit the Merge Files button to start processing your files. It may take a while to merge PDF online for free.
Step 4.
Wait for the popup dialog to appear and download the output PDF to your computer.
This free online PDF combiner does not offer any custom options, so it is a simple way to combine PDF files. It will not add watermarks on your PDF files.
Part 5: Combine PDF Online by PDF2GO
If you are looking for a free online PDF combiner, PDF2GO is a good option. The biggest advantage is to process PDF files fast and simply.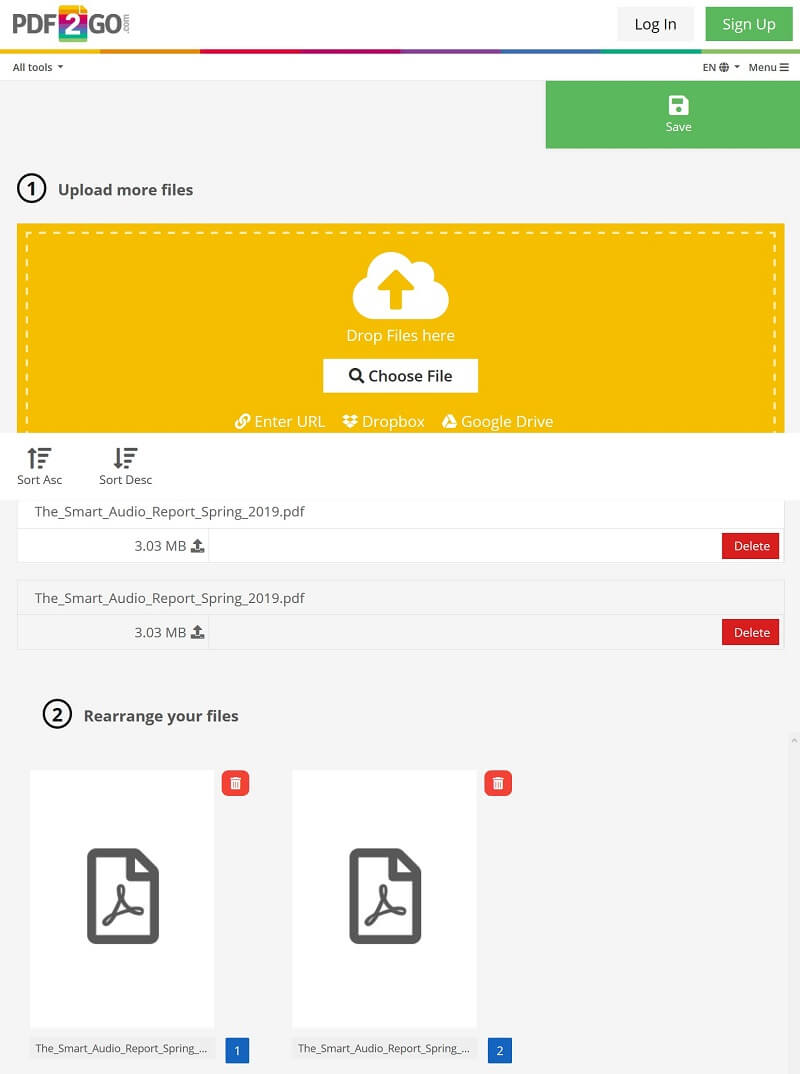 Step 1.
Open https://www.pdf2go.com/merge-pdf in your web browser to visit the PDF merger online.
Step 2.
Hit the Choose File button to upload the files from your computer. It also permits you to import files from URL, Dropbox and Google Drive.
Step 3.
Arrange your files by dragging and dropping. Then click the Save button to initiate the online PDF combination process.
Step 4.
After that, you will be presented the download dialog. All you need to do is to get the output PDF file offline.
PDF2GO is not only an online PDF merger, but also working as an add-on for Chrome browser. So, you can install it to your Chrome browser if you need to merge PDF files frequently.
Recommend: Best Desktop PDF Merger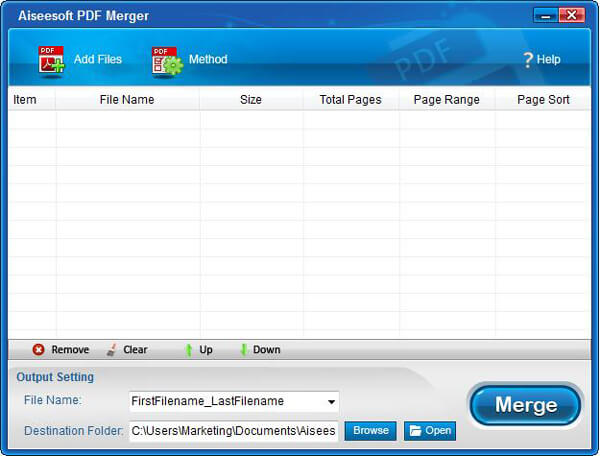 Online PDF mergers are convenient to process your files totally online, but they have obvious downsides, such as file size limit. On the other hand, desktop software is another option to merge PDF, such as Aiseesoft Free PDF Merger. It has the capacity to merge PDF files without paying a penny. Moreover, it does not have any limitations on file number, size and more. As a flexible PDF merger, it can meet both beginners' and advanced users' need, thanks to the user-friendly interface and the well design.
Learn here to merge your PDF files on desktop, instead of online.
Conclusion
This article has shared top 5 ways to merge PDF files online for free. Web-based apps are not stable, so you have to master multiple online PDF combiners. Moreover, we have shared the concrete guide to each PDF combiner. If you have multiple PDF, Word and images to merge into one PDF file, you can pick up your favorite app and follow our guide to get what you want. If you have more questions related to PDF combination, please leave your messages below.

Leave your comment and join our discussion