Walkthrough How to Resize BMP Photos With Quality Preserved
BMP or Bitmap is an image format created and maintained by Microsoft for Windows. This image format is excellent for storing dimensional images that save details and information without losing any detail. It is highly versatile, can work on different devices, and maintains multiple colors, profiles, alpha channels, and profiles. Moreover, it works well with various browsers.
But, be mindful that this image format is usually categorized with a large file size. Therefore, it is pretty challenging to send it by email because it takes too much time to upload. Resizing your BMP files is a potential solution to this end. On that note, we listed recommended solutions to resize BMP without losing quality.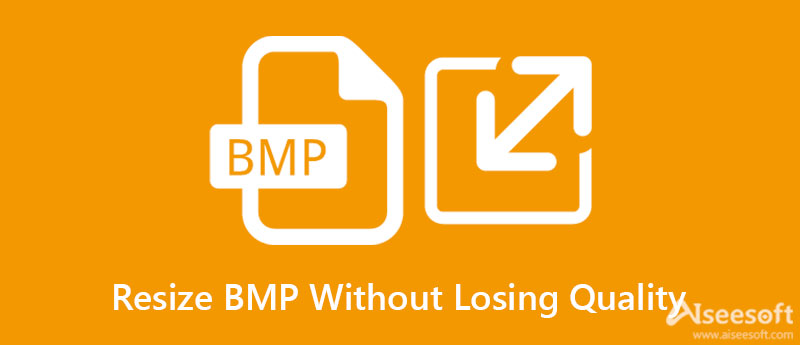 Part 1. Is It Possible to Resize BMP Without Losing Quality
Poorly resized image files are absolutely a dealbreaker. They will still appear distorted and often blurred, driving away potential audiences. Now, for the million-dollar question. Is it possible to resize BMP files without compromising the quality? The answer is yes. Users can resize any photo, including BMP, while preserving the quality.
However, that is only possible if you are using the right program. Many programs claim to deliver effective and efficient results. Yet, they do not walk the talk. That said, we will give you a reliable program for resizing BMP photos, meeting the user's expectations in terms of efficiency and quality. Check out the program below.
Part 2. How to Resize BMP Without Losing Quality Online
1. Image Compressor Online
It can be frustrating to experience unsatisfying results after resizing your photos. Hence, an effective and reliable program, such as Aiseesoft Image Compressor Online, is curated for you. As the name implies, it is an online service that supports many file formats, including BMP, PNG, TIF, TIFF, and much more. Furthermore, the program offers two methods for uploading photos. One is a drag-and-drop feature, which is way more convenient for loading photos.
Apart from that, you can also upload multiple files and compress them all at once. This feature allows you to save time and effort in processing files one at a time. On top of that, this program is infused with AI technology that will help you optimize and compress images with less time consumed while keeping their high quality. On the other hand, follow the outlined steps below to learn how to resize BMP files online.
Step 1.
Visit the program using any browser on your computer. After launching the browser, type the link of the tool on the address bar and reach the program's homepage.
Step 2.
After that, hit the
Add Images
button, and the tool will give you access to your computer folder. Now, browse your files and select your BMP photo(s) to resize. Double-click on the selected photo right after.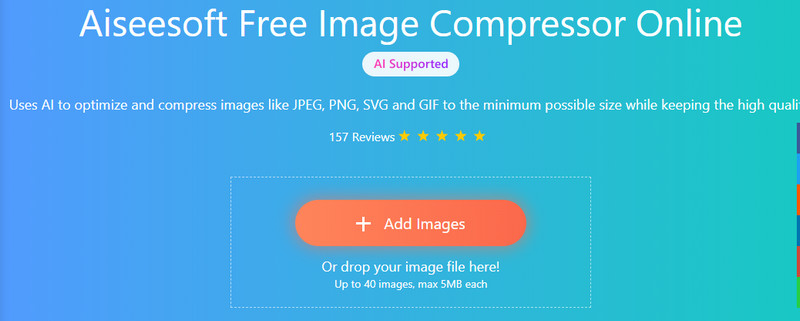 Step 3.
Once you have successfully uploaded photos, the tool will automatically compress the photo reducing the file size while keeping the quality. Next, press the
Download All
button to save the resized photos.

2. Image Optimizer
Another online tool that can assist you in resizing photos is Image Optimizer. In like manner, it is a free compression service that can optimize and compress BMP files online. What is more, there is a wide selection of quality options to optimize your photo. It offers a small file size, normal, high quality, best quality, etc. Furthermore, you can customize the height and width according to your requirement or needs. The program is easy to use, and you can get the hang of it quickly.
Step 1.
Visit the official website of the program using any browser.
Step 2.
Click the
Choose File
button and import the BMP file you want to resize.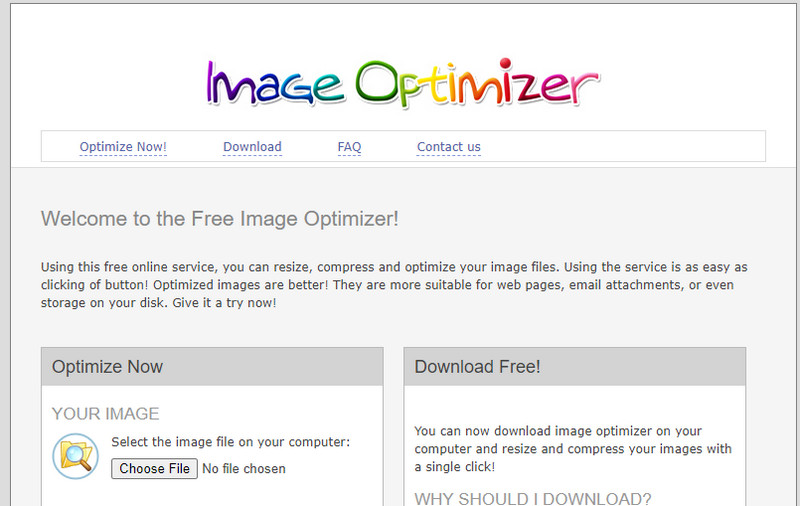 Step 3.
Following that, modify the quality that fits your requirements. Also, modify the max-width and height.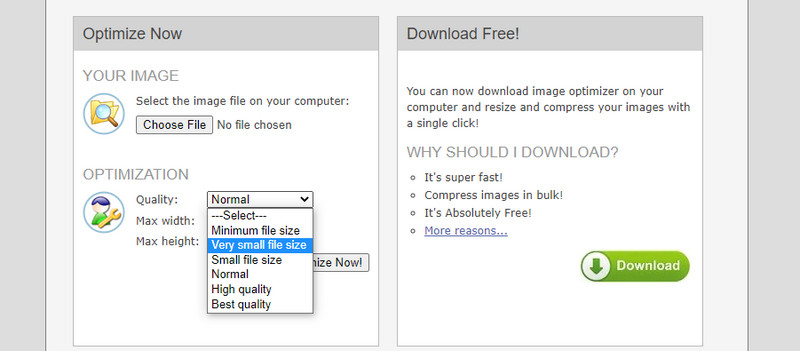 Step 4.
Lastly, hit the
Optimize Now
! button to change the size of your BMP according to your determined dimension and quality.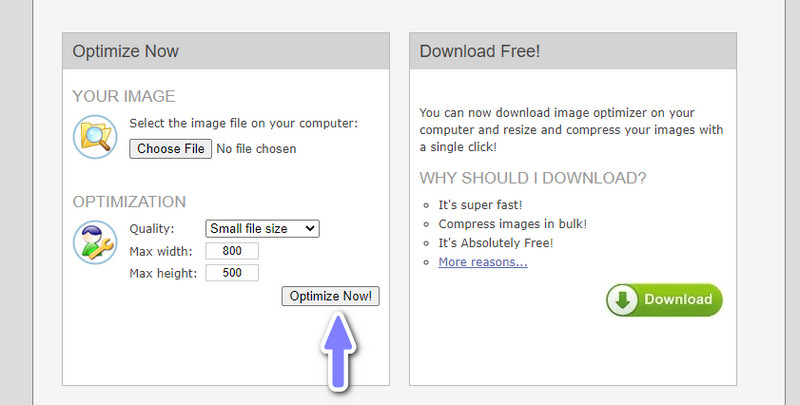 3. ImageResizer.com
Our last tool you can use to resize BMP online is ImageResizer.com. This web-service program allows you to resize BMP files in batch or single processing. Likewise, it can compress many photos at the same time. In actual fact, you can compress up to 20 images. In terms of uploading photos, you can load photos into the program via their URL or link. On top of that, it supports a drag-and-drop feature that helps you save time scanning through your files and uploading them one by one. Here is how you can use ImageResizer.com to resize BMP without losing quality.
Step 1.
Open your preferred web browser and visit the program's official site using its link.
Step 2.
From the homepage, click the
Select Images
and upload your BMP files. Then, wait for the uploading process to finish.

Step 3.
When the status says
Ready
, hit the
Compress
Images button and wait for the images to be compressed.

Step 4.
Once done, click the
Download All
button to save the compressed photo on your computer.

Part 3. FAQs About Resizing BMP
Are online image compressors safe to use?
Yes. But, beware of the online tools that ask for your personal information or credentials. Also, try not to process personal photos to prevent privacy theft. As a rule of thumb, do not continue utilizing programs asking for your details.
Can I resize images using these tools on my Mac?
Yes. Since online tools work with a browser, you can use the Safari browser to help you with your BMP files. Furthermore, you are not required to download programs on your computer. It is safe to say that these programs are guaranteed safe.
Is it possible to lose quality after resizing photos?
Photos may be improved or distorted depending on your employed method. When enlarging a small photo, you may lose the original quality. Yet, various image upscalers online can help you fix and restore the loss of quality. On the other hand, reducing the size of a photo does not affect the quality much. In other words, the changes are unnoticeable.
Conclusion
There is no doubt about the abilities of BMP files. It can adapt and store dimensional images while preserving the details. However, if you are saving files on your computer or want to save multiple BMP photos by email, that is where the issues arise. Good thing there are ways to resize BMP without losing quality and keeping the format. You can use them all and pick the most suitable tool for you.

Leave your comment and join our discussion