Part 1. How to Delete WhatsApp Chat
First, we will tell you the common way to delete messages on WhatsApp. You can take the 3 guides below to delete an individual WhatsApp chat, a group chat or remove all chats at once.
Regret deleting WhatsApp messages? Just recover WhatsApp chats now.
How to delete an individual chat on WhatsApp
When you want to delete a message on WhatsApp, you can swipe left on the chat you want to delete and then tap More and choose the Delete Chat option. After that, you can simply tap Delete Chat to confirm your operation.
Alternatively, you can tap Edit in the top right corner and then choose the specific WhatsApp chat you want to delete. Then you can tap Delete and then Delete Chat to delete message in WhatsApp.
How to delete a group chat on WhatsApp
If you want to erase a WhatsApp ground chat, you should first exit the group. You can take the similar steps to delete a group chat on WhatsApp. Just swipe left on the group chat and then choose Delete Group.
How to delete all WhatsApp chats at once
When you want to quickly remove all messages from WhatsApp, you should go to the WhatsApp Settings. Tap Chat and then choose the Delete All Chats option. During this step, you are required to enter your phone number. After that, you can tap Delete All Chats to confirm the deleting operation.
WhatsApp is not the only one instant messaging app, you can try other WhatsApp messenger alternatives.
Part 2. How to Delete a WhatsApp Message for Everyone
In the earlier WhatsApp version, you can't unsend a wrong message if you sent it. But now, a new feature called Delete for everyone is introduced by WhatsApp. With this feature, you can delete WhatsApp messages from receiver's phone.
Step 1:
Open WhatsApp and go to the specific chat which carries the message you want to delete. Before you do that, you'd better update the app to its latest version.
Step 2:
Locate the WhatsApp message and keep tapping on it. You are allowed to select one or more messages according to your need.
Step 3:
Tap Delete option and then choose Delete for everyone. When the WhatsApp message is successfully deleted for everyone, you can see This message was deleted at the original place.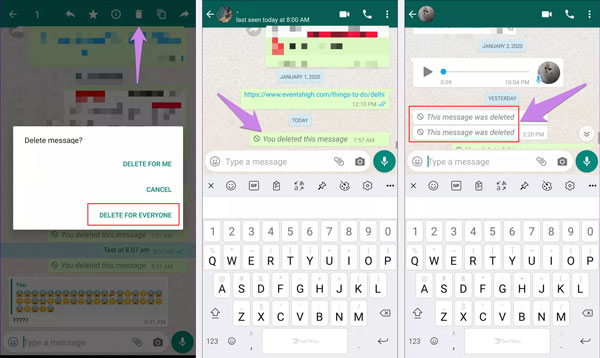 Delete for everyone feature allows you to delete the message you've sent to an individual or group chat. But you should know that, you can only request to Delete for Everyone about an hour after you sent the wrong message.
Part 3. How to Permanently Delete WhatsApp Messages
For some reasons, you need to delete WhatsApp and all its attached messages. However, if you only deleted them manually, you can still restore lots of WhatsApp data through cloud or other solutions. Are you looking for a way to permanently delete WhatsApp messages ?
Here we strongly recommend the powerful WhatsApp deleting software, FoneEraser for you to remove all WhatsApp messages, chats and other data on iPhone/iPad thoroughly.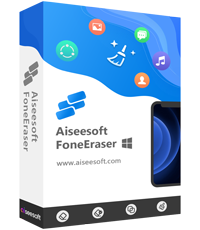 Downloads
FoneEraser - Delete WhatsApp Chat
One click way to delete all WhatsApp messages, chats, conversations and more
Protect private and erase all contents and settings on iOS device thoroughly
3 different erasing levels to clean up WhatsApp messages for different requirements
Support multiple iOS devices like iPhone/iPad/iPod and iOS versions like iOS 15/14/13/12/11
Step 1:
Double click the download button above and follow the instructions to free install and run this WhatsApp chat deleting software on your computer. Connect your device to it with a lightning USB cable.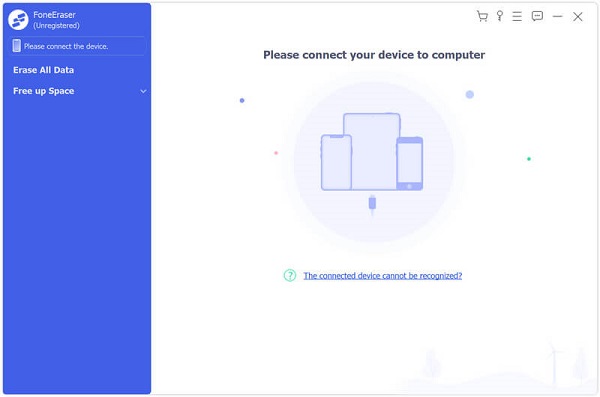 To make sure your computer quickly recognizes your device, here you need to tap Trust this computer on screen.
Step 2:
This WhatsApp messages deleting tools offers 3 erasing levels to get rid of your WhatsApp data. You can choose the Low, Medium or High level according to your need.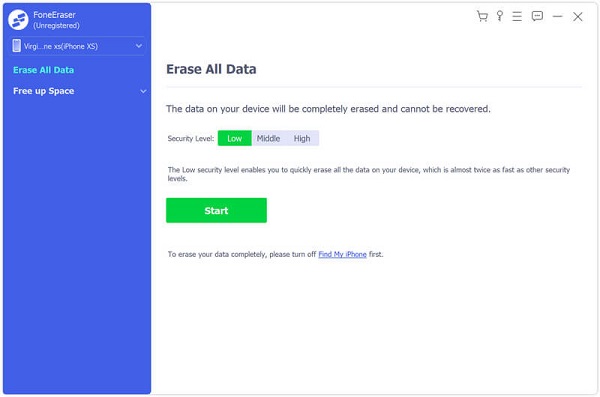 Step 3:
Your device name and connecting status will be displayed in the interface after connecting successfully. Click Start button to begin removing all messages from WhatsApp.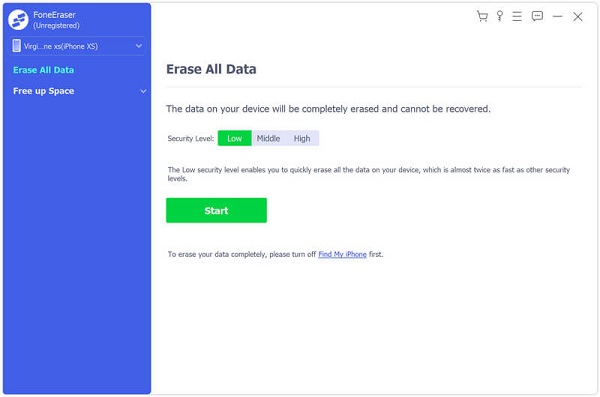 Within just a few clicks, you can handily delete all old messages and chats on WhatsApp. Meanwhile, it will erase other iOS data and various settings.