Full Guide on How to Delete & Remove Your Music from iTunes
If you don't like a song or an album in iTunes, you may delete the songs/albums from iTunes library. Or if you want to free up more hard drive space on iOS devices, you could also remove music on iPhone/iPod/iPad from iTunes. Deleting music from iTunes seems like an easy thing, but there are some hidden problems during the process of deleting songs from iTunes. Because of iTunes sync or iTunes Match, you may also remove the music from iPhone/iPod/iPad when deleting music from iTunes.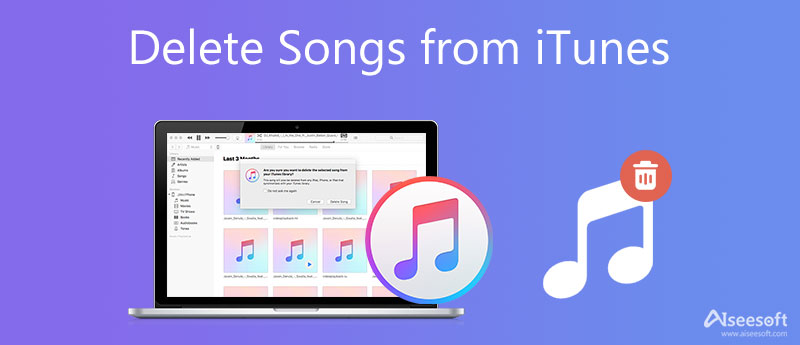 For solving this kind of problem, here we will introduce several common situations when deleting songs from iTunes.
Part 1. Ultimate way to delete songs from iTunes
To delete your songs from iTunes, an effective way is to make use of an iOS cleaner tool. Aiseesoft iPhone Cleaner can help you easily remove all unwanted music from iTunes. Not just delete songs, Aiseesoft iPhone Cleaner can also clean junk files, delete photos, and clean up your iPhone. Now download this tool on your computer and follow the steps below to start removing your songs from iTunes.
Step 1: After downloading, install and launch Aiseesoft iPhone Cleaner on your computer. Then, the interface of this program will appear. To get started, you need to connect your iPhone to the computer and the program will detect it automatically.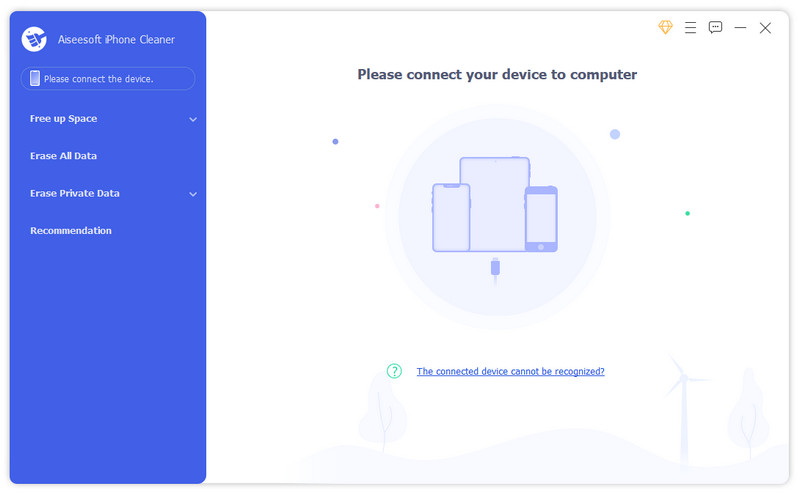 Step 2: When the connection succeeds, you can click and unfold the option of Free up Space from the left panel of the window. Then, choose Delete Large Files.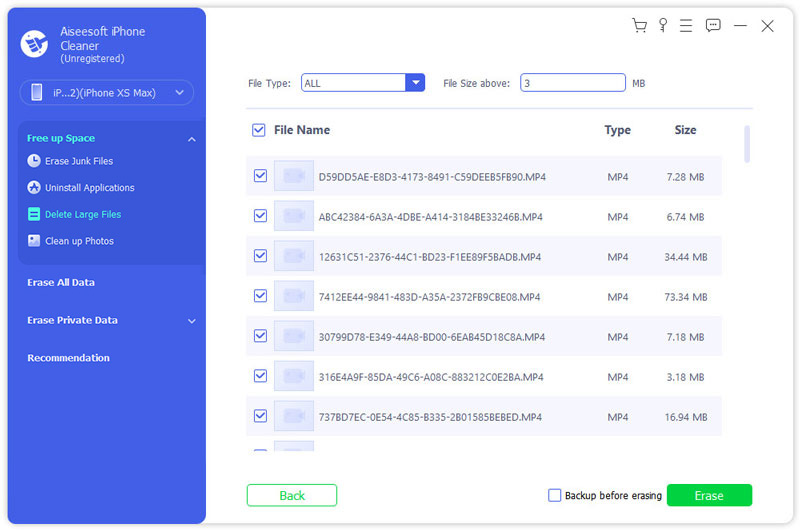 Step 3: Find and select the songs that you don't need any more. Finally, click the Erase button to start deleting your songs.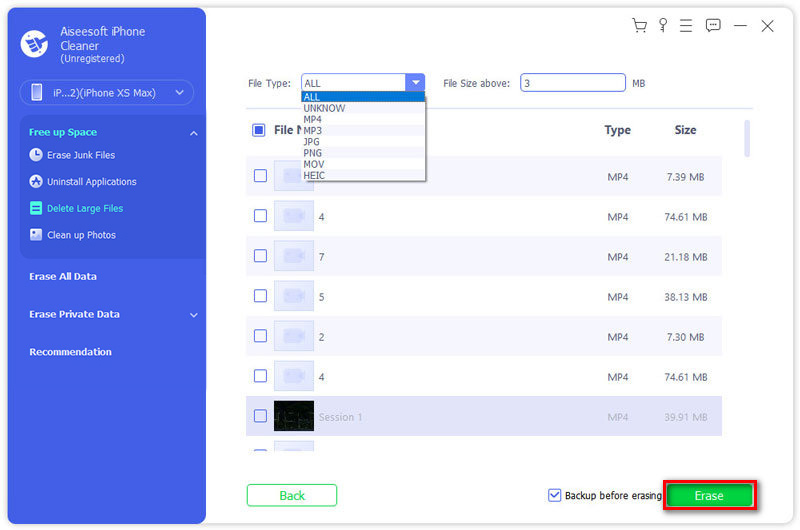 Part 2. Handy way for operation steps of deleting songs
To delete music from iTunes, first go to your iTunes library and find the songs or album you want to delete.
1. To delete one song, just click it once.
2. To remove several contiguous songs from iTunes, hold down "Shift" key when you click them.
3. To delete a few non-contiguous songs, hold down "Control" on PC or "Command" on Mac to pick on them.
4. To delete an album, go to album list to choose the album you want to delete.
5. To delete songs by artists, you can select the artist you want to delete on the artist menu.
After you chose the songs you want to delete, you can right-click on it and choose "Delete", go to "Songs" > "Delete", or press "Delete" key on keyboard.
So easy, right? But there are something more complicated appearing.
Part 3. Delete songs from iTunes with different options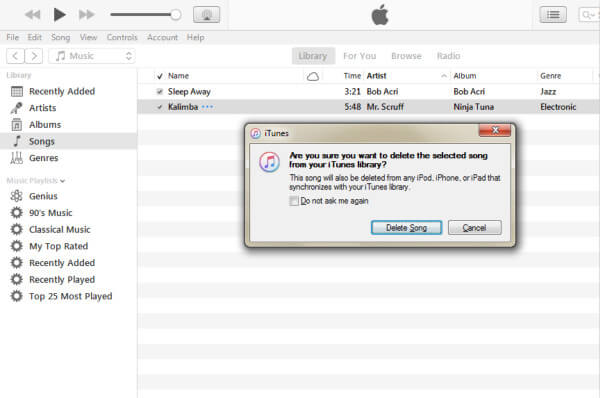 When you click "Delete", iTunes will pop up a reminder to ask you to remove songs from iTunes or delete them for good.
Remove Download
If you use iTunes Match and have downloaded the song to your computer, you can see the "Remove Download" option, and if you select "Remove Download", then the music files will be deleted from your hard drive, but the songs will still retain in your iTunes library. So if you want to listen to them again, you can redownload them from iTunes.
Delete Song
If you choose this option, you should be very careful, because once you choose "Delete Song", the song will be removed from iTunes library and iCloud Music Library. Of course, this operation will clear Apple hard drive for you, but unfortunately, the song in iTunes library and any iOS devices that are syncing with your iCloud Music Library will be deleted. Therefore, make sure that you want to remove music from iPhone or other iOS devices and do this operation.
Keep File
Depending on versions of iTunes and Apple services you are using or if you press "Ctrl" and "Delete" at the same time on your keyboard, you could see this option. If you select "Keep File", you will delete songs from iTunes, but not remove the song files. So this is unworthy operation, because you cannot find the song, but only the file takes up space on your hard drive.
Move to Recycle Bin(Trash)
Choose this button will remove the song file from iTunes and move it to your recycle bin/trash.
Make sure you understand what happened to your iOS devices
When you delete songs from iTunes, you can remove them forever or just remove files while retain songs for redownloading them again. But what happened to your iPhone/iPod/iPad when you delete songs from iTunes? Let's see it.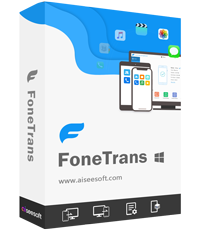 144,451 Downloads
FoneTrans - Best iOS Data Manager
Aiseesoft FoneTrans is the professional iPhone sync tool to transfer data between iOS devices, move data from iPhone to Mac/iTunes, and sync data from Mac to iPhone.
Sync iPhone/iPad/iPod photos, music, playlist, etc. to iTunes directly.
Get contacts, calendar, photos, etc. from iPhone to computer (Windows and Mac).
Transfer data from computer to iPhone.
Compatible with iPhone, iPad and iPod with iOS.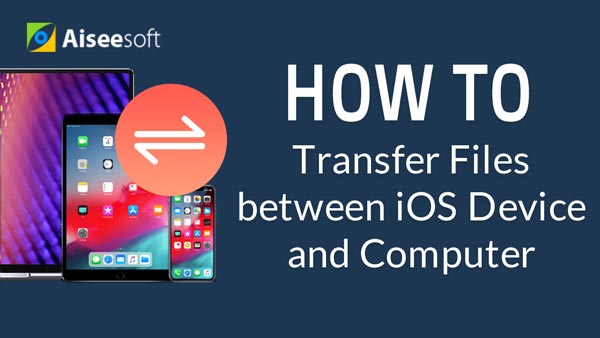 If you are using iTunes Match, every changes you made on your iTunes will automatically be applied to your Apple devices that are using the Apple services. And if you just sync your iPhone/iPod/iPad with computer, every changes you made to iTunes will be applied to your iOS devices when you sync them with iTunes next time.
Part 4. FAQs of deleting songs from iTunes
why can't I delete songs from my iPhone on iTunes?
It is possibly that iTunes is syncing your songs automatically. You should launch iTunes on your computer, and turn off auto sync.
How to delete songs from iTunes playlists?
First, you need to go to a playlist and select the songs you want to delete, then right click the selection and click Delete from Library in the menu that appears.

Leave your comment and join our discussion