How to Delete Duplicate Songs/Audio Files/Videos in iTunes
Do you always find the same songs on your iPhone, iPad or iPod? If you use iTunes, you might meet the duplicate songs on your iOS devices. You may get two or more than two same songs. When you want to switch the current song to the next one, the same song will play again. This is the songs duplicate problem. Duplicates in your iTunes can be very annoying and frustrating if you don't know how to fix this problem. Luckily, there are simple ways for you to fix this duplicate problem. Keep reading this article to get the two simple ways to find and delete duplicates songs in your iTunes.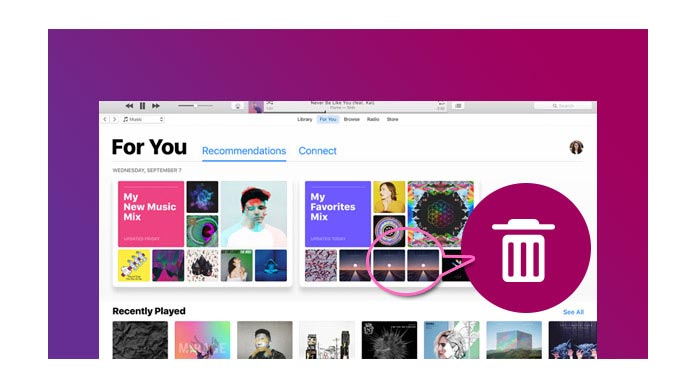 Why don't you want duplicate songs and items in iTunes?
There are three main reasons that you don't want duplicates songs in your iTunes. The first reason: you must be tired of hearing the same song for times. The second reason, it is not convenient to switch to the next song which you really want to listen to. The third reason, the duplicate songs take up internal storage on your iPhone, iPad and iPod and the redundant repeat is unnecessary.
Find and delete songs with iTunes itself
How to find the duplicate songs in iTunes?
If you have duplicate songs or other items in your iTunes, the first thing you want to do is remove the duplicates from your iTunes app. In this article, we will show you the way on Windows computer.
Before finding the duplicate sons in iTunes, you should make sure that the iTunes version on your Windows computer is the latest, or you should download and update your iTunes version to the latest one.
1Simply, you should launch iTunes app on your computer, and go to my music under the music icon. At the top of iTunes interface, you will find the toolbar (if you cannot find the toolbar, tap "Ctrl+B" on the keyboard.) and choose Show Duplicate Items on the drop-down list.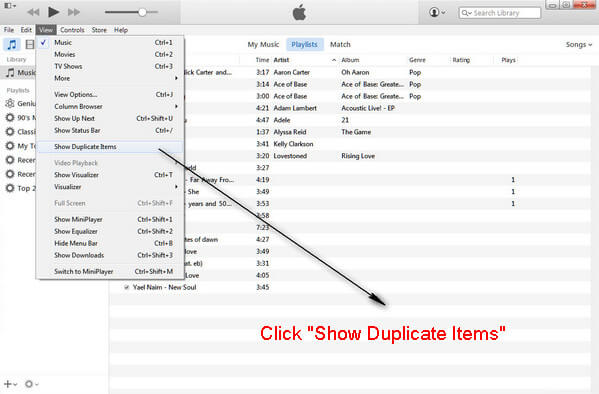 2You will find a list of all your songs on your iPhone, iPad and iPod, including the duplicate ones. You are able to sort the songs by name, album or artist to group items together. This operate will help you to recognize easily which you want to keep and which you want to delete.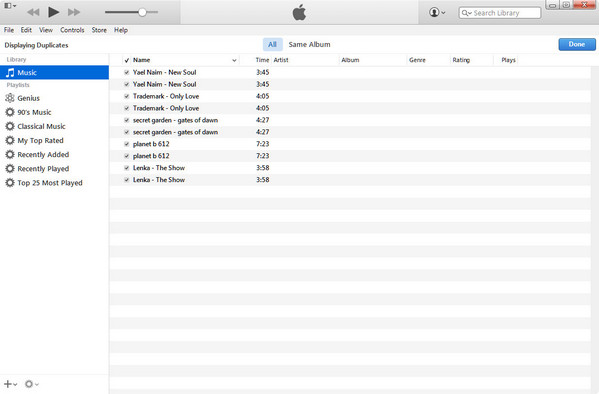 3Now you will find the duplicate songs and you can easily manage on your iTunes.
How to delete duplicate songs on your Windows computer?
Here, you can delete the unwanted and duplicate songs from your iTunes. If you only have a few duplicate songs in your iTunes, it will be quick to delete. However, unfortunately, if you have a large chunk of songs, it must be a tedious task to remove all duplicate songs that you don't want.
1Press one duplicate song which you want to delete and press Ctrl on Keyboard to choose the next duplicate songs. After choose all unwanted songs, right click to press Delete.
2You will be asked to confirm whether you want to delete the selected songs from your iTunes Library, click Delete Songs to confirm.
Find and delete songs with duplication removal software
If you use the first way to delete duplicate songs is tedious and laborious, you can try to find the third-party duplication removal software from search engine or download the related app from downloading site.
For example, you are able to find the related duplication removal software from Cnet download. Navigate to www.cnet.com and choose Download, input iTunes duplicate remover or duplication removal software on the searching box, you will get all related iTunes duplication removal software.
Some famous removal tools are TuneUp, DeDuper, Tunes Cleaner and Tunes Sweeper. Get one suitable you most and delete all duplicate songs from your iTunes easily.
FoneTrans - Best iOS Data Manager
For Mac
Aiseesoft FoneTrans is the professional iPhone sync tool to transfer data between iOS devices, move data from iPhone to Mac/iTunes, and sync data from Mac to iPhone.
Sync iPhone/iPad/iPod photos, music, playlist, etc. to iTunes directly.
Get contacts, calendar, photos, etc. from iPhone to computer (Windows and Mac).
Transfer data from computer to iPhone.
Compatible with iPhone, iPad and iPod with iOS.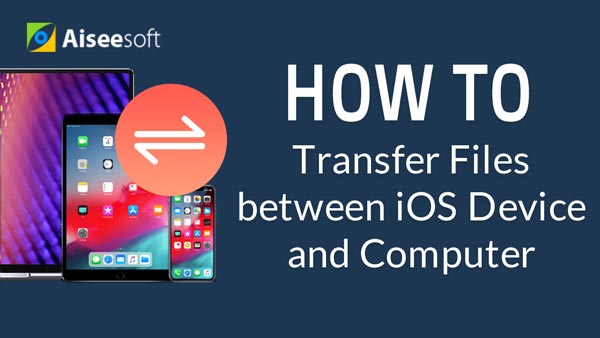 After deleting the duplicate songs or movies from iTunes, you may wonder to add music to iTunes for more playing.