Tricks to Free up Space on Your iPhone
If you are a 16GB iPhone user, during the daily usage of iPhone, you may feel tired of managing all kinds of iOS data. From time to time, you have to clear up iPhone space to get more storage. It seems like that you are no longer possible to meet the need to store the important files. You are not alone, many readers write to us, saying that they feel hard to manage data with so little storage of 16 GB or 32GB.
Now we come to the point, how to free space on iPhone? When not enough storage alarm is going off, what should you do to clear up your iPhone space? Don't worry, this guide will show you some useful tips to help you free up space on iPhone.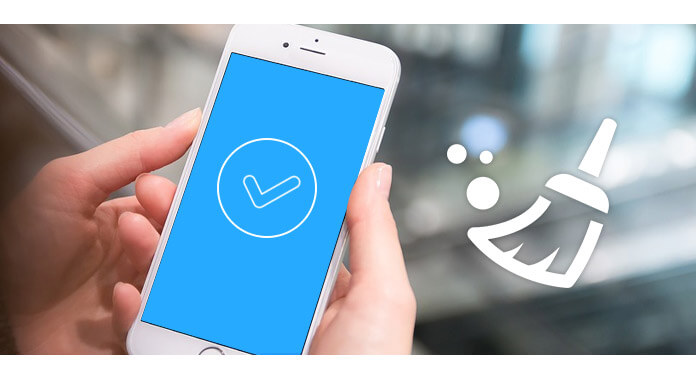 Part 1. How to check the storage space of iPhone
Before we show you how to free up space on iPhone, you should need to check how much space you've left. To check the iPhone storage space, you can take the next steps.
Step 1 Turn on iPhone and open "Settings" app.
Step 2 Tap "General" and then choose "Storage & iCloud Usage" to chech how much available space you can use on iPhone.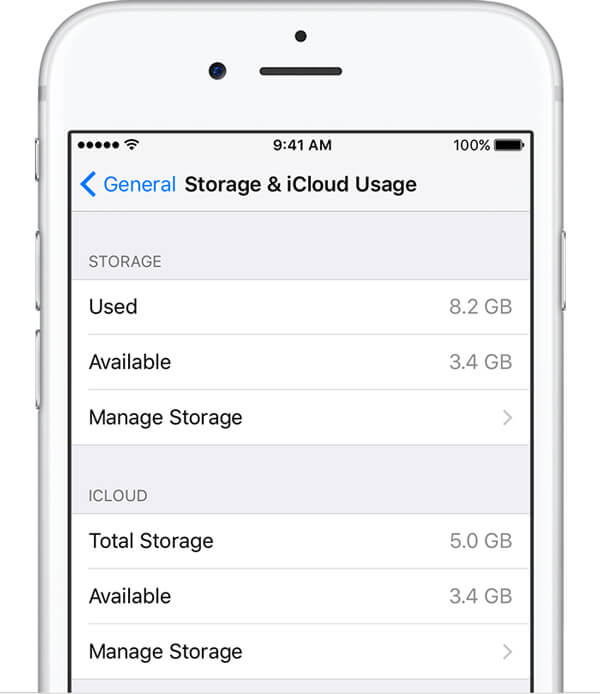 Part 2. How to free space on iPhone 5/4S/6/7
When you notice that you don't have enough storage for new videos, songs, pictures and more, it's time to clear up your iPhone storage. In fact, you should have the good habit to frequently clear up iPhone storage. Now we will show you some basic ways to free up space on your iPhone 5/5s/5c/4S/6/7.
Delete unwanted apps to free up iPhone space
Applications you've downloaded on iPhone will take up much storage space. You may feel great when you download them at first, but you actually don't need these apps. Deleting unwanted iOS application will save the storage space on iPhone a lot. There are two kinds of applications on iPhone, one is the downloaded app, the other kind is the preinstalled app.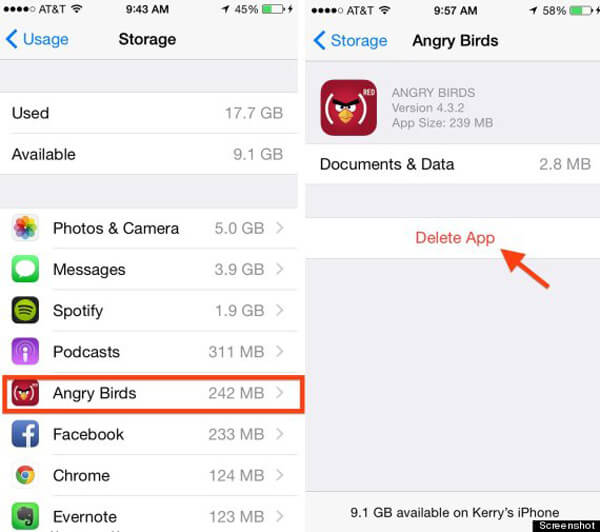 Read here to know more about how to delete apps. Along with various files gathered on apps, you need to remove some unnecessary ones to clear up space on iPhone.
Manage and delete messages at once
Another track to free iPhone space is to delete old iPhone messages. Within one minute, the storage space that took up from 2.5GB to only 114MB. Too many messages? You don't need to delete iPhone messages one by one.
Unlock iPhone and navigate to "Settings" app > "Messages" > "Message History" > "Keep Messages", select a time parameter. Change Forever to 30 Days or 1 Year. A pop-up window will ask you if you want to delete older messages, tap "Delete" to confirm the operation.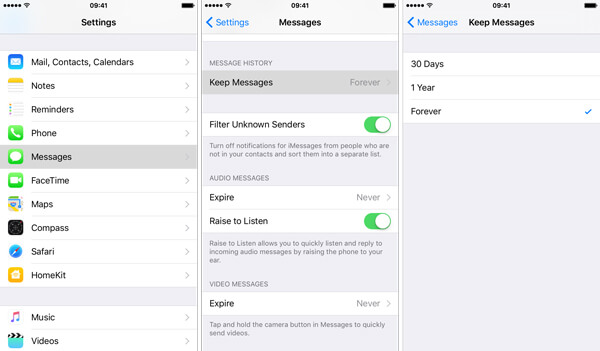 For quickly manage and delete messages on iPhone, we would like to introduce you with one best iPhone Data Manager, FoneTrans. This great iOS data managing program enables you to preview the messages from iPhone and let you choose and export message effectively.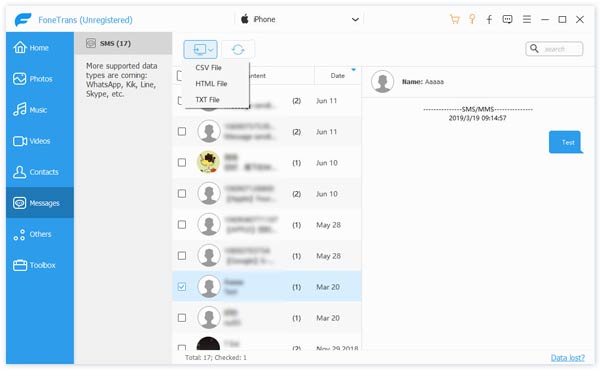 Best iOS data transfer you may want to know:
Actually, when you have the need to free space on iPhone. A good iOS data transfer can be a great option. After moving many iOS files to PC/Mac for better preservation, you can delete the data on iPhone to get more storage.
Manage Photo settings and photos storage to free up iPhone space
Keep normal photo: If you use your iPhone's HDR mode, you've probably noticed that your phone automatically saves two photos: the HDR version and the normal version. To stop double-saving HDR photos, you can go to "Settings" > "Photos" > "Keep Normal Photo".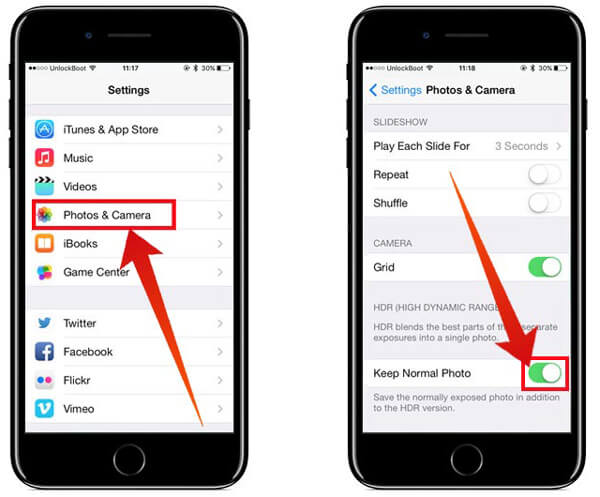 Stop photo stream: The photo in the Photo Stream will take up much space, too. To turn off the "Photo Stream", you can go to "Settings" > "Photos & Camera" and toggle off "Upload to My Photo Stream". Photos in your "Photo Stream" will be removed, but they will remain on any other devices where you have Photo Stream turned on. They'll also remain on your iCloud account for 30 days from the date they were uploaded.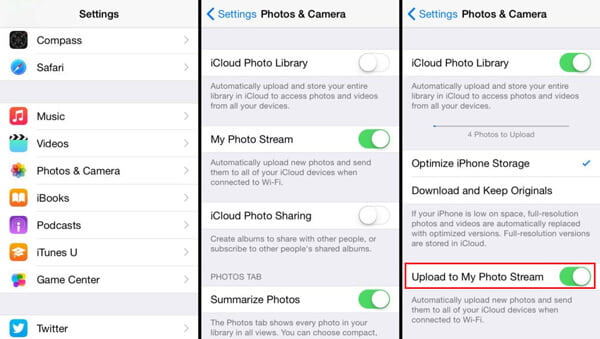 Delete downloaded music and podcasts to free space on iPhone
Those playlists and albums you downloaded bring you pleasure and reduce the storage space. You can find your downloaded songs and delete them. In this way, you can also clear up storage space on iPhone.
Go to "Settings" > "General" > "Storage & iCloud Usage" > "Manage Storage". You can swipe to delete individual songs or you can swipe on "All Songs" at the top to delete all.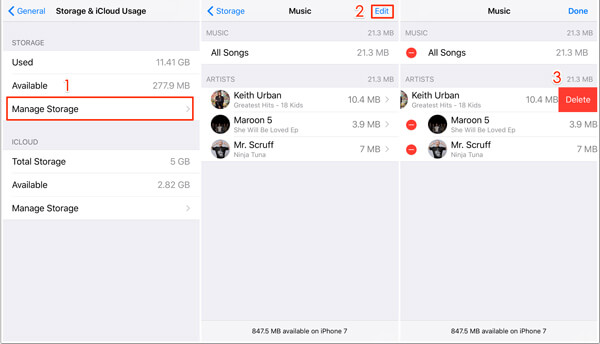 Like music, you might also download multiple podcasts. To save iPhone storage, head over to "Settings" > "General" > "Storage & iCloud Usage" > "Manage Storage" and tap "Podcasts". You have to delete them one by one.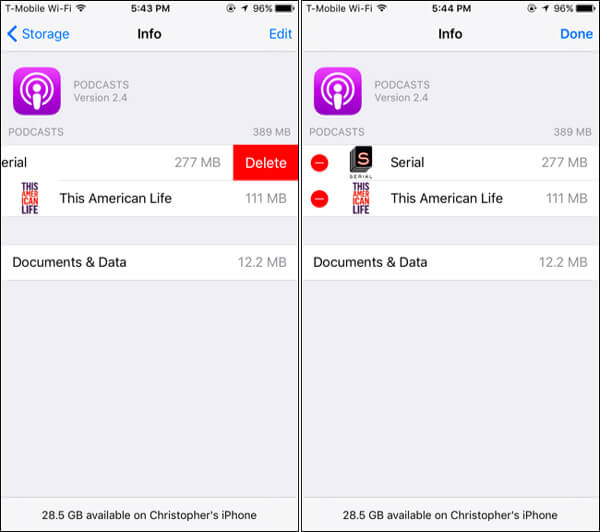 Clear cookies on iPhone to get more storage
Clearing cookies that take up much space on iPhone should be a very useful trick to free up storage space and speed up your iPhone. And it is good to prevent privacy leakage, as you know, many hacker would like to search cookies for your information to access account, your login password and so on. It is beneficial to clear unwanted cookies from apps or websites or block iPhone cookies. Read here to learn more about how to clear cookies on iPhone.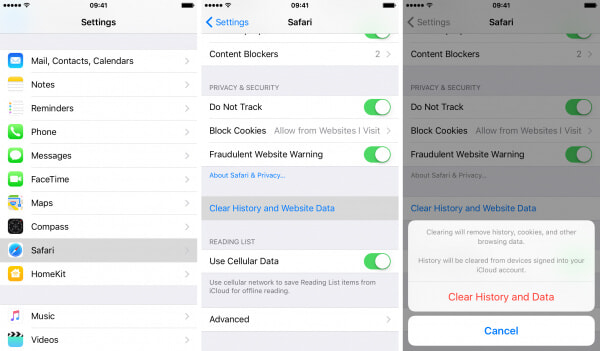 Part 3. Professional way to free up space on iPhone
With the methods above, you can free space on iPhone. But if you are not satisfied with the results and want to quickly clear up iPhone space, you can rely on the reliable iOS Data Eraser, FoneEraser to help you. Within just a few clicks, all iPhone content and settings will be restored. You can free download it and have a try. Kindly remind that you'd better back up your iPhone first.
Step 1 Launch FoneEraser, and connect your iPhone to computer. The program will soon detect your iPhone.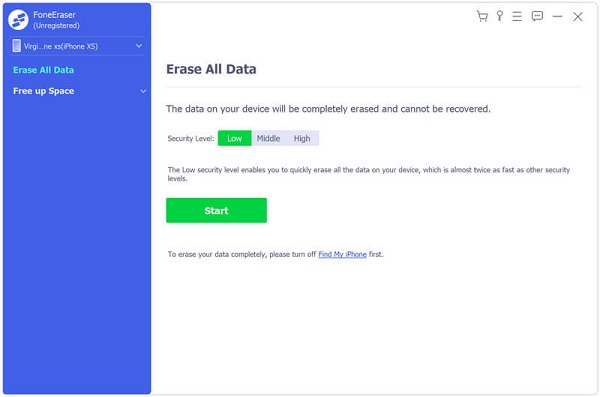 Step 2 Choose an erasing level (Low, Medium and High)."High Level" is recommended here.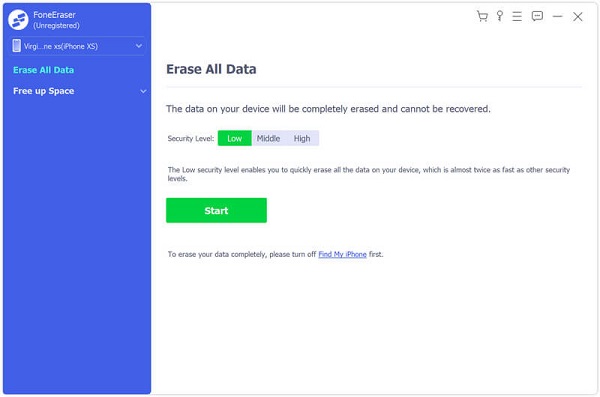 Step 3 Click the "Start" button and erase all iPhone data. This will completely remove iPhone content and settings.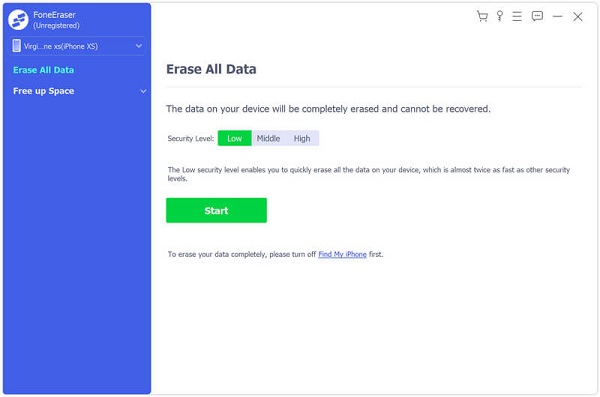 In this article, we mainly show you how to free space on iPhone. You can rely on this useful guide to free up much space from iPhone. Any comment can be left below.
In this article, we mainly showed you four easy methods to help you clear iPhone cache. Still have more questions? Feel free to leave your comments down below.