iPhone Running Slow? Learn Quick Method to Fix it Right Now
In real life, many of my friends complain that, "Why my iPhone slow? Did I do something wrong?", "My iPhone 4 is slow now, how to fix iPhone running slow?", "My iPhone 3GS is moving slow, does jailbreak slow down my iPhone?" "My iPhone software downloads slow, is there something with the update of iOS 11?"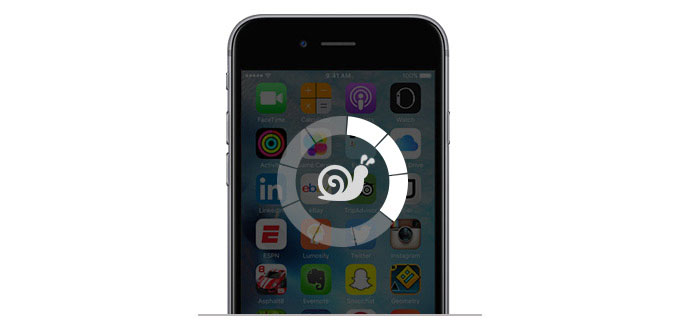 iPhone will suffer from other problem like slow motion. Those complaints from slow iPhone motion bother many of us, iPhone users. The reasons for iPhone X/8/7/6 going slow, and the solutions of speeding up a slow iPhone are various. In this article, we will share the details with you.
Part 1: Reasons why iPhone runs slow
1. Old iPhone version causes slow motion
Old models of iPhone 5s/5c/4S/4/3GS are still popular among some users. But the computing devices are prone to slowing down over time. You could make an obvious comparison between iPhone 4 and iPhone 6. The hottest game, Super Hexagon, demands the lightning reflexes to maintain, but iPhone 4 with the stuttering graphics fails to play it.
Reading more: Transfer Videos from PC to iPhone.
2. Extra running Apps slows down iPhone motion
iPhone enables users to exchange Apps conveniently. But users often forget to close them. At this point, iOS Apps on your iPhone, Twitter, Skype, WhatsApp, etc. can run in the background. With the internet connection, they may receive and download information automatically. With limited RAM on your iOS device (iPhone 4 with 512MB RAM), your iPhone is very slow. No matter you use iPhone 4, or run iPhone 5, you will be troublesome by the slow response.
3. Full space leads to responding slow on iPhone
Though new iPhone 6s Plus offers users the super 128G space, the favorite downloaded videos, the high-resolution captured photos, the popular games will fill its space. And the added Apps on iPhone will run out of iPhone space gradually. Moreover, the video cache and searching history on Safari will takes up some space on your iPhone. You could check out your iPhone space to confirm this problem by tab Settings – General – Usage. All the added files or Apps will cause your slow motion on iPhone.
More reading: How to Delete Apps on iPhone.
4. Other factors brings about iPhone's slow motion
Apart from the above reasons, there are other accidental factors that result in your iPhone running slow, for example, the slow WiFi cause a slow video motion on your iPhone 4. Maybe, your iPhone gets ill after a long time's usage or some damages. All those factors may misunderstand you that your iPhone 4 is slowing down for poor internet, or after an update of iOS 9. (Slow Wi-Fi on Mac?)
Part 2: Solutions of speeding up your slow iPhone
After discussing the reasons why iPhone is running slow, we will fix how to speed up your iPhone now.
1. Updating your old iPhone
Download the latest iOS to update your old slow iPhone system. The latest iOS version is iOS 12/11.4.1. Click Settings - General - Software Update to check if your iPhone is the latest version. (Kindly note that the iPhone 4 and earlier aren't compatible with iOS 8 upgrades at all.) (For iPhone update software fails? Fix it now)
2. Shut down or uninstall Apps
For those running background Apps, just shut down the Apps. Double click the Home button, until you see the thumbnails of your Apps that you have opened. Then slide up the Apps one by one to shut down them. For the non-essential Apps, you could uninstall them from your iPhone. Press and hold down one of the Apps that you want to remove for two seconds, and then you will feel a wiggle and a cross will show on your iPhone. Press the cross to uninstall the App from your slow iPhone.
3. Delete videos and clear caches
For those plenty of downloaded videos and watching caches or browsing history on your Safari, you could clear iPhone browsing cookies and history. Also you could delete iPhone photos and pictures. If the data or files on your iPhone are useless for you, and you want to remove them all, then you could restore iPhone to factory settings. And the most permanent and thorough way is to erase all content and settings on iPhone with FoneEraser, including uninstalling all Apps and games from iPhone.
Step 1 Connect your iPhone to computer with USB cable.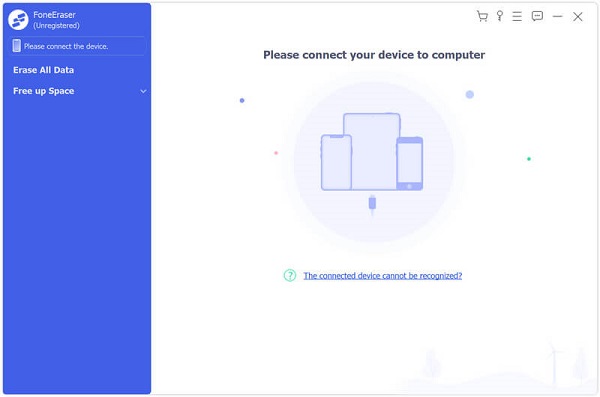 Step 2 Choose the erasing level according to your need.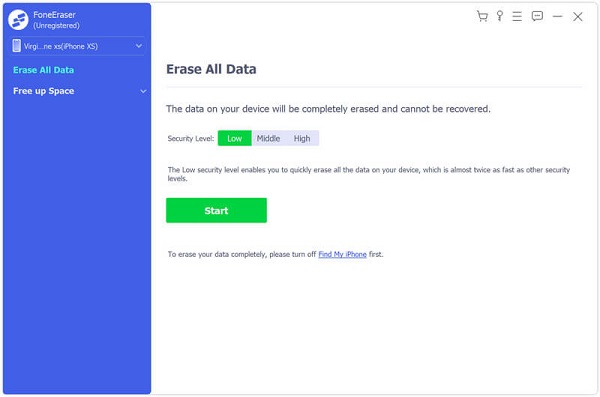 Step 3 Ready to erase all iPhone data to speed up iPhone.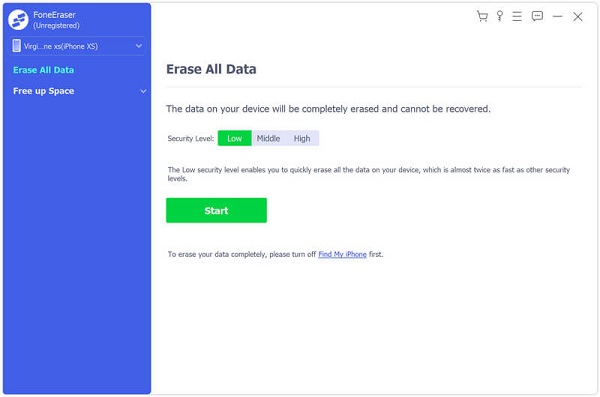 Other solution for your slow iPhone
For other factors mentioned above that causes iPhone to slow down, you could change a stable WiFi for your slow iPhone. However, if your iPhone is unfortunate to get hurt, you can call Apple after-sale service or go to an Apple repair store, or if you have enough money, then just take a new iPhone 6s. Certainly, this is the bottom line.
Also, you can not miss how to speed up Android if you Android phone.