How to Clear Out Your iPhone Memory
Even though iPhone and iPad are pretty user-friendly devices, you may still find iPhone memory is full over time. You iPhone memory full indicates a full storage and will deny you the required space to perform some operations on your iPhone. This can cause you a lot trouble. For example, when you open camera, you are unable to take photos because there is no space for photos being stored. You are unable to install new apps on your iPhone due to unavailability of space where it will be installed.
So what can you do when iPhone memory is full? In this article, we will provide you some simple tricks to clear up full iPhone memory. But before that, you can do the following to make sure your iPhone memory is backed up, in case you need it someday.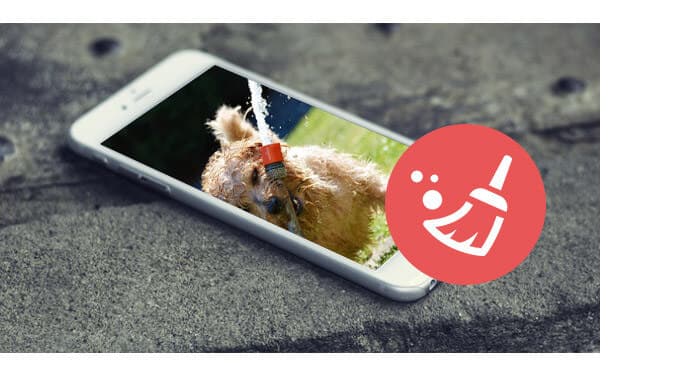 Backup/transfer iPhone data to PC/iTunes/iCloud
Before you free up iPhone memory, we suggest you to backup your iPhone data first. You can choose to backup iPhone memory to PC/iTunes/iCloud. Here is a tutorial you can use to backup iPhone to Computer. Anyway, whether through iTunes, iCloud or other iPhone memory backup tool, as long as you have backed up your iPhone memory, you can fix iPhone no memory problem next.
Simple tips to clear up full iPhone memory
The most straightforward way to free up iPhone memory is to delete some apps you don't actually use. I'm sure there are always some apps you downloaded on your iPhone but only used once or twice before it was rendered useless. To delete an app from your iPhone and free up iPhone memory, you can tap and hold its icon, then tap on "X" in the corner in order to delete the app.
Or you can go to "Settings" > "General" > "Usage" > "Manage Storage" > hit and delete the unwanted apps for getting more storage.
Tip 1. Delete apps you don't use
Apps take up a big storage on your iPhone, and the cache brought out by them also needs more space. Considering this problem, you can uninstall the unused apps from your iPhone.
Go to "Settings" > "General" > "Usage" > "Manage Storage" > hit and delete the unwanted apps for getting more storage.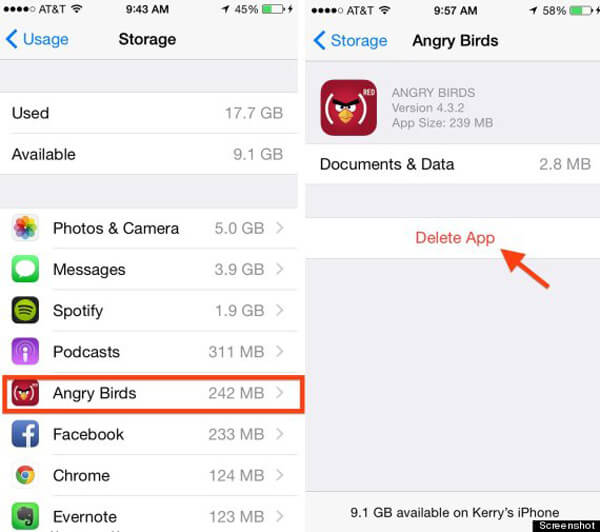 Tip 2. Delete photos and video/audio from iPhone
Apart from apps, another big storage taker is media files like photos and video/audio files. For those photos and videos with important memories, you may want to view them on your iPhone frequently. However, the big storage space form them may slow your iPhone and get the reminder that your iPhone memory is full. So you had better back up them to other places like iCloud or computer. Then you can learn the ways as below to delete the photos pictures video and audio files from your iPhone.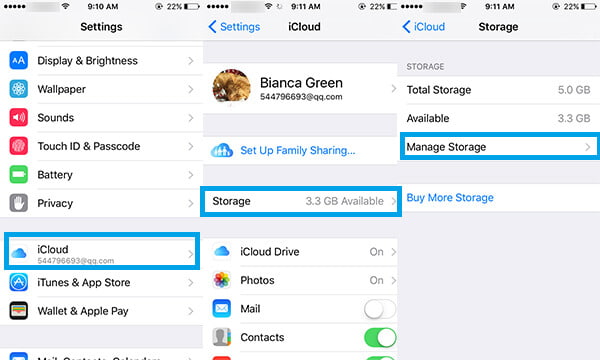 Delete Photos Pictues from iPhone
Tip 3. Clear Safari cache
Like other web browsers, Safari also store cache like photo, video and other site data. Such cache data also takes up some iPhone memory space. You need to manage them to free up more iPhone memory.
Go to "Settings" > "Safari" > "Clear History and Website Data", and then restart your iPhone.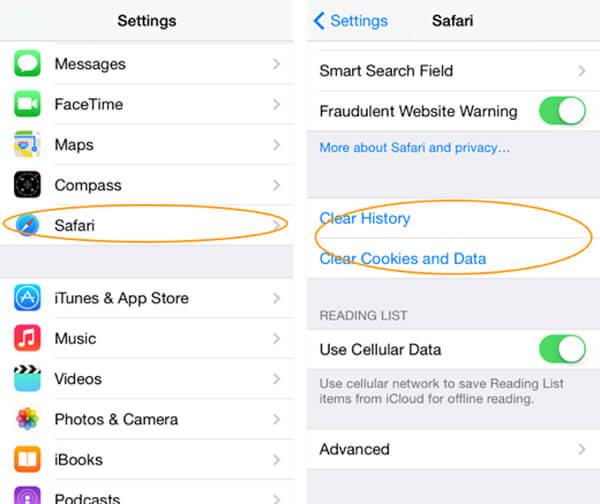 Tip 4. Delete contacts, messages, notes, etc.
Apart from app caches, media files, text files on your iPhone like contacts, messages (text messages and iMessages), notes, reminders, etc. can also make iPhone memory full. If your contacts or messages are useful, you can also delete them.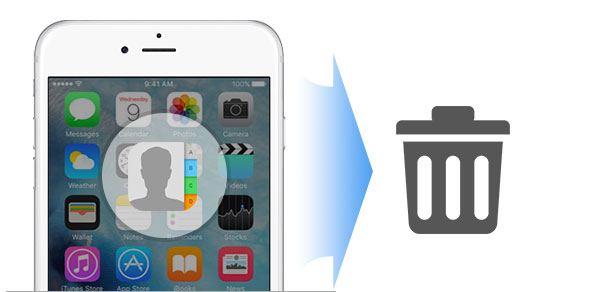 1-click gudie to free up all iPhone memory
Tired of clearing junk files, photos, videos, Safari cache, messages, notes and other files one by one? You are allowed to clear up all iPhone memory at once. In order to do this, you need to turn to an iPhone memory manager. iPhone Eraser utilizes one-click process to free up massive storage space for your memory full iPhone. Now free download this iPhone memory cleaner here, and install and launch it on your PC, and follow the the steps below to clear iPhone memory.
Step 1Connect your iPad to PC
Connect your iPad to PC, and wait seconds, this program will detect your iPhone automatically.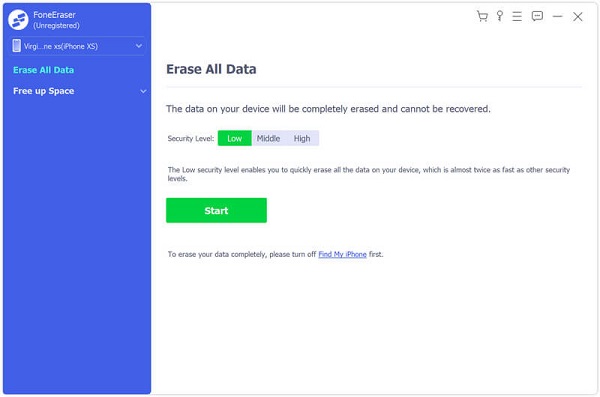 Step 2Select erasing level
Select erasing level (Low, Medium and High) to free up iPhone memory.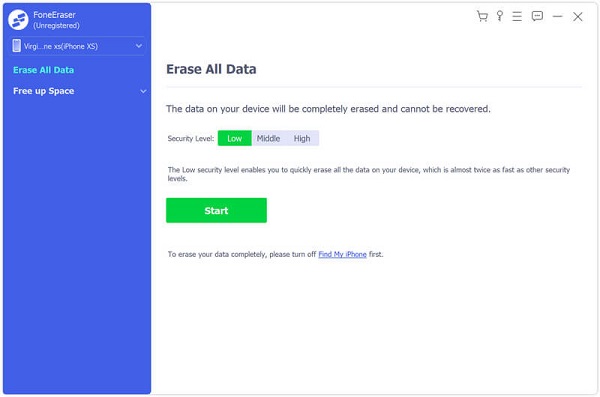 Step 3Start to erase
Click the Start button to clear out iPhone memory within seconds.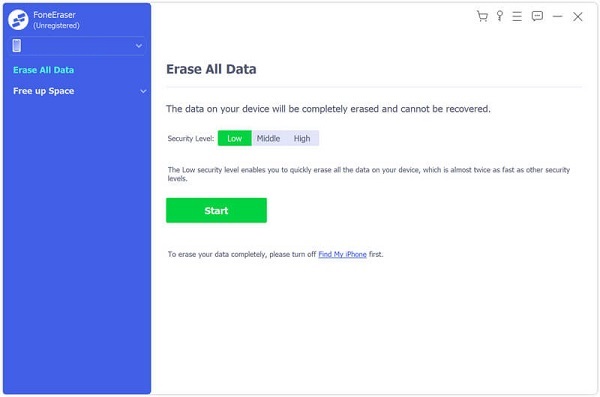 Maybe you can watch below video to learn the steps: