Free Texting Online from Computer to a Mobile Phone
We do love texting on mobile phones as the SMS text messages are becoming a key utility nowadays communication.
However, you have to enter up to 160 characters for a piece of text message, limited by the telecommunications industry. It is not very ideal to send SMS messages from a cell phone to another when you have much content to share. You know, due to the price.
Now you may consider free texting online. How to send free text messages online from computer to a mobile phone?
This article is prepared for you, which introduces you with some useful desktop-based texting apps for free messages as well as online sites to send free SMS text messages to cell phones.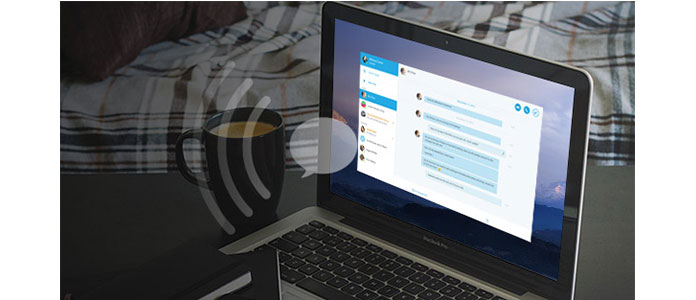 Texting desktop app for sending free SMS text messages
Two texting software will be introduced here. One is Skype, a very convenient communication platform for free calling and texting. Another is TextNow, a cross-platform app for free texting.
Text online through Skype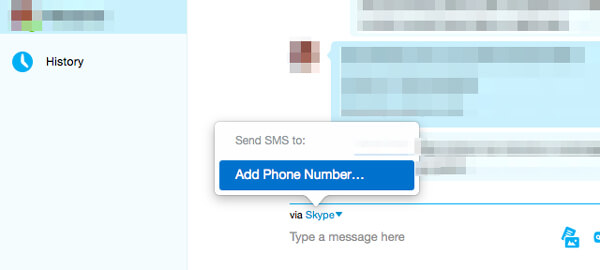 Available around the world, Skype allows you to perform instant messaging for free from the Skype desktop app. However, Microsoft needs you to pay for this service. You can directly deliver and receive messages from Skype. But the text message will not be synced on your mobile phone. But you can customize the sender account to have the messages displayed as coming from your mobile number. When you do so, the recipient's message will display on your phone, not in the Skype.
Surely, you can also delete Skype messages like messages deletion on iPhone to protect your privacy.
Send free text messages via TextNow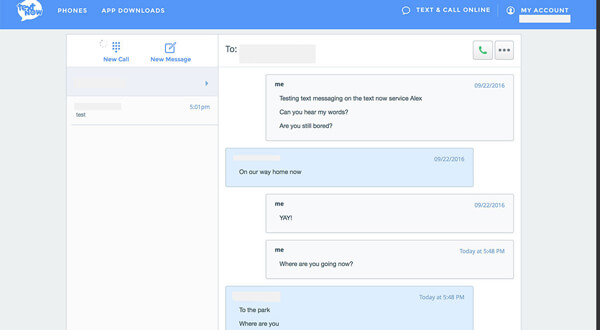 TextNow enables you to perform unlimited texting, calling, and data, starting as low as $13.99 per month with no contracts. Send messages and make calls for free on your computer or tablet, then access them from your phone while on the go. The free TextNow App is available on iOS, Android, Windows Phone, Windows Desktop, Mac OS X.
Sites to send free text messages online
In this part, we will show you some free texting online services and let you send free SMS messages to your recipients without any extra cost.
SendSMSNow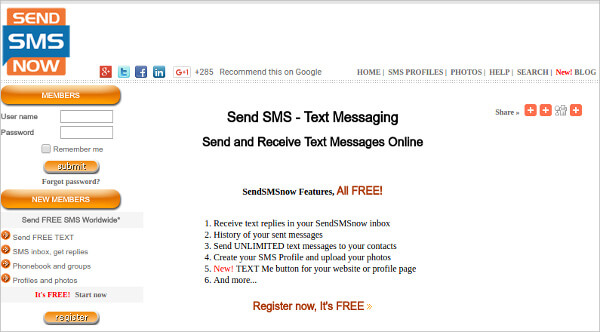 SendSMSNow is a very simple free texting online service for you to send free SMS text messages. Available for users on thirty-four countries, such as United States, Austria, Germany, France, Russia, Canada and so on, SendSMSNow is simple to operate. You just need to choose a country code, enter the message content, type the recipient's number as well as your phone number. But the message limit is up to 130 characters.
Text 'Em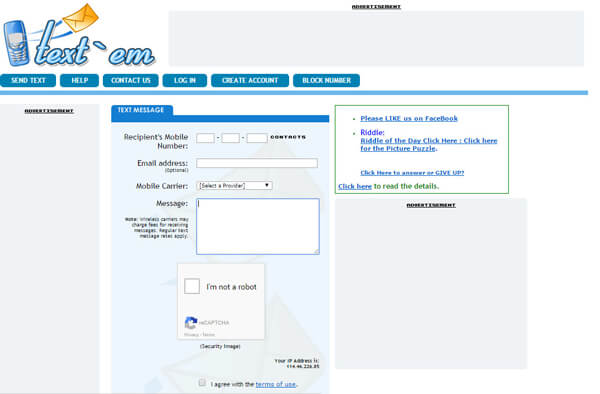 You can feel it very simple when you visit Text'Em online texting website, and it let users to experience its indicative service. All you need to do is just to enter the recipient's phone number and its carrier, your phone number and the message. The texting site supports multiple carriers, and powerfully enables you to impose a up to 155-character message, better than many free SMS texting online services. However, Text'Em only allows you to enjoy the service on United States.
Online Text Message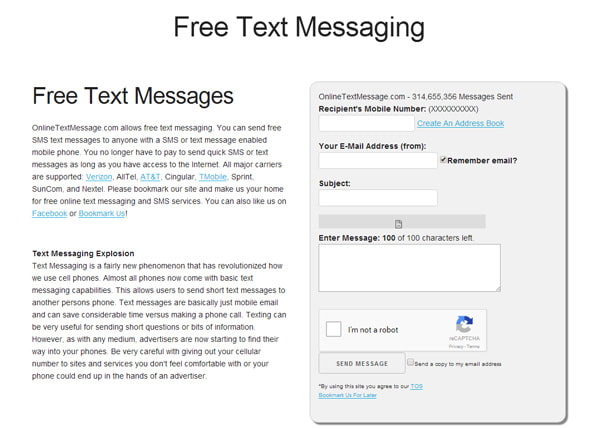 You might find the interface of Online Text Message is not that modern, but the service for free texting is awesome. This free texting online service supports lots of countries and carriers. The texting process is very simple too. But the message limit only allow you to enter 100 characters. The supported carriers include AT&T, Verizon, T-Mobile, Nextel, Sprint, AllTel, SunCom and so on.
Yakedi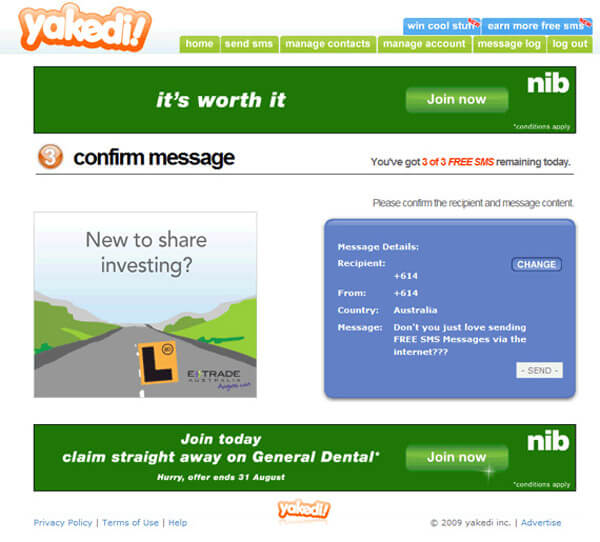 If you live in Australia or New Zealand, you will find it very useful with Yakedi online texting service. With Yakedi, you are able to send free SMS messages to a cell phone. And the site is very private and secure, and it lets you keep track all your free text message you sent. But before enjoying the service, you have to create a Yakedi account. And then you can deliver the free SMS text messages. What's more, you are able to save significant phone numbers in Yakedi's built-in address book, so that you can text them for emergency.
Apart from these free texting online sites, there are other online messaging services for you to choose from, such as AFreeSMS, SENDaTEXT, Globfone, GizmoSMS, SMS Pup, SMSFun, Text4Free, FreebieSMS, SendSMSNow and so on.
You can also use online sites to send fake text messages to play the jokes with your friends.
Best iPhone Message Recovery for retrieving deleted or lost text messages
Lose the iPhone text messages from computer? We'd like here to recommend you the best FoneLab program. With this software, you can easily resume the lost SMS received from PC or Mac.
FoneLab - iPhone Data Recovery
For Mac
It could back up the existing data and those deleted items on your iPhone, iPad and iPod to computer.
It syncs Messages, contacts, photos, music, videos, Safari history/bookmarks, call log, books, etc. to your PC or Mac.
It lets you view and extract data from iCloud backup to computer.
It enables you to preview and restore files from iTunes Library to your computer.
Compatible with iPhone X/8/7/6/5/4, iPad Pro, iPod, etc.
1Launch FoneLab and connect your iPhone to PC or Mac via a USB cable. Click "Start Scan" to scan your iPhone in the mode of "Recover from iOS Device".
2Click "Messages" from the left column and you can find all messages in the main interface. Try to find your deleted messages.
3Tick the messages you want to retrieve, and click "Recover" button to restore the lost messages to PC or Mac.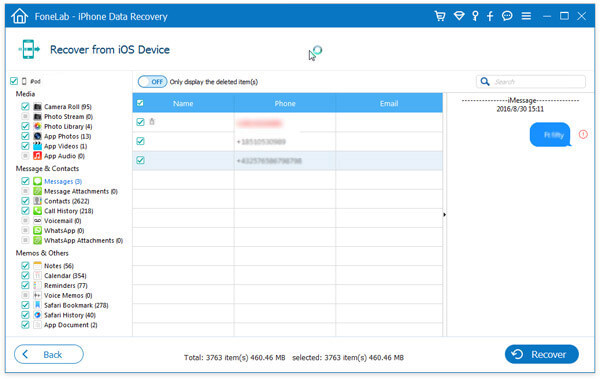 Want to restore text messages from Android smartphone? You can try FoneLab for Android to help you out.
For free texting online, which way do you prefer after reading this post? If you have better recommendation or suggestion, welcome to tell us.