Effective Ways to Send Text Messages from Computer to Phone
Most of us, at one time or another, must experience that texting from a tiny cell phone may be time-consuming and inconvenient. Sometimes, you may want to contact someone but there is an available phone nearby. What should you do? When you encounter such embarrassment, you can consider texting from computer to mobile phone. In this article, we will show you several ways to help you text or send text messages(SMS) from PC or Mac to cell phone.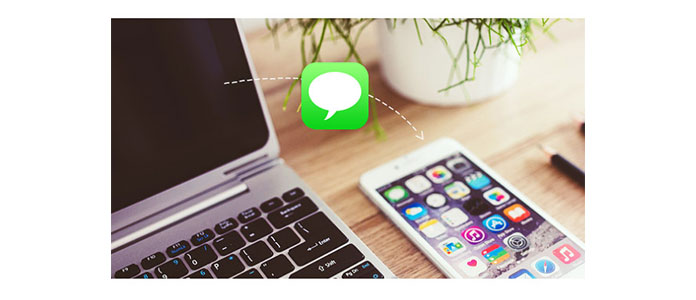 Method 1. Send text messages for iPhone
You are fortunately making it possible to send text messages to phone if you are a Mac user. This method is only available to those who want to text from Mac to iPhone. The default SMS-message sending function on Mac enables you to deliver messages from the computer to iPhone. Remember, only for iPhone.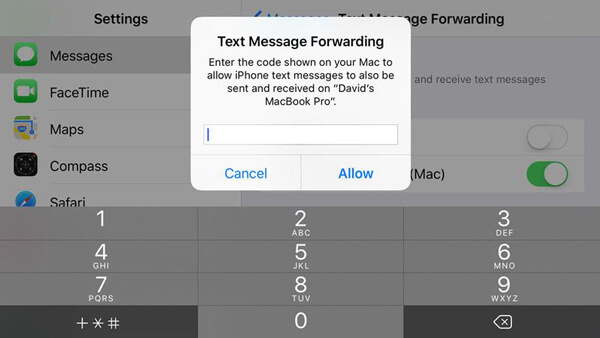 Navigate to your Mac Settings app, tapping Messages, and then activate the option of "Text Message Forwarding". Then you will see a list of devices that are linked to your Apple ID. Tap your iPhone you want to send message from Mac to.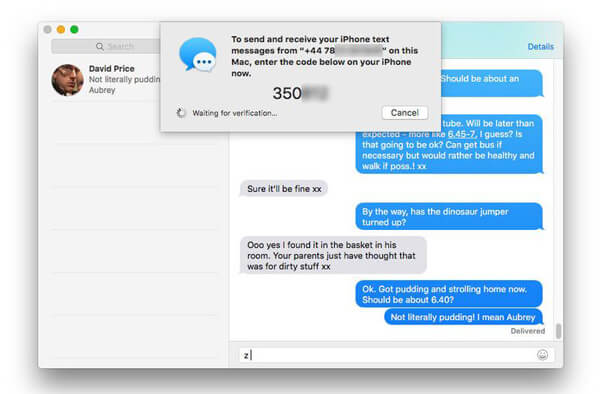 This method only works when your Mac and the iPhone share one same Apple ID. Also, you need to pay the fee if your cellar carrier charges the text messages delivered from Mac.
Method 2. Use email client to send texts from computer to phone
Want to simply text from computer to any mobile phone? Actually, you are able to use no third-party services and realize it via your email client. You can send text messages through an email to SMS gateway, as long as you remember the contact's phone number and the service provider' name. Have no idea about service providers' names and their responding gateway address? And here, we have a list of the most common American ones. Let's check it out.
| U.S. Service Carrier | SMS Gateway | MMS Gateway |
| --- | --- | --- |
| AT&T | @txt.att.net | @mms.att.net |
| Altel | @sms.alltelwireless.com | @mms.alltelwireless.com |
| Sprint | @messaging.sprintpcs.com | @pm.sprint.com |
| Boost Mobile | @sms.myboostmobile.com | @myboostmobile.com |
| U.S. Cellular | @email.uscc.net | @mms.uscc.net |
| T-Mobile | @tmomail.net | @tmomail.net |
| Virgin Mobile | @vmobl.com | @vmpix.com |
| Verizon | @vtext.com | @vzwpix.com |
Navigate to the email service or program. Compose the text message, enter the contact's phone number(including the area code) and the gateway address. For example, if the person's phone number is (123)456-7890, and his or her domain for his service is carried by AT&T, the email address should be 1234567890@text.att.net.
To let the method work, you have to limit the SMS text to less than 160 characters. If not, your message will be sent as an MMS instead.
Method 3. Use Google Voice - available to people in US
Using Google Voice to text from computer is another way. However, this method only works for people based in the USA.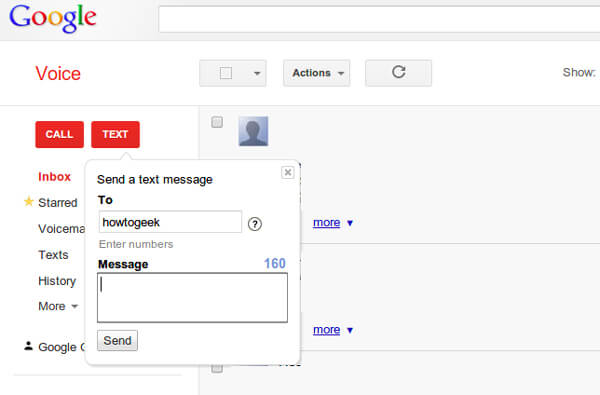 Sign up for Google Voice for free, and then this Goolge service will send you one new phone number that you are able to use as the primary phone number if you want. Sign into the Google Voice website and you can send and receive text messages at that phone number. You can also have calls and text messages sent to that phone number automatically forwarded to your phone number. (iPhone call forwarding not working?)
Method 4. Text from computer to mobile phone through Skype
Skype allows you to send SMS messages from the Skype desktop app. Unlike Google Voice, this tool is available around the world. However, Microsoft needs you to pay for this service when you want to send text messages using Skype.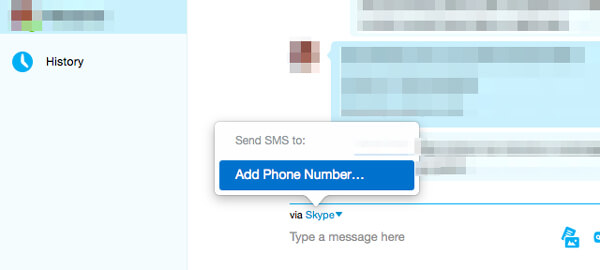 You can directly deliver and receive SMS messages from Skype. But the text message won't be synced on your mobile phone, so you may not respond directly. But you can personalize the sender account to have the messages displayed as coming from your mobile number. When you do like this, people who respond will be texting you on your phone, but the SMS messages won't show in the Skype program.
Surely, for your private messages you can backup and delete messages on Skype for protecting your privacy.
Method 5. Adopt one texting website from computer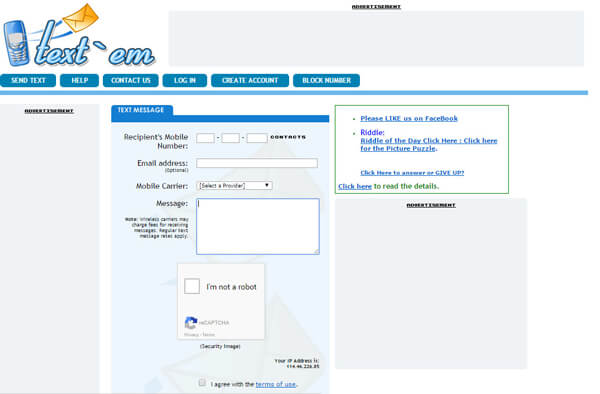 Various services enables you to send texts to a phone online, including AFreeSMS, SendSMSNow, textem, TXT2Day, etc. When you decide to use this method, you may think it over as these websites may attract spam to the mobile phone you send text messages to. Check their privacy policies and make sure they won't divulge your information.
Method 6. Use texting desktop program for Android phone
If you have one Android phone, another way is to use MightyText. You are able to install MightyText on your Android mobile phone. Then sign into its web app in FixFox, Chrome or other web browsers on computer running Mac OS X, Windows, Linux. Your Android phone's SMS are there. It also has browser extensions for you to use. Similar to sending messages on Mac, this approach works only for Android phone.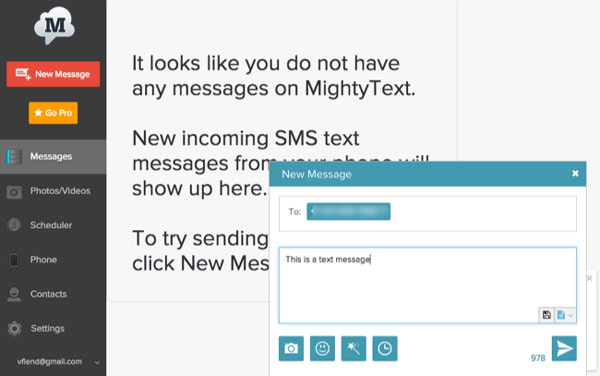 Best iPhone Message Recovery for retrieving deleted or lost text messages
Lose the iPhone text messages from computer? We'd like here to recommend you the best iPhone Message Recovery program. With this software, you can easily resume the lost SMS received from PC or Mac.
1Launch the program and connect your iPhone to PC or Mac via a USB cable. Click "Start Scan" to scan your iPhone in the mode of "Recover from iOS Device".
2Click "Messages" from the left column and you can find all messages in the main interface. Try to find your deleted messages.
3Tick the messages you want to retrieve, and click "Recover" button to restore the lost messages to PC or Mac.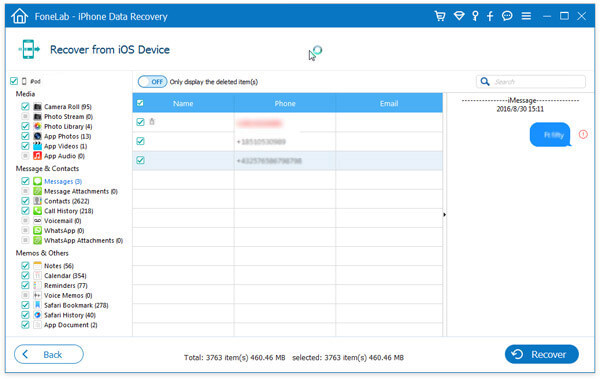 Want to recover messages from Android smartphone? You can try Android Data Recovery to help you out.
Learn here to recover deleted SMS on Android.
In this article, we mainly show you 6 methods to help you send SMS computer to mobile phone. Which way do you prefer according to your situation? If you have any better idea, welcome to tell us.