How to Make and Send Fake/Anonymous Text Messages Online
I forgot the date time with my boyfriend, and he is very angry now. I want to create a fake text message to show that I did send him the text message to cancel the date. I know it is not very good. But I really want to turn each other on.




April Fool's Day is coming. I want to play a joke with my friend for spoof and prank, and intend to send the affectionate text messages from a fake caller ID to him. How can I create that?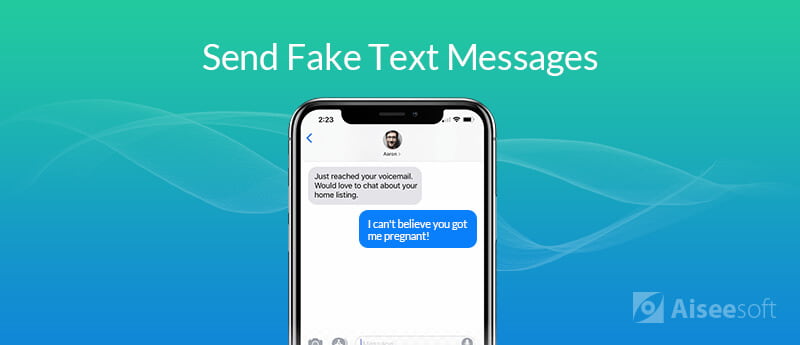 In daily life, fake text messages are created for various reasons. Sending fake caller ID text message to friends may be a joke. The anonymous text messages sending may avoid much trouble for yourself. For whatever reason, you need fake text messages sometimes. In this post, we will show you how to send various fake text messages.
Part 1. Send a Text Message Online from a Fake Number on Computer
Fake caller ID text message means the text message is from a fake number that the receiver does not know. To some extent, it can be regarded as the anonymous text message, which you can use to play the joke on your friends or someone you want. There are 2 best free online methods that can help you send the anonymous SMS text message from a different number on computer.
1. Globfone – Free Online Phone Service
Globfone is a completely FREE to use internet service that allows you to send free text messages to all your friends and family around the world. You can send free anonymous text messages (SMS) from your computer straight to any mobile network across the globe. Now send the anonymous text message from a fake number with a few steps.
Step 1 Go to https://globfone.com/send-text/ to open Globfone. Select the recipient country, which you want to send your fake SMS by choosing a name from "Country" list.
Step 2 Type the recipient phone number, check if it is correct and click on the "Next" button situated below it.
Step 3 Enter the message you wish to communicate. Keep in mind that you are allowed to enter only 140 characters in a single message.
Step 4 Click on the "Send Text" button. It starts to send anonymous SMS text message via a fake number to others.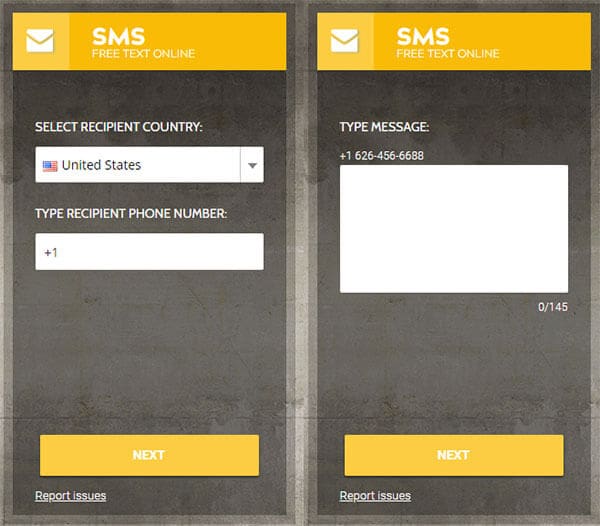 2. Send Anonymous SMS
Send Anonymous SMS is the place to go when you need to send a free anonymous SMS text message with a fake number on Windows and Mac. Just a few steps to finish the Fake caller ID text message sending.
Step 1 Go to http://www.sendanonymoussms.com/.
Step 2 Type the SMS sender's phone number with the spoofed number, the receiver's country, the receiver's phone number, and the fake text message content.
Step 3 Click "SEND SMS!" button to send the free anonymous SMS text message with a fake number.
Now you have sent a fake text message to the number you want. And in turn, what if you want to block text messages sent to you? You can send the fake error or blocked text message to them to stop receiving the text message from someone you do not want. Do the following to block fake messages or click the link above to learn more methods.
Still what you need is Send Anonymous SMS website to help you. Type the SMS sender's phone number. Here the sender's phone number you will type as the receiver's carrier. Then the receiver's country and phone number. For the fake text message, you need to input like "Service error 305: Message delivery failed. Further message will be charge to your account." and so on. At last, click "SEND SMS!" to send a fake error/blocked text message to someone.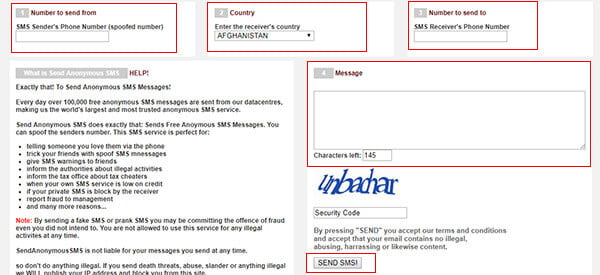 Part 2. Create and Send a Fake Text Message on Your Phone
1. How to Make the Fake Text Messages Online for iPhone
Ever forgot to send an important SMS to someone? Trick your friends and make them believe you received the message of their dream? Fake iPhone Text Messages, the intuitive but excellent Fake SMS Maker for iPhone, helps you create and share lifelike iPhone text conversations with most advance online fake text composer. Here you can make your own text conversation step-by-step.
Step 1 Go to http://iphonefaketext.com/, here is the Fake iPhone Text Messages web browser for iPhone users.
Step 2 You are allowed to set up the below information about your Message.
Internet to select 2G, 3G, 4G or WIFI for iMeessages.
Time for set the receiving or sending time.
Name to select the sender's name.
In the content editing bar, you can edit the fake text message that you want to send or receive. "Add Image" allows you to add image for MMS fake sending or receiving.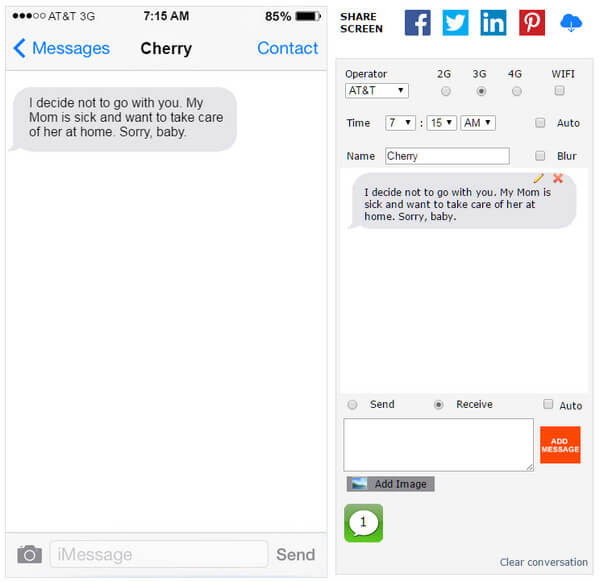 Step 3 Select "Sent" or "Received" button to send or receive the fake text messages to create the message conversation.
If you checkmark "Received", the fake text message created by yourself will send to yourself.
If you checkmark "Sent", the fake text message will be created to your friends.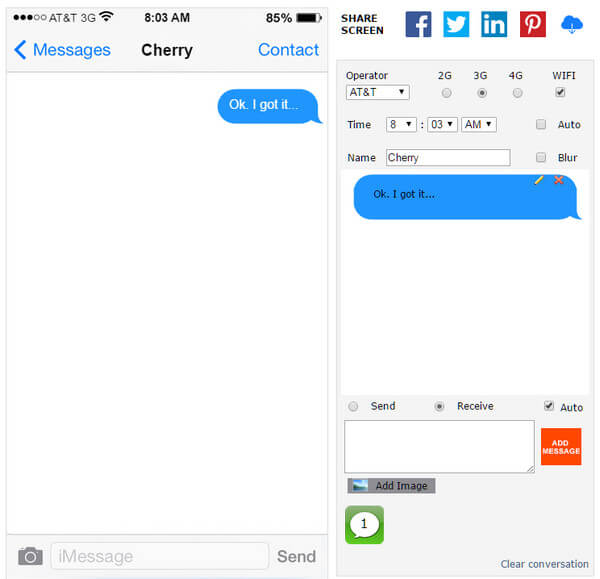 2. How to Create the Fake Text Messages Online for Android Phone
Similar to Fake iPhone Text Messages, Android Fake Text Message is also easy-to-use but wonderful Fake Messages Maker to create the fake text conversations for Android phone users. It is easy to handle and just several steps to create the message conversation.
Step 1 Visit the online website https://androidfaketextmessage.com/ to open Android Fake Text Message.
Step 2 Enter the contact name and select the contact color, add incoming and outgoing text, and then set the advanced settings for your text conversation.
Step 3 Click "CREATE IMAGE" to make a new fake text message conversation for Android phone.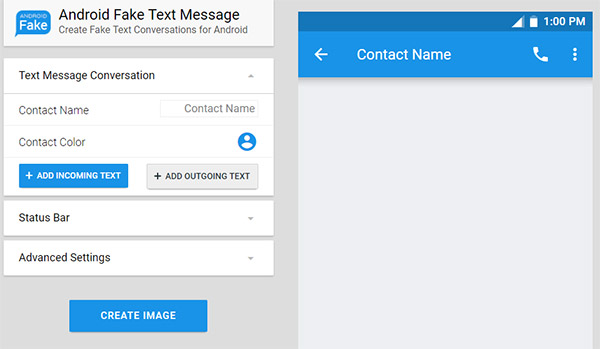 In these two methods, you do not need to provide the phone number but the screenshot to show your friends that you did send or receive the text message.
Part 3. Send an anonymous text message with APPs
If you do not want to use the fake text messaging online service on PC, you can install free iPhone or Android apps to create and send fake SMS text messages for Spoof and Prank to others.
1. How to Send Fake Text Message on Android Phone
Fake Text Message is the free Android Fake Text Messaging App, which also lets you send the fake MMS. You can visit it on Google Play store: https://play.google.com/store/apps/details?id=com.neurondigital.FakeTextMessage&hl=en_US.
Step 1 Install and run this app on your Android phone.
Step 2 Input the phone number of someone that you want to send to, set the time and date, select the type of message you want to fake from Inbox (fake received SMS), Outbox (fake SMS sent to anyone), Sent (fake SMS sent successfully to anyone), Failed (fake SMS that failed to send) and Draft (fake SMS saved as draft), and then tap the text message, here you could also add spoofed attachments.
Step 3 Hit "FAKE" to send the fake text message to someone.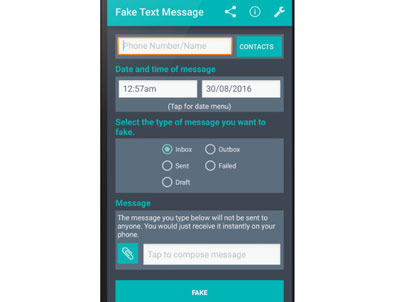 2. How to Make and Send Fake Text Messages on iPhone/iPad/iPod
Fake-A-Text is the iOS app that enables you to type in the sender and the message of a fake text that will be sent via your iPhone/iPad/iPod touch. You can download the app from App Store:
https://itunes.apple.com/us/app/fake-text-free-fake-text-free-fake-call-call-it-prank/id340790528? mt=8
Step 1 Download and install this fake text message app on your iPhone.
Step 2 Select the contact phone number and type the fake text message content. Here you could also choose from pre-written texts, and then set the timer.
Step 3 Tap "Send My Fake-A-Text!" to trick your friends that you did receive the text message from him or her.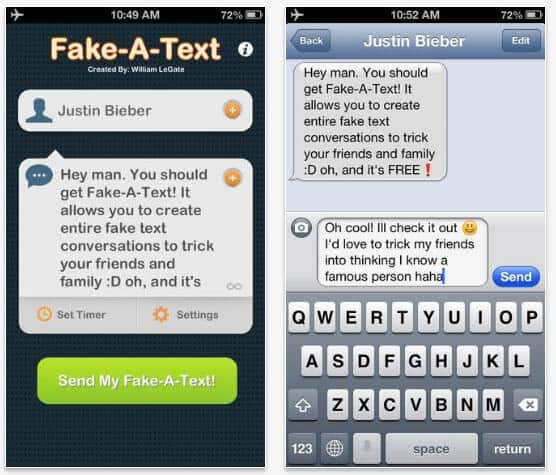 Part 4. How to Export All the Fake Text Messages on iPhone and Android
If you have ever received many fake text messages on iPhone and Android, you can export them for backup, because it may be the evidence for you, or becomes the words jokingly said to others from you.
FoneLab iPhone Data Recovery is the software that can help you export the text messages send and received from iPhone to computer, even the deleted messages. Moreover, it can save the fake call history on your iPhone to computer for backup.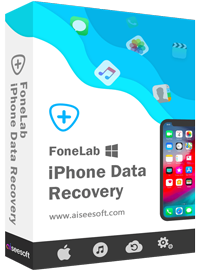 Downloads
Export the fake text messages, iMessages and app messages.
Retrieve the deleted or lost messages, call log, contacts, photos etc.
Recover app data from Kik, WhatsApp, Messenger, Facebook, Viber, etc.
Compatible with iPhone 12, 12 Pro, 12 Pro Max, 12 mini, 11, XS, XR, X, 8, 7, etc.
Step 1Download FoneLab iPhone Data Recovery
Free download this software by clicking the download link above, then install and run it by following thee on-screen instructions.
In the main interface, you will see 3 scanning modes, Recover from iOS Device, Recover from iCloud Backup File and Recover from iTunes Backup File.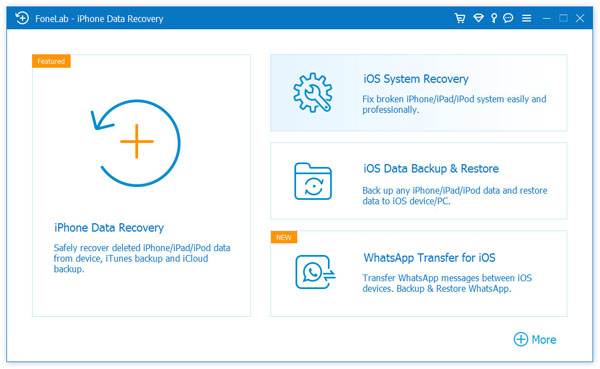 Choose one based on your own needs. Here, we take Recover from iOS Device as an example to export the messages.
Do not forget to connect your iPhone to computer with the USB cable.
Step 2 Select scanning mode
If your iOS device runs on iOS 13/14 or later, you will find there are two ways to scan your iOS device, Start Standard Scan and Start Deep Scan.
If you want to recover call history, Safari history and FaceTime data, you should try Start Deep Scan. Otherwise, you should select Start Standard Scan.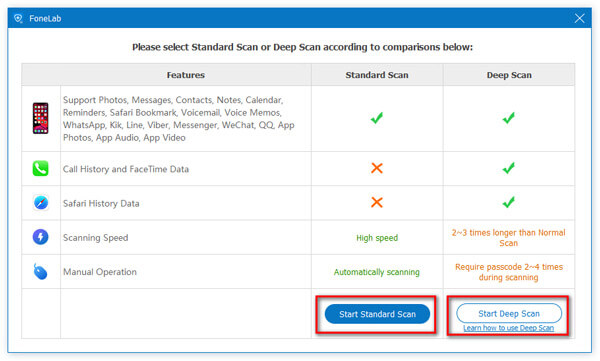 Step 3Scan data
While your device is connected into this software, it will be detected by this software. Just click Scan to start scanning the data you want to recover.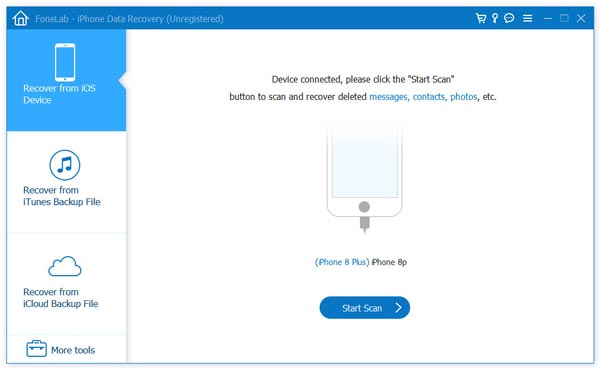 Step 4Export text messages from iPhone
When the scanning process is done, you can click Messages from the left sidebar, and view the messages in details on the right side. The messages marked as red are those items deleted.
After checking them, select the checkbox of the messages, and click Recover to export the text messages from iPhone to computer.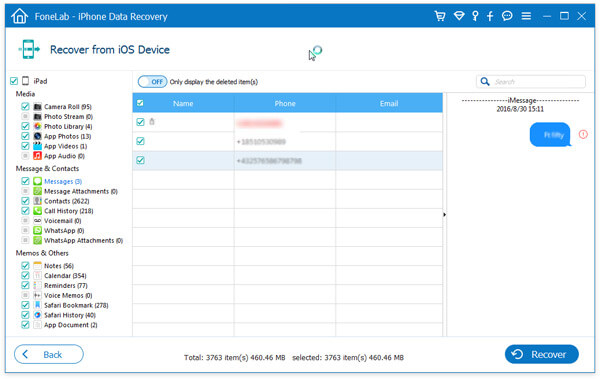 For Android users, you can here to recover the deleted messages, including the fake texts.
From the above ways, you can easily to create the fake text message to "send" or "receive" text message to yourself or friends to make the life better.
Note: Fake text messages are for your personal use to get out of awkward situation or amuse your friend, not for any fraud for any illegal use.