Summary: Just get your iPhone X or iPhone 8 and looking for some apps to fully take advantage of its functionality? Check this post and learn must-have iPhone apps by popular categories, as well as iPhone apps tutorial & troubleshootings.
2017 is a special year for Apple, as it marks the 10th anniversary since the first generation of iPhone. In order to celebrate this, Apple launched their newest iPhone 8/8 Plus and iPhone X, which attracts most of attention. As one popular and leading smartphone in the world, iPhone has completely changed our lifestyle. Most stunningly, the unique Apple Store provides a wide range of apps to use on iPhone, which basically helps you with your work, your hobbies, your fun, everything. In that case, your iPhone isn't so much a smartphone as it is an app phone, and the Home screen becomes a simple gateway to all the magical apps.
In the post, we will focus on the iPhone apps. It's actually not hard to find some crowd popular apps to load in your iPhone, such as Facebook, Instagram, YouTube, Spotify, etc. But the App Store conceals a wealth of cool apps that delivers fantastic features to your iPhone, even though they don't get a lot of headlines right now. So, out of the almost one million apps on the iPhone App Store, which are the ones every iPhone owner must have?
Best iPhone Apps
To help you with that, we have collected some best iPhone apps recommendations by most popular categories, including Music, Photo & Camera, Movie & Video, Utilities, Social Networking and more. Free and paid iPhone apps are both included. Continue to read and get the most out of your iPhone. Meanwhile, if you are new to iPhone, and have run into some issues that's related to iPhone apps or App Store, jump directly to iPhone App Tutorial & Troubleshooting section, and you'll get the answer.
iPhone Apps - Music
Apple has attached great importance to music experience for their users. Besides iPhone, it also launched iPod device to dedicate to music/radio only, which is proved to be a great success in MP3 player time. However, since you can get the same or even better music streaming or downloading service on iPhone nowadays while there is no more trouble to transfer music to iPod, most people would rather choose a good iPhone music app instead of another iPod device.
Then, which music app is the best one on iPhone? In fact, music app has always been one of the hottest categories on Apple Store. iPhone comes with a built-in music app called Apple Music Player, which has updated a lot in iOS 10/11 and arouses many people's interests. Other than that, you can also find some free/paid music apps like Spotify, SoundCloud, Google Play Music, etc.
Apart from music downloader/player, there are some music apps that give you other kinds of music enjoyments on iPhone. For instance, you can add or make ringtones with ringtone apps on iPhone, or listen to online radios with radio apps.
Anyway, check out top 10 best iPhone music apps chart and find the one you like.
Top 20 free/paid iPhone music apps
| | | | |
| --- | --- | --- | --- |
| No. | Icon | iPhone App | Price |
| 1 | | Spotify Music | Free |
| 2 | | Pandora Music | Free |
| 3 | | SoundCloud - Music & Audio | Free |
| 4 | | iHeartRadio | Free |
| 5 | | YouTube Music | Free |
| 6 | | Shazam | Free |
| 7 | | Amazon Music | Free |
| 8 | | Sing! Karaoke by Smule | Free |
| 9 | | Amazon Alexa | Free |
| 10 | | Magic Piano by Smule | Free |
| | | | |
| --- | --- | --- | --- |
| No. | icon | iPhone App | Price |
| 1 | | Tabs & Chords - learn and play | $2.99 |
| 2 | | Ringtones for iPhone | $2.99 |
| 3 | | Drum Beats+ | $4.99 |
| 4 | | FL Stuido Mobile | $13.99 |
| 5 | | djay 2 for iPhone | $1.99 |
| 6 | | iReal Pro | $12.99 |
| 7 | | Shazam Encore | $2.99 |
| 8 | | MuseScore Songbook - Sheet Music | $1.99 |
| 9 | | Equalizer+ Premium HD player | $2.99 |
| 10 | | Cleartune | $3.99 |
iPhone Apps – Movie & Video
As is known to all, videos and movies aren't limited to your TV or computer anymore. You can now enjoy a theater-like movie watching experience on iPhone, thanks to some free movie apps like ShowBox app for iPhone, YouTube, Tubi TV, Amazon Prime Video, etc. Want to download YouTube videos to iPhone, so that you can watch them anytime and anywhere? Video downloader apps can help with that. Also, if you have many movie apps on your iPhone, consider Apple's TV app, which is designed to gather everything you watch on iPhone and iPad all in one place.
As for video editing apps for iPhone, there are also many options. iMovie is the default video editing app on iPhone/iPad, completely free and very easy to use. It offers many effects, such as time lapse, slow motion, reverse, fast forward, etc. More editing apps on iPhone include Flipagram, Musical.ly, Splice, etc. All such iPhone apps have the basic video editing abilities, but if you want to make your video look really professional, it would be better for you to transfer videos from iPhone to computer and edit videos with advanced video editing tool on PC, like Free Video Editor.
One more thing, if you have the need to record videos on iPhone, you can rely on the best iPhone screen recorder apps. But the good news is, in the latest iOS 11, iPhone has added the screen recording feature, which allows you to record screen directly even without help from any app.
Is that all? Of course not. What iPhone movies & videos apps can do is way beyond imagination. You must have heard VR before, but can you ever think of using a VR app on your iPhone to enjoy the virtue reality movies?
Top 20 free iPhone movie apps
| | | | |
| --- | --- | --- | --- |
| No. | Icon | iPhone App | Price |
| 1 | | Netflix | Free |
| 2 | | YouTube TV | Free |
| 3 | | Hulu: Watch TV Shows & Movies | Free |
| 4 | | The CW | Free |
| 5 | | Amazon Prime Video | Free |
| 6 | | DIRECTV | Free |
| 7 | | Tubi TV - Movie & TV Shows | Free |
| 8 | | XFINITY Stream | Free |
| 9 | | YouTube Kids | Free |
| 10 | | TopBuzz Video: Video & TV Shows | Free |
| | | | |
| --- | --- | --- | --- |
| No. | icon | iPhone App | Price |
| 11 | | ABC - Live TV & Full Episodes | Free |
| 12 | | DIRECTV NOW | Free |
| 13 | | Roku | Free |
| 14 | | FOX NOW: On Demand & Live TV | Free |
| 15 | | The NBC App - Stream TV Shows | Free |
| 16 | | HBO NOW: Stream TV & Movies | Free |
| 17 | | DisneyNOW - Shows & Live TV | Free |
| 18 | | Spectrum TV | Free |
| 19 | | CBS - Full Episodes & Live TV | Free |
| 20 | | Google Play Movies & TV | Free |
iPhone Apps – Photo & Camera
iPhone has one of the most capable native cameras in its class, it provides you with multiple advanced camera effects, such as live photo, burst mode, HDR mode, panorama, slow motion, etc. But while these are handy features, they're not necessarily enough to sate the needs of today's creative phoneographers. In that case, many third-party camera apps for iPhone would be more suitable. Not only can they take more stunning shots in general, some of iPhone camera apps even offer more interesting photo features that just crack you up. You can use best GIF apps to make animated GIF photos, or enjoy a different selfie with funny face app.
Moreover, as most of iPhone camera apps would provide basic editing functions and various filters, you can still find professional photo editing apps, like Photoshop for iPhone, which makes your photos look sharper and more appealing.
Top 20 free/paid iPhone photo apps
| | | | |
| --- | --- | --- | --- |
| No. | Icon | iPhone App | Price |
| 1 | | Snapchat | Free |
| 2 | | Instagram | Free |
| 3 | | Google Photos | Free |
| 4 | | Flipagram | Free |
| 5 | | Layout from Instagram | Free |
| 6 | | musical.ly - video social app | Free |
| 7 | | Pic Collage - Photo Editor | Free |
| 8 | | Boomerang from Instagram | Free |
| 9 | | Adobe Photoshop Express | Free |
| 10 | | PicsArt Photo & Collage Maker | Free |
| | | | |
| --- | --- | --- | --- |
| No. | icon | iPhone App | Price |
| 1 | | kirakira+ | $0.99 |
| 2 | | Facetune | $3.99 |
| 3 | | Videoshop - Video Editor | $1.99 |
| 4 | | Afterlight | $0.99 |
| 5 | | Baby Pics - Photo Editor | $2.99 |
| 6 | | Glitché | $0.99 |
| 7 | | Fontmania - Add Artworks & Texts to Your Photos | $4.99 |
| 8 | | Word Swag - Cool fonts & typography generator | $4.99 |
| 9 | | TouchRetouch | $1.99 |
| 10 | | Enlight | $3.99 |
iPhone Apps – Social Networking
The field of social media has exploded in the past few years with iPhone putting it in our pocket. Until now, social networking has become essential part in iPhone. Looking around, you can see everybody is on Twitter, Facebook, MySpace, FriendFeed, Instagram and tens of other social networking platforms. If you haven't taken time to get yourself familiar with these iPhone apps, now's the time.
Whether you are interested in iPhone messaging apps or calling apps, you should know that the best iPhone apps are the ones we can use for free, especially when it comes to social networking, since many text/message apps or calling apps on iPhone provide services for free. Also, to avoid being too boring online, check emoji apps on iPhone and be popular with all the funny emojis and stickers. Another thing to consider is your data security. I mean, even if there is iPhone Data Recovery tool that assists you to recover deleted/lost iPhone data easily, you don't want to have a media app where all messages or call logs keep missing for no reason, right?
Enough talking, now check out top 10 best free iPhone social media apps, and become a social butterfly!
Top 20 free/paid iPhone social media apps
| | | | |
| --- | --- | --- | --- |
| No. | Icon | iPhone App | Price |
| 1 | | Messenger | Free |
| 2 | | Facebook | Free |
| 3 | | Pinterest | Free |
| 4 | | WhatsApp Messenger | Free |
| 5 | | tbh | Free |
| 6 | | Sarahah | Free |
| 7 | | GroupMe | Free |
| 8 | | Marco Polo Video Walkie Talkie | Free |
| 9 | | Skype for iPhone | Free |
| 10 | | Find My Family, Friends, Phone | Free |
| | | | |
| --- | --- | --- | --- |
| No. | icon | iPhone App | Price |
| 1 | | WatchChat for WhatsApp | $0.99 |
| 2 | | Followers + EA - Analytics for Instagram | $0.99 |
| 3 | | Littlebook: for Facebook@Watch | $2.99 |
| 4 | | Badoo Premium | $2.99 |
| 5 | | Friendly Plus for Facebook | $1.99 |
| 6 | | Unfollowers on Instagram Pro - IG Followers Tracker | $4.99 |
| 7 | | Threema | $2.99 |
| 8 | | TeamSpeak 3 | $4.99 |
| 9 | | The Chan | $1.99 |
| 10 | | Tweetbot 4 for Twitter | $4.99 |
iPhone Apps – Utilities & Productivities
Other than the top iPhone apps commonly used in Music, Movie & Video, Photo & Camera and Social Networking, you can also find many utility tools as well as productivity apps in Apple Store that applies widely in our life and work, making it more efficient. Afraid of running into "Forgot iPhone passcode" issue? Use password manager app for iPhone to manage all passwords on your iPhone. Can't read text messages while driving? Text message readers for iPhone can help you listen and reply messages hands-free. Want to read books on your road? Download free audio books app on iPhone. Getting bored and don't know what to do? Download game apps for entertainment.
Below are some other hot utilities and productivities apps for iPhone. Get what you like and make your iPhone versatile.
iPhone Apps Tutorial & Troubleshooting
With most iPhone users downloading apps from App Store, some of you might run into unexpected issues that are related to iPhone apps or App Store, like "can't download apps on iPhone" or "iPhone apps won't update". To help you with all sorts of problems, I have gathered the frequently-asked iPhone apps questions and their answers below. Hopefully you can find some useful tips.
Download FoneLab now to easily fix all problems related to iPhone apps or Apple Store, and get your iPhone back to normal
1. I just bought a new iPhone X, how to transfer apps and data from iPhone to iPhone, so that I don't lose my apps?
Data movement on iPhone becomes necessary once you switch to another new iPhone X/8/7/6 or just want to make share. Apart from text messages, contacts, photos, music and other documental file, you may also have the demand to transfer apps to your new iPhone, which seems to be tougher to be resolved. Well, don't worry. There are actually several ways you can use to move apps from iPhone to iPhone.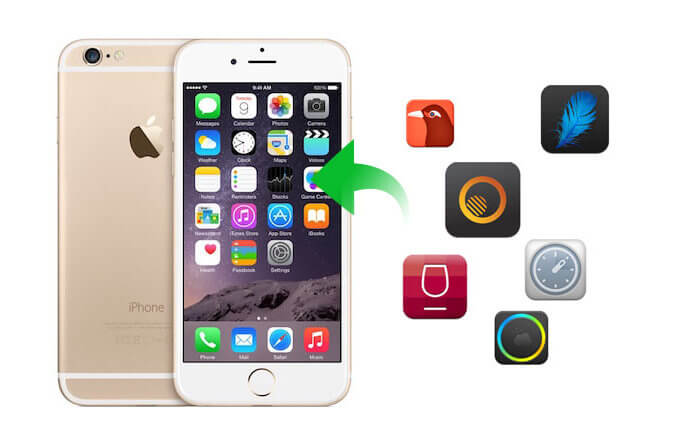 1. Re-download apps in Apple Store (Data loss)
In your new iPhone, go to App Store, tap "Updates" > "Purchased" > "Not on This iPhone" to see the list of apps that purchased with the Apple ID, but not currently on your iPhone now, will be displayed. Select the app and hit the download button to install the app on your new iPhone.
2. Transfer apps from iPhone to iPhone with iCloud
As Apple claims that your purchase histories like music, movies, books, apps are all linked to your Apple ID, you can easily transfer apps to a new iPhone from iCloud backup.
1. Firstly, you need to backup iPhone apps to iCloud.
2. Turn on your new iPhone, sign in your iCloud account, you'll be asked whether you want to set your iPhone as a brand new iPhone or restore from a previous backup. Choose to restore from the latest iCloud backup, and then all data include apps, app data, photos, contacts and more from your old iPhone will be synced to the new one.
3. Transfer apps from iPhone to iPhone via iTunes
Instead of iCloud, if you just back up iPhone data to iTunes on PC/Mac, you are able to transfer apps to another iPhone by syncing iTunes.
1. Open your new iPhone, in the "App & Data" screen, tap "Restore from iTunes Backup".
2. Connect your new iPhone to PC/Mac. Open iTunes, click iPhone icon > "Summary" > "Restore Backup", Select the suitable backup and start to transfer.
4.Transfer apps from iPhone to iPhone with FoneTrans (No backup needed)
Two method above both need backup and restore process, and which can be quite complicated. By contrast, FoneTrans is an easy-to-use and straightforward tool that enables you to transfer apps and app data from iPhone to iPhone directly.
1. Download and open this iPhone transfer tool, connect two iPhones to your computer.
2. In your old iPhone, find app and app data you want to transfer, click "Export to" in the top menu bar, and choose your new iPhone as the destination.
2. I have downloaded quite many apps on my iPhone, and now my iPhone runs slow. Do I have to delete iPhone apps? What should I do?
To be honest, iPhone running slow is a quite common issue among all users. While many reasons can cause such annoying situation, iPhone apps are the most responsible. If you are going through this, do the following things and make your iPhone run faster.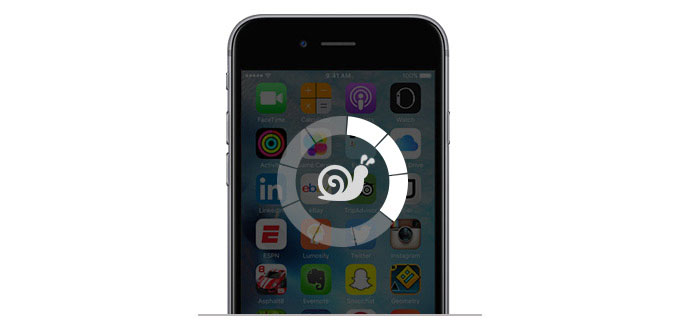 1. Uninstall iPhone apps that you no longer need to free up more storage. Also, make sure that you iPhone apps are removed completely.
2. Close an iPhone app every time you want to quit. Make sure it doesn't run in the background. Go to "Setting" > "General" > "Background App Refresh", and disable background App refresh for double insurance.
3. Clear app cache on iPhone regularly. Every time you visit an iPhone app, cache files and cookies will generate and accelerate in it. Therefore, clear iPhone app cache to clear all junk files and get more storage on iPhone.
4. Better manage and move your iPhone apps. Sometimes, a bad management can cause chaos in your iOS system. Get help from some iPhone management tools.
5. None of the tips work for you? Use FoneEraser to ease all content and settings on iPhone, and make it as new as begin.
3. iPhone cannot connect to Apple Store? How to Fix?
When you try to open the Apple Store, you might see a "Cannot connect to Apple Store" alert message on screen. Even when you force quit and reboot Apple Store, error couldn't be solved. There is no logical explanation to why this error reflects on screen, but you can give these tested tricks a go to fix this issue.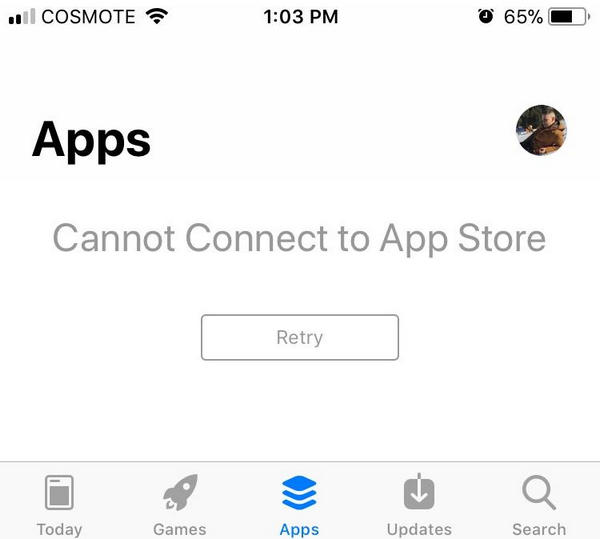 1. Check if Apple Store is down. It could be that the App Store is crashing and nobody can access it right now.
2. Check your web connection. Make sure that your device is connected to the Internet. Visit Google, for example, and see if the page loads. If Wi-Fi turns out to be the issue, here's how to fix iPhone won't connect to Wi-Fi.
3. If you are using 3G/4G, make sure you have allowed the App Store to access your cellular/mobile data. Go to "Settings" > "Cellular/Mobile", scroll down and toggle the switch next to Apple Store on.
4. Make sure that the date and time on your iPhone is set correctly for your time zone. If it's not, go to "Settings" > "General" > "Data & Time", toggle "Set Automatically" on to set time and data automatically.
5. Update the latest version of iOS (currently iOS 11), and try to connect to Apple Store again.
4. Can't download or update apps on iPhone? How to Fix?
Downloading or updating apps on your iPhone is usually as simple as tapping a few buttons. But in some rare situations, something goes wrong and your iPhone can't download/update apps. If you're facing this problem, read on to get the solutions.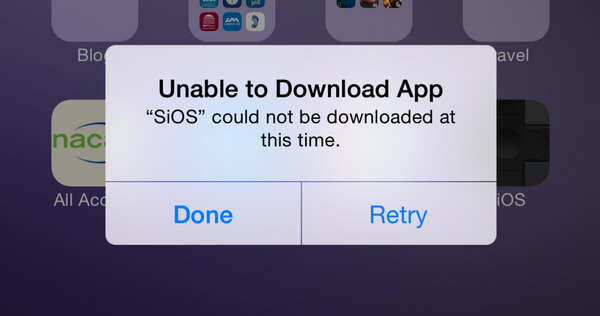 1. Force restart Apple Store, or just restart iPhone to refresh your iOS system.
2. Click "Setting" > "General", scroll down and choose "Restrictions", make sure the "Installing Apps" option is switched on in "ALLOW" section.
3. For some apps that you cannot update, you can try to delete these apps and then re-install them on iPhone. Notice that this method may erase all data and settings on iPhone apps that you're going to remove.
4. If an app won't update on your iPhone, try doing it through iTunes. Updating this way is pretty simple. Connect your iPhone/iPad to iTunes, choose "Apps" in the tool bar. Select the app and then click "Update". Once you have updated the App, you can sync them to your iPhone/iPad.
5. Update to the latest version of iOS. If you have any iPhone software update problems, you can find the reference here.
6. If this problem is related to App Store Server, go back to the last issue about how to fix "iPhone can't connect to Apple Store".
5. I can't open iPhone apps: iPhone apps keep crashing or iPhone apps got stuck on "waiting"? How to fix.
Though iPhone and iPad apps are generally very stable, sometimes you'll encounter an iPhone application that crashes at random or got stuck at waiting, especially after iOS update. In iPhone, a crashing app usually presents as an app that seems to quit itself immediately without user intent, while a waiting app just freeze at "Waiting" status during download, install or update. To avoid such situations, you can try a few things.
1. Quit the app running in the background or force close it if necessary, then re-launch the app on iPhone. In most cases, the problem will be solved.
2. Force reset your iPhone device to see your iPhone app can act normal.
3. Uninstall and reinstall the app again can also do the trick required to resolve a crashing app or waiting app issue in iOS. The main perk of this method is that when you uninstall the app it also clears out the stored cache files, which sometimes are one of the major reasons for such issues in first place.
4. Probably the app itself has a bug? Contact the developer of the iPhone app and see if they can help you solve this problem.
5. Get help from the third-party iOS repair tool. iOS System Recovery is a simple yet professional program that can fix most of iOS problems, including iPhone apps crashing, iPhone apps says waiting, iPhone overheating, etc. Free download it and try to repair iOS system.
6. I was concerned about parental control. Is there a way to lock apps on iPhone securely?
iPhone gives you control over how your kids can use your devices. You can quickly lock your device to a certain app before handing it over or lock down an entire device with comprehensive parental controls. To do this, use one of the following methods.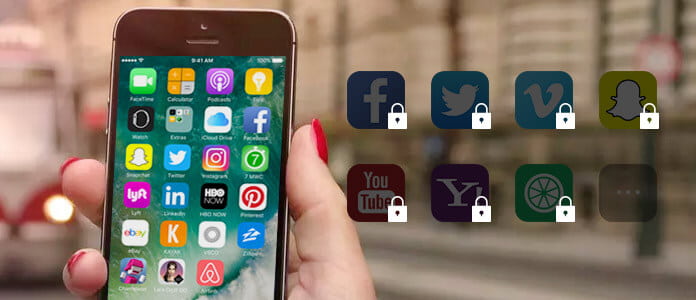 1. Go to "Settings" > "General" > "Restrictions". Set a passcode to enable restrictions/parental control. This allows you to apply restrictions on iPhone default apps, websites, content types, privacy settings and cellular data.
2. Go to "Settings" > "General" > "Accessibility", turn on "Guided Access" and set a password.
3. Use third party app locker for iPhone, like BioProtect or AppLocker. But this requires you to jailbreak iPhone firstly.
4. Instead of locking apps on iPhone, you can also try to hide apps on iPhone, so that nothing appropriate can be found by your kids or other people.
7. How to get paid iPhone apps for free?
Thousands of developers have made over a million apps and games that can totally transform the device your holding in your hands. Some of them are totally free, and some of them are paid. How to get free apps on iPhone is always a hot topic among the iPhone users in Apple Community. Without jailbreak, there are a few ways you can use to get paid iPhone apps for free.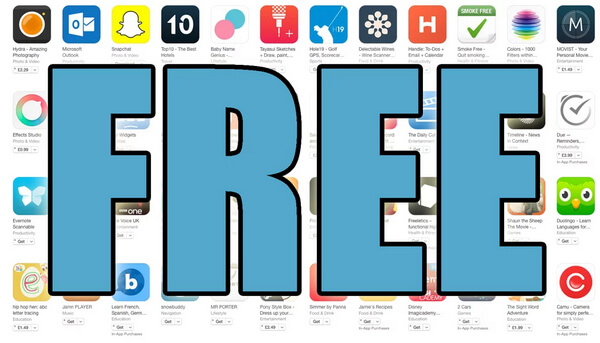 1. Every week, Apple chooses an app as its App of the Week. They're usually pretty impressive apps that will cost you a pound or two when they're not in the promotion.
2. Pay attention to some well-received free app aggregators, these sites gather up all the current free app deals for you to peruse on your own.
3. Download cracked apps, which essentially approach free paid apps without jailbreaking from the opposite end compared to exploiting operating systems.
4. Third-party app stores collect or duplicate free iPhone apps so you can download them to your heart's content.
In this article, we have mainly listed top 10 best iPhone apps by popular categories, and given you all tutorial & troubleshooting about iPhone apps. Still have more questions about iPhone app? Feel free to leave your comments down below.