Tutorial to Insert PDF into Word
When you insert a PDF file into a Word document, it displays just fine if the file is a single page. It is another story when it comes to a PDF file that contains multiple pages. Only the first page is visible. Therefore, we will tell you how to insert a multiple page PDF into Word.
Insert PDF into Word
Part 1: How to Insert PDF to Word
Today, Office Word has included a lot of advanced features, and that makes it a bit confusing to insert a PDF with multiple pages into Word, especially if you are not familiar with Office Word. The built-in Object feature allows you to add a PDF into Word and display all pages.
How to Insert PDF to Word on Windows
Bear in mind that much of the formatting may be lost in PDF after inserting to Word. Moreover, this way is available to Word 2007/2010/2013/2016 and more.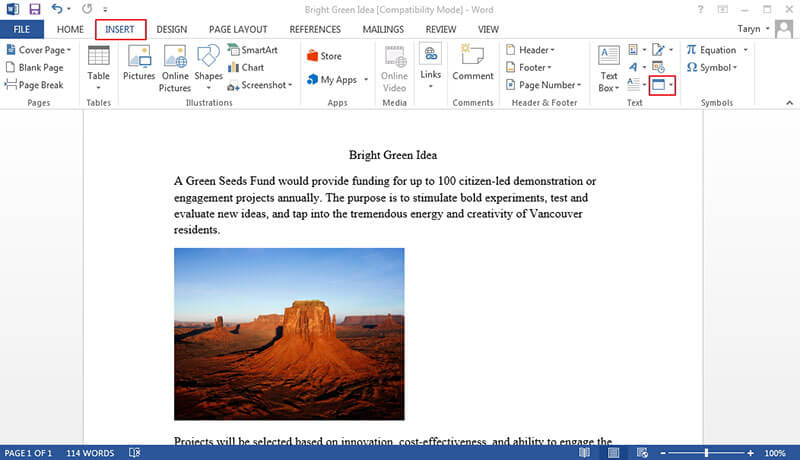 Step 1.
Go to the Insert tab from the top toolbar of your Word document, and then click the Object tool in the Text group to display the Object dialog.
Step 2.
Head to the Create from File tab, click the Browse button to trigger the open file dialog.
Step 3.
Locate and select the PDF file that you want to import to the document, and click the Insert button. Word will close the open file dialog.
Step 4.
Finally, click the OK button on the Object dialog.
At this point, you may face three situations, the PDF is inserted as a bland icon, a single page is imported, or all pages are added. The first situation is due to your Word cannot decode the PDF file at all. If your Word version is incapable of displaying the full PDF file, you will get a single page.
For inserting PDF file into PowerPoint, you could check it here.
How to Import PDF to Word on Mac
Though Word for Mac has the Object feature as well, the procedure of importing multiple page PDF into Word is a bit varied.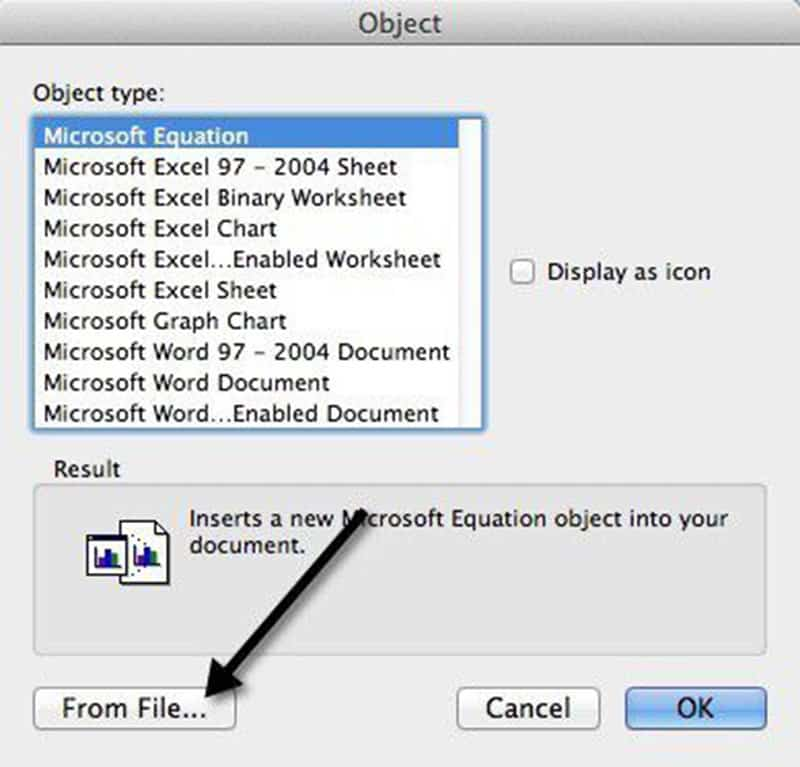 Step 1.
Open Office Word for Mac, click Insert -> Object to open the Object dialog.
Step 2.
Hit the From File button at the bottom left corner, select your PDF file on the Explorer window, and click Open.
Step 3.
Then you can preview the PDF file on the preview window, enter the pages to add into the Show page field.
Step 4.
Once click the Insert button, the PDF pages will display as images into the Word document.
The preview window is only available to Word for Mac 2011 and up.
How to Insert PDF Text into Word
If the Object feature is not working for your document, you have to copy the text and images from PDF to Word manually. This way only works if the PDF is primarily text.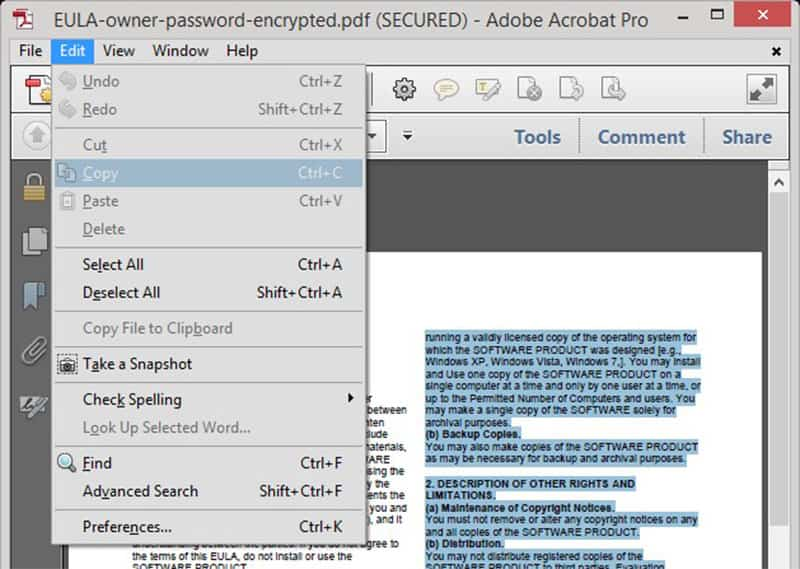 Step 1.
Open your PDF file into a PDF viewer and the Word document.
Step 2.
User your cursor to select the text on the PDF, and click Edit -> Copy or right-click on the text and select Copy.
Step 3.
Switch to the Word document, put your cursor to the right point and press Ctrl + V buttons on Windows or Cmd + V buttons on Mac.
If your PDF file is encrypted or was consisted of images, you cannot copy text.
Part 2: Insert PDF to Word after Converting PDF to Word
Although you can insert a multiple page PDF to Word as an object, it cannot guarantee that it works on every PDF. So, we suggest you to convert your PDF into Word or image with Aiseesoft PDF Converter Ultimate for adding to Word document.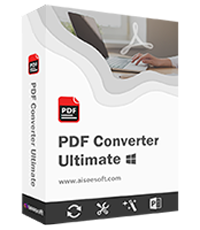 Downloads
Aiseesoft PDF Converter Ultimate
Encode any PDF to Word, text, JPG, PNG, GIF, etc.
Remove encryption from secured PDF files.
Keep the format of your PDF while converting.
Use OCR technology to recognize languages simply.
Apparently, PDF Converter Ultimate is the best option to insert a multiple page PDF to Word document on Windows 10/8/7 and Mac OS X.
How to Convert PDF and Insert It to Word
Step 1. Get the Best PDF converter
Download and install PDF Converter Ultimate to your PC. There is another version for Mac computers. Then open the program and click Add Files button on the top toolbar to import the multiple page PDF files.

This best PDF converter is able to process hundreds of PDF files at one time.
---
Step 2.Convert PDF to Word
Move to the bottom area. Click and expand the dropdown list of Output Format and select a proper format, such as Microsoft Word. To convert a PDF file to images, select JPG or your favorite image format. Then set the Output Folder, such as Save target files in source folder or Customize a destination folder.

Select All or Range under the Page Range area. The former will convert all pages in PDF files and the latter allows you to encode certain pages.
If you are ready, click the Start button to begin converting PDF files for adding them to Word. It only takes a few seconds to process a PDF with hundreds of pages, according to our research.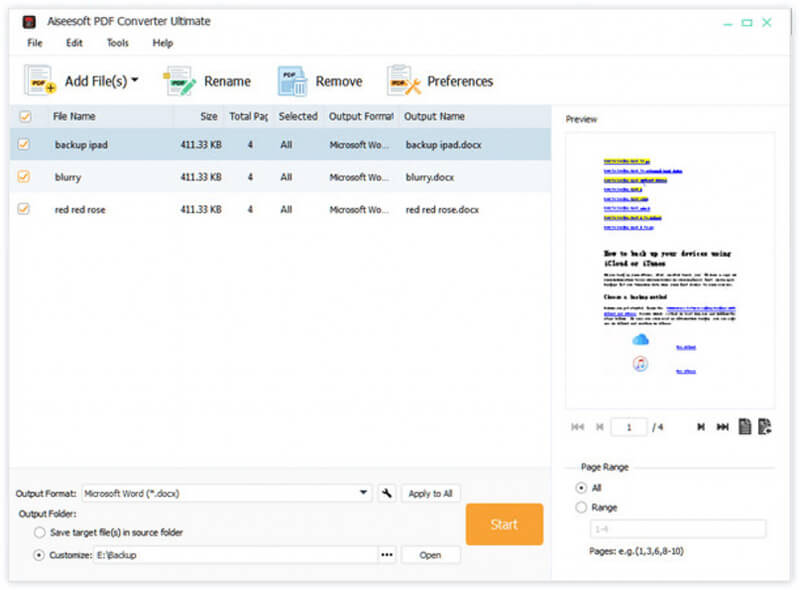 ---
Step 3.Add Converted PDF to Word
When it is done, quit the best PDF converter and go to the destination directory. Open the converted PDF files and copy and paste the contents to your Word document. If you convert PDF to images, launch the Word document, go to Insert tab, select Picture -> Insert Picture from File and open the images.
Conclusion
This article has shared multiple ways to add a multi-page PDF to Word document and display all pages. By default, the Object feature in Office Word has the ability to insert a PDF to Word, but sometimes it cannot display your pages as you wish, especially when the PDF is encrypted. That is why we recommended Aiseesoft PDF Converter Ultimate, which is a professional PDF converter to encode PDF files to Word or images. It makes easier to insert PDF to Word. More questions? Feel free to leave your message below.