iPhone Call Forwarding Not Working? Here're 2 Proven Ways You Can Try
If you don't want to answer the incoming phone call, or you are in an area with poor cell phone coverage, you can set up call forwarding on your iPhone. As a result, you can forward all phone calls from your iPhone to another number. The detailed process to activate call forwarding depends on the current carrier you are using.
However, more and more users complain about iPhone call forwarding not working issues. Well, call forwarding is a carrier feature, if iPhone call forwarding no longer working, contact the cellular carrier is a good way to solve the problem.
Conflicting settings and system errors are also the main causes. In most cases, you can use the following methods to fix call forwarding not working on iPhone. Now, let's read together to see how to get the iPhone call forwarding feature back to work normally.
Part 1: Fix iPhone Call Forwarding Not Working via iOS Repair Software
If you are experiencing iPhone call forwarding not working after update or make other changes, the most possible reason is the iOS system. There must be something wrong with the iOS system. The call forwarding stopped working due to these or those glitches and errors. To use call forwarding on iPhone again, you can run Aiseesoft iOS System Recovery to diagnose and repair iOS system from abnormal to normal in one stop.
You can fix iPhone call forwarding problems with 2 repairing modes. The "Standard Mode" can troubleshoot iPhone without data loss. If it does not work, you can enter into the "Advanced Mode" to have another try. During this time, you need to create a backup before repairing iPhone call forwarding not available.
There is no need to worry about the data loss issues. All your iPhone files will be well-organized in the original place. It is 100% safe and easy to use. No learning curve is required. The entire iOS system repairing process can be finished in clicks. By the way, you can downgrade and upgrade iOS version freely.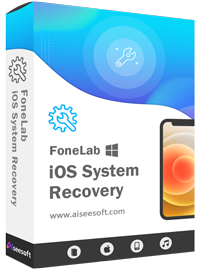 Downloads
Fix all system-related problems on iPhone running iOS 16/15/14/13/12/11 and earlier versions.
Troubleshoot iPhone call forwarding not working without any data loss.
Safe and easy to use. Repair call forwarding not loading or working on iPhone with unknown reasons in minutes.
Downgrade and upgrade all iOS versions while repairing call forwarding problems, including the beta versions.
Fix iPhone call forwarding issue with iOS System Recovery
Step 1 Free download and install the software. Choose "iOS System Recovery" on the main interface.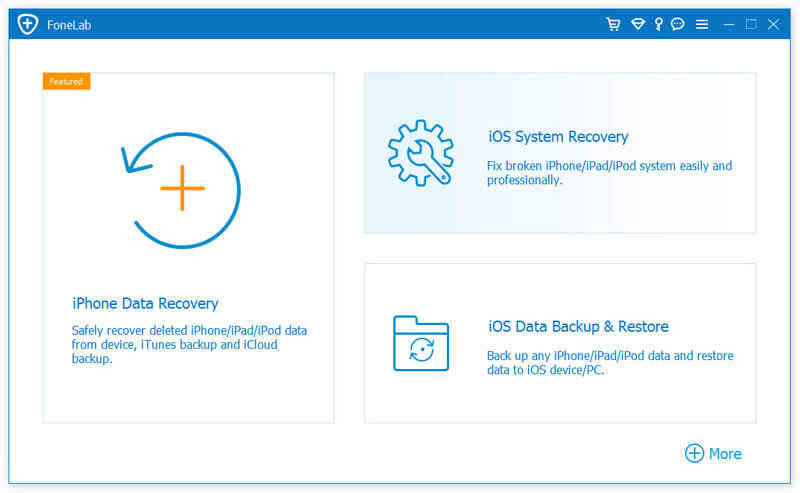 Step 2 Plug iPhone into the computer with a USB cable. Tap "Trust" when you are prompted with "Trust This Computer" on iPhone. Consequently, the computer can recognize your iPhone successfully. Later, click "Start" to move on.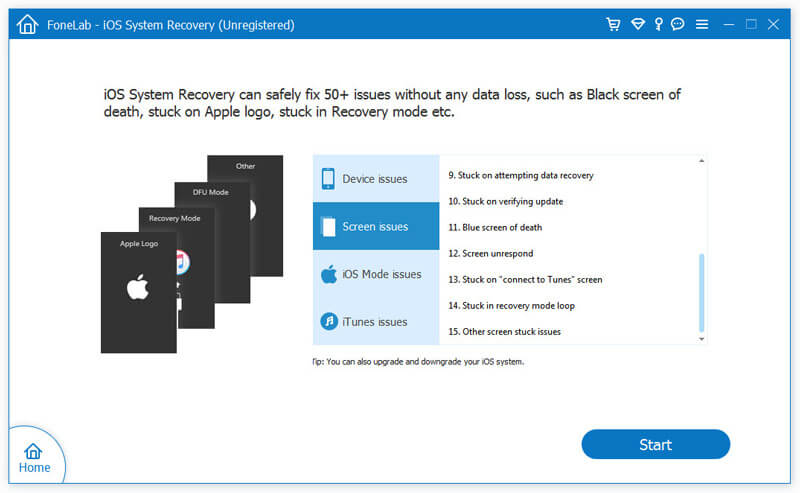 Step 3 You can choose "Standard Mode" to fix call forwarding iPhone not working first. If you choose "Advanced Mode" to deeply fix iPhone problems, your iOS data will be erased. Then click "Confirm" to continue the process.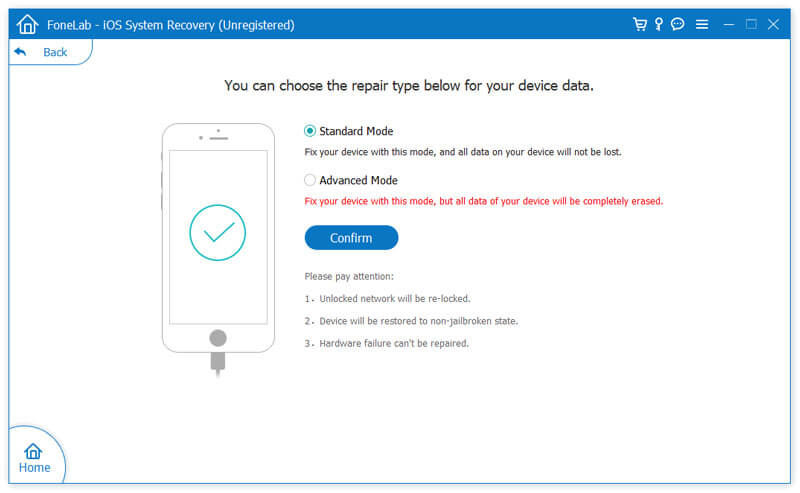 Step 4 You can see the basic information of your iPhone here. Click "Optimize" to get into the new window.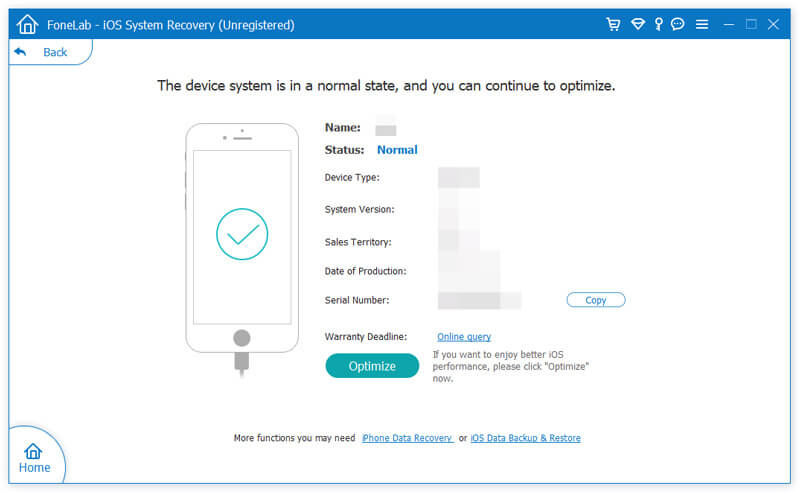 Step 5 Check and correct the iPhone information, including category, type and model. You can also download the related firmware to downgrade or upgrade iPhone.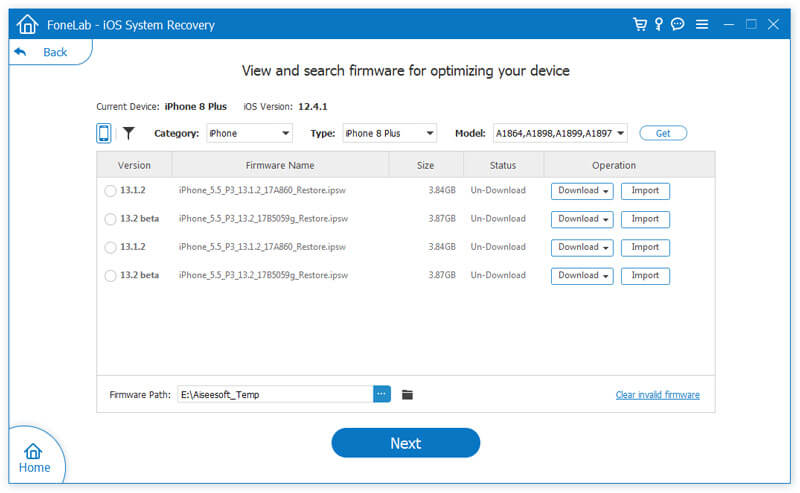 Step 6 At last, click "Next" to start fixing call forwarding not showing up on iPhone.
Part 2: Repair Call Forwarding Not Working on iPhone by Settings
The settings issue can cause iPhone call forwarding keeps spinning too. You can turn off and on the call forwarding feature on iPhone to refresh this feature. This is also the tutorial to set up call forwarding on iPhone.
Step 1 Open the "Settings" app. Tap "Phone" from its list.
Step 2 Choose "Call Forwarding" and make sure the option is turned off.
Step 3 Wait half a minute. Then trigger on "Call Forwarding" again.
Step 4 Tap "Forward to" and enter the phone number. Now you can activate call forwarding on iPhone successfully.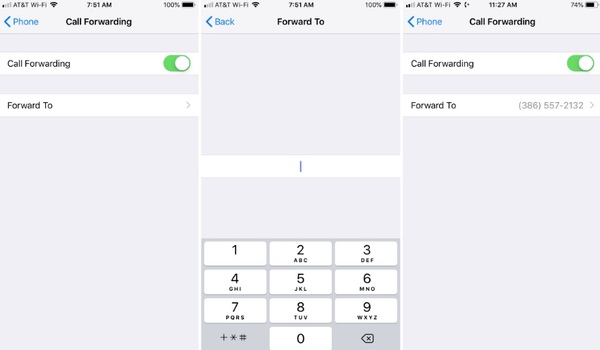 Tips and Tricks about iPhone Call Forwarding
The process of setting up call forwarding depends on the cellular carrier mainly. You can enable call forwarding on iPhone with AT&T and T-Mobile within the Settings app directly. As for CDMA carriers like Sprint and Verizon, you need to dial a carrier code to forward a call to another number. If you want to unlock your Verizon phone legally, just try a new carrier
If you want to get the better call forwarding experience, you can use third-party call forwarding apps on iPhone, such as Line 2, Call Forwarding Lite, Divert Calls, GV Connect, Voipfone Mobile and more.
Once you set up call forwarding on iPhone correctly, the incoming calls will be forwarded to the certain phone call automatically. Be aware that if your iPhone is out of service, you will see the iPhone call forwarding spinning wheel too. Before fixing call forwarding not functioning on iPhone, you need to make your iPhone reachable first.
Don't miss: How to Forward Text Messages on iPhone
Conclusion
By using iPhone call forwarding, you can direct the incoming calls to a different phone. Thus, you can free your iPhone when you don't want or unable to answer the phone. If the call forwarding iPhone feature is not functioning properly, you can use the above two ways to solve the problem. According to various forums, many people encounter call forwarding not working on iPhone after an iOS update. You can run iOS System Recovery to fix all system problems caused by updating iPhone. as well as the iOS downgrade and upgrade issues. With the nearly 100% success rate, you can feel free to download the program and have a try right now.

Leave your comment and join our discussion