How to Remove Subtitles on YouTube
Subtitles can help you better understand YouTube videos, especially when the videos are created in another language. While for most YouTube videos, you really don't need the captions. Subtitle interrupts the bottom part of the YouTube image, you may feel annoyed. Fortunately, it's easy to turn off subtitles on YouTube. Just keep reading to find the simply way to get rid of YouTube captions.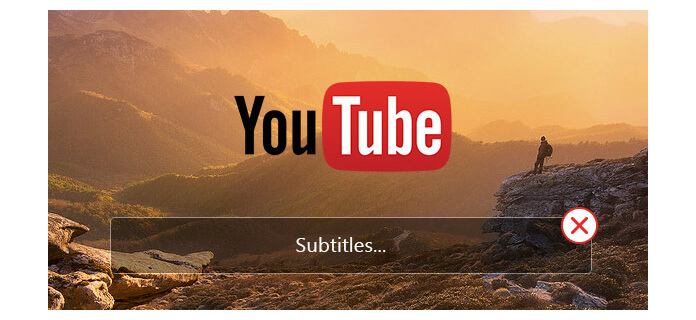 Remove Subtitles on YouTube
Part 1: Steps to turn YouTube subtitles on or off
Step 1 Open YouTube video on your browser. Check the bottom part of the YouTube video window while playing. If the YouTube video contains subtitles, you can see a small "CC" logo will appear in this space.
Step 2 Click the "CC" icon to open the closed-captioning menu.
Step 3 Click on "CC" icon again. The YouTube subtitles will be removed from the screen.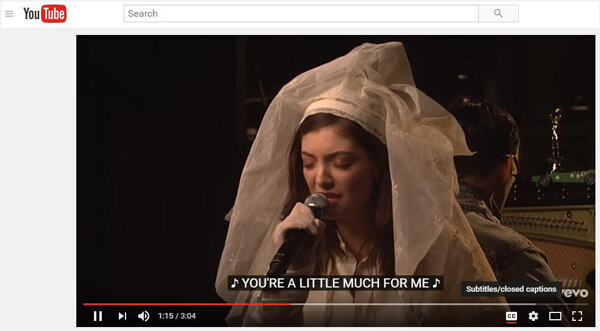 Also, you can click "Settings" button and then choose to turn YouTube subtitles on or off by clicking "Subtitles/CC" option.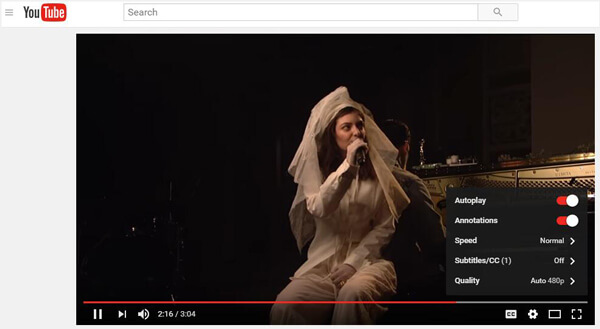 Part 2: Turn default subtitles setting to on or off
Step 1 Go to your YouTube Account Settings page.
Step 2 Click "Playback" from the left-hand menu.
Step 3 Untick "Always show captions".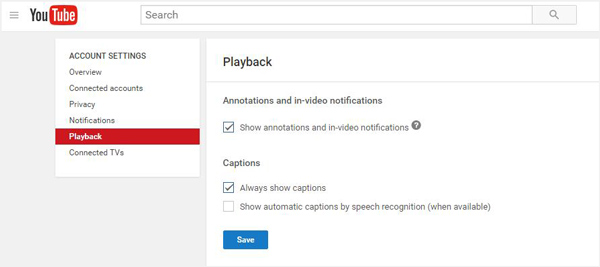 Step 4 Tick "Show automatic captions by speech recognition" (when available) to enable automatic captions for videos that don't already have captions provided.
Step 5 Click "Save" button to confirm your operation.
Part 3: How to add subtitle to DVD/video
When you upload a video to YouTube, YouTube will automatically add subtitle to the video. Sometimes, the matched subtitle isn't right. You'd better add the proper subtitle to the original video before uploading. To do that, you need to rely on some powerful subtitle adding tools. Here we sincerely recommend the professional Video Converter Ultimate to help you add subtitles to DVD/video. First, you can free download and install it on your computer.
Step 1 Launch Video Converter Ultimate
Download, install and open this powerful subtitles adding software on your PC/Mac.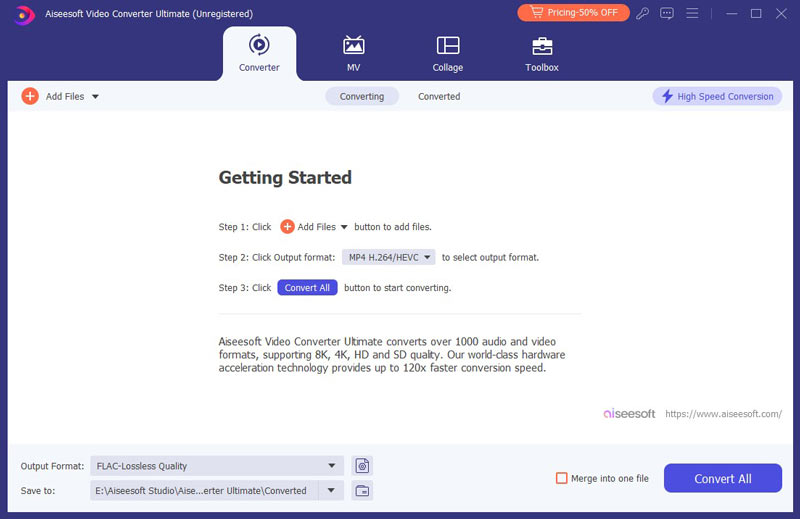 Step 2 Import video file(s)
Click "Add Files" on the menu bar to select and load video(s) to this program.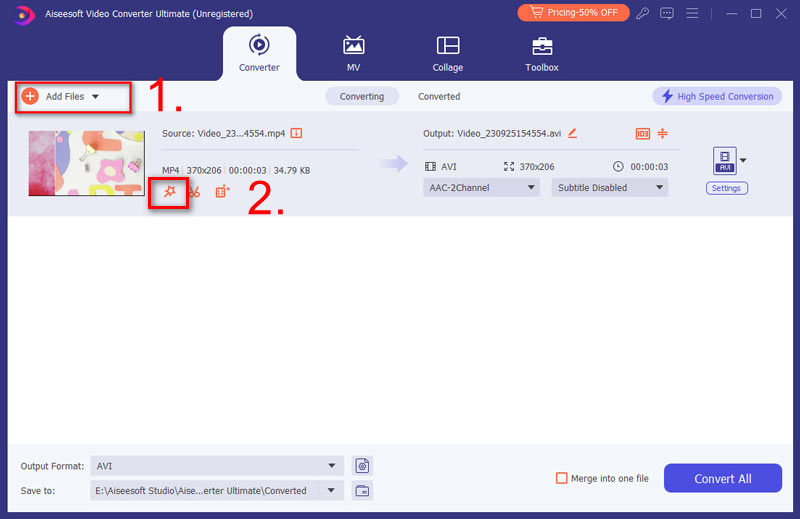 Step 3 Add subtitles to video
Click "Edit" button and then choose the "Subtitle" feature to add the subtitle to your video. You are also allowed to add audio tracks to the output video.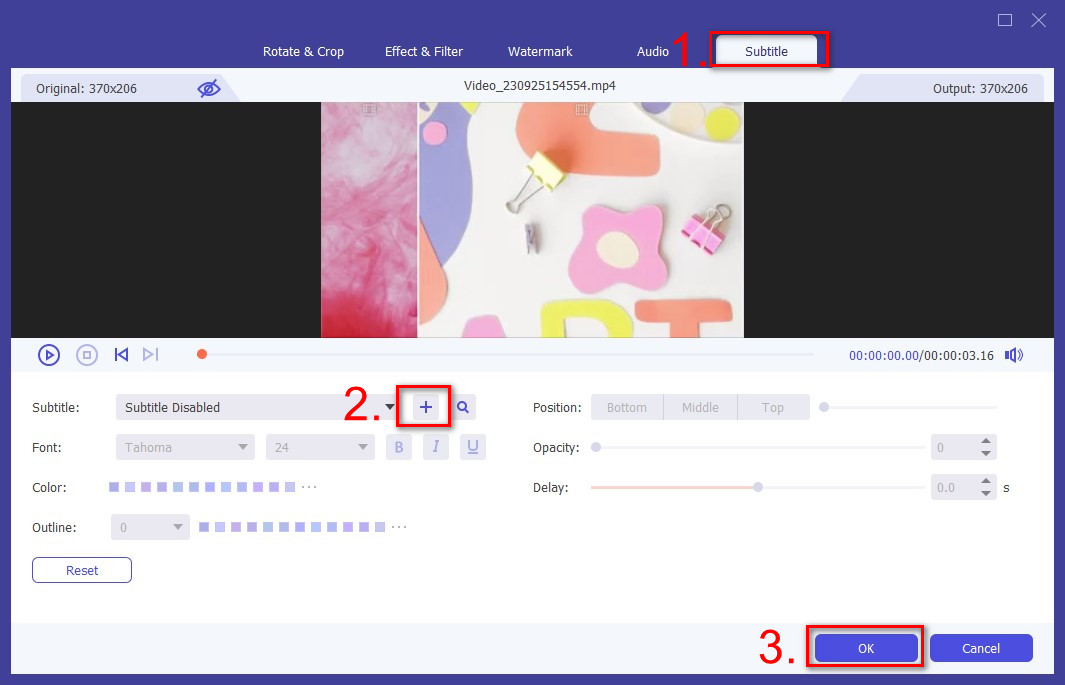 Step 4 Confirm the operation
Choose the suitable output video format from the drop-down list of "Format". Then click "Convert All" button to confirm the operation of adding subtitle to video. Before you do that, you can edit video, adjust video effects, enhance video quality and more.
In this post, we mainly talk about how to turn off subtitles on YouTube. We show you two ways to remove the unnecessary subtitles from YouTube videos. Moreover, we tell you a simple way to add subtitle to video and DVD.