HEIF VS. JPEG – Comparison between the 2 iPhone Photo Formats
Apple announced that it's adopting two new standards-based formats for storing and processing images and video on their iOS 11, which are called HEIF (High Efficiency Image File Format) and HEVC (High Efficiency Video Coding) respectively.
There is no doubt that this decision will have a large influence on the JPEG format which has served Apple for years. This article will make a detailed HEIF vs. JPEG comparison in their definition, flexibility, image quality, compression/size, and compatibility to help iOS users know more about the two photo formats.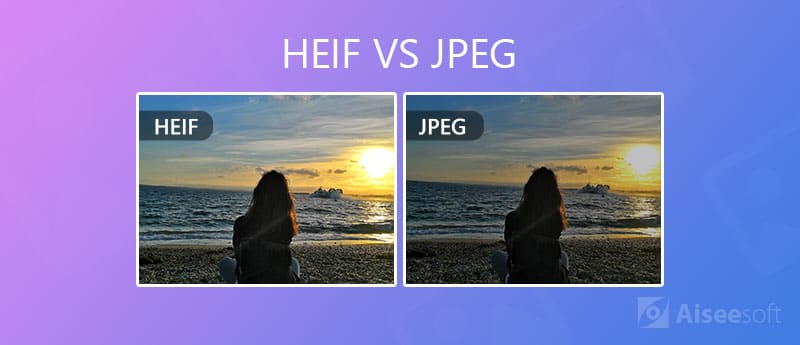 Part 1. What is HEIF and JPEG?
What's HEIF?
HEIF (High Efficiency Image File, often pronounced heef) is a file format for individual images and image sequences. It was developed by the Moving Picture Experts Group (MPEG). The HEIF format is used by Apple as a modern replacement for JPEG. The HEIF format produces images with a smaller size and better quality. This is its most outstanding feature known by the world.
HEIF files pulled from iPhone bear the HEIC file extension, a container for saving images encoded in the HEVC video format. So most HEIF files are commonly seen as .heic files.
HEIF files pulled from iPhone bear the HEIC file extension, a container for saving images encoded in the HEVC video format. So most HEIF files are commonly seen as .heic files.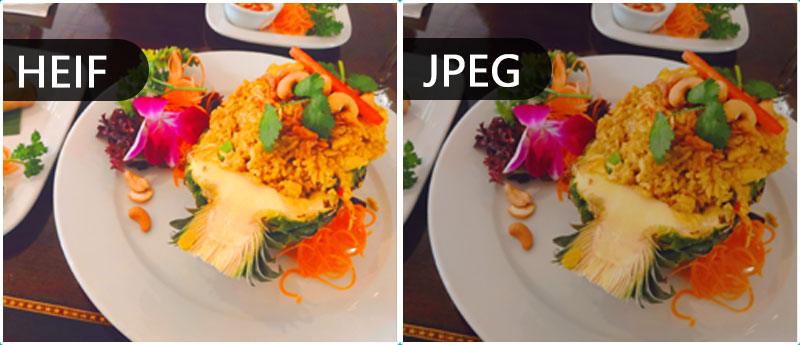 What is JPEG?
JPEG stands for Joint Photographic Experts Group, the name of the committee that created the JPEG compression standard and also other still picture coding standards. JPEG is a commonly used image format and easy to be opened by most image programs. It is the most common format for storing and transmitting photographic images on the World Wide Web.
Part 2. How to Open HEIF on Non-Apple Devices
Since there are not so many devices compatible with HEIC pictures at present, it's necessary to convert photos from HEIF to JPEG format in order to open and view them normally on your computer or other digital devices. Aiseesoft HEIC Converter can do you a professional favor in this case.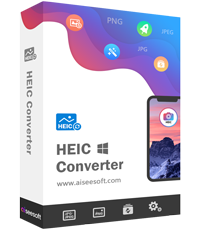 Downloads
Convert iPhone/iPad/iPod photos from HEIF format to JPEG or PNG format.
Adjust image quality before you convert HEIC to other image formats.
Keep Exif data information of the HEIC/HEIF images after conversion.
Handle multiple HEIC image conversion to save your time greatly.
Steps to convert HEIC to JPEG with HEIC Converter
Step 1.
Download and install this HEIC Converter on your computer.
Step 2.
Launch the program on your computer, if you want to convert HEIC pictures from iOS device, you need to connect your device with computer. Then click "Add HEIC" button or drag the HEIC files to the software interface directly.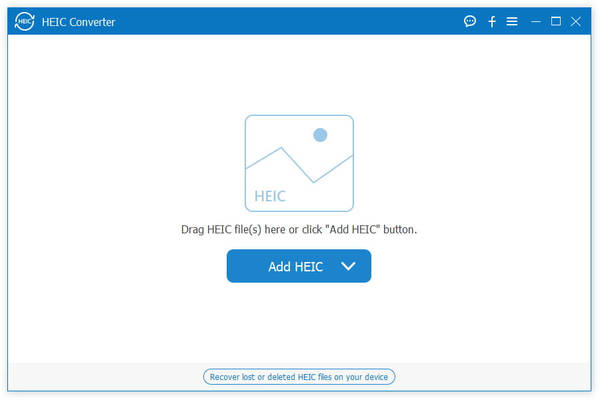 Step 3.
Your HEIC photos will be listed in the main interface. You can select one or more HEIC files to convert as you like. In the Conversion Settings, set the output format as JPG/JPEG, quality as 100%. You can select the output path according to your needs.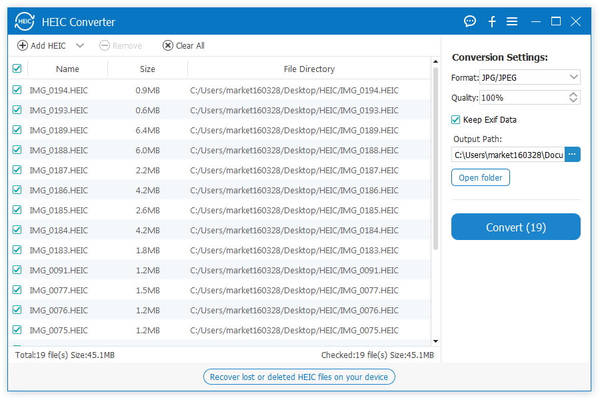 Step 4.
Finally, click the "Convert" button to convert HEIC to JPEG.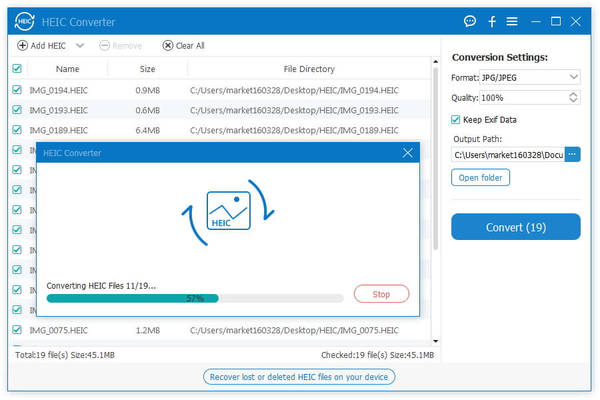 Part 3. HEIF VS. JPEG – Which One Is Better?
1. Flexibility
Winner: HEIF
HEIF is more flexible than JPEG. It is not just a file format but a file container. JPEG can only support a single image, while HEIF can support either a single image or a series of image. This feature makes HEIF perfect to take living photos. This advantage also makes it potential to replace GIF in the future.
2. Image quality
Winner: HEIF
HEIF has a higher depth than JPEG. As HEIF uses a 16-bit deep color, while the JPEG is only 8-bit which is smaller by at least two-fold. To be clear, devices that support HEIF format can capture more colors provided by the 10-bit color output present in cameras. What's more, the editing function of HEIF format is more powerful than that of JPEG. On iOS 11, iOS 12 or later, you are able to rotate and crop a HEIF image without resaving or altering the image. Such edits will be undoable shortly. While JPEG cannot support non-destructive editing feature, which is a disadvantage compared with HEIF.
3. Compression/size
Winner: HEIF
As we have mentioned above, photos saved in HEIF format are roughly half the size of JPEG while they keep the same or even better image quality at the same time.
It means that you can store twice as many photos on your iOS device than before when you are using JPEG photo format. This will be good news for photographers, as they can save more photos in their phone without worry about filling up the iPhone storage too soon. (Learn here to compress JPEG files.)
The HEIF photo format is available for iPhone 7 or later. You can check the photo format saved in your iPhone by navigating to Settings > Camera > Formats, you will find the 2 options as below.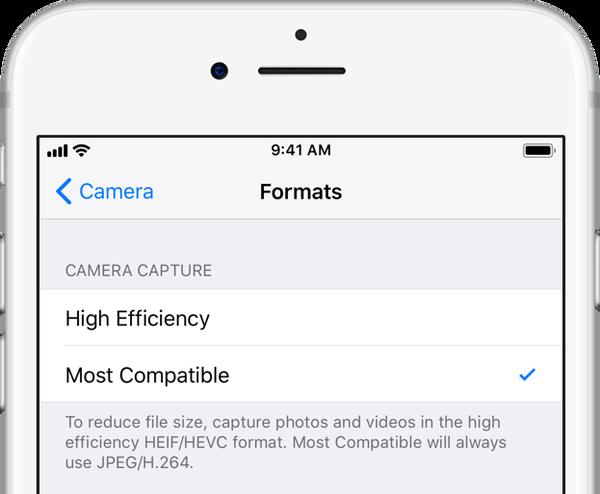 The "High efficiency" setting means you will capture your photos and videos in the HEIF/HEVC formats, while "Most compatible" is the JPEG format. If you don't want to save your photos in HEIF format, you can choose the "Most compatible" setting to stay in JPEG format.
4. Compatibility
Winner: JPEG
iOS users may be concerned about the compatibility issue of HEIF photos. The fact is that JPEG is more accessible compared with HEIF format.
HEIF as a newer photo format that is introduced by Apple on their iOS 11, will bring inconvenience to iOS users if they want to view the photos on devices that don't support HEIF format. So when you transfer HEIF images from your iOS devices to a Windows PC or Mac with AirDrop, the HEIF format will be converted to JPEG format automatically. Even the Mac High Sierra supports HEIF format, the file size will jump up to the auto-converted file size, despite carrying the correct file extension instead of the JPG extension.
There will also be a situation that you cannot even view the HEIF photos when they are transferred to your Windows PC. Since HEIF format is not widely supported at present, this will be a disadvantage of HEIF format. But iOS users don't need to worry too much, since now MacOS High Sierra and the Windows 10 Build 17123 and later can support HEIC format. It's obvious that there will be more and more devices supporting the newer HEIF format soon.
Conclusion
As we have compared HEIF with JPEG in 5 different aspects, you will have more knowledge on the two file formats. If you want to save the space in your iOS device and have high requirement on the image quality, HEIF format will be the best choice. But if you want to view your HEIC photos on all your devices without any inconvenience, JPEG will still be a better choice. It's obvious that the future of HEIF is bright, as long as it gets widely adopted, and there is no doubt it will. So you can choose to use HEIF photo format on your iOS device, and when you want to view the HEIF images on other devices, you can use Aiseesoft HEIC Converter to convert HEIF format to JPEG/JPG/PNG. Before more devices support HEIF format, this can be the best method to help you enjoy the benefits brought by the HEIF photo format.