How to Restart Reset Your iPhone X/8/7/6/5/4
"Oh, what the hell! My iPhone get stuck." This is what you can cream for when your iPhone get frozen in a certain game application or online movie watching.
Like Android mobiles, iPhone will get you crazy sometimes for being stuck even though it expands to 128G of ROM. What would you do when you get into this trouble? Restarting iPhone is the common solution. How to restart iPhone? Keep reading.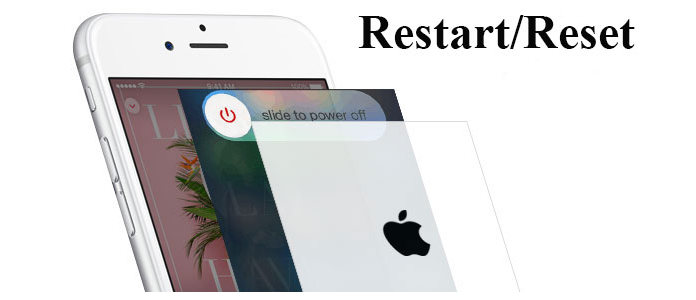 Restart Reset iPhone
How to restart iPhone
Step 1 Press and hold on "Power" button on the top (iPhone 4/4S/5/5s/5c) or on the right side (iPhone X/8/7/6/6S/6S Plus) for three seconds.
Step 2 Slide the button of "slide to power off" to right for shutting off.
Step 3 Repeat the step 1 after turning off your iPhone for restarting your iPhone.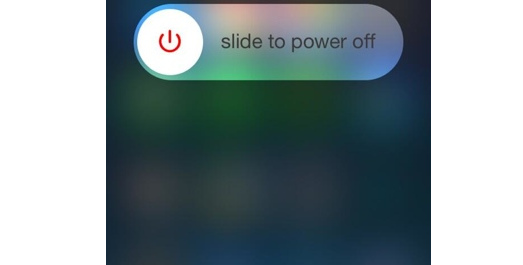 Easy, right? Simple three steps are enough to restart an iPhone. However, have you meet more serious problems? "After shutting off iPhone, I press the button to restart my iPhone, but it does not work. I can only see a black screen. Does my do something wrong?" "My iPhone 5c randomly restarts with some unknown codes, and I swear do nothing. Who can help me?"... Such questions you may meet, how to restart your iPhone correctly for avoiding the problems above?
1. If you follow the above steps exactly, but your iPhone appears to be black screen. Plug your iPhone to PC with USB cable to check if your iPhone is out of power.
2. If you do not see the charging screen within an hour, check the USB cable and USB port to see if they are OK. If those tools are ok, then you can try to force to restart your iPhone. Press and hold on the "Power" button and "Home" button for at least 10 seconds until the Apple logo is showing on your iPhen screen. Then release both buttons to wait for seconds for your iPhone's restarting.
➤ Force restart on iPhone will not erase all contents or settings on your iPhone. So you do not worry about losing any data.
➤ Force iPhone restarting will also work if your iPhone "Power" buttons does not work in the restarting method of "simple three steps".
➤ When you get your iPhone restart, it shows unknown codes, then you can also follow this way to restart your iPhone.
How to reset iPhone
However, still some of you may meet this problem, "My iPhone keeps itself restarting with only showing the Apple logo, why does it happed and how to deal with it?" for solving this dilemma, you may need to reset your iPhone.
Step 1 Connect iPhone to PC
Connect iPhone to PC with USB cable while launch iTunes.
Step 2 Enter Recovery mode
Press "Power" and "Home" button at the same time, until the iTunes image is recognized on your black screen iPhone. Then wait seconds, an iTunes reminder that "There is a problem with iPhone "XX" that requires it to be updated or restored." will pop up on your computer window. At this point, your iPhone is coming to Recovery mode.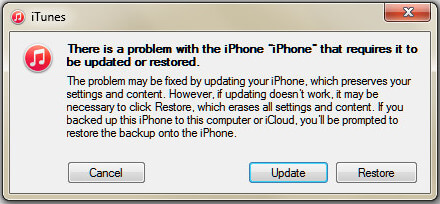 Step 3 Update or restore iPhone
If you choose to update, then iTunes will reinstall and update your iPhone to the newest iOS version automatically. And your data and contents on iPhone will not be erased. So before you do this operation, you need to back up iPhone to computer firstly.
If you want to restore your iPhone, then your iPhone will reset to factory settings, but will also update your iPhone. That means your iPhone data and contents will be cleared out. If you have make iPhone backup before, then this way is OK to you because you will be allowed to restore iPhone from iCloud backup or iTunes backup. If not, then you need to be careful of your choice.
In this way, you will reset your iPhone to factory settings, and you could restart your iPhone to its original situation as the purchased one. You are able to follow this way to save your iPhone when you forget iPhone passcode.
iPhone hard reset is often used if restarting iPhone fails to work. But it may lead you to lose data with some inappropriate operations. So you must be cautious to treat it.
Reset or restart iPhone with Apple support
After trying the above ways, you find your iPhone gets trapped in the following situations, then you have to go to an Apple store to turn to their professional staff for help.
➤ Your iPhone always keeps a black screen after the charging and force restarting.
➤ Your iPhone keeps restarting with Apple logo, coming with alerts, sounds or vibrations.
➤ When resetting your iPhone, your iPhone fails to recognize iTunes. Or your iPhone keeps displaying a solid color, but without any other reminder.
➤ You get a failing restart or reset on iPhone because your iPhone "Power" button is broken or without "Power" button.