6 Best iPhone Explorer for Windows and Mac
We may store many cherish music, photos, videos, messages on our device such as iPhone, iPad, iPod and so on. However, if your device is lost or broken by accident one day, what can you do to get your data back and avoid the lost of important personal information? In such case, we suggest you choose an iPhone explorer for your iPhone, which helps you recover nearly everything. In the following article, we have collected 6 best iPhone explorers to help you recover nearly everything from your iPhone backup and protect your information safely. Just choose the best program according to your requirement after you reading more detail about the article.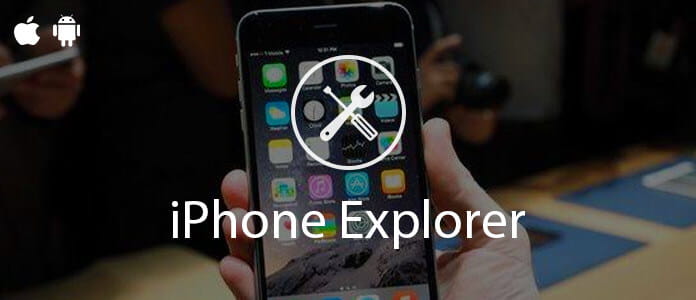 No 1. FoneLab
Price: Free Download
Platform: Mac, Windows
With FoneLab iPhone Explorer, you can get back data from your iTunes backup, scan and recover deleted files created on these devices like your iPhone, iPad, iPod and some Apple Apps. Aiseesoft FoneLab gives you fast and reliable recovery options for your iPhone that allows you to recover nearly everything on your device. Even if your device is locked because of a lost or forgotten password, or it got smashed, dropped into water, damaged, or even broken, as long as your device has ever been successfully connected with iTunes. So the iPhone Explorer for Windows/Mac is a useful management tool for you to deal with your all kinds of data losing problems.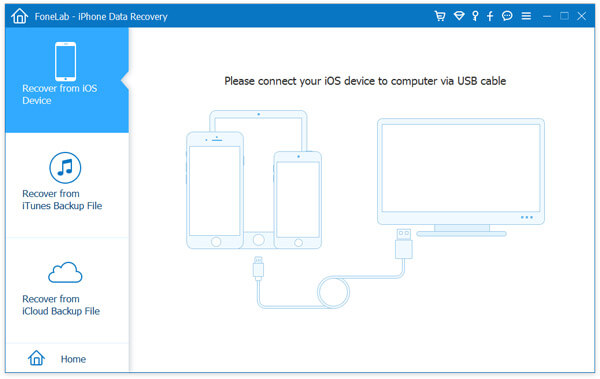 No 2. iExplorer
Price: $39
Platform: Mac, Windows
iExplorer is the ultimate iPhone explorer which transfer music, videos, messages, contacts, files and everything else from any iPhone, iPod, iPad or iTunes backup to any Mac or PC computer. The iPhone file explorer lets you instantly rebuild entire playlists or use the Auto Transfer feature and copy everything from your device to iTunes. You can view your iPhone's photos, messages and more directly in Finder or Windows Explorer. Also, iExplorer is able to back up or move your game's high scores from one device to another and save files directly to or from your favorite file manager. The iExplorer SMS client looks great and even works with group messages, images, and other message attachments too!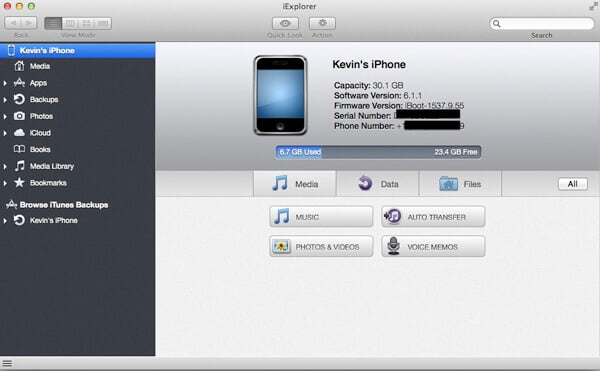 No 3. iDevice Manager
Price: $39
Platform: Mac, Windows
iDevice Manager is called earlier iPhone Explorer. It is a useful tool to transfer music, photos, videos, contacts, calendar items, SMS WhatsApp messages and many other files from iPhone and iPad to your Windows computer. What is more, you can also use the iPhone Explorer to create your own ringtones from favorite audio titles in MP3, WAV, AIFF and M4A files within one click. When you connect iPhone/iPad/iPod with USB connection, you can use the program as "external disk". It is the versatile iPhone-exploring program to manage applications on iPhone, check the installed programs, and even verify information from your iPhone and other iDevices.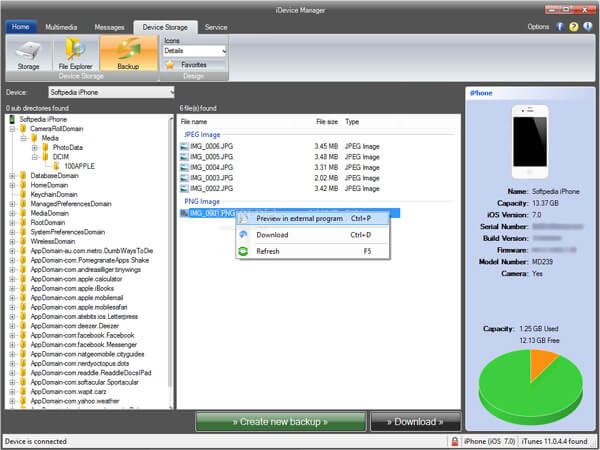 No 4. Macgo iPhone Explorer
Price: Free Download for PC
Platform: Mac, Windows
Macgo iPhone Explorer offers you access to personal files of any IOS devices. Also, the iPhone Explorer is an excellent choice to import music and videos from your PC to iPhone, iPad and iPod touch, or export voice memos, contacts, and messages back to your devices. Of course, the program will guarantee your personal information security as long as help you manage your iPhone files. It's also fully suited for the newest iOS devices like iPhone X/8/7 Plus, iPad Air 2, iPad mini 3. And iPhone Explorer can also help browse many types of file such as App files and system files. You are always free to add or delete things to keep your iPhone files organized in the way you want it to be, which also makes it a handy App to back up your iPhone easily.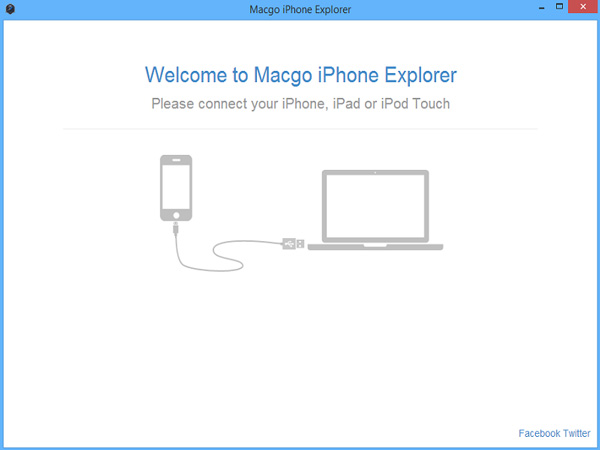 No 5. i-FunBox
Price: Free
Platform: Mac, Windows
iFunbox is one of the best file manager for iPhone, iPad and iPod Touch. You can manage files on your iDevice with the iPhone explorer for Windows. You can also use it as a portable USB disk and import or export music, video, photo files easily. It's convenient to manage equipment applications, photos, video, voice memos and multimedia files. The most important is that there is a folder that supports files of any type and size. It also allows you install IPA packages from in-house distribution. Another function of iPhone explorer is that it helps you easily get a jailbreak iOS device root file system. With the help of i-FunBox, you can easily and friendly transmit files and folders to your computer.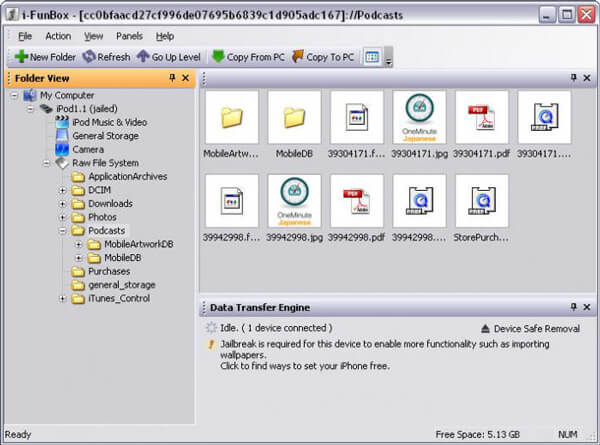 No 6. DiskAid
Price: $34.99
Platform: Mac, Windows
DiskAid is also known as iMazing, which can easily transfer data such as music, photos, books, and messages to your new devices and keep your backup data safe. The iPhone explorer backup ensures a private and configurable transfer, without iTunes and iCloud. It is a good iOS management powerhouse for all apple users. It can also help manage your address book and manage your favorite apps. As one of the most advanced iPhone explorer, its biggest function is to backup and transfer files. It offers the reliable and innovative backup feature that never overwrites your iPhone or iPad backup. What is more, you can also use the direct and secure backup with Wi-Fi network, or even connect via USB anytime you need to transfer files between iPhone and computer.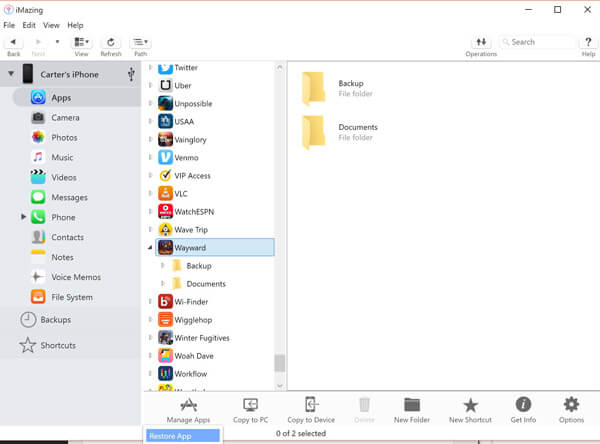 In this article, we mainly showed you 6 best iPhone explores for your device such as iPhone, iPad and iPod Touch. You can use them to keep your data safe and get them back when there are some problems with your device. So you don't need to worry about data lost, you can get them backup easily. If you have other iPhone explorers want to recommend, you can share more detail about the program in the comments.