Best iPhone Printer for Printing Photos or Files from iPhone
Photos are taken for recording the joyful or touching moment. And people love to use iPhone to take pictures. You may also have a lot of documents like Word, Excel and others stored on iPhone. How to print photos and documents from iPhone? Then an iPhone printer is needed. This article will show you how to print your iPhone and list best AirPrint-supported iPhone printer cases and iPhone printer apps for you.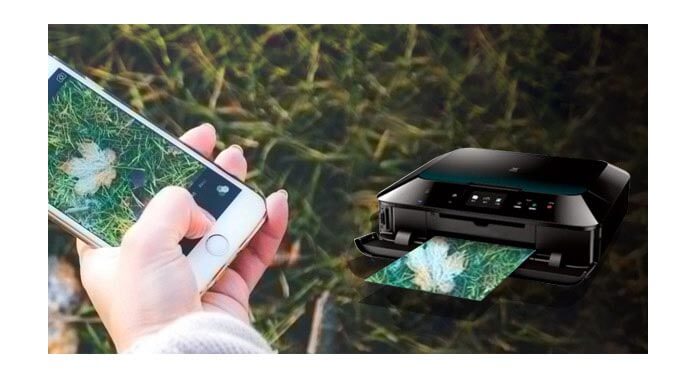 Part 1. How to Print iPhone with AirPrint-supported printer
iPhone/iPad user can print iPhone photos, messages, emails, documents and so on with AirPrint-supported iPhone printer. There are many iPhone printers in brand with Canon, Brother, HP, Fujifilm, Lexmark and more. Before purchasing an iPhone printer, make sure and check the printer instruction manual to see whether the printer is compatible with AirPrint or not.
Set the printer to use AirPrint. Determine whether you need to change settings on your printer to enable it to use AirPrint. Make sure the printer is on the same wireless network as your iPhone.
Launch an iPhone app that is compatible with AirPrint. Take Photos app as an example. Choose an photo or picture item and then tap "Share" > "Print".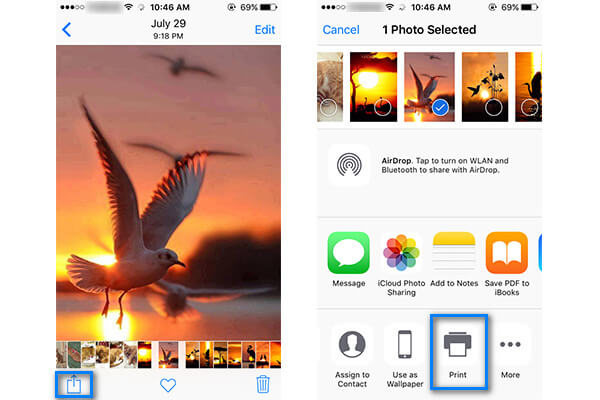 Notes: Most apps have this feature, including Photos, Mail, Safari, etc. You can also print photos, emails, documents from your phone.
Choose the iPhone printer. And iPhone will search for the AirPrint-supported printer connected in the same network. Finally, print your iPhone photos now.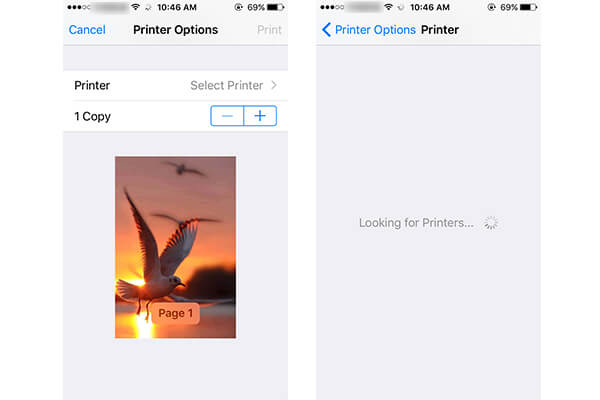 Best iPhone Printer
Screenshot
iPhone Printer
Price
Features
Reviews
Fujifilm Instax Share SP-1
$129.99
◆ Print in less than 60 seconds.
◆ 2×3 inch photos.
◆ Work With PREMIUN Zink zero papers.

Pros:

Fast printing speed. Compatible with iOS or Android smartphones. Easy to use.


Cons:

High fee per photo. Photos have large borders.
VuPoint Photo Cube Mini Photo Printer
$49.99
◆ Print from iphone/tablet via Bluetooth or NFC technology.
◆ Compact 2.91" x 4.72" size.
◆ Free download for iOS & Android.

Pros:

Prints directly from Apple devices like iPhone, iPods touch, iPads


Cons:

Its free version only lets you export 480p watermarked video.
Canon SELPHY CP910
$89.99
◆ High print quality and fast speed.
◆ 2.7" Tilt-up LCD.
◆ Borderless printing.
◆ Red-eye Correction.

Pros:

Be compatible with iOS, Android and Windows RT devices. High quality.


Cons:

Work slower sometimes.
HP Photosmart 6520 e-All-in-One
$219.99
◆ Up to 12 ppm black/8.5 ppm color.
◆ USB 2.0, WiFi 802 b/g/n.
◆ Wireless, Duplex printing, Memory card slot, HP ePrint, Web connect, 3.45" (8.76-cm) touchscreen CGD.

Pros:

Touch-screen control panel. Easy to ues.


Cons:

It is not very portable.
Polaroid ZIP Mobile Photo Printer
$129.99
◆ Print in less than 60 seconds.
◆ Compact 2.91" x 4.72" size.
◆ FREE download of the Polaroid ZIP app for iOS & Android.

Pros:

Portable and flexible. Easy to use. High quality.


Cons:

A little expensive.
There are many other iPhone printer, such as Prynt Smartphone Photo Printer, Polaroid Grey Label GL10 Instant Mobile Printer, Prinhome The iPhone Photo Printer, HiTi Pringo P231 Printer, LG PD221 Portable Color Photo Printer and so on.
Part 2. Print iPhone with iPhone printer app
When you have no AirPrint-supported iPhone printer or you are not using AirPrinter, what will you do if you need to print photos, article or anything else from iPhone? Then you can go to App Store and find a relible iPhone printer app to help you. You can use a printer app to route files, pictures, etc. to the printer. Nevertheless, it is of great importance to determine the best iPhone printer app.
Best iPhone printer apps
No.
iPhone Printer App
Screenshot
Features
1



◆ Print Word,Powerpoint, Excel, pictures from iPhone.
◆ Print web pages from your brows, PDF documents or other files.
◆ Print any attachments to Email.

2

Canon PRINT Business

Price: Free
Download site:
For iOS




◆ Print files from your iPhone to multifunctional devices by Canon.
◆ Print Word, Excel, PDF, images, photos, and web pages.
◆ It has user-friendly interface.

3

Epson iPrint

Price: Free
Download site:
For iOS




◆ Pprint images, Word, Excel, PowerPoint, web pages, scanned documents, attachments, and other documents from iPhone.
◆ Print files from cloud storage sites.
◆ Supports more than 21 different models of Epson printers.

4

Brother iPrint&Scan

Price: Free
Download site:
For iOS




◆ Print pictures, files, and web pages.
◆ Print documents stored on cloud sites like Evernote or Dropbox.
◆ Easy to use.

5

Canon PRINT Inkjet/SELPHY

Price: Free
Download site:
For iOS




◆ Print all kinds of files and photos from iPhone.
◆ Further scan files wirelessly and save them on your device.
◆ Print Word, Excel and other Office files with ease.

6

PrintDirect for iPhone

Price: Free
Download site:
For iOS




◆ Print photos,contacts, documents, web pages, notes, attachments, calendar.
◆ Connect well with the wireless printers via network.
◆ Paid version has more features.

7

Printer Pro

Price: $6.99
Download site:
For iOS




◆ Print all kinds of documents.
◆ A good alternative when you have no AirPrint compatible printer.
◆ Set pages per sheet, the page margins, paper orientation, scaling, and paper size.

8

Print

Price: $1.99
Download site:
For iOS




◆ Bring to a Wi-Fi printer. Print over 3G to USB connected printers and via the Bluetooth.
◆ Connect well printers in network and via the Bluetooth.

9

Print Agent PRO

Price: $5.99
Download site:
For iOS




◆ Print photos from Photos app, Dropbox or others.
◆ Print many kinds of files.
◆ Connect well with printers.

10

Print n Share

Price: $6.99
Download site:
For iOS




◆ Print to any printers through Wi-Fi.
◆ Print files from Dropbox.
◆ Print to AirPrint-supported printers.
In this article, we mainly list 15 best iPhone printers to help you print iPhone. To better print photos from iPhone, you can also use iOS Transfer to help you. No matter which iPhone printer case or iPhone printer app you will use, hope you can print your iPhone photos/files with ease and experience the joyful moment!
FoneTrans
For Mac
It lets you view and back up data from iOS device to iTunes or PC/Mac.
It transfers contacts, photos, music, movies, etc. between iPhone/iPad and iPod.
This iTunes sync alternative enables you to add photos, music, etc. from computer to iOS device.
De-duplicate contacts and edit contacts from iPhone on computer directly without iTunes.
Automatically convert video and audio to be compatible formats for iPhone iPad iPod.