10 Best GIF Apps on iPhone to Make GIF Images
Nowadays, people are tired of using static image when communicating on smart phone. They are interested in creating some dynamic image to make a better way to express their emotions. Then, GIF image comes into sight. It is much like a small video but much smaller than a video, which you can easily send to your friends on iPhone. Now, you are able to download some GIF images from Internet, and you can also create your own GIF images using some GIF apps on your iPhone. Additionally, the GIF apps can help you convert your images or videos to GIF format. And in this article, there are 10 top iPhone GIF apps. You can try them one by one and then choose the favorite one.

GIF App
Part 1. Aiseesoft Video to GIF Converter
It gives you a choice if you also want a GIF maker on your Windows or Mac. Aiseesoft Video to GIF Converter allows you to free convert the video to GIF image in high quality. The main features are as follows:
1. Support almost all popular video formats including MP4, AVI, MOV, WMV, etc. to convert into GIF image
2. Offer powerful editing tools like clipping/merging/cropping video and adjusting brightness, contrast, saturation, hue and other more.
3. With the concise and user-friendly interface, you can easily create GIF image with simple clicks.
4. Provide high quality files and keep exactly the original video quality to give you the best user experience.
Part 2. Top 10 GIF Apps for iPhone
1. GifsArt– GIF App for iPhone
GifsArt should be a powerful and comprehensive GIF app for iPhone. You can combine images, video, and GIF into one animated GIF file. What is more, you can also customize the GIF with animated masks, effects, stickers and texts. The program is able to capture images and videos with the in-app camera and share to the rest of the world within the program, such as PicsArt, Facebook, Instagram, Twitter, Messenger, and WhatsApp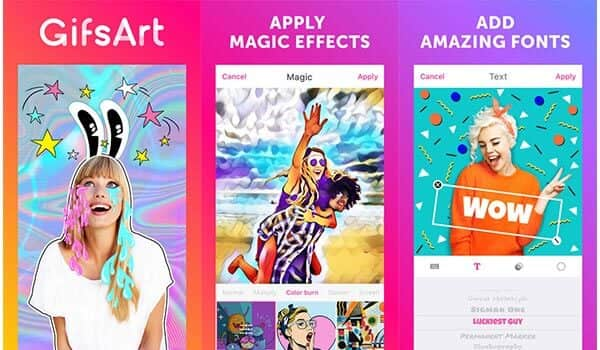 2. Giffer – GIF App for iPhone
Giffer is another powerful GIF app for iPhone to create animated images. It supports different types of GIF images including reverse GIF, cinema graphs, and time lapse. It offers you some useful functions like filters, self-timer, frame duplication, and other tools to get high-quality images. And after finishing editing, you are able to share the GIF images to some social platform such as Facebook, Twitter, and Instagram. One thing you should pay attention is that when it handles high-quality images, the GIF app for iPhone will become unstable.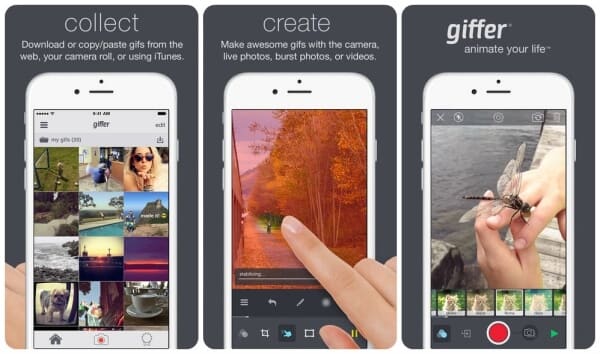 3. Gifture – GIF App for iPhone
If you are a GIF lover and want to find a platform to create and share your GIF images, Gifture is a good choice for you. The interface is concise and simple like the interface of Instagram, which is easily to find the functions. It offers you some options such as filters, playback rate, cropping, adding text and audio to the images, etc. And this free iPhone GIF app allows you to share the animated images not only the community, but also social media and your message apps.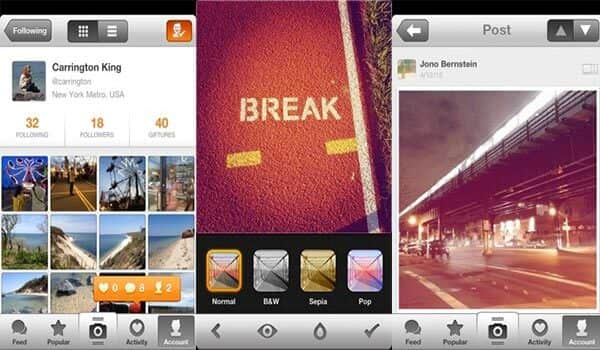 4. 5SECOND
5SECOND is a professional GIF app for iPhone users. It allows you to import several images into one image frame. Additionally, it has great variety of features such as customizing the speed of GIF images, adding text on your animated images, rotating and flipping the photos, etc. With these powerful tools, you can easily create the impressing images. Another main feature is the sharing option that you can easily share dynamic images to social media and transfer via messages to your friends.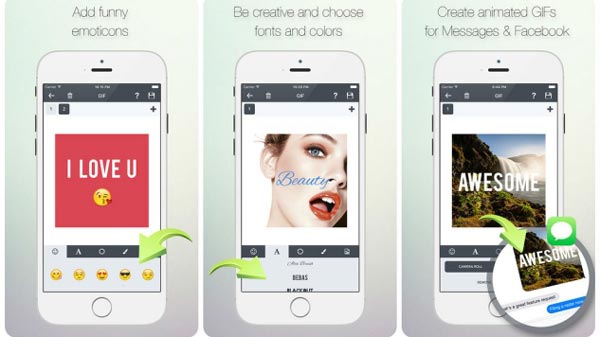 5. Cinemagram
This GIF app is a bit different from other that it allows you to combine the videos and images into a GIF images. You can easily capture the videos with your built-in camera. And what is the difference? It transfers a small part of your images into animation. Only the part you choose will be dynamic and the rest of the picture is still.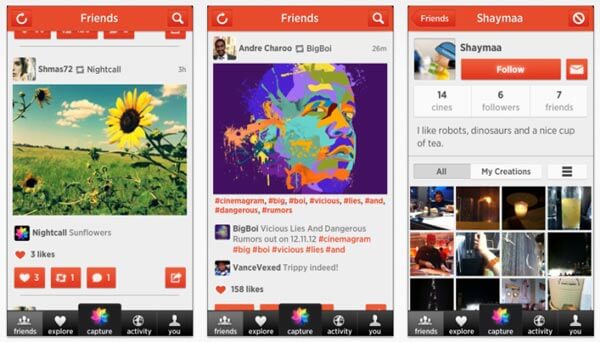 6. MyFaceWhen
MYFACEWHEN is a widely used GIF app on iPhone for it allows you to record videos using in-app camera. Additionally, the existing videos on your album are also available to create high resolution GIFs. After making the GIF files, you can freely share them to your friends via text messages. It also enables you to record video, convert videos into animated GIFs. Just download the cool GIF app on iPhone to enjoy the animated GIF images.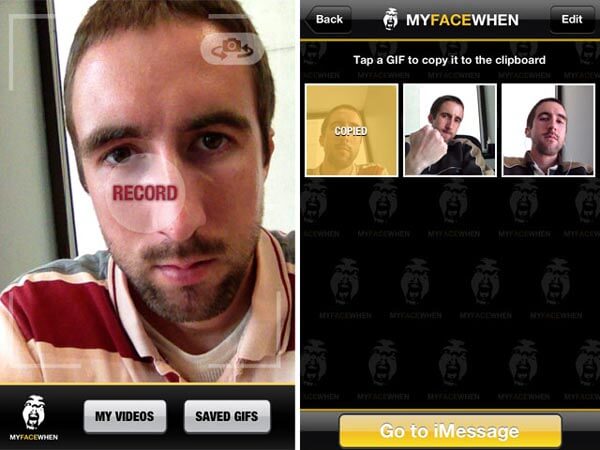 7. Giphy Cam
Giphy Cam only allows you to use the photos and videos in your iPhone to create GIF images and then share to your friends. That is to say, this iPhone GIF app does not have an internal library. It offers you almost 40 animated overlays and filters to decorate your images. Only a burst of 5 photos or a short video is available once to create animated images. This simple and easy operation makes it fast in any process.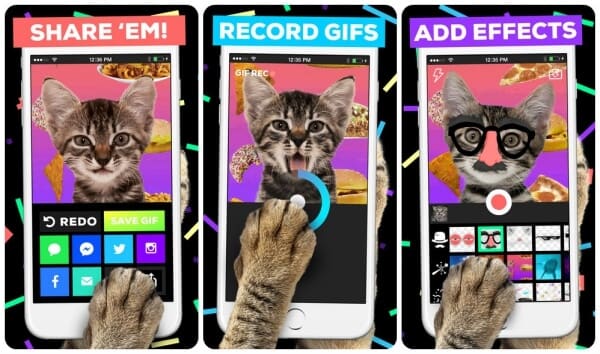 8. GifLab
If you are looking for an easy-using and effective GIF app for iPhone, GitLab will be a good choice for you. Although this app does not contain any big and advances of editing tools, the big advantage is its simple and intuitive interface. Moreover, it supports a wide range of video images so that you can easily import different formats videos to convert into dynamic images version.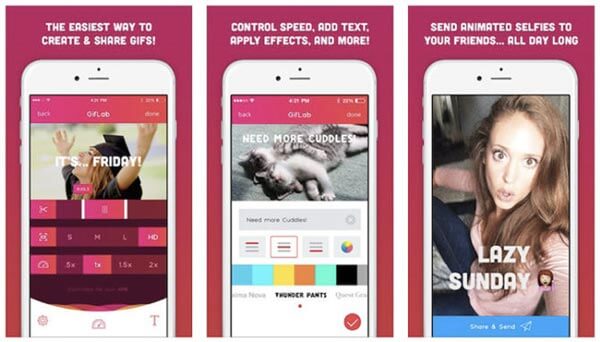 9. LOOPCAM
LOOPCAM a useful GIF app for iPhone that makes the process of making GIF images more easily and quickly. It allows you to move the parts of photos to achieve the effect you want. Otherwise, you can view all your GIF in grid form and share them on your social media. When you enjoy the fast and easy operation, you must accept the truth that it does not give you the advanced editing functions and good design.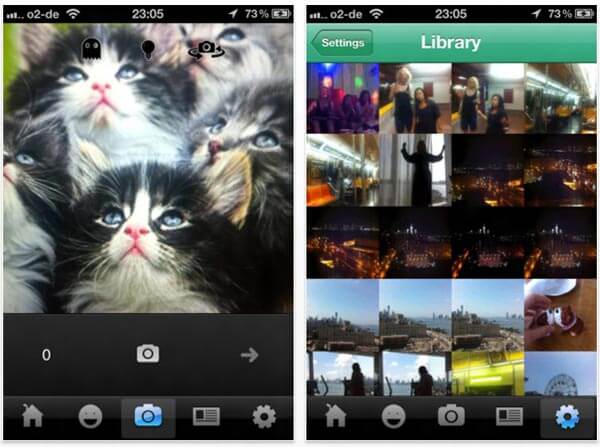 10. VINE
Vine is considered as a video-making app. Nevertheless, it definitely wrong for it is actually a GIF app for iPhone. In fact, Vine produces some short and animated images with audio. Every GIF images only have 6 second in length. Moreover, it is a platform for you to create, edit and watch GIFs. It offers you rich features such as video/audio recording, continuous looping and playback speed. And one limitation is that you cannot import music files.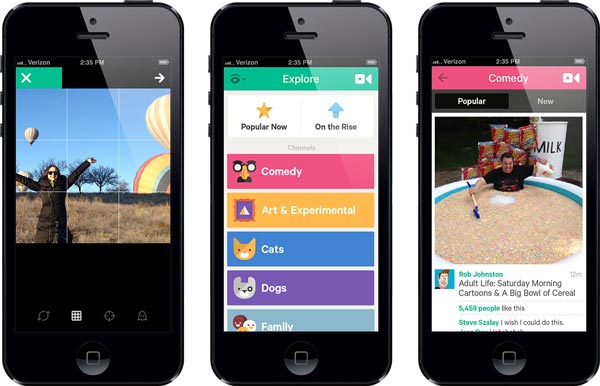 We mainly talk about GIF app in this post. We recommend a professional video to GIF app for you to convert video to GIF on computer. What's more, considering you may want to directly create and use GIF on iPhone, we introduce you with 10 great iPhone GIF apps. If you have any recommended GIF app, you can leave us a message.