With the popularity of mobile devices and the tendency of paperless office, faxing is more inclined to be online. Hence these free fax apps are lifesavers when it comes to convenience and ease of use, moreover, it can decline expand of office for fax machines. You can send and keep track of faxes from your Android device for fairly cheap with these top 8 free fax apps. Learn more detail about the free fax for Android together with their features from the article now.

Average rating: 4.5
Price: free
Platform: Android
CamScanner is a free fax app for Android has powerful scanning and sharing functions, which you can scan and share any information. Just take a picture for whatever you want to scan. The advanced OCR technology is able to extract text from image and have quick search for the desired files with ease. It is a free fax app that provides multiple ways to share including social media like Facebook, Twitter, Weico Air, Kik Messenger and WhatsApp. And you can fax it to over 30 countries. Moreover, CamScanner has 10G cloud space and premium service to save your documents.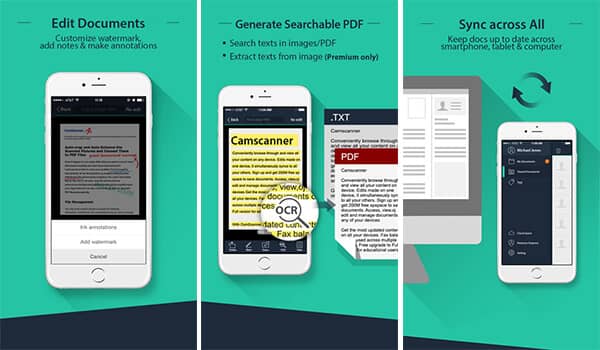 Average rating: 4.3
Price: free
Platform: Android
FaxFile is one of a few competent free fax apps. The program supports PDF files as well as JPG and PNG files. It enables you to fax imagines saved by your Android phone's or tablet's camera. You can send files over to America/Canada and many international locations. You will need to purchase fax credits through the Google play store to send a fax. The free fax app for Android support sending a fax to contacts or typed in a fax number for a one-off fax. The developers suggest calling the fax number to ensure that it's picking up calls before money sending a fax.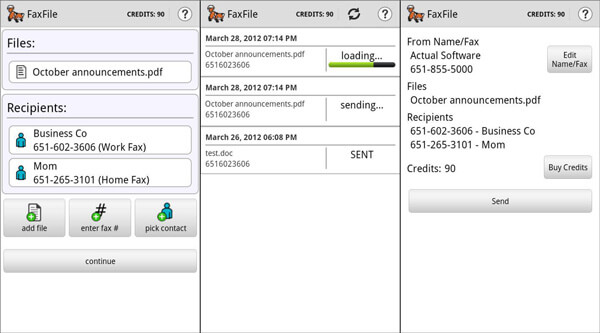 Average rating: 4.3
Price: free
Platform: Android
Easy Fax is a free fax app that provides the fastest way to login to app using Google Account. And you can use your credits on all your devices. The first time you login in Easy Fax, you will have 15 FREE credits. Faxes from US and Canada need 10 credits for a paper. Other countries need 10 credits for a paper. You can scan fax imagines from gallery or using phone's camera. What is more, you can also fax documents from cloud service with the fax app for free, such as Dropbox, Evernote, Google Driver and more other channels. Once you send the faxes, you will receive a notification and email about the faxes.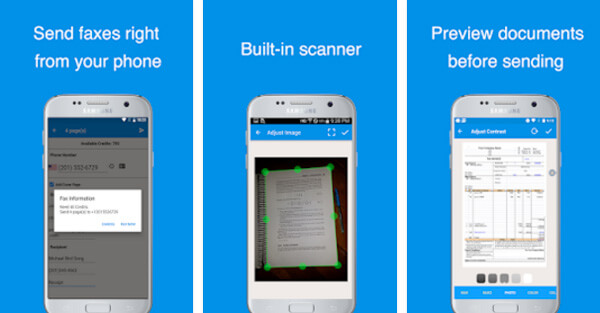 Average rating: 4.2
Price: free
Platform: Android
MobiFax is the smallest free fax app in size, it never drains your battery and never consumes your memory. It hasn't had a lot of users though. Thus, there may be some bugs here and there. MobiFax can send fax at the most reasonable prices, which is less than 27 cents per paper to 33 countries. The cost slightly change depending on the method purchased, multiple pages or single page purchase. Like most free fax APK, it support PDF and JPED file formats. The program could use a serious UI overhaul. However, its saving grace is that it works very well.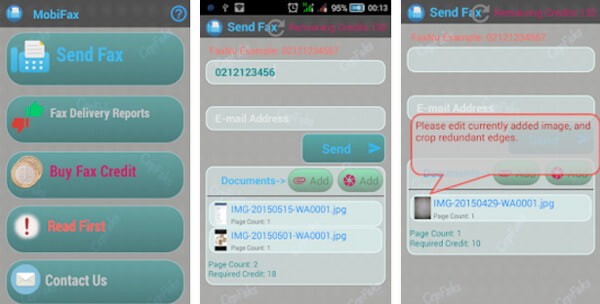 Average rating: 4.1
Price: free
Platform: Android
Tiny Fax turns your Android devices into a fax machines for documents, photos, receipts and other texts. Tiny Fax has a clean interface. Thus, it is an efficient and user-friendly fax app without charge. You can send faxes over to about 30 countries and it costs an affordable price. The price slightly changes depend on different countries and the method purchased. Moreover, you can import files from Dropbpx, Google Drive, Box or One Drive and send them. Download free fax app to archive documents by status, easy to mange all the files in Android phone.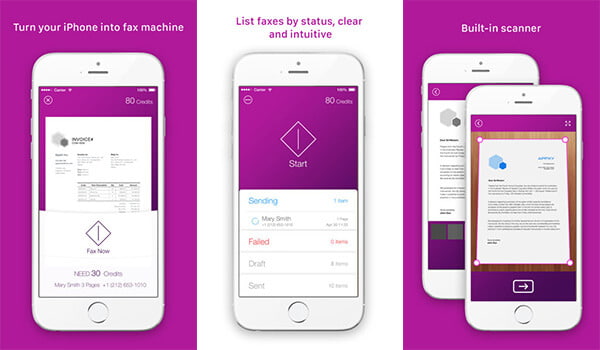 Average rating: 3.7
Price: free
Platform: Android
Genius Fax is fully compatible with Genius Scan. You scan documents with Genius Scan and fax them with the program. It is one of the competent free fax apps because it can send and receive faxes and has a simple and beautiful UI. The workflow is that you choose a file from any location, such as Dropbox, Google Drive, any other apps, and receive documents as PDF and can preview them or export them to any other apps. You have to spend money to fax. However, you can also spend money to temporarily rent a fax number to receive faxes from others.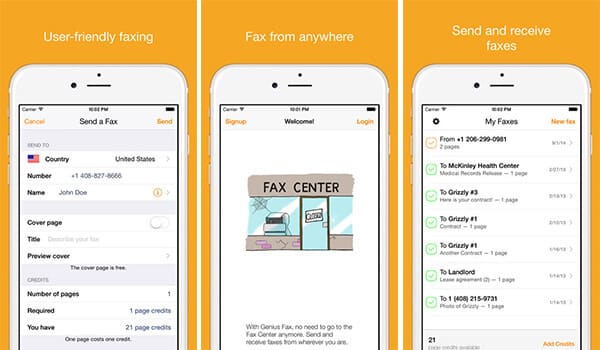 Average rating: 3.6
Price: free
Platform: Android
The eFax mobile fax app puts the power of a fax machine at your fingertips. You can add an electronic signature with touch of your fingertip. Download eFax to conveniently receive, scan and sign faxes on the go from your Android device. This free fax app can print faxes from your device, email or cloud storage (e.g., Google Drive, Box, Dropbox), forward documents by fax or email from your phone, upload files from your device, email or cloud storage, download files and transfer PDF documents to your online cloud storage with the program.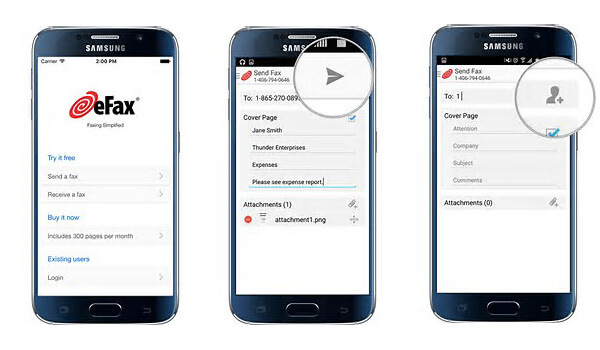 Average rating: 3.5
Price: free
Platform: Android
PC-FAX is the only remotely free fax app and still it only allows a free fax per day to 50 countries worldwide. If you want to send more than one page, you can top up within the app within the app at a bargain price. Like other free fax app, PC-FAX also has scanner and can fax photos, texts and PDF documents. For instance, you can take a picture of a document and send it as a PDF attachment to an E-Mail address. Moreover, PC-FAX can allow to be used without registration. Just install the program on your Android phone and scan any files on the go now.