Top 20 Music Player Apps for Android and More 2018
Whether you are using PC or mobile devices, you can always find a default music player provided to play audio files. If you are using Mac, you can use iTunes to play music files, if you are using iPhone, you can use Apple Music Player, if you are using a Smartphone, every brand provides its' own Android music player such as Google Music Player, Samsung music player, HTC music player, etc.
But for true music fans, the default music player for is not enough. To get the best out of music, you might need the best music player with smooth music playing quality and fresh interface. In the following article, we have listed 20 music players for you to choose from. Whether you want to find music player for Android/iPhone, or music player for PC/Mac, you have come to the right place.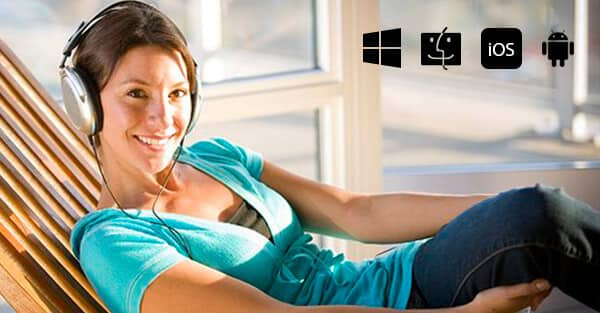 Music Player
Part 1: 10 top music player for Android Review
General Introduction of Android music player apk
Here we have offered these 10 best music players for Android, you could also find other music players, including PlayerPro Music Player, MediaMonkey, jetAudio Music Player, etc. You can free download music player for Android in Google Play Store. If Google Play Store stops working, you can check the post to get solutions to fix it on Android devices.
Comparison chart of music player apps for Android
No.
Music Player
Features
Platform
Screenshot
1

Google Play Music

Contains ads

◆

Support storing up to 50,000 songs from your personal music collection;

◆

Offer podcasts discovery and subscription;

◆

Smart recommendations based on your taste.

Android, iOS and web
2

Neutron Music Player

Free

◆

Support various audio formats playing and bit-perfect playback;

◆

Play streaming audio (internet radio streams);

◆

Support large media libraries.

Android, iOS, BlackBerry, Windows Mobile
3

Shuttle Music Player

Offers in-app purchases

◆

Gapless playback with modern and material design;

◆

Support automatic artwork downloading;

Android
4

BlackPlayer Music Player

Contains ads

◆

Support standard local music file formats like MP3, WAV, OGG, etc.;

◆

Offer HD Album cover management, auto and manual;

◆

Changeable Themes, fonts and colors.

Android
5

Poweramp Music Player

◆

Support MP3, MP4, M4A, OGG, WAV, etc. playback;

◆

Offer 10 band optimized graphical equalizer;

◆

Play songs from folders and from own library.

Android
6

VLC for Android

Free

◆

A well-done free music player for Android/iPhone/iPod to play all music files;

◆

Support MP3, AVI, WMV, FLAC and other video/audio formats;

◆

Support transferring audio files to Dropbox.

Android, iOS
7

jetAudio HD Music Player

Offer in-app purchases

◆

Support FLAC, OGG, MPC, WV, APE and more;

◆

Play audio with high quality;

◆

Browse songs, artists, albums and playlists.

Android, iOS
8

Rocket Player

Contains ads

◆

Display by song, album artist, album, artist, playlist, composer, genre;

◆

Play Android supported formats including .wav, .ogg, .mp3, .3gp, .mp4, .m4a;

◆

Support playlist manager.

Android
9

n7player Music Player

Offers in-app purchases

◆

Offer advanced 10-band equalizer with many presets;

◆

Plays all most popular filetypes like MP3, MP4, M4A, OGG, WAV, etc.;

◆

Intuitive and user-friendly music surface.

Android, iOS, Windows Phone
10

Pulsar Music Player

Free

◆

Manage and play music by album, artist, folder and genre;

◆

Fast search across albums, artists and songs;

◆

Automatic sync missing album/artist images.

Android
Bonus

Ecoute

$0.99

◆

Ecoute is an alternative music player for iOS using your existing musical library;

◆

Has clean and elegant interface, revolves around gestures to help you control your music quickly, and integrates Twitter, Facebook, and Last.fm so you can share your favorites tracks;

◆

Enhances your control over the music by adding more options like 'shuffle by albums', 'play next' and 'add up next'.

iOS
Bonus

Cloud Music

◆

Play Offline (Download) or in Streaming all your music stored on Dropbox, Google Drive, OneDrive and more;

◆

Support FLAC, MP4, M4A, M4B and more audio formats;

◆

Manage your music, playlists, and albums.

iOS
Bonus

VOX

◆

A great music player for MP3 audio playback on iPhone/iPad.

◆

Stylish interface and smooth audio playback.

◆

Share songs to Facebook, Twitter, etc.

iOS
Part 2: 10 best music player for Windows 10/8/7 and Mac (macOS High Sierra)
No.
Music Player
Features
Platform
Screenshot
1

◆

Play any music or video file smoothly, including MP3, FLAC, AAC, WAV, OGG;

◆

Keep the original audio quality and give you lossless audio effect;

◆

Support DTS-HD and Dolby TrueHD audio technology;

◆

Offer also 4K/HD video playing.

Windows, Mac
2

MusicBee

◆

An excellent music player for Windows option that combines Winamp's excellence at handling large libraries with nice features;

◆

Perfect for serious music lovers to manage and enjoy music collections;

◆

Support almost all popular formats, ranging from MP3 and AAC, to OGG and WMA.

Windows
3

Clementine

◆

Versatile music player applications for Windows;

◆

Organize your entire music collection with advanced library management features;

◆

Directly search and play songs uploaded to a variety of cloud storage services, such as Dropbox and Google Drive;

◆

Supports a diverse variety of audio formats, such as MP3, WAV, AAC, FLAC, etc.

Windows
4

MediaMonkey

◆

Windows music player with good reputation;

◆

Handle nearly all popular digital audio formats, like MP3, AAC, FLAC, and can even handle some video formats, such as MP4, AVI;

◆

Rip audio CDs and download podcasts.

Windows
5

Foobar2000

◆

One of the lightest, yet the most customizable, extensible and feature loaded music player for Windows;

◆

Support OGG, FLAC, ALAC, AIFF and more audio formats;

◆

Support adding all the media library folders to manage your collection and automatically.

Windows
6
>

aTunes

◆

A fresh music player, with the cleanest looking UI, no confusing menus, unnecessary options or anything;

◆

The digital music collection can be viewed after filtering on the basis of metadata, such as album name and genre;

◆

Compatible with a bunch of audio formats, including popular ones such as MP3, AAC, WMA, FLAC, and WAV;

◆

Support for smart playlists and duplicate track removal.

Windows
7

Decibel

◆

An ideal music player for Mac that can play audio files smoothly, previously called "AyreWave".

◆

Supporting all lossless and lossy audio formats: FLAC, Ogg Vorbis, Musepack, WavPack, Monkey's Audio, Speex, True Audio, Apple Lossless, AAC, MP3, WAVE and AIFF.

◆

Playback quality for files sampled at all bit depths.

Mac
8

Fidelia

◆

This music player comes with an interface that's reminiscent of high-end radios of today, has accurate wavelength visualization of the music being played.

◆

The number of format supported by Fidelia is pretty high, including support for FLAC. This is also the only media player that utilizes iZotope technology for optimal sample rate conversions.

Mac
9

Tomahawk

◆

Free music player for Mac to play FLAC, MP3, Wavpack, OGG, WAV and others.

◆

Install plug-ins of many music services on Tomahawk and some of them include Spotify, YouTube, Soundcloud and others.

Mac
10

Sonora

◆

A new music player for OS X that focuses on a gorgeous view of your album art.

◆

instantaneous search of your library, and queue-based playback.

◆

The auto sync feature syncs iTunes library for you.

Mac
In this article, we have mainly introduced 20 best music players for Android/Windows/Mac/iOS. If you have better music player recommendations, feel free to leave comments down below!