Part 1. Top 7 PDF to PNG Converters You Can Download or Access on the Web for Free
1. Aiseesoft Free PDF PNG Converter Online [Most Picked PDF to PNG Converter]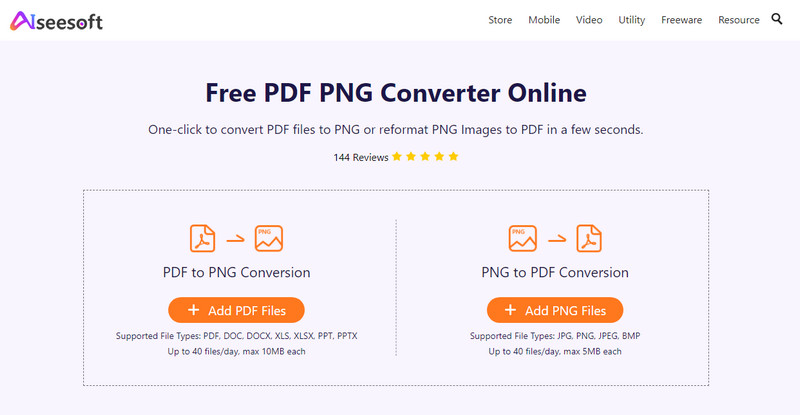 Aiseesoft Free PDF PNG Converter Online is a free PDF to PNG converter you can quickly master after you try it for one-time. You can experience a top-shelf multiple file conversion with this software. It is a fast, easy-to-use, reliable, and protected online service that will suffice your needs in converting the PDf format. Though the name suggests that it is a PDF to PNG, it can also change the format of the image file you upload here to JPG, GIF, Word, Excel, PPT, etc. An experienced or inexperienced user can get the hand of it in less than a minute. So, if you want to try using this software, you can click its name to start using it to convert your PDF successfully swiftly.
Features:
It supports uploading multiple images and converting them simultaneously.
Image quality will remain after you convert it into a new format.
The drag and drop feature is supported to upload the files easily.
It has a clean web interface which means no ads are popping out.
No downloading or logging in is needed before you can use it.
2. PDFConverter.com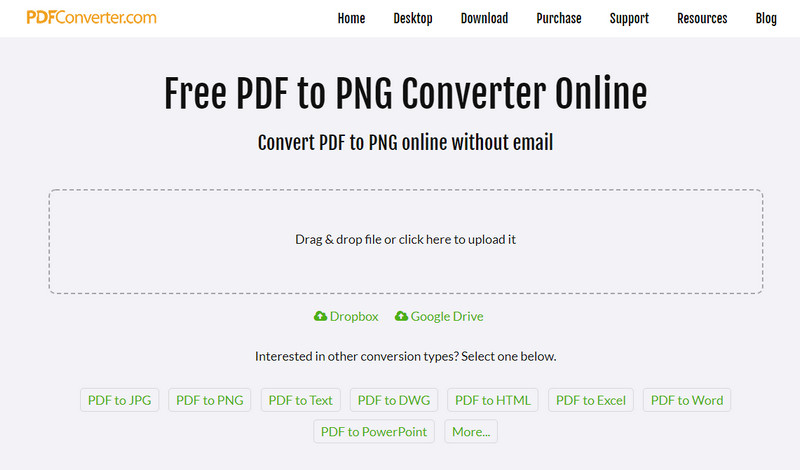 PDFConverter.com allows its users to experience an effective way of converting their PDF files into a new format like PNG. This PDF to PNG converter online is nearly accessible on any web browser you are about to use. Also, you can save the converted file not only on PNG but also on JPG, PPT, DWG, and more. Moreover, suppose you aren't impressed with its online service. In that case, you can try downloading the PDF Converter Elite to have a complete experience with this app. It is the desktop version of this converter, so you wouldn't need an internet connection to convert your PDF file.
Features:
You can scan and then convert the PDF files.
Batch conversion is supported.
It supports accessing numerous cloud services.
It has a desktop version you can download on your desktop.
3. DocFly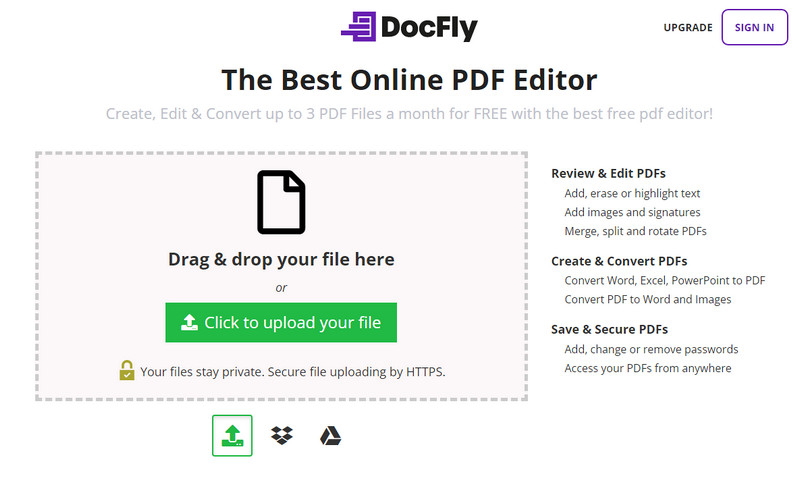 DocFLY is another best free PDF to PNG converter you wouldn't need to download to use. The overall creation of its GUI is simple so that users wouldn't have trouble using this converter. Like the first converter, you can upload your PDF file here by dragging and dropping it on the website. With it, you can change the format of your PDF file into a new format anonymously without signing in here. Enjoy converting with this online service by opening it on your web browser. Also, if you want to create a filler, edit PDF, and have 10GB of file storage, you can purchase its plan.
Features:
It can safely convert your PDF file into your choice of format.
Your files are secured and stay privately after converting by HTTPS.
It can keep the image quality even if the format is changed.
You can upload PDF files that are on drive or cloud storage.
4. PDF Converter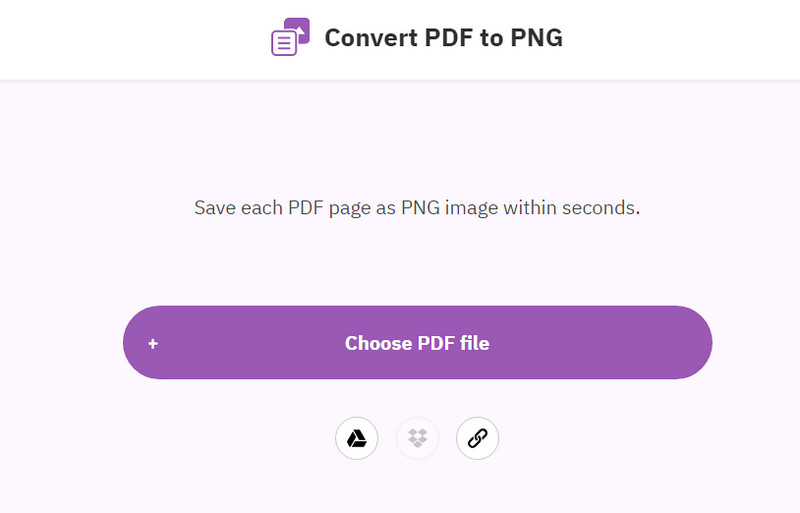 Are you looking for a free PDF to PNG converter that works swiftly on converting your format? If so, you can try using the PDF Converter on the web. With an online tool like this, you wouldn't experience difficulty and annoyance because of the build of its UI. Once you convert the format, you can save every PDF page as a PNG or save it into other formats that this software supports. Also, you can save the output as 72 DPI, 150 DPI for free, and 300 DPI for a pro which is best for printing.
Features:
Its interface is clean, and you wouldn't see a trace of ads on it.
Accessible and straightforward to use.
It is an optimized converter to process the image file quickly.
You can upload images that are saved from cloud storage.
5. Weeny Free PDF to Image Converter
Weeny Free PDF to Image Converter is a free Windows-based system PDF to PNG converter you can download. You can download this software even though your operating system runs 32 or 64 bits. With its built, you wouldn't have trouble changing the PDF format you upload here. There is no need to worry because this software is safe to download on your Windows and doesn't contain viruses. Also, you wouldn't have any difficulties using it because of the GUI that Weeny built. However, the software doesn't support Mac versions, so if you are a Mac user who wants to try using it, you will need to change or have a Windows OS.
Features:
Intuitive user interface.
You can download the software on Windows, which has an Android version.
Freely convert your PDF file without having limitations.
It supports a multitude of output formats.
6. Smallpdf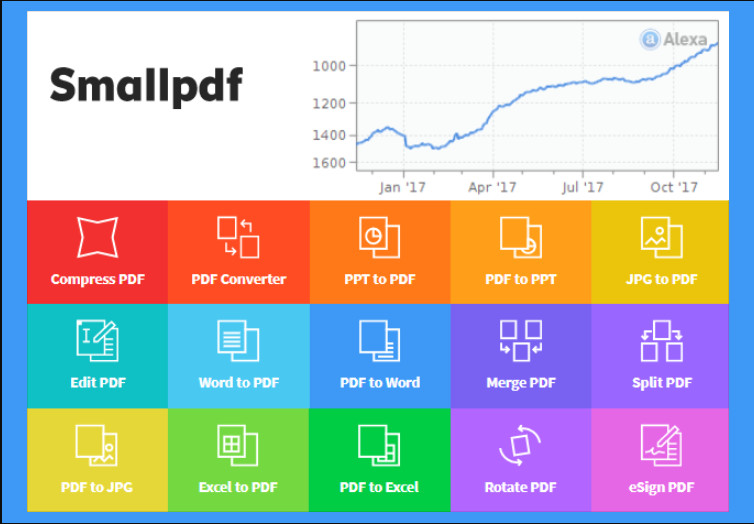 Smallpdf is another web-based PDF to PNG converter online. It allows its users to transform the PDF file quickly they uploaded here into their preferred format. This online tool can downsize the PDF file without affecting any included data. This online tool is full-featured, which means you can do many amazing things with your PDF file. But before you can start using it, you will need to log in to your e-mail account here to start using its 7-day free version, or you can avail of a monthly plan for $ 9.
Features:
It supports other features you can use for your PDF.
You can extract the images on PDF without affecting the overall quality.
Your conversion of PDF is secured.
It has a desktop version for you to download.
7. TalkHelper PDF Converter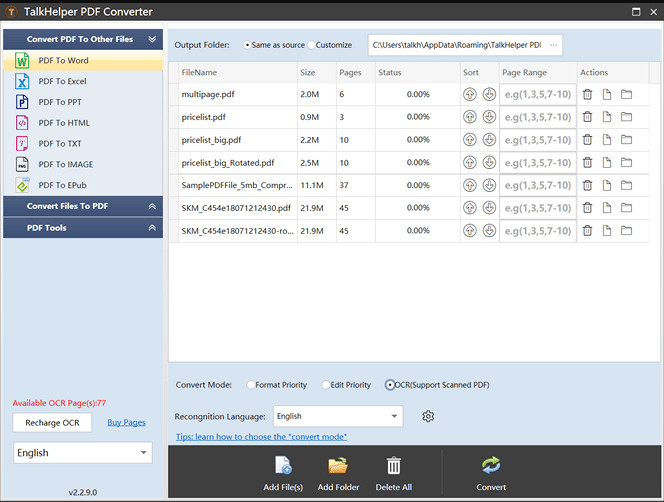 Lastly, one of the best free PDF to PNG converters you can download on your Windows to help you solve the problem is the TalkHelper PDF Converter. This software became known because of how efficiently it handles the conversion process on your PDF. Even though you are a beginner, you can easily grasp this software's whole function because of its intuitive design. Yet the software is limited to Windows OS only; so far, the developers didn't release a version of it that you can use on Mac and Linux. Also, the free trial of this software is limited to a 30-days trial; after that, you will need to purchase a license key to use it longer.
Features:
Free to download on Windows operating system.
You can edit the PDF file here.
Export your PDF into your desired format.
It offers multi-purpose features that could help you.