PNG to PDF Converter You Must Use to Change the PDF Format Easily [Top 5]
Anyone can transfer the image's data from ink into a flat surface known as printing. With the help of a specialized tool known as a printer, you can enjoy having the photo in your hand. PNG is a reliable web service format because of its transparency and ease of loading up. However, printing high-quality images into the .png format could be a problem for many because it does only support 72 dpi, which indicates low quality. Are you not well aware of it? Many do! Instead of printing a 72 dpi image into paper, try to convert the format into a PDF, the best design for high-quality printing photos.
The list below indicates the top 5 PNG to PDF converters you can download on your computer or use on the web to change the format of your PNG into a PDF. Let's tackle the different tools you can use to convert the format without further ado.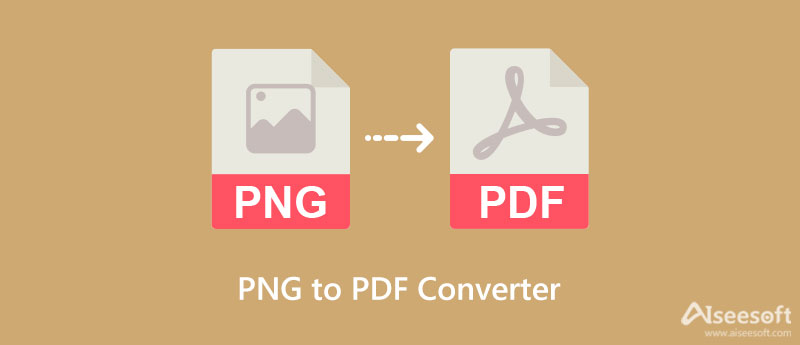 Part 1. Top 3 Free PNG to PDF Converters You Can Use on the Web
Aiseesoft Free PDF PNG Converter Online [Editor's Choice]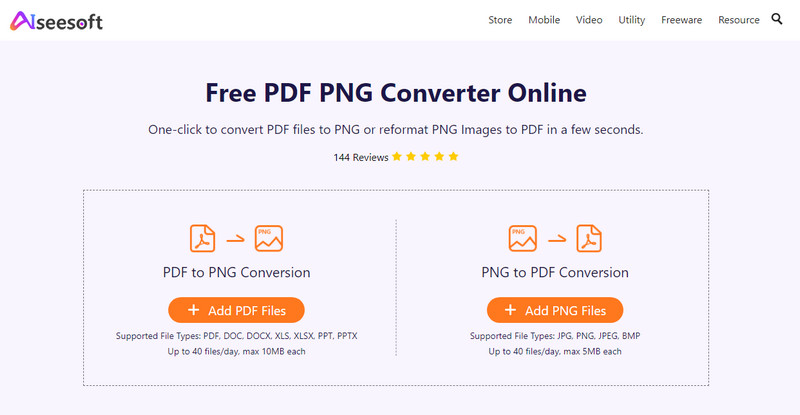 Aiseesoft Free PDF PNG Converter Online is our all-time favorite online converter to convert images from PNG to PDF or vice versa. It provides a simple built-in web design to make your conversion the least troublesome and fast like a breeze. With it, you wouldn't need to become professional in transformation or have vast knowledge about it. After uploading the PNG file here, the tool will do the rest for your conversion; you can wait and relax as the tool will do the work for you. We chose these PNGs mainly because it handles multiple like it was nothing and the fast conversion process on both ends. Are you impressed with it? In that case, click the name of it to open the web converter on a new tab and use it to change the format of your PNG into a PDF.
PROS
For convenience, convert PNG files into a PDF without limitation.
It is a free web tool; you wouldn't need to register here.
It is built to be a simple converter for all users who want to use it.
You can convert several PNG into one document and download it as a PDF.
No downloading or registration is needed to use it.
CONS
Need internet connection to function the tool.
PNG2PDF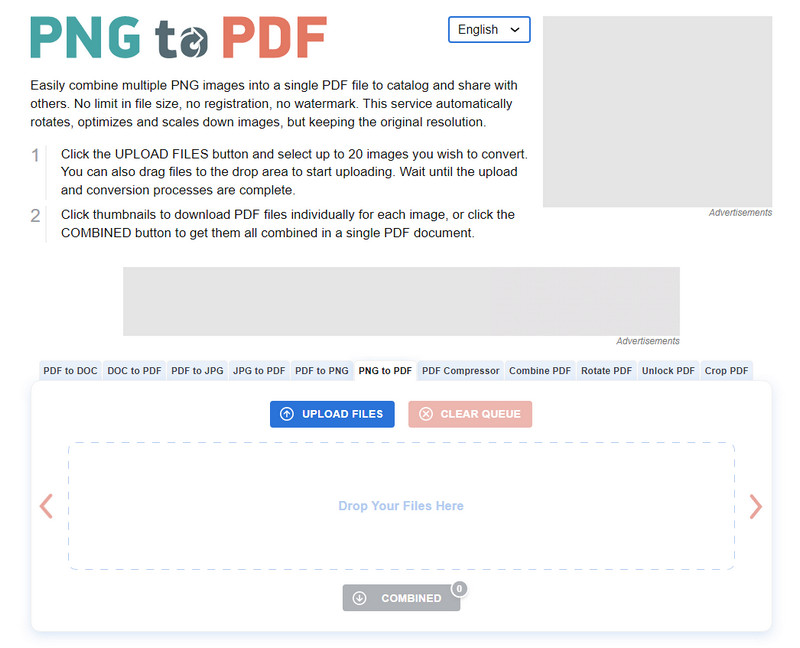 As the name suggests, this PNG to PDF converter online will help you quickly and effectively transform the image format into a PDF. Like the first web tool and any other web tool, you wouldn't need to download the PNG2PDF before you can use it. We added this to our list because of its convenience. You wouldn't need to adjust anything, you can upload the image here, and it will start the conversion automatically. Though it is easy to use, when you search and open the web converter on your browser, you will see small ads on it included. No need to worry; it won't bother you at all. As long as you have the updated version of the web browser and a stable internet connection, there will be no problem you will encounter using this.
PROS
A user-friendly web tool you can depend on.
It can combine multiple PNG into a PDF.
It supports numerous platforms.
You can use it without registration or downloading.
CONS
There are ads on the website.
The conversion speed isn't as fast as the first tool.
You will need a connection to use it.
SodaPDF Online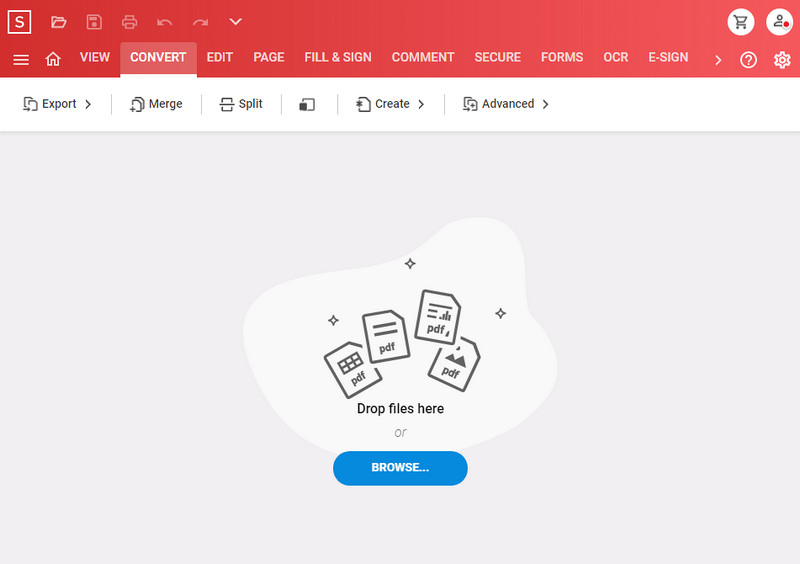 SodaPDF Online allows you to transform your image from PNG to PDF without hassles. With this software, you can do multiple things other converters can't offer you, such as compressing, splitting PDF, editing, and merging. With it, you can preview the image you convert and make some adjustments with Its built-in image editor that you can freely use. If you upload multiple files and don't like waiting for the process, you can log in here to notify your email when the files are ready. However, there will be an ad that will show on your screen for eight seconds. But if you don't care about the ads much and want to try it, then you can visit its official website to convert the PNG you have.
PROS
It supports converting multiple PNGs into a PDF while retaining the quality.
It has an image editor that could help you do some tweaking of your image before exporting.
Free to use, but it supports plans.
Supports notification via email when conversion is finished.
CONS
The free version is limited.
Part 2. 2 of the Best PNG to PDF Converter Software You Can Download on Windows & Mac
TalkHelper PDF Converter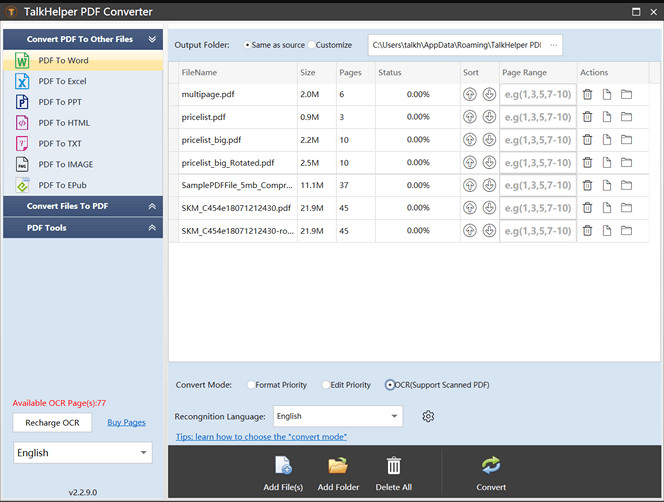 TalkHelper PDF Converter is a straightforward free PNG to PDF converter you can download on Windows 7/8/10/11. You can convert a single PNG or combine multiple PNG files into a PDF if you want to; here, you can do it. With it, you can convert different files into a PDF such as word, excel, PPT, images, DWG, and Epub without compromising the quality. Even though the software is downloadable, you will only need to free up 65 MB to download the software on your Windows. Sadly, the software isn't available to be downloaded by the Mac OS user because it doesn't have a compatible version. Also, you must purchase a license key to use its premium version because the free trial will only give you limited features.
PROS
Free to download on any Windows 7/8/10/11 version you have.
It is a reliable tool capable of converting multiple PNG to PDFs.
With it, you can combine PNGs into a single PDF file.
You can change the output folder where it will save the file.
CONS
The free version of it does have limitations.
It doesn't support the Mac version.
Adobe Acrobat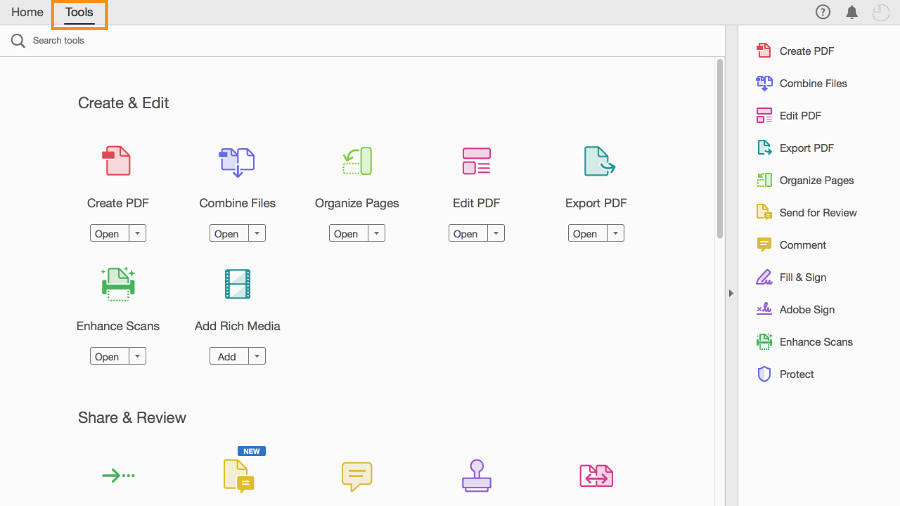 If you don't know who created the PDF, the answer is Adobe. Developing a PNG to PDF converter that can change images into a PDF became the best move to make the user of PDF expand. Adobe Acrobat can handle PDF conversion. It can do many things that a professional converter should have, such as editing, creating, protecting, and many more. For the users looking for professional software, you can't go wrong with trying and using this software because of what it can offer to its users. Professionally, we highly recommend this tool, but because of its features and functions, the software can be pricey. So, if you don't have money, you can try the free trial for a limited time.
PROS
You can download the software on your Windows or Mac.
It has an online version you can use to convert the file.
It provides one of the most effective ways of converting images into PDF files.
You wouldn't experience quality loss after converting your PNG.
CONS
Purchasing the premium version of this software is a bit pricey for the users.
The online version of it supports limited functions.
Part 3. Comparison Chart about the 5 PNG to PDF Converters
| | | | | | |
| --- | --- | --- | --- | --- | --- |
| Tool Feature/s | Aiseesoft Free PDF PNG Converter Online | PNG2PDF | SodaPDF Online | TalkHelper PDF Converter | Adobe Acrobat |
| Conversion Speed | Fastest | Average | Fastest | Fastest | Fastest |
| Ads Free | YES | NO | NO | YES | YES |
| Drag & Drop Feature Supported | YES | YES | YES | YES | YES |
| Downloading Needed | NO | NO | NO | YES | YES |
| Software's Version Supported | Free Version | Free Version | Free Version & Plan Version | Free Trial & 1 User License Version | Free Trial & Premium Version |
Part 4. FAQs about the PNG to PDF Converters
Can I use PDF for posting an image on the web?
Using PDF for the web could be a no-go, and we aren't suggesting you use it. PDFs aren't optimized for loading up images on the web. Suppose you want to upload an image on the web. In that case, we recommend you use PNG or JPEG as your extension because they are more optimized on different web browsers. You can click here to learn how to convert PDF to JPG easily.
What is the disadvantage of having PNG?
Due to its color mode of RGB, the PNG file format isn't best for printing images because printers most likely use CMYK color mode. So, if you want to print an image, you can use the PDF as a format because its purpose fits for printing. Also, most PNG doesn't contain metadata.
Do PNG and PDF using the same compression?
Yes, PNG and PDF use lossless compression, which indicates you can compress the image as many as you want, but the quality of it will remain the same. So, if you are worried about losing quality after compression, then we can say that you wouldn't experience this.
Conclusion
As long as you use a PNG to PDF converter, you can successfully achieve the best format for printing and scaling. With the tools we include here, you can fix the problem in no time. Do you have a question going into your mind about this topic? Well, you can leave a comment below and share it with us!

Leave your comment and join our discussion