How to Convert PDF to Word Document on Mac
PDF and Word DOC format are two universally accepted document formats. Each has strengths and weaknesses. I will tell you when to use Word format before showing you the method to convert PDF to Microsoft Word DOC document on Mac.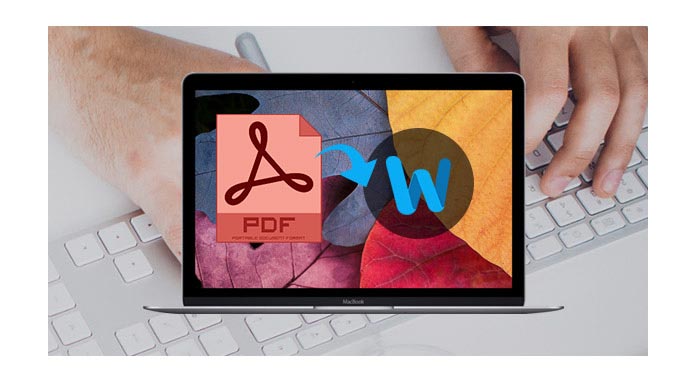 Following is the detailed instruction of how to use this PDF Converter to convert PDF to Word Document files on Mac.
When to Use Word (DOC) Format
Reusing Images: It's very easy to extract and reuse images in a Word document. This can't be done with a PDF, because its images are embedded.
Word Processing: When it comes to written documents such as business letters, memos, etc., Word is much better suited for writing the actual composition because of providing the benefits of spell-checking and grammar-checking.
Editing: When it comes to editing documents, Word is a much more powerful and pliant format than PDF. It contains intuitive formatting and compositional tools that allow you to format your document as you create it. With a PDF file you can only a few words at a time and have very limited editing options.
So if you have you've got a document in PDF format that needs major editing, the best idea is to convert it to Word format, and make your edits.
Convert PDF to Word (DOC) Format
Importing a PDF file into a Word document is easy if you have the right tools. You can download a Mac PDF to Word Converter that makes it easy to convert PDF to Word document with just a few simple steps. Unfortunately, the full version of Adobe Acrobat is very expensive, which makes buying a copy of Adobe Acrobat impractical for a lot of users out there who just occasionally extract the text form a PDF document to use in Word.
Using Aiseesoft Mac PDF to Word Converter, a simple drag-and-drop application, you can easily extract formatted text from any PDF file. It offers users a professional solution of converting PDF files to Microsoft Word document (.doc) and RTF file on Mac. After the conversion, the output document could be easily read and edit with Microsoft office, OpenOffice, LibreOffice, etc. And this software could preserve the original text, images, graphics, layout in the output word file. On the other hand, this Mac PDF to Word Converter adopts the OCR technology, which enables users to convert image-based PDF file to Word document with wonderful output quality and convert only the part of PDF file by specifying page number.
1Add PDF files
Install and launch Aiseesoft Mac PDF to Word Converter. Import PDF into this PDF converter by clicking "Add File(s)" button. Or just drag PDF files and drop them on the interface.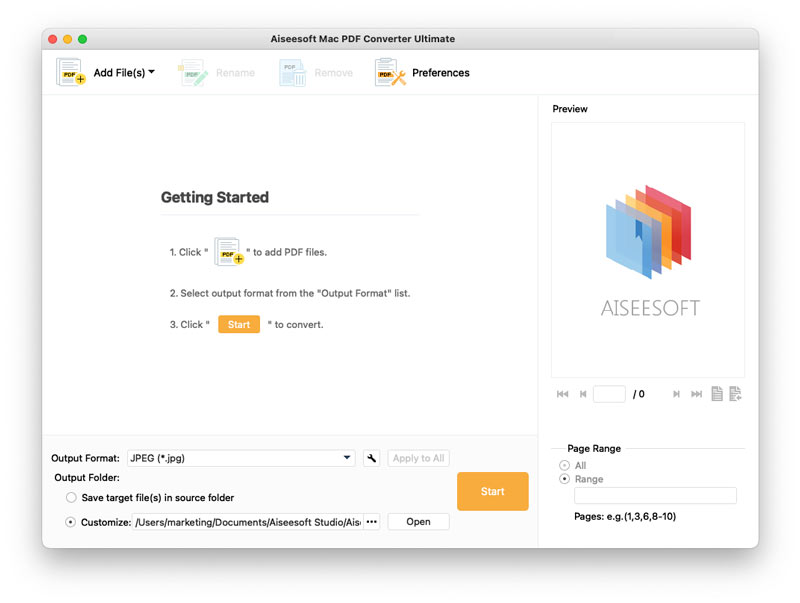 2Select Microsoft Word 97-2003 (*.doc)
Click the down-arrow button on Output Format pane. From the drop-down list, select Microsoft Word 97-2003 (*.doc) as the output format.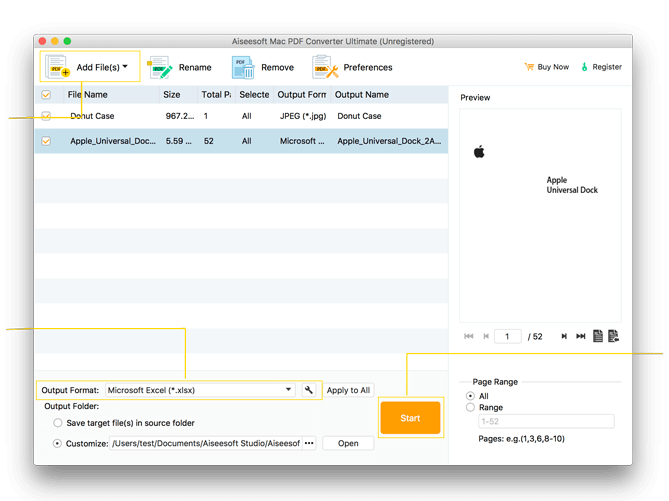 3Start PDF conversion
After that, click "PDF" to begin the PDF to Word DOC format conversion.
Mac PDF Converter Ultimate
Convert PDF files to editable text documents and image files
Uses OCR technology to convert scanned PDF documents to readable formats
Batch processing or partial conversion
Customize output settings
Tip: This application allows you to export just the data you need to Word document by specifying page number.