Professional Tutorial to Lossless Convert JPEG to PDF on Windows/Mac
Both JPEG and PDF are widely used file formats, but you may discover that it is suggested to convert JPEG to PDF in some cases, such as when print photos. PDF, stands for Portable Document Format, was developed by Adobe; while JPEG, also known as Joint Photographic Experts Group, is a compressed image format. Though a JPEG image is smaller than the same PDF document in file size, PDF will not lose color, quality or contrast when printing. Moreover, you can embed text, lines and other elements on a PDF document; but a JPEG image compresses everything in a single layer and is unchangeable once exported. Therefore, we are going to tell you how to convert JPEG to PDF quickly in this tutorial.

JPEG to PDF
Part 1: How to Resize JPG to PDF Online and Free
Online JPG to PDF converters are convenient option, especially when you need a portable way to resize JPG files. The advantage is that you can get PDF files on any platform and web browser. But online PDF converters usually have some limitations, such as save one JPG to PDF at one time, cannot handle large pictures, and more. We use SmallPDF as the example to show you the workflow.
Step 1 Access smallpdf.com in your browser and select "JPG to PDF" from the "All Tools" menu on top ribbon.
Step 2 Next, click "Choose file" and upload the JPG images you want to make PDF with, or drag and drop the images into the yellow box. It also supports to import pictures from Dropbox or Google Drive.
Step 3 After uploaded, you will go into the next page. Here you can select paper size, orientation, and margin. Then click on the "Create PDF Now" button.
Step 4 Wait for the process to complete and click "Download File Now" button to download the PDF result to your computer or send it to your cloud account.
Note: SmallPDF does not limit image size you upload, but you can only use it twice within 24 hours for free.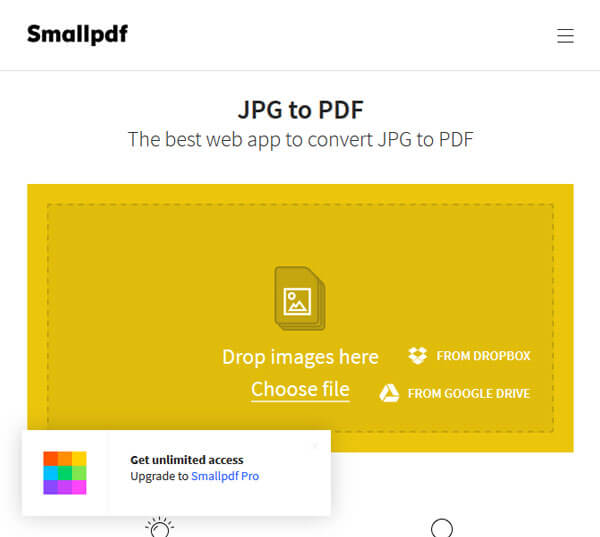 Part 2: How to Convert JPG to PDF on Windows 10/8/7 (Merge JPG to PDF Offline)
Unlike online JPEG to PDF converters, desktop converters are more stable and offer more benefits, like merge JPG to PDF offline, no limit on how many time to use a day. Adobe Acrobat is not only a PDF viewer, but also a PDF converter for Windows 10/8/8.1/7/XP.
Step 1 Open Adobe Acrobat when you want to save JPEG to PDF. If you do not have Adobe Acrobat, download it from Adobe website.
Step 2 Click and expand the "File" menu and choose "Create" > "PDF From File". Then the Open dialog box will pop up. Navigate and highlight the JPG image that you want to convert to PDF. To quickly locate the image, you can select JPG from the "Files of Type"drop-down list.
Step 3Open Adobe Acrobat when you want to save JPEG to PDF. If you do not have Adobe Acrobat, download it from Adobe website.
Step 4 When it finishes, the new PDF file opens automatically. Next, go to "File" > "Save" or "Save As", then drop a name and select a proper location for the PDF.
Congratulation! Now, you can print or edit your image as a PDF file. Only the paid version of Acrobat allows users to create PDF with JPG images. And you have to purchase it from Adobe.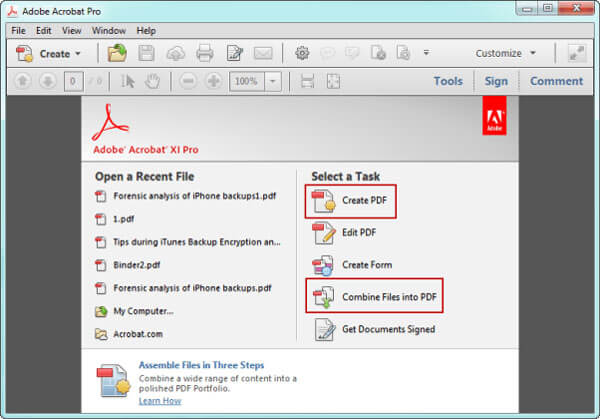 Part 3: How to Convert JPG to PDF on MAC
If you have a MacBook, you are lucky since some pre-installed utilities have the capacity to convert JPEG to PDF, such as Preview. In another word, you do not need to install anything on your Mac when producing PDF documents with JPG images.
Step 1 Open the JPG image or images to convert to PDF within the Preview app, and select the image in the sidebar of the window.
Step 2 Select "Print Selected Images" option from the "File" menu to activate the pop-up dialog.
Step 3 Input a name in the "Export As" box, and select a destination from the "Where" option. Make sure to change JPEG to "PDF" in the "Format" menu. And you can customize the Quality and Resolution.
Step 4 Finally, click on the "Save" button to trigger the PDF converting process.
Note: Preview utility is able to convert a JPG to PDF or create a PDF with several JPG images.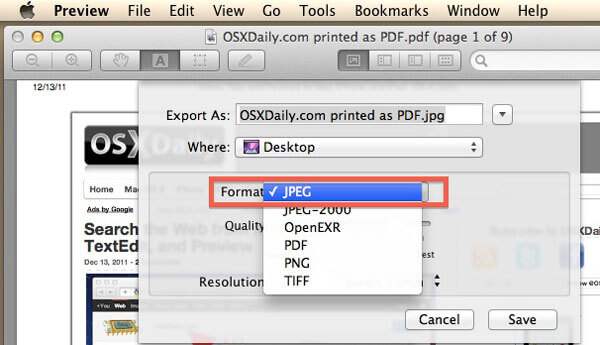 Recommendation: PDF Converter Ultimate (Convert PDF to JPG)
On the other hand, if want to change your PDF to JPG, you will need a professional program too, such as Aiseesoft PDF ConverterUltimate .
Its key features include:
1. It is able to convert PDF files to JPG, PNG, GIF, BMP and editable Text, Word, Excel, PowerPoint and HTML.
2. If you need to convert PDF while keeping the original quality, PDF Converter Ultimate is the best option, especially the image-based PDF.
3. It integrates multi-thread technology that converts multiple PDF files at one time.
4. And you can preview the PDF file and decide to save a part of the PDF to other formats quickly.
5. Another advantage is to recognize over 190 languages using OCR technology, like English, French, Chinese, etc.
6. For beginners, the one-click converting function makes this PDF converter easy to use.
7. And if you are tech savvy, there are plentiful custom options and parameters changeable for you.
8. It is compatible with Windows 10/8/8.1/7/XP and Mac OS.
In short, it is the best option to save your PDF documents to JPG images or other formats.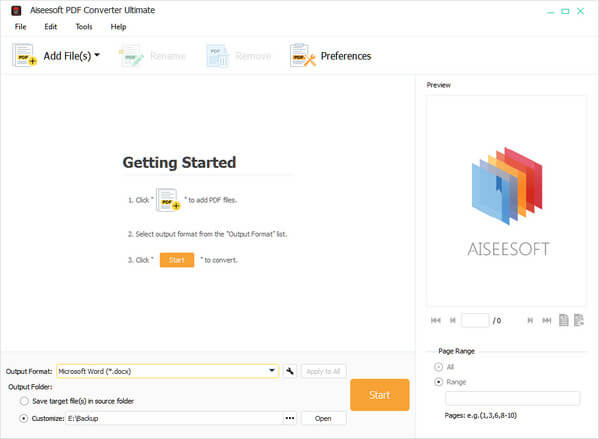 Conclusion
In this tutorial, we have shared multiple ways to convert JPEG to PDF as soon as possible. PDF and JPEG are popular file formats for different purposes. But if you want to get the best print results, converting JPG to PDF is a good idea. First of all, online JPEG to PDF converters are always a good option offering portable converting service for free, if you do not care about the downsides. On the other hand, Adobe Acrobat is a professional PDF creator for Windows. And the built-in Preview utility is a simple way to create PDF from JPG images. Now, you can get what you want with your favorite method.