How to Edit Videos with Video Editing Software
You may have recorded many videos with your phone or camera, occasionally there's some flaw. Maybe the dark environment affects the brightness, maybe there's some unexpected color in the photo (the video noise), or maybe the phone-recorded video becomes fuzzy when playing on TV.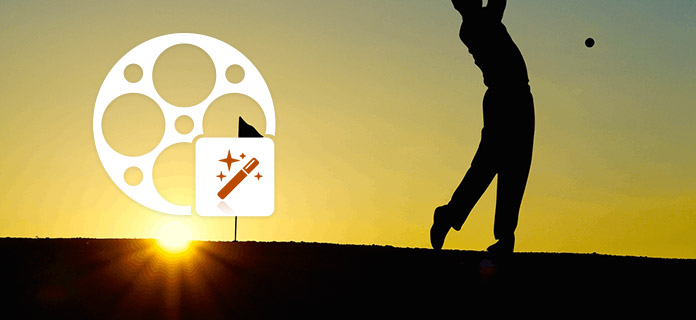 Advanced video editing features – Enhance & Rotate (New)
For using video enhancing feature, you need to download Video Converter Ultimate firstly.
Video Converter Ultimate
For Mac
Save YouTube videos and online videos from popular sites like Facebook, Twitter, Instagram, DailyMotion, Vimeo, TED, Yahoo, Vevo, etc.
Download and convert video to MP4, MOV, AVI, MKV, MP3, FLAC, and other video/audio formats.
Support 1080p HD/4K UHD video downloads and conversion.
Powerful editing features. Rotate/clip/merge/crop video, adjust output video effects, and add personal image or text watermark.
Enhance video quality and add more video/audio effects, including 3D.
Add new subtitle/audio track and remove original audio track.
Support adding images, watermark and text to video clips and changing color, font and size of the text.
1. Upscale resolution
For videos in low resolution, you can improve the video quality by upscalling it to higher resolution. After that, you can enjoy the low-resolution video on players with larger screen. For example, you can upscale the 720p video to 1080p HD video then you can enjoy the phone-recorded video on your computer.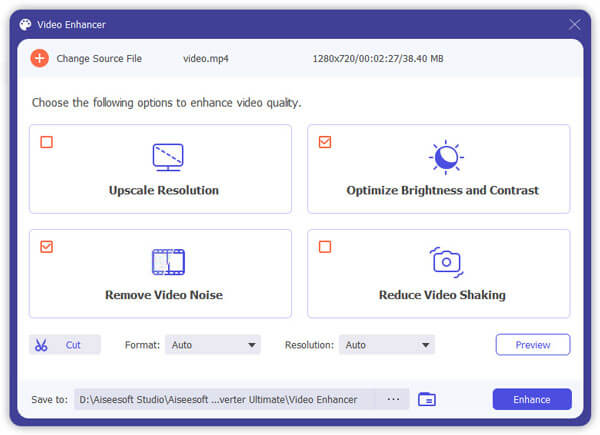 Learn How to Improve the Quality of Your Video
2. Optimize brightness and contrast in one click
If you don't want to adjust the brightness and contrast by yourself, try this one. The newly added automatic optimizing function helps to adjust the brightness and saturation to the proper extent for you. The whole optimization completes in just one simple click.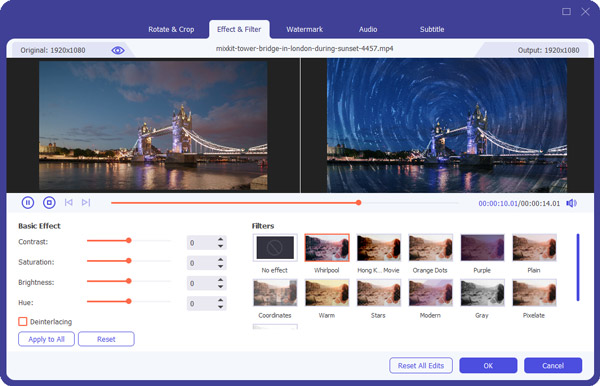 Learn How to Optimize Video Brightness and Contrast
3. Remove video noise
Sometimes you may find come unexpected colors in your photo, which we call it video noise. It makes your image look dirty and old. Now with video enhancing software, you can remove the video noise from your video. Just one click and your video will become crisp clear.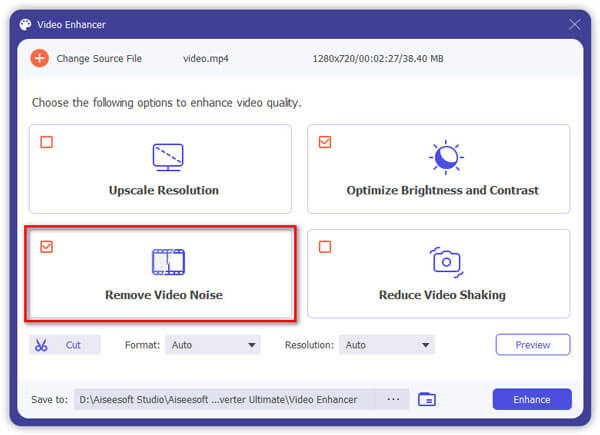 Learn How to Remove Video Noise
4. Stabilize Shaky Video
After recording a video with your phone or camera, you might be disappointed by the shaky videos and blurry images when you shake your phone or camera incautiously. With the deshaking function in this Video Enhancer, you are able to stabilize your shaky video with ease. Only one click, you can get the perfect video without any shake.
5. Rotate
It's annoying if your video doesn't show in the right angle. For example, if you record the video vertically with your iPhone, you need to watch the video with a wry neck. With rotating function, you can rotate the video clockwise or counterclockwise to the right angle.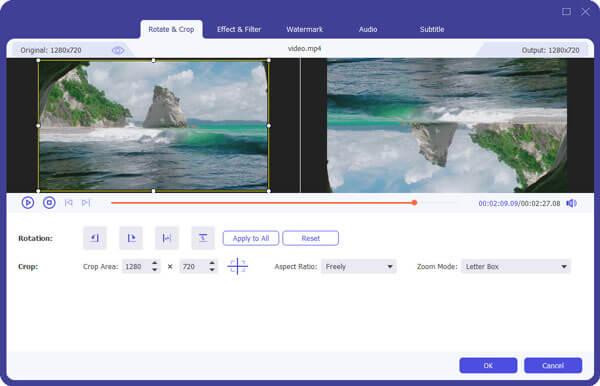 Learn how to rotate a video.
6. Flip
Another interesting function is flipping video. The flip function enables you to reverse the direction angle of the video.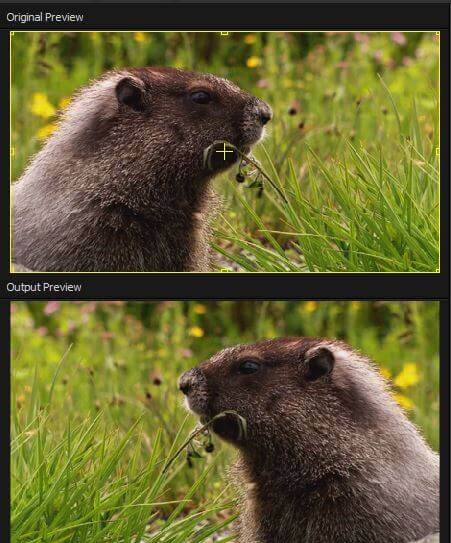 Learn how to flip a video.
Basic video editing features
1. Adjust different parameters
Brightness – If the video recorded under the dark environment, it is uncomfortable to watch the video. By improving the brightness, the image will be much clearer.
Contrast – Sometimes the reason of low contrast is low brightness, sometimes it's because of the low-resolution lens. By adjusting contrast, you will get more visually exciting images.
Saturation – Saturation degree decides to what degree the image color is similar to the real color. The proper saturation makes beautiful image. Don't make it too high or too low.
Hue – Hue refers to the color tendency of the image. By adjusting hue, you can see the change from cool tone to warm tone.
2. Adjust volume
If the default volume of the video is too high or too low, you can use the editing function to adjust the volume.
3. Additional features
1. Convert 2D to 3D
2. Crop the video
3. Add watermark