Everything about MTS and MTS Converter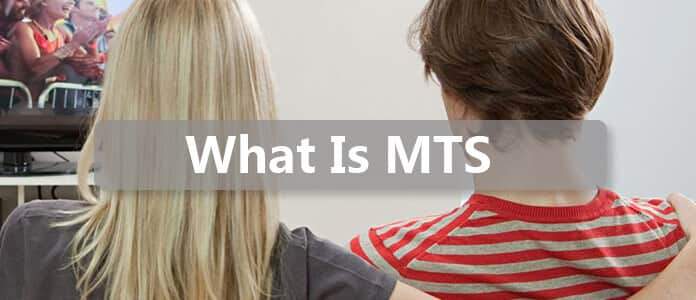 What is an MTS file
When you want to know some knowledge of MTS format, the first thing you should understand is the definition of MTS. Generally speaking, MTS is the file extension for the high definition digital video camera format – AVCHD. And the full name of AVCHD is Advanced Video Codec High Definition, and it is an effective video format for popular camcorders with high quality capability.
MTS is a high-definition MPEG and H.264 transport stream video format and it supports 720p and 1080i HD video formats. Commonly, people are willing to call MTS file as AVCHD, which is developed jointly by Sony and Panasonic with introducing the high quality format in 2006.

Why is MTS so popular
From the introduction of MTS, we can know that MTS is a kind of video format with high quality. With the rapid development of technology, people are more willing to enjoy their videos and pictures with high quality. As a high-definition transport stream video file format, MTS format definitely meets people's requirement for the video quality.
However, MTS has its own weakness. From one side, it is hard to edit MTS files, if you want to edit MTS video on computer, there is few software supports to do so. From another side, if you do not prepare Quad-core and high-end graphics card in advance, it is not suggested to play MTS/AVCHD files on Windows computer directly, or the playing process will meet unexpected conditions.
This is the reason why you need a professional MTS Converter
Many of us have the need to convert MTS files. For example, if you want to enjoy your video on more portable devices, or if you want to upload your recorded video on YouTube, Facebook, or some other video sites for sharing with more people, you need to convert the MTS files first. Sometimes, we'd like to edit the MTS video before converting, such as clip the MTS video into several parts, or add watermark of the video. So, finding a proper MTS Converter is not as easy as you thought. In this post, we'd like to share you the most professional MTS Converter for your information.
Aiseesoft MTS Converter – Convert MTS to other video formats you want
As the most professional MTS file converter, Aiseesoft MTS Converter has done a great job for helping people convert their MTS videos from Sony, Canon, JVC, Panosonic digital cameras to other popular video formats you want, such as you are able to convert MTS to MP4, convert MTS to MOV, Convert MTS to AVI and more. Before converting, you are allowed to edit your MTS video as you like. If you want to enjoy the 3D effect, you are able to convert the MTS movie from 2D to 3D with one click. And more, you can easily adjust the video brightness, Contrast, Saturation, Hue and other aspects. Want to preview the MTS file? It's easy! You will find the video preview window on the main interface of this Aiseesoft MTS Converter, and you are also allowed to take snapshots on your computer.
Does this Aiseesoft MTS Converter support all MTS files from different digital cameras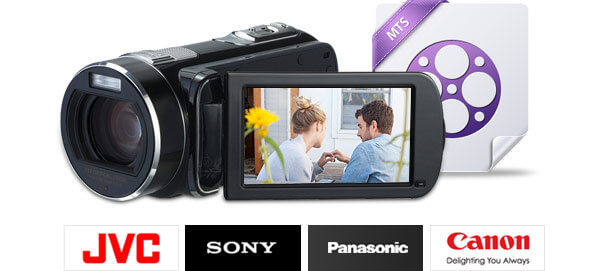 Absolutely yes. Here are the popular camcorders which are supported by Aiseesoft MTS Converter.
| Canon Cameras | Panasonic Cameras | Other devices |
| --- | --- | --- |
| Canon HR10 | Panasonic AG-HSC1U | Sony HDR-CX6, CX7 |
| Canon HG10 | Panasonic AG-HMC70 | Sony HDR-CX12 |
| Canon HF10 | Panasonic AG-HMC150 | Sony HDR-SR1, SR5, SR7, SR8, SR5C |
| Canon HF100 | Panasonic AG-HMC151E | Sony HDR-SR10, SR11, SR12 |
| Canon HF11 | Panasonic AG-HMC152 | Sony HDR-UX1, UX3, UX5, UX7 |
| Canon Vixia HF S11 | Panasonic HDC-DX1 | Sony HDR-TG1, TG3 |
| Canon VIXIA HF S10 | Panasonic HDC-DX3 | Sony HDR-XR100 |
| Canon VIXIA HF S100 | Panasonic HDC-SX5 | Sony HDR-XR520V, 500V, 200V |
| Canon VIXIA HF S200 | Panasonic HDC-SD1 | Sony HDR-TG5V |
| Canon Vixia HG21 | Panasonic HDC-SD3 | JVC GZ-HD10 |
| Canon Vixia HG20 | Panasonic HDC-SD5 | JVC Everio GZ-HD30E |
| Canon HF20 | Panasonic HDC-SD7 | JVC Everio GZ-HD40E |
| Canon HF200 | Panasonic HDC-SD9 | JVC GZ-HD320 |
| Canon 5D DSLR | Panasonic HDC-SD10 | JVC GZ-HD300 |
| Canon 7D DSLR | Panasonic HDC-SD100 | JVC GZ-HM200 |
| Canon PowerShotSX200 IS | Panasonic HDC-SD200 | JVC GZ-X900 |
| And more | And more | And more |
How many output formats does Aiseesoft MTS Converter support
There are more than 300 video output formats, including MP4, AVI, MOV, WMV, MKV and more. For example, if you want to convert your MTS to MP4, you can just choose MP4 from the profile of this MTS file converter and only one click can get the MP4 file on your Windows or Mac.
Is there any MTS Player for playing MTS files
Another fabulous program from Aiseesoft is Blu-ray Player. It can not only play Blu-ray files smoothly, it also supports playing .mts files and any other video formats with high quality. At the same time, you can save the images during playing MTS file with this player.