Best AVCHD Player to Play AVCHD/MTS Videos on Mac and Windows
How to play .mts files on my Windows XP computer?
Will anyone come up with a MTS Player for the Mac?
I am trying to watch videos on my laptop that have an .mts extension. What player works best for this?
I have been trying to play the .mts files in various players such as WMP, VLC, etc. but they are not very smooth always. Is there any player can play my MTS AVCHD videos smoothly?

Do you have the similar questions when you want to play MTS videos on your Windows or Mac computer? I think many of you may meet such questions that the Media Player on your computer does not recognize the video formats. What's worse, maybe some people have tried more than 30 different so-called MTS players, but there is still not a suitable way to play AVCHD/MTS files smoothly. In this article, we will show you some common ways to play the MTS files on Windows and Mac computer easily.
Part 1. What is MTS file?
MTS is a file extension for an AVCHD (Advanced Video Coding High Definition) video clip format for high-definition video. The file extension of AVCHD video is "MTS" on camcorder that contains raw footage and will become "M2TS" if imported to computer.
MTS files are the files used for Blu-ray Disc Audio-Video (BDAV), which stands for MPEG-2 transport stream are the ones used for the purpose of multiplexing of various video, audio and other such streams.
For more details about MTS, please visit: What is MTS file.
Part 2. How to play MTS with VLC
Can VLC play MTS file? The answer is yes. Many people recommend using VLC as a MTS player. As we all know, VLC media player is an open-source and free AVCHD video player, which has pretty much codecs built so it can play any file formats.
1Download, install and run VLC on your computer. VLC has Windows and Mac version, so here you could download different versions to your computer for playback of MTS file.
2Click "Media" > "Open File" to import the MTS video file. You should notice that you can only play one MTS file at a time.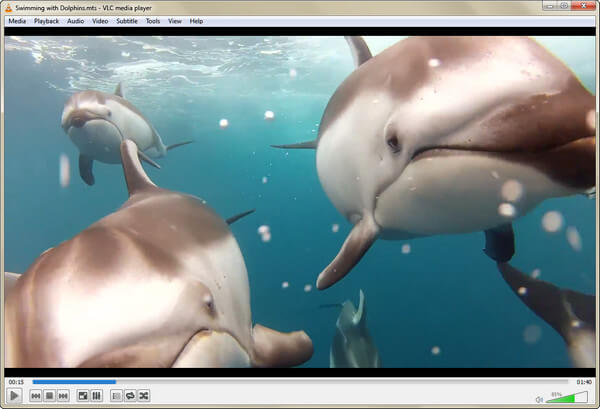 But there are some people think that the MTS files do not look that great when playing with VLC, and sometimes, you are unable even to import the MTS files to VLC Media Player directly, because Blu-Ray error: This Blu-Ray disc needs a library for AACS decoding, and your system does not have it", which proves that the lack of the Library for AACS Decoding is essential for the system to play MTS Files.
At that point, you have another choice to play MTS files and videos with the professional MTS Player. What can a professional MTS player bring you? Keep reading.
Part 3. How to play MTS with MTS Player
For getting a professional MTS player, you will get the high quality without any compression and the real audio around you. In addition, you are able to enjoy MTS videos smoothly and take any images you like during playing. Free download Aiseesoft MTS Player to learn how to play MTS/AVCHD files.
It has Windows and Mac version, and you can install the exact version to your computer according to the prompt guide.
The simple steps to play MTS/AVCHD on Mac or Windows computer
We will take the Mac version as an example.
1Drag the MTS video to this Player. Or you can click Open File to add MTS file in.
2Click the Play/Pause button to play MTS video easily.
3Capture the images in MTS video with the Snapshot function on this MTS player.
4You are able to enjoy the MTS video with full screen and restore with Esc button.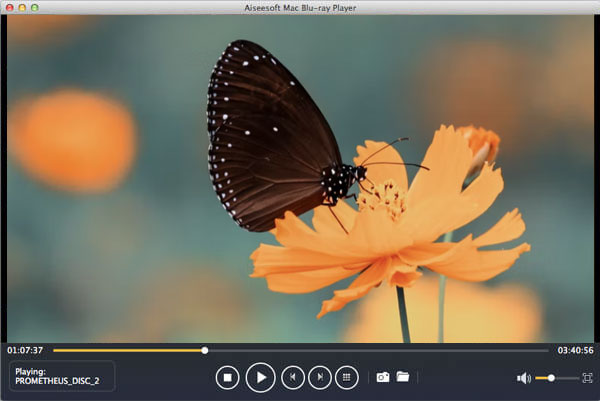 If you have a PC and want to play MTS on Windows 10/8/7, you can download the Windows version and experience the amazing effect on Windows.
Other functions of this professional MTS Player
This MTS Player is also well known as Blu-ray Player. You can not only play MTS/AVCHD files and any other videos, but also play Blu-ray disc, folder and ISO with 1080p effect. Even 4K videos can be easily played with this multifunctional player. So it is unnecessary to download different codec and players to play videos with different video formats. This MTS player can do you a great favor for playing videos with any video formats.
Part 4. How to play MTS file with Windows Media Player
How to play MTS file on Windows Media Player? Actually Windows Media Player supports AVI, WAV, MP4, M4V, 3GP, WAV, etc. but it does not support playing MTS file. For watching MTS file on Windows Media Player, you need a professional video converter to help you convert MTS file into supported video formats.
Learn from this post to convert MTS to WMV.