5 Best WMA Music Player Apps for Playing WMA Files on Android Devices
I downloaded several music files on my Android phone, but the pre-installed music player cannot open it, is there any way to play WMA music on Android phone.
WMA, stands for Windows Media Audio, is an audio coding format developed by Microsoft. Similar to MP3, WMA is a popular audio format and widely used since it is high in quality.
But if you want to listen to WMA on Android devices, a WMA music player is necessary. Though there are many music players in Play Store, only a few supports WMA. How to discover the best WMA music players?
All you need to do is to spend a few minutes and read the post below.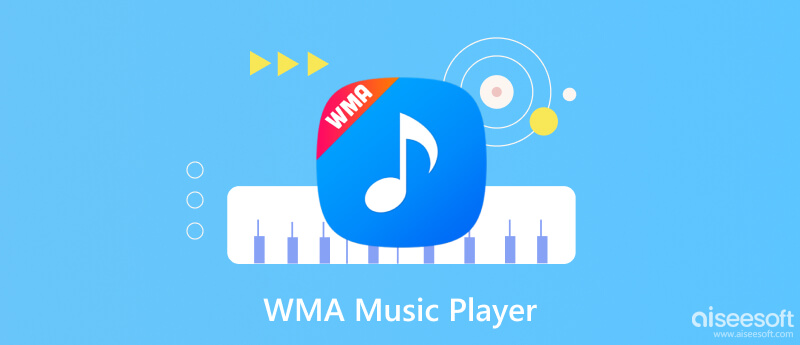 Google Play Music
Google Play Music is not only a popular music stream service, but also a powerful WMA music player. Its key features include:
1. Offers both free account and premium account to meet different demands.
2. Store up to 50,000 music files for free.
3. Support WMA, MP3, APPC, FLAC, OGG, and ALAC music formats.
4. Stream or download music in up to 320 kbps quality.
5. Create playlist combines local songs and online music.
6. Listen to local WMA music offline.
Pros:
1. The interface is well designed and contains a variety of functions.
2. This WMA music player only needs to sign in with your Google account.
3. The music library is available to both mobile device and computer.
Cons:
1. Google Play Music needs a Gmail account, no matter free or premium user.
2. There are too many features and beginners may feel frustrated.
However, you should understand that Google Play Music cannot play WMA files when the files are copied directly to the phone storage or storage card. For playing the WMA files on Google Play Music, you should properly import them by following the steps below:
1. Download the latest version of Google Play, install and sign in your account on the computer. Import your WMA files to your Google Play music library.
2. On your phone, go to Google Play tap the menu and hit "music library" to select the WMA files to start playing.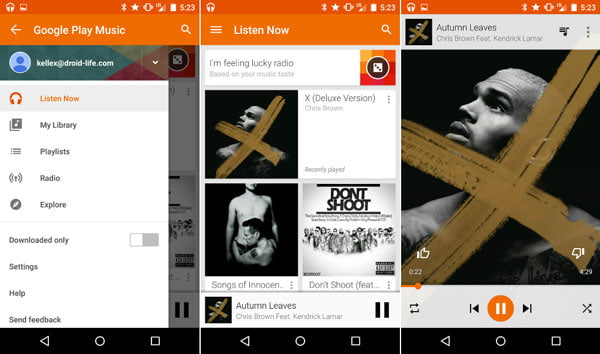 VLC Media Player
VLC Media Player is not only a popular music stream service, but also a powerful WMA music player. Its key features include:
1. Play a wide range of multimedia formats, including WMA.
2. Full search of audio and video media library.
3. Stream music and video on YouTube and other websites.
4. Integrate multi-core decoding technology.
5. Support both gestures and headphone control.
6. Display embedded or external lrc files of the WMA music.
Pros:
1. This WMA music player is open source, so everyone can use it without paying a penny.
2. The interface is optimized for mobile devices.
3. It is compatible with Windows, Linux, Mac OS, iOS and Android.
4. No spyware, ads or user tracking.
Cons:
1. Some users reported decoding difficulties.
2. It is not available to all Android devices. Check here to get VLC alternatives.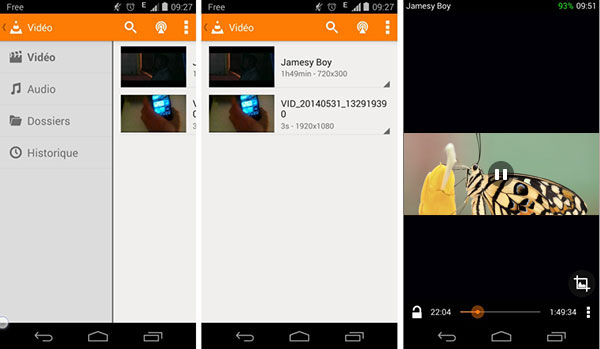 Deezer
Deezer is a popular HI-FI service as well as a WMA music player. Its principal features include:
1. Compatible with a wide variety of audio formats, like WMA, MP3, OGG, FLAC, WAV, TTA, etc.
2. Provide an interactive interface on Android devices.
3. Include free trails and flexible plans.
4. Get the new releases music from favorite artists.
5. Listen to local music and online songs on mobile devices.
6. Offer personalized recommendation based on your profile.
Pros:
1. The interface is intuitive and easy to navigate.
2. This WMA music player contains a library with 53 million songs.
3. It is able to search for lyrics for music automatically.
4. The audio quality is pretty good.
Cons:
1. This is a paid music service without free mobile version.
2. The experiences of mobile and desktop are not consistent.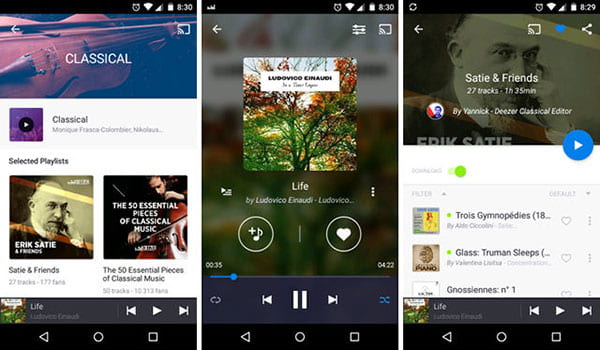 Power AMP
Power AMPis a WMA music player for Android users. Its main features include:
1. Offer a large album to store music, sensitive to gestures control.
2. Search and download missing album art automatically.
3. Play MP3, OGG, WMA, FLAC, APE, WV, MPC, MP4 and other multimedia files.
4. Built-in theming engine and changeable interface.
5. Provide a adjust screen to get the perfect effect through reset tone, bass, and other parameters
6. Preset according to your listening preferences.
Pros:
1. This WMA music player includes a free trail.
2. It is free to download in Play Store.
3. Power AMP is able to optimize WMA and other music.
Cons:
1. The navigation is pretty a mixed bag and disregard the Android's back button.
2. It is a paid service without free version.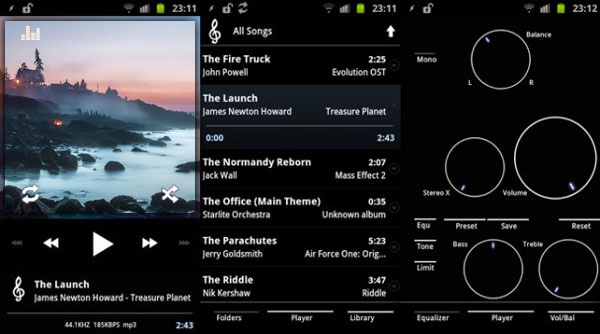 KM Player
KM Playeris a long-stand WMA music player on the market. Its features include:
1. Playback a variety of multimedia formats, like WMA and music videos.
2. Offer an extensive screen control menu for modifying the screen ratios.
3. Allow users to adjust custom options related to the way music and videos are displayed.
4. Control the playback of a WMA file, such as repeating sections, skip areas.
5. Capture audio and save it to your Android phone.
6. Optimize for lyrics control, audio playback speed, favorite playlist and more.
Pros:
1. The customized interface is pretty cool.
2. It is free to download in Google Play.
Cons:
1. This music player does not contain music library.
2. You cannot stream WMA and other music online.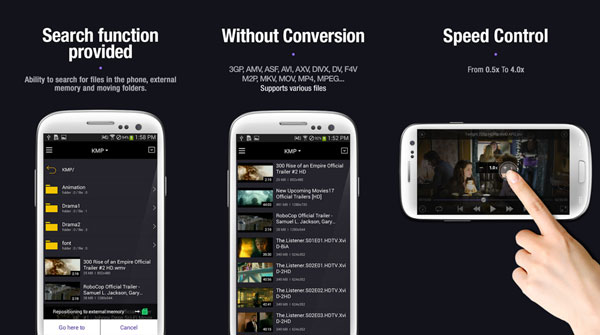 Recommended: Professional WMA Music Player on Computer
If you want to enjoy WMA music on computer, Aiseesoft Free Media Player is a good option. It offers several professional features, like:
1. In addition to WMA, it supports a wider range of multimedia formats, like MP3, AAC, MP4, AVI, MKV, MOV, WMV, FLV, WAV, etc.
2. Enjoy WMA music in high quality. The professional WMA music player could keep your music in original quality during playback.
3. Optimize audio. You can adjust audio quality, playback speed and other parameters by resetting custom options.
4. Enhance audio effect for WMA music by software and hardware automatically.
5. It allows you to capture any frame as audio clip while listening to music.
6. The design of process bar makes playing at any start point easily.
7. Free Media Player is compatible with both Windows 10/8/8.1/7 and Mac OS X.
In short, if you are looking for a WMA music player for computer, Free Media Player is the best option.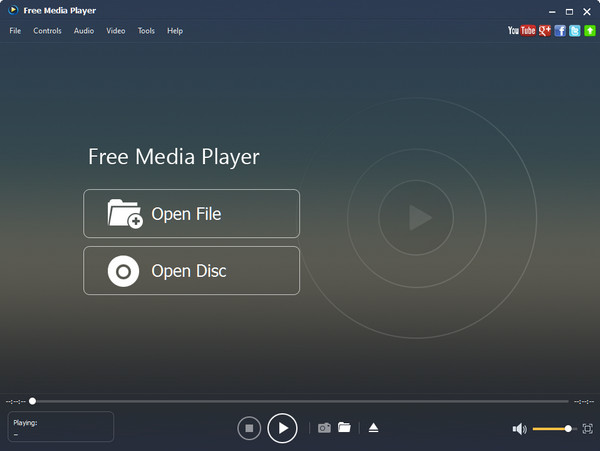 Conclusion
Now, you should grasp at least 6 WMA music player apps for Android, Windows and Mac. You can pick your favorite one based on our review. Google Play Music is pre-installed on Samsung Galaxy S8.
If you have the latest Android phone, you can use it directly. VLC Media Player is the favorite choice for people who prefer to freeware. Deezer provides excellent audio experience. And Power AMP is a cool WMA music player for Android. If you need a simple media player, KM Player is a good option.