Ways to Break into Locked Android Devices
Mobile phones are becoming more and more important in daily life. People are increasingly reliant on mobile phones and many important documents are kept on the phone. It's important to protect your data on the Android phones. To secure your data, the Android system set a lot of security measures to protect their user's privacy and data, such as password. When people repeatedly enter the wrong password, It will become an Android locked out. Of course, there are many reasons why the phone will be locked. No matter what reasons that cause the phone locked, it can cause a lot of trouble for people, because there is a lot of important information stored in the cell phone. However, when the Android phone is locked, is there any way to break into the Android phone locked out or prevent the phone from being locked out? Luckily, there's no need to worry, in the following passage I will introduce details of how to break into a locked-out Android phone. By these methods, you can unlock your locked-out Android phone easily or prevent your phone from being locked.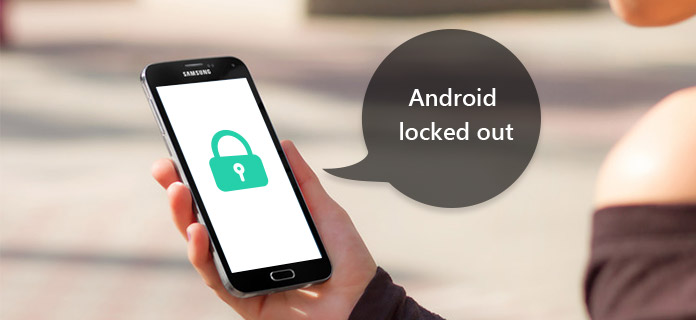 Android Locked Out
Part 1. Backup data from a locked Android phone
The reason why we always feel worried about the problem of the Android phone being locked out is because there are so many significant information and data on our phones. However, what if we can back up the important information from the locked-out Android phones, which mean that those locked data can be retrieved. To achieve this purpose, we need some software for help: Android Data Extraction. With the help of Android Data Extraction, we can back up data from the locked Android phone quickly and easily. Now I will give you the detailed measures.
Step 1 Download and install Android Data Extraction to your personal computer/Mac.
Step 2 Launch it and connect your phone to computer. The software will discern your phone automatically.
Step 3 There are four options on the left side, choose the second one "Broken Android Data Extraction"
Step 4 Click "start" button and insert the name & model of your device. Then click the "Confirm" button.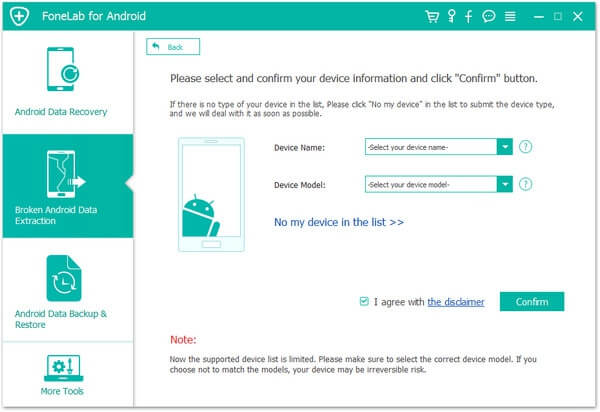 Step 5 Power off the phone, then Press and hold the Volume Down & Home & Power button.
Step 6 Press the Volume Up button to enter download mode. After that, click "Start" to fix your phone.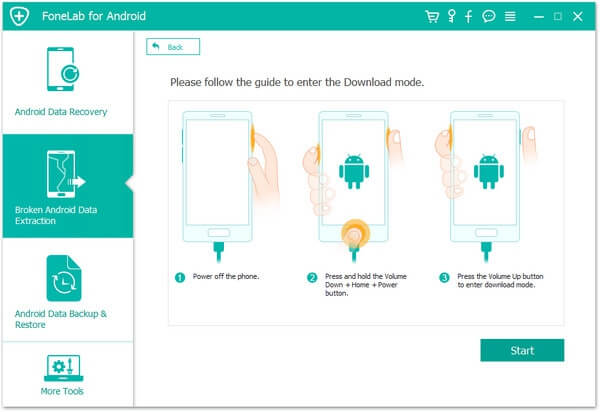 Step 7 After fixing, the software is able to scan your phone and read the information.
Step 8 You can see the data listed on the left side. Click "Recover", then the information will be transferred to your computer.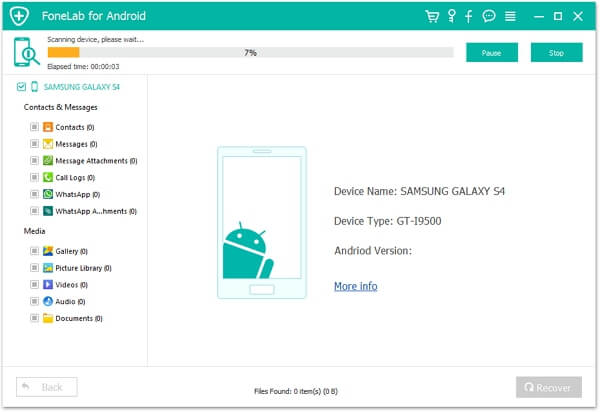 Part 2. Use Forget Password/Pattern button if you're locked out of Android
Forgetting your password is very annoying. Luckily, there is another way to help you break into your locked-out Android phone, which is much easier. That is using Forget Password/Pattern button to lock out Android. It only takes two steps. Although this method is really easy to operate, it has a limit: The system of the phone must be Android 4.4 or below. Now, let's find how it works.
Step 1 Enter the wrong password five times.
Step 2 Enter your backup pin.
Step 3 finish to unlock your locked-out Android phone.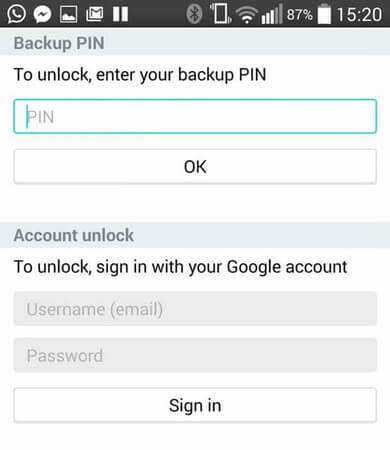 Part 3. Use Android Device Manager to set a new password
The third way is to use Android Device Manager to remove old password, break into the Android phone locked out and set a new password. Android Device Manager is a new feature of Google. With it you can track your phone if you lost it. It can also change the screen-unlock password.
Step 1 Enter the official online of Android Device Manager and input your Google account that connected to your Android phone.
Step 2 After you sign in, there will be a pop-up dialog, click "Accept".
Step 3 Choose your device at top left and make sure your phone is on.
Step 4 The software will locate your phone.
Step 5 After locating, there are two options on the interface, click the right one "Enable Lock & Erase".
Step 6 A hint will pop up and confirm it. Then there will be another new interface pop up.
Step 7 You are asked to set a new password. After resetting, enter your new password to the locked phone and the phone can be unlocked.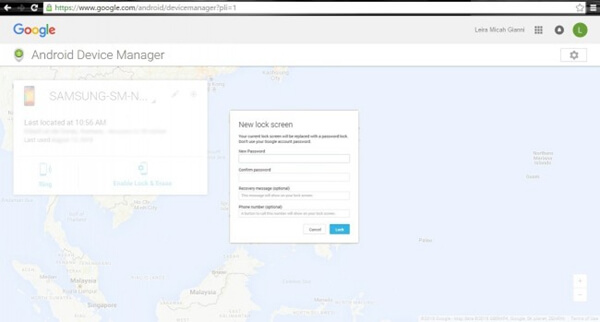 Part 4. Unlock your Samsung Android phone using your Samsung account
If you are a Samsung's users, I recommend a best resolution for you to break into your locked-out Android phone using your Samsung account.
Step 1 Open the website "Samsung Find My Mobile" and log in with your Samsung account.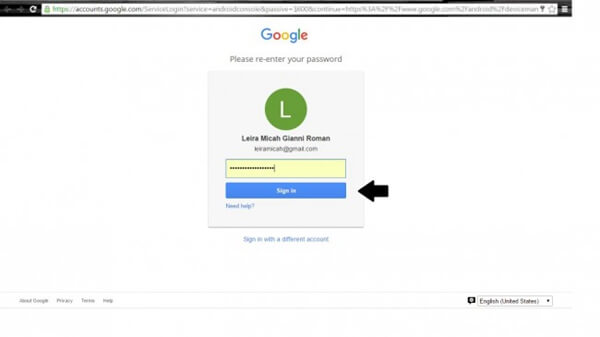 Step 2 After signing in, you can see your device on the left side of the interface, which means this account is connected to your phone.
Step 3 Then choose the option "Unlock my screen" and click "Unlock"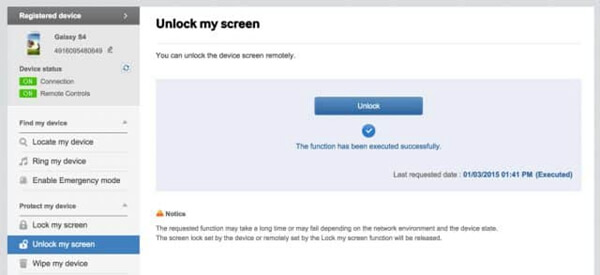 Step 4 The interface will show a notification telling you your screen has been unlocked. Usually it takes only few seconds.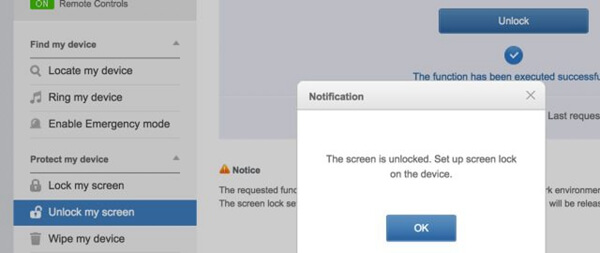 Part 5. Use your Google account to unlock your pattern-locked phone
The last way to unlock your locked-out Android phone is using your Google account. But it has a limit. Only if Android devices runs Android 4.4 or below, you can use this method.
Step 1 Enter the wrong password five times.
Step 2 Then it will show an option "Forgot Pattern". Click it and it will ask you for your Google account's password. If you import the right code, it will unlock your locked phone automatically and the password will be removed.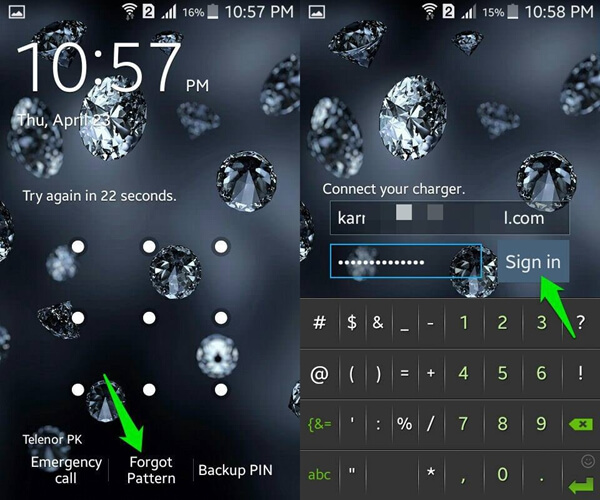 Conclusion:
Password plays an important role in protecting your privacy and data safety. If you are unlucky to fail to lock out Android, please read the passage to find the best solution. The methods to lock out Android are quite simple and easy within only a few steps. Please note that different version and system of your locked-out Android has different ways of unlocking Most importantly, if you want to get yourself out of the situation of losing data, you'd better try to back up your data previously.