Part 2. How to Fix Call Failed on iPhone
Fix 1: Restart iPhone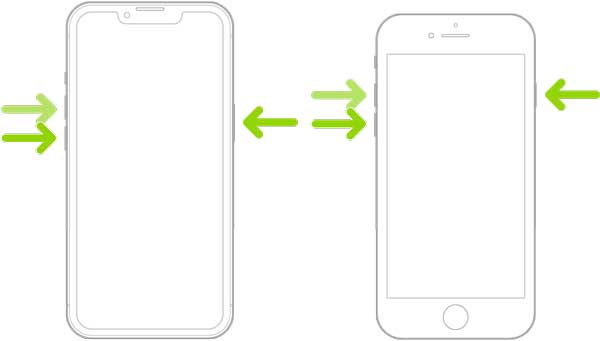 Restarting an iPhone can resolve a lot of bugs, clean caches, and close apps in the background. When calls keep failing on your iPhone, the first thing you can do is restart your mobile device.
For iPhone 8 and later:
Press and release the Volume Up button, do the same to the Volume Down button, and press the Side button until the Apple logo appears.
For iPhone 7 series:
Hold down the Volume Down and Side buttons simultaneously until the Apple logo appears.
For iPhone 6s and earlier:
Hold down the Power and Home buttons at the same time. Release them when you see the Apple logo.
Fix 2: Dial *#31#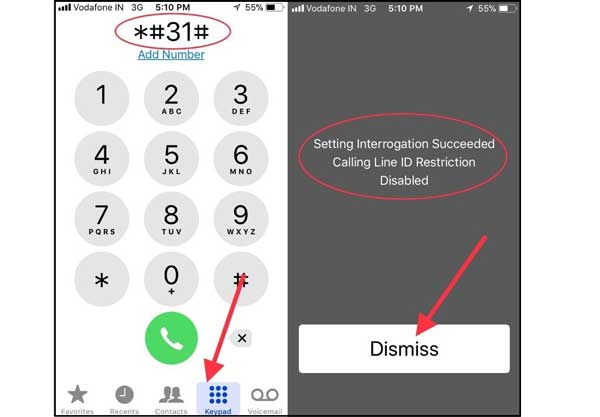 *#31# is the secret code on iPhones to hide numbers when calling someone else. Call failure on an iPhone can be the result of call anonymity. Therefore, this code allows you to check the status.
Dial *#31# and you will get a screen stating Setting Interrogation Succeeded Calling Line ID Restriction Disabled. It means your Caller ID has been disabled. Dial the code again and you can make calls normally.
Fix 3: Check iPhone Settings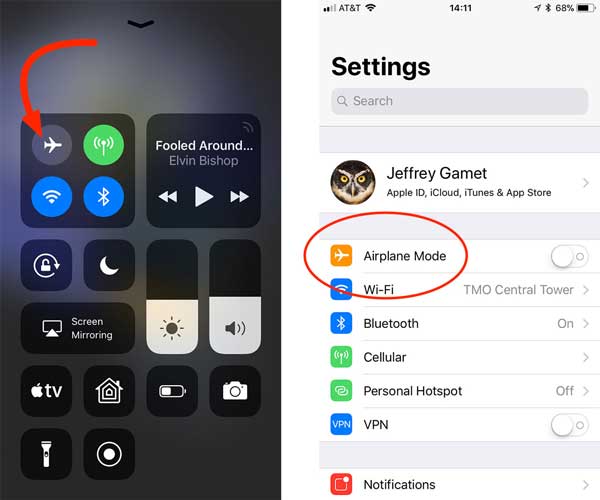 Checking and correcting settings is another solution to fix call failure on iPhones. Improper settings are the main cause. It is a little complex and we list all involved settings one by one below.
1. Turn Airplane Mode off. If it is off, turn it on and disable it.
2. Toggle off Do Not Disturb in your Settings app.
3. Turn off Call Forwarding in the Phone entry in the Settings app.
4. Check blocked phone numbers in the Phone entry in your Settings app.
Fix 4: Update Carrier Settings
You make and receive phone calls on a smartphone through a carrier network. By default, iPhones install carrier updates automatically. Sometimes, things are not going well. Fortunately, you can update it quickly.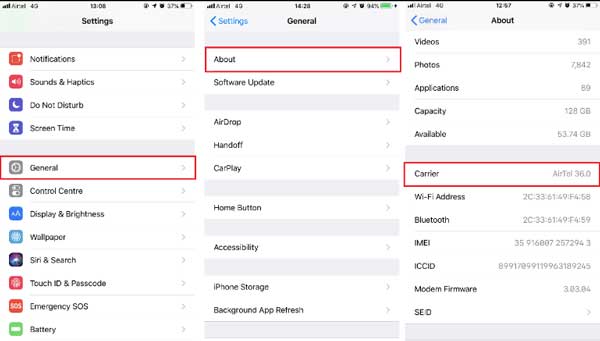 Step 1:
Run the Settings app from your home screen.
Step 2:
Tap the
General
entry, and choose
About
. Now, you will see your carrier.
Step 3:
Next, follow the onscreen instructions to install your carrier update. Then call failed error won't happen on your iPhone.
Fix 5: Reset Network
The network settings on iPhone are complicated covering Wi-Fi, cellular, and more. The built-in network resetting feature allows you to bring all of them to the factory status. So, you can resolve the call failed error on your iPhone.

Step 1:
Open your Settings app, tap the
General
entry, and choose
Transfer or Reset iPhone
.
Step 2:
Tap
Reset
, and select
Reset Network Settings
. Enter your passcode when prompted and the process will initiate.
Step 3:
When it is done, your iPhone will restart, and make a phone call to check if it works.
Fix 6: Use Another SIM Card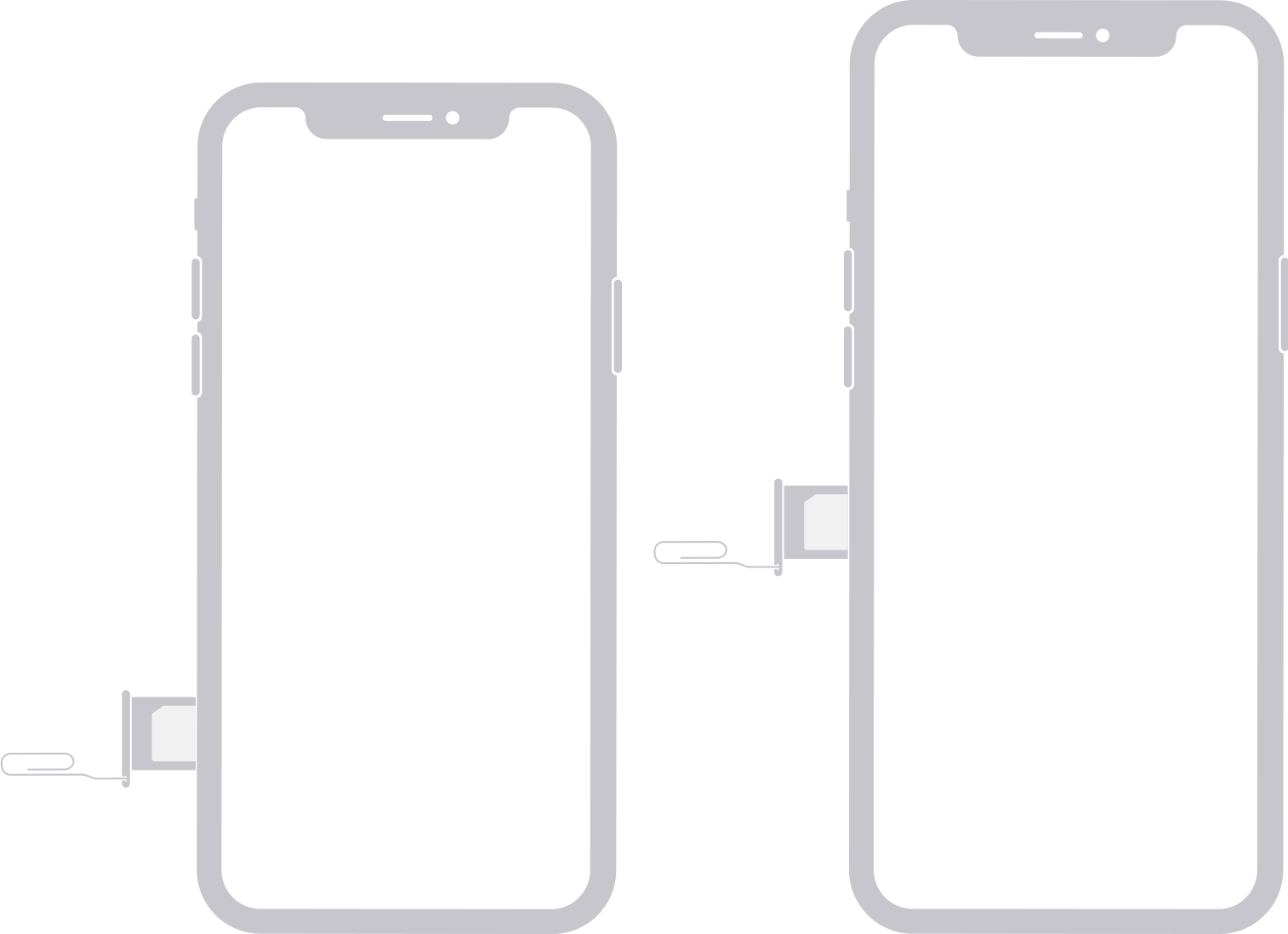 Another important solution to fix the error of call failure on iPhones is the SIM card. It may be damaged by dust, moisture, bump, and more. Insert a paper clip or a SIM-eject tool into the hole beside the SIM tray. Push in slightly and eject the SIM tray. Check the SIM card and SIM tray. Then put another SIM card on the tray, and insert the tray back.
Fix 7: Ultimate Solution
The last but not least solution is Aiseesoft iOS System Recovery. It is a one-stop solution to fix a variety of software issues that lead to call failure on iPhones. More importantly, it does not require any technical skills.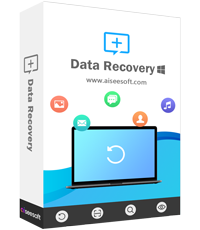 Downloads
Here are the steps to fix the call failure error on your iPhone:
Launch the best iOS system recovery tool after installation. Choose iOS System Recovery, connect your iPhone to the computer with a Lightning cable, and hit the Start button.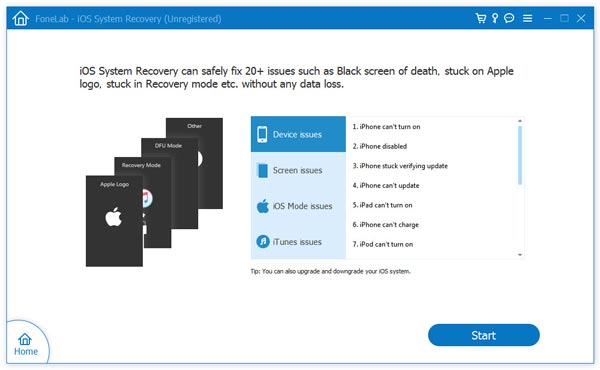 For iOS 13 and later, enter your passcode to permit the connection.
Click the Free Quick Fix link to fix iOS quickly. If it does not work, click the Fix button. Then select a proper mode, and click the Confirm button. To keep your data, select Standard Mode. Check your iPhone information and hit the Repair button. When it finishes, your iPhone will work normally again.