How to Fix Face ID Not Working on iPhone X/XR/XS/XS Max
Recently my Face ID on iPhone X stopped working. When I tried to unlock my iPhone, Face ID was not reacting or didn't display any error. I did Face ID reset and tried to record a new Face ID sample, but it failed. How do I fix iPhone X face ID not working?
Face ID has been commonly used on iPhone X series. It reinvented the way we unlock, log in, and pay. Sometimes, Face ID may get wrong for a while, or stopped working. If you are striving to find a comprehensive guide to fix this problem, check the post is the perfect choice for you. We are going to tell you more tools and tips as much as we can.
Part 1. Why Is My Face ID Not Working on iPhone X
iPhone got water damaged
Your iPhone is not water proof. If you drop iPhone X into water carelessly, the Face ID function may not work.
TrueDepth Camera issue
TrueDepth Camera bears a lot in capturing accurate face data. It can project and analyze over 30, 000 dots to create a depth map of your face. If the TrueDepth Camera is covered or blocked, you cannot use Face ID on your iPhone.
iPhone stays unlocked long
If your iPhone stays unlocked for over 48 hours, Face ID may not work. Or your iOS device has just been restarted.
Face matching failed
If your eyes, nose, and mouse are invisible to the TrueDepth camera, you cannot open your iPhone with Face ID. Though Face ID works with many situations, you still cannot use it when the certain types of light are blocked by your sunglasses.
Face wrong orientation
It will certainly fail if you are facing your iPhone in the wrong position. You have to make sure that you are facing the TrueDepth camera in a natural right position.
Part 2. How to Fix Face ID Not Working with Third-Party Software
When your Face ID or password doesn't work for unknown reasons, the best solution is to fix your screen issue is to use Aiseesoft iOS System Recovery - Fonelab. It is the professional iOS system recovery software to repair your iPhone/iPad/iPod with screen issues or iTunes issues to normal.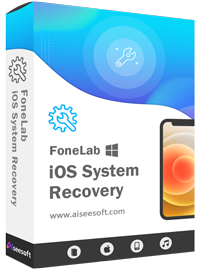 Downloads
Fix Face ID not working issue, screen issues, iTunes issues, etc.
Repair iPhone from DFU mode, recovery mode, Apple logo to normal.
Upgrade iPhone to the latest version (iOS 16/15/14/13/12/11 supported).
Work for iPhone XS/XS Max/XR/X/8/7/6/5, iPad Pro/Air/mini, iPod.
Step 1.
Run iOS System Recovery
Assume that you have downloaded iOS System on your computer. What you need is to run it and connect your iPhone to computer with USB cable. Then, click "iOS System Recovery'.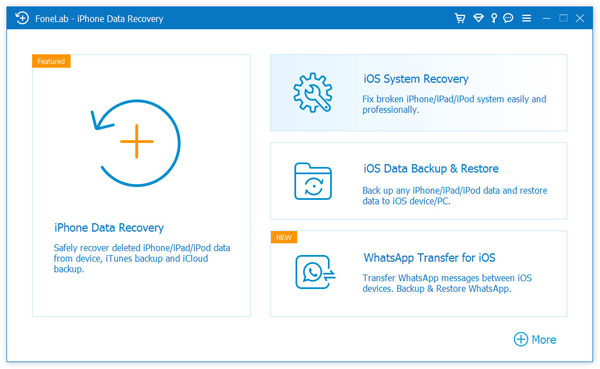 Step 2.
Detect iPhone Problem
Click "Start" and choose the repair mode to fix your iPhone. You can choose Standard Mode or Advanced Mode to start fixing the Face ID not working issue.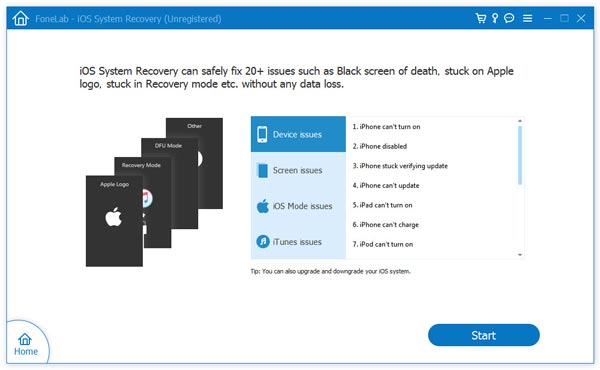 You can follow the steps shown on the procedure to put your iPhone into Recovery mode or DFU mode.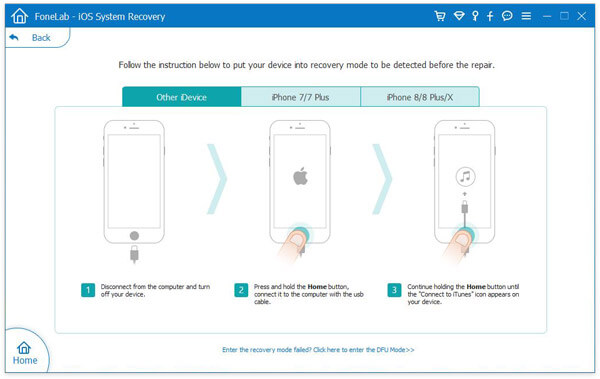 Step 4.
Fix iPhone System
After that, you can select your iPhone mode, and click "Repair" to start fixing your iPhone system. It will take minutes to download the firmware and repair your iPhone system. So, just be patient.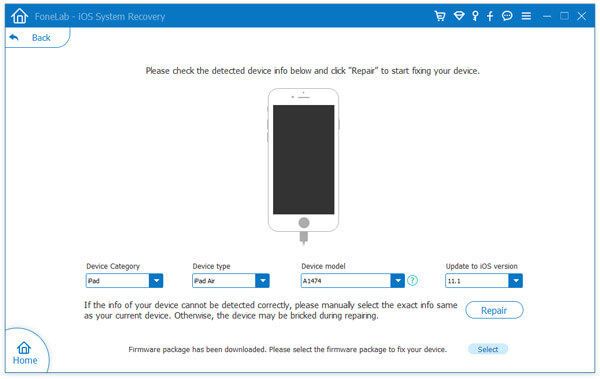 Part 3. More Tips on Fixing Face ID Not Working
#1. Upgrade iOS System
Apple will regularly update the iOS System as to release more cool features and fix some bugs. Face ID is not working may be a sign to tell you that perhaps it's time to upgrade your iOS System.
If you want to operate the process on your iPhone or iPad, you should go to Settings > General > Software Update.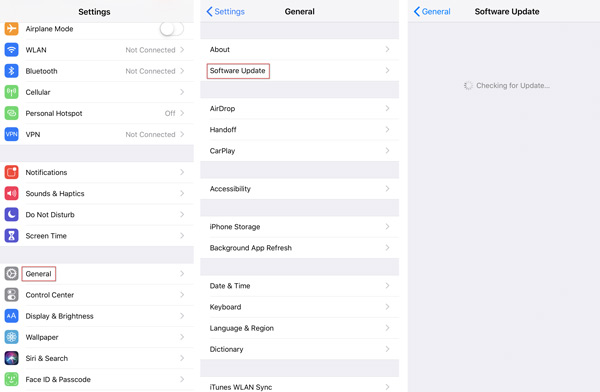 Having more than functions we mentioned above, Aiseesoft iOS System Recovery also gives you the option to upgrade your iOS System. You can easily upgrade iOS 11 to iOS 16, or downgrade iOS 13 to iOS 12 with this powerful software.
#2. Your face is not covered
Generally, Face ID scans your face with TrueDepth camera. So, just make sure that you are facing the TrueDepth camera, but not covered by anything else even the sunglasses. Face ID works well when your iPhone or iPad is about 10 to 20 inches from your face. You can use Face ID as normal as when you make a FaceTime call or take a selfie.
#3. Reset Face ID
As the primary unlocking function on iPhone X, sometimes Face ID is not reliably unlocking iPhone X. At that time, you can try to reset Face ID and set up again.
Just go to Settings > Enter your passcode > Face ID & Passcode. Then, you can set up Face ID again.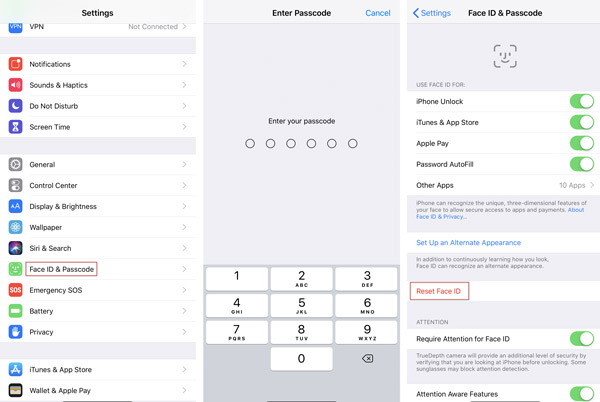 #4. Reset All Settings
If resetting Face ID doesn't fix the issue, you can try to reset all settings on your iPhone X. You can choose to go to Settings > General > Reset > Reset All Settings. You need to enter your passcode to make sure you really want to reset all settings.
You can also reset your iPhone to factory defaults using iTunes.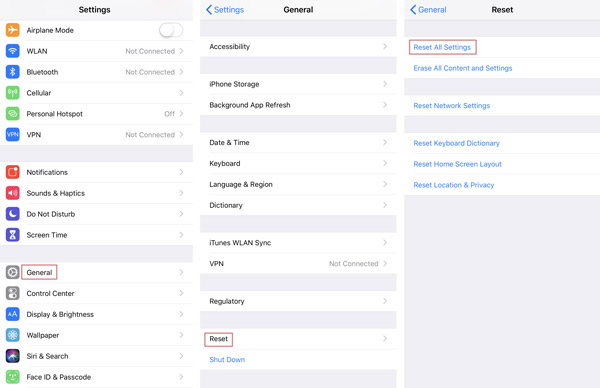 #5. Turn Attention Aware Features off
TrueDepth camera can make adjustments in display or volume sound. When you are looking at your iPhone, your display will dim until you stop looking. If you are not looking at your device, it will lower the volume of alerts.
If you want to turn off these features, you can go to Settings > Face ID & Passcode > Enter your passcode, and disable Attention Aware Features.
#6. Add an alternative appearance
You cannot make sure that Face ID still recognizes you when dramatic changes have made on your face, such as wearing cosmetic makeup, mask or sunglasses. You can set up an alternative appearance using Set Up an Alternative Appearance.
You can go to Settings > Face ID & Passcode > Set Up an Alternative Appearance. You can set up another Face ID just as you set up your original Face ID.
Conclusion
This article mainly focuses on solving Face ID not working issue on iPhone X series. Above all, we have talked about the best solution to fix Face ID issue. Fonelab iOS System Recovery is the effective tool to repair Face ID issues, other screen issues and iTunes errors. Then, we mentioned other 6 solutions to fix your iPhone Face ID to normal. Having other better solutions, just feel free to leave a comment.

Leave your comment and join our discussion