No Location Found on iPhone? Let's Solve It Today Quickly & Easily
The digital ecosystem around the iPhone is still progressing, so expect to see more technological advancement in the future. Despite the innovations being infused into iPhone technology, you still need help with the location services' accuracy. Isn't it ironic? Indeed, it is a real headscratcher when encountering such a problem. Fortunately, there are ways to fix the no location found on iPhone, and we list them below.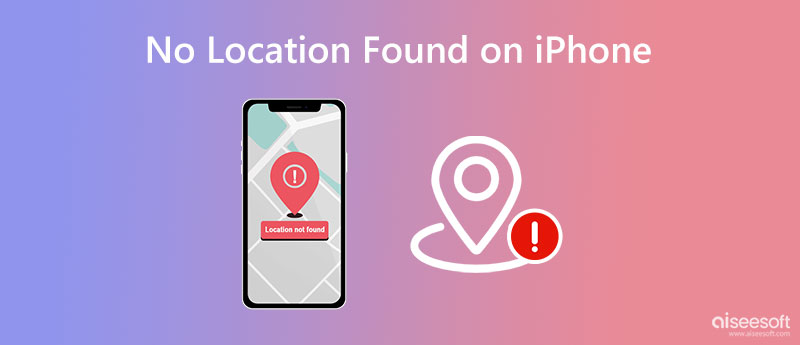 Part 1. What Does No Location Found Mean? 5 Reasons Behind It
What does No Location Found mean? An error is displayed on the Find My app when the location service can't locate the person's device successfully. There are already thousands of reasons why the app can't detect the location of the device or users, but if you don't know what it could be, here's what could be the reasons.
1. Incorrect Date and Time
Timezone plays an essential role in detecting where the user or device is. It is one criterion that the app uses. By adjusting it, you can quickly help the app detect your or someone's location precisely.
2. Devices Are Not Connected to Available Internet Services
Internet connectivity is the heart of the Find My app, and users need a stable and robust connection. If the other users you want to detect aren't connected to the internet, you will fail to locate that person accurately or never detect it.
3. The Sharing Location Has Been Stopped
The app lets someone detect your current location or where you are going at any time. However, you also have the power to turn off the location so that no one can see where the device or user is.
4. Devices are Currently Off or Ran Out of Battery
If the device that you want to locate runs out of battery or shuts down its device, then you will get a notification that suggests no location found. Even with iPhone, there is a life bar on its battery where it can get that powers up the device; without it, iPhone will become useless.
5. GPS Spoofing App
GPS spoofing apps could be the main reason why you can't detect or share the location where you are because you are using a fake GPS location. Faking it will not generate the location of the iOS user.
6. Disconnected from the iCloud
Before getting used to the Share My Location or Find My app, you must log in to your iCloud account on your iPhone. So, if it has been log-out on the said device, the app wouldn't trace where you are or the device.
Part 2. No Location Found vs. Is location Not Available: What Are the Differences?
What is the difference between no location found and location not available? One thing is for sure these are errors when inaccessibility of location is involved. Even though they have similarities, their differences still make them unique. Determining which one is your problem is vital so that you'll be able to fix the problem in an instant.
No Location Found
When a device like iPhone doesn't have an internet connection or is turned off.
It has a blank in color.
The tracker on my iPhone isn't activated.
Users or device location remains in the same area, and no update happens.
Location Not Available
Even FInd My app is open, You can't trace users' current location.
The device you are located in will have a color, yet it is not generic.
When an iPhone runs the program Location Services and Share My Location actively.
There is an update per second when the internet service is resumed.
Part 3. How to Fix No Location Found on iPhone: 5 Ways You Can Use to Fix It
1st Way. Connect To a Stronger Internet Connection
If an internet connection is your problem, it would be best to connect to a stronger internet connection. You can open the setting app, click WLAN, and look for the available WiFi you can connect to. If there are no available, activate your Mobile Data instead, but ensure that you are registered to locate your device.
2nd Way. Don't Open the Airplane Mode
Why does it say no location found? You may activate the Airplane Mode on your iOS. Many posts already said that Airplane Mode helps the phone charge faster. If you have activated that mode, you will need to turn that off by toggling the adjacent Airplane Mode to off.
3rd Way. Update the Date and Time on Your Device
Since the timezone affects the locating features, then better update or correct the right time and date of your device. You can do it by tapping Settings and scrolling down to General. Look for the Date & Time option and click Set Automatically. This feature only works if you have an internet connection; if you don't, then change the timezone on the region where you are right now.
4th Way. Restart Your iPhone
With a good restart, You could solve this problem. A new screen will appear on your screen by holding the power button on the side, then holding and sliding the button to turn it off. After that, re-open your device and try to see if it works.
5th Way. Activate Your Location Services & Precise Location
When the location services aren't open, expect you to receive a no location found on iPhone notification. But you can go to Settings, then Privacy & Security, to open the Location Services pre-installed on your iPhone. After that, go back to the main Settings, and click Privacy & Security, but now you will need to open the Find My application. When location access and other option appears, tap While Using the App and turn the Precise Location on.
Part 4. Manually Override the Location of Your Device Easily with Aiseesoft AnyCoord
Why does it say no location found? Because it can't detect your connection automatically, you can now relocate your device location manually thru Aiseesoft AnyCoord. It is a pound-for-pound app you can use to set a virtual location of your device to relocate and create a fake GPS. With this app, you can also calculate the distance where you are to the distance where you want to go on Windows PC and Mac.
Moreover, this app is interesting because it offers different modes, such as One-stop Mode, Multi-stop Mode, and Joystick Mode, but what are these? If you want to know what these are, read the information below as we explain these modes that the app supports.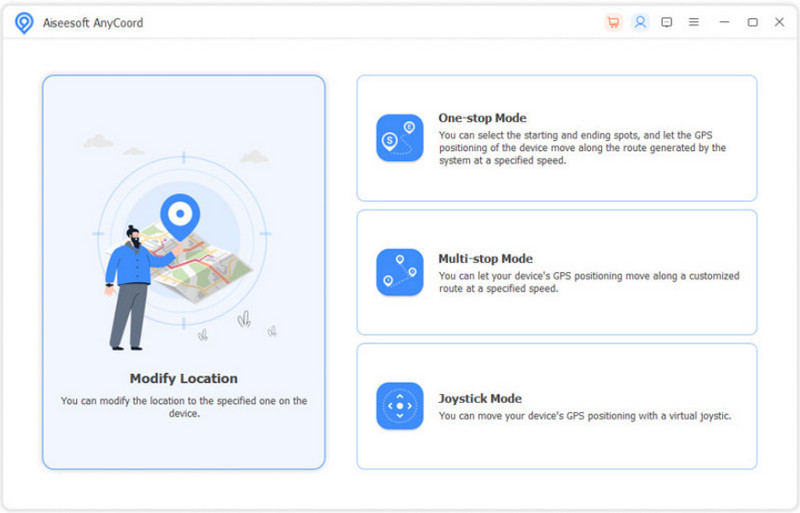 3 Modes Aiseesoft AnyCoord Supported
One Stop Mode:

It creates a starting and ending point for the app to create a route for you to move.

Multi-stop Mode:

is a multi-tracking sport mode where you can add movement into different spots and connect them as you like.

Joystick Mode:

It is used without selecting a starting and ending point, so you do not need to design routes. Since the name suggests Joystick, this mode lets you control the movement thru a joystick on your computer screen.
Part 5. FAQs about No Location Found on iPhone
What is the most common emoji used?
It is not just possible because you can do it with the help of an app. Changing location on your iPhone has the advantage that apps you are using wouldn't be able to track your location.
Is it legal to change location on iOS?
It is perfectly legal to change the location on iOS primarily if you use a third-party application like the Aiseesoft Anycoord. But some apps detect users changing location, and there are times that the developer or regulator of the app bans them.
How to send a fake GPS location on iPhone?
The most efficient way to send a fake GPS location on iPhone is with the help of an application because Apple hasn't introduced an application that you can use for this. Choose a safe download app to send a fake GPS location.
Conclusion
No Location Found vs. Location Not Available, reasons why no location found, and how to solve it are already in this article. We have shown you all the information you need about this topic, so what do you think of this article?

Leave your comment and join our discussion