Can PS4 Play DVD or Blu-ray Disc (4K Included)
PS4, fully named as PlayStation 4, is a home video game console developed by Sony Interactive Entertainment. As the successor to the PlayStation 3, PS4 competes with Nintendo's Wii U and Microsoft's Xbox One, as part of the eighth generation of video game consoles. Apart from a game console, you can also take PS4 as a great video player to enjoy videos at home. One of the most questions people are concerned about PS4 is that "can PS4 play Blu-ray". In the following article, we will answer you if PS4/PS3 can play Blu-ray discs, and how to play Blu-ray disc on PS4.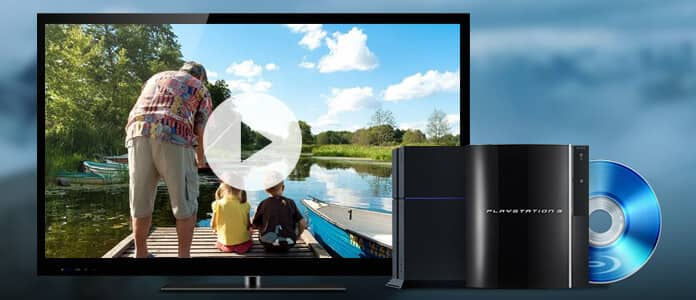 PS4 Play Blu-ray Movie
Part 1. Does PS4 play Blu-ray movies
Does PS4 play Blu-ray movies? PS4 can install the Blu-ray disc drive that is made exclusively for the Blu-ray disc player, so as to play Blu-ray movies or DVD disc smoothly. However, PS4 still cannot read the 3-layer media that is standardized by Ultra HD Blu-ray, which means that PS4 does not support 4K Blu-ray discs. But no need to worry, you can find workaround to play 4K Blu-ray on PS4 in this post.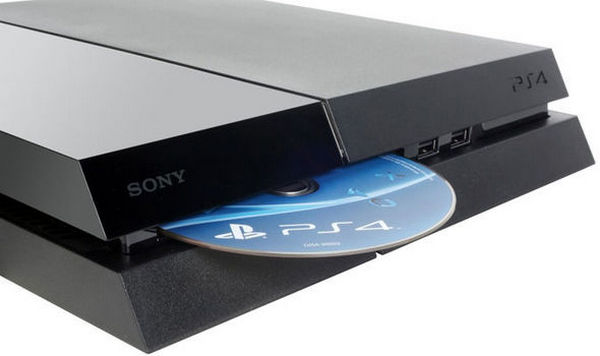 Part 2. How to Play Blu-ray moives on PS4
After learning about the answer to "does PS4 play Blu-ray", let's come to learn how to play Blu-ray on PS4. As the Blu-ray drive installed in PS4 is exclusive for normal Blu-ray disc, PS4 cannot play Ultra HD Blu-ray discs, but it can play normal Blu-ray discs. In this part, you can find how to play normal Blu-ray discs on PS4.
1Download and install PS4 Software Update 1.50.
PlayStation 4 won't play Blu-rays or DVDs out of the box, customers have to install the software update when first getting it.
If the PS4 is connected to the Internet, go to the function screen, select "Settings" -> "System Software Update", and update to the latest system software 1.50. In case the PS4 has no Internet connection for the time being, users can also use an external disc or USB storage to update the console system.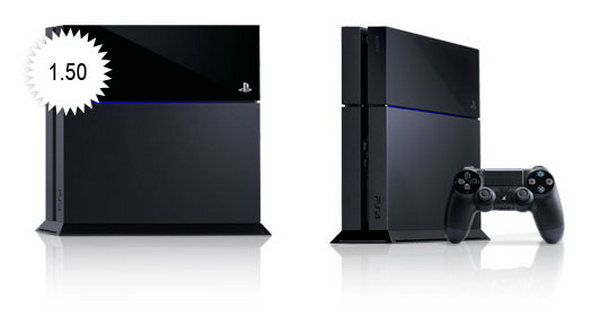 2Insert the Blu-ray (or DVD) disc into the PS4
Insert a Blu-ray or DVD disc into the BD drive on the PS4. In addition to purchased BD/DVD discs (with protection), you can also play copied (burned) Blu-ray or DVD movies on PS4.
3Select the disc icon on PS4 and play
When entering the main interface, find and select the disc icon on the PS4 display and press the play button.
Part 3. How to play 4K Blu-ray movies on PS4
Although Sony PS4 supports DVD/Blu-ray playback, there are many issues of playing Blu-ray/DVD on PS4 from PlayStation4, such as 4K Blu-ray playback issue, "Unrecognized Disc" message popping up when playing Blu-ray/DVD and more.
Then how to play 4K Blu-ray movies on PS4? We have done some research, and the quick workaround is to convert 4K Blu-ray/DVD to PS4 supported video formats like MPEG4, H264, etc. Actually, it is easy and worth your effort as long as you have a right Blu-ray to PS4 converter software like AnyMP4 Blu-ray Ripper, which offers you preset PS4-supported formats to make you enjoy 4K Blu-ray movies on PS4 easily. Now download the program and follow the steps below.
Step 1 Install and open 4K Blu-ray to PS4 Converter on PC/Mac.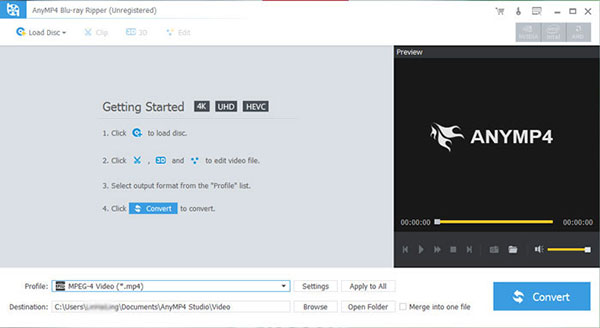 Step 2 Click "Load Disc" to load 4K Blu-ray movie in the Blu-ray Converter.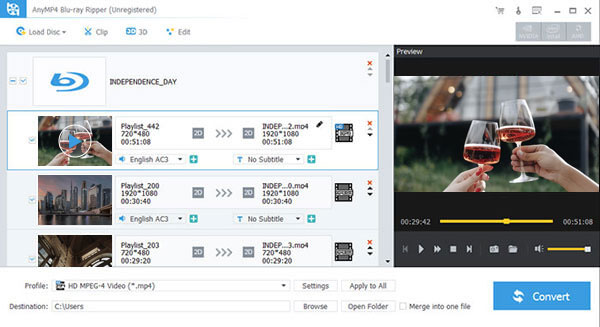 Step 3 Choose PS4/PS3 supported video format from the Profile panel.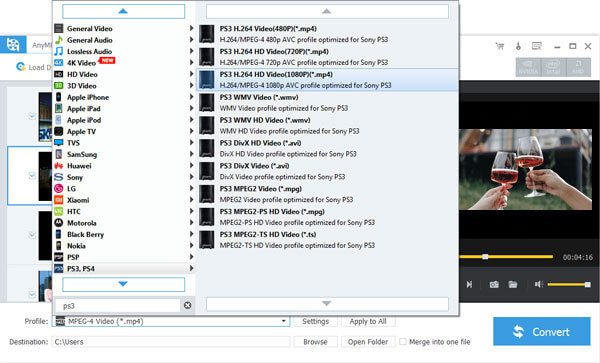 Step 4 You can select the highest resolution of the video file by clicking the Settings button to convert 4K Blu-ray video to PS4 in the best output file.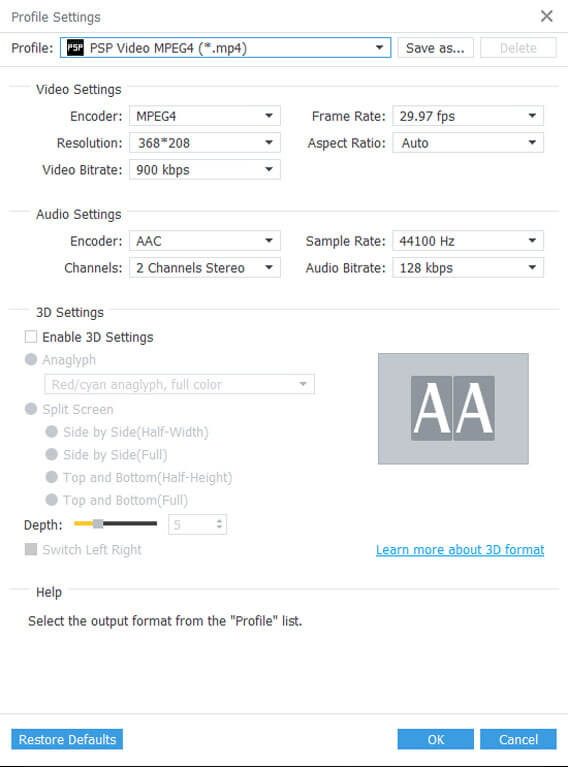 Step 5 When you confirm the detail, click the Convert button to transcode the 4K Blu-ray video to PS4. Then you can play 4K Blu-ray movies on PS4.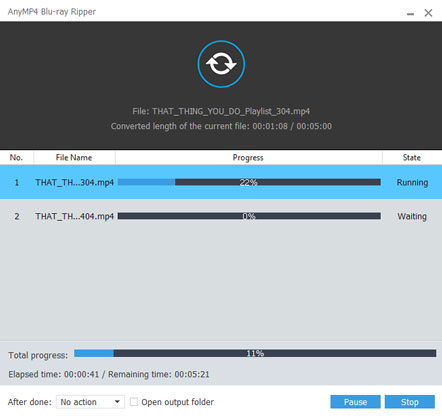 In this article, we have mainly discussed about "Does PS4 play Blu-ray". We have also showed you how to play Blu-ray movies on PS4, and how to play 4K Blu-ray movies on PS4. Still have more questions about playing Blu-ray on PS4? Feel free to leave your comments down below.
Best Blu-ray Player software alternative to PS4 for playback Blu-ray movies
Aiseesoft Blu-ray Player For Mac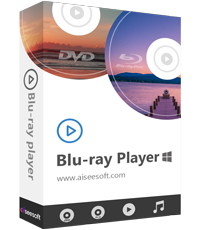 Play Blu-ray disc, Blu-ray folder, Blu-ray ISO file and common media files and videos smoothly.
It has upscale to play Blu-ray disc/folder/ISO file, 4k ultra HD videos, 1080p HD and SD video files.
Play popular video/audio formats including MP3, AAC, OGG, MP4, AVI, MKV, MOV, etc.
Keep original 1080p HD/4K video quality and support 3D video playback.