Top 15 Video Player for Windows/Mac/Android/iOS
Both PC and Mac are equipped with default video player. You can play various media files with Windows Media Player while using a Windows computer. And Mac users can rely on QuickTime Video Player to enjoy videos. However, as we all know, either of them lacks compatibility with many frequently-used video and audio formats.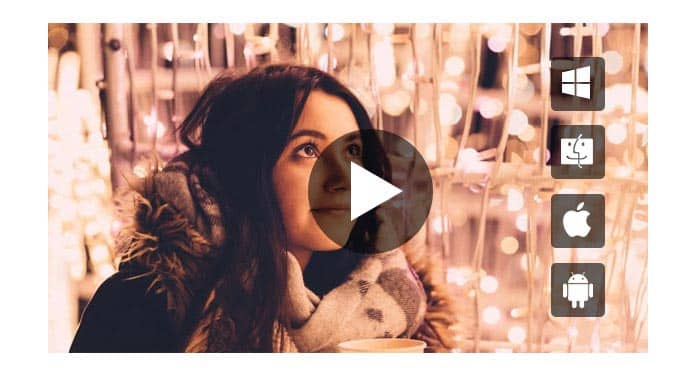 For some reason or other there are many people looking for a powerful video player for Windows/Mac/iOS/Android. If you are truly passionate about watching movies/TV shows, the built-in Windows Media Player/QuickTime Player are definitely not enough for you, and you need some better options. Let's first learn more about how to pick out the best video plays from various options. And then we've make a list of top 15 video players for you to choose from, whether you want to find the best video player for Mac/PC or portable Android/iOS device, you are at the right place.
Part 1: What is the best video player
1. How many video formats can the video player support?
If you are looking for the best video player, you may need to consider the video formats it can support as there are various types of video in our life. If it can support almost all popular video files playback, you may not need to worry about to convert the video into specific format in order to play on the video player.
2. Does the video player support quality settings?
Most of the popular video players can let you adjust the video brightness, color, saturation and other visual settings to let you enjoy the movie playback according to your needs. Moreover, audio controls would also be a consideration to the best video player which can let your tweak the treble, bass and midtone for better clarity.
3. Can I use video player to play DVD or Blu-ray?
In fact, most free video player may not support DVD or Blu-ray playback. But if you find a professional video player, it may have the DVD or Blu-ray playing function. If so, you can enjoy your DVD or Blu-ray movies on your computer easily.
Best 10 video player for Windows and Mac
Top 5 video player for Windows 10/8/7
Let's start with the video player like Windows Media Player for Windows users. Here we list 5 powerful media players, and we have considered several factors of each video player when selecting them, such as video/audio formats support, usability, distinctive features, interface, etc. You can easily find the your favorite video player for Windows.
No. 1 - Free Media Player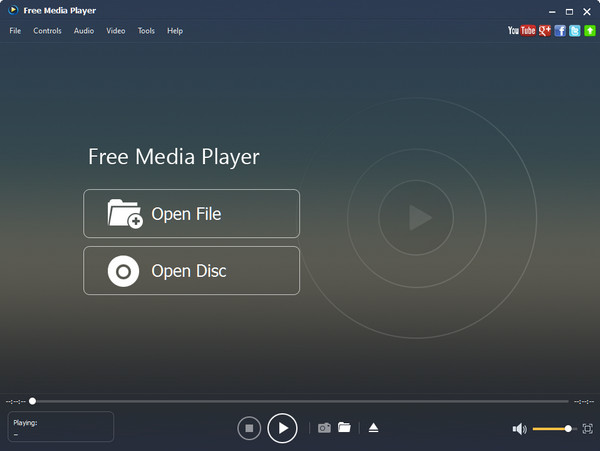 Free Media Player can always be your first and best choice as best video player when you want to find a good alternative to Windows Media Player. Compared with Windows Media Player, it can play any popular video/audio format like MP4, MOV, AVI, MKV, FLV, MP3, FLAC, AAC, WAV, OGG and more on your PC. Moreover, it is compatible with 4K UHD/1080p HD video formats. Thanks to its user-friendly interface, you can easily play media files smoothly.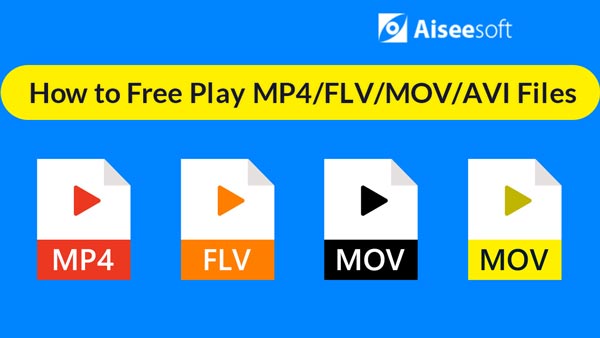 No. 2 - VLC Player
VLC Media Player is one of the most popular video players, and also been considered as the best open source media player. It is totally free to download/install and very easy to use. Once you have installed VLC Player, there is no burden of installing extra codec files. It highly supports most frequently-used video and audio formats. What's more, it is designed with a playlist function to allow you to play different media files one after the other.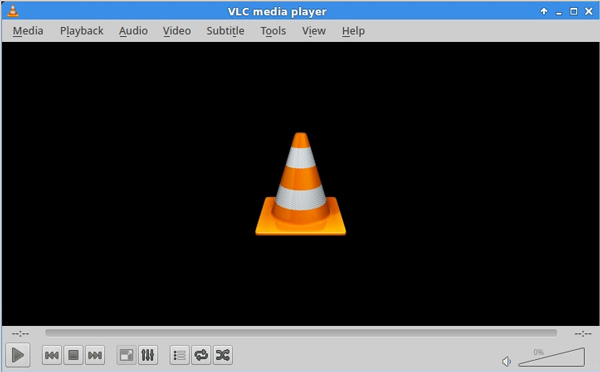 No. 3 - KMPlayer
KMPlayer (KMP) is well-known video player, which can play different types of contained formats, including 4K UHD/HD/3D videos, regular/lossless audio files and DVDs. Not just for Windows users, it also provides different versions separately for Windows, Mac and iOS/Android devices. You can freely set up movie and music libraries to get a fantastic media playing experience.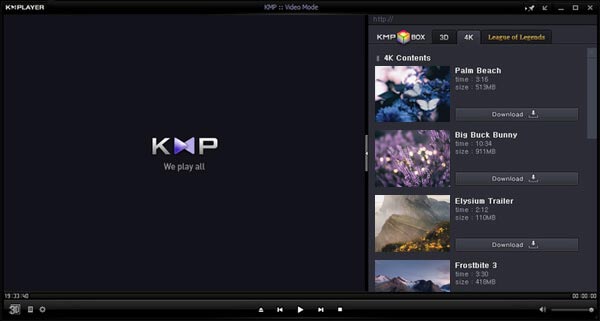 No. 4 - GOM Player
GOM Player is a free video player you can use instead of QuickTime Player for Windows. With the pre-downloaded codecs, you are allowed to play all kinds of media file types without additional codec packs. Another advantage of this video player is that it can help you play damaged or partially downloaded files. Moreover, GOM player can offer you the perfect DVD movie playback.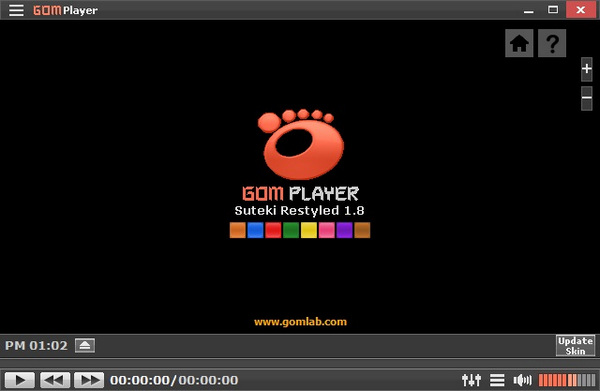 No. 5 - PotPlayer
PotPlayer is the final member of top 5 video player for Windows. It can play all popular video or audio media file types without additional codec packs. PotPlayer is an excellent media player that can handle a large variety of media file types. In test, this free PotPlayer can easily play 1.6 GB MOV, 865 MB MKV, or a 1.4 GB AVI file without any issue. Moreover, it carries a subtitle feature to play .ass and .srt subtitles natively when they are located in the same folder as the video file.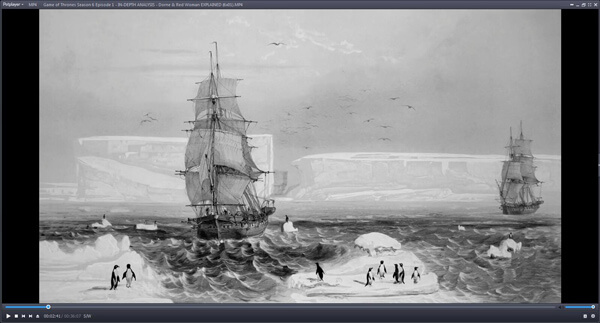 Top 5 video player for Mac (macOS High Sierra included)
At the second part of this post, we will introduce 5 best video players for you to play media files on Mac. If the QuickTime Player can't play your favorite movies, you can try any of them to meet your need.
No. 1 - Aiseesoft Mac Blu-ray Player
Aiseesoft Mac Blu-ray Player is the best alternative to QuickTime Player on Mac. It highly supports any popular video/audio format like MOV, MP4, AVI, MKV, RMVB, FLV, MP3, FLAC, AAC, WAV, OGG, etc. In addition, this all-featured video player for Mac enables you to play DVDs and Blu-rays. Whether you want to play 4K UHD/HD/SD videos or Blu-ray disc/folder/ISO file and DVD, Blu-ray player can always be a good solution. What's more, because of the DTS-HD and Dolby True HD audio technology, it can give you home theater audio effects with the best enjoyment.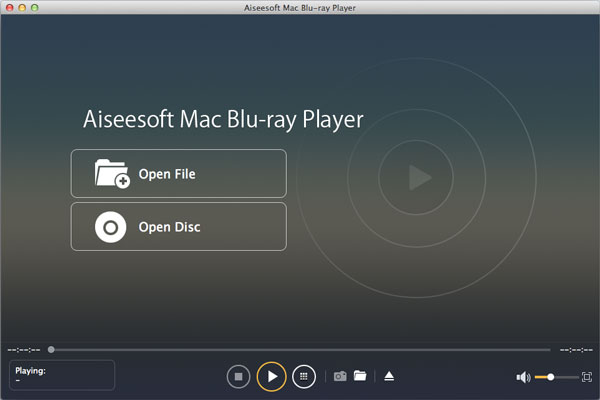 No. 2 - Free Mac Media Player
Free Mac Media Player is the perfect option better than QuickTime Player for Mac. As the best free all-in-one media player for Mac users, you can free download it to watch any movie or TV shows on Mac smoothly with high quality video/audio effects. It is the Mac version of the Free Media Player. If you look forward to the best free QuickTime Player alternative on Mac, you really should give this player a try.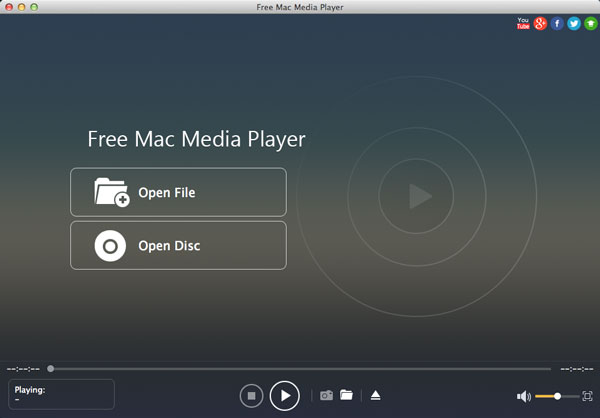 No. 3 - 5KPlayer
5KPlayer is not a famous video player for Mac. But when you want to find an easy-to-use video player to replace QuickTime Player, you really should give it a shot. It can play media files in MP4, MOV, AVI, FLV, HEVC, AVCHD, M2TS, MOD, MP3, AAC, M4A, APE, FLAC and other formats perfectly to activate your senses. With the built-in AirPlay™ tech, it can receive streams from iPhone, iPad, iPod and Mac. Also, you can use it to render instant replication of entire iPhone/iPad/Mac screen to Mac.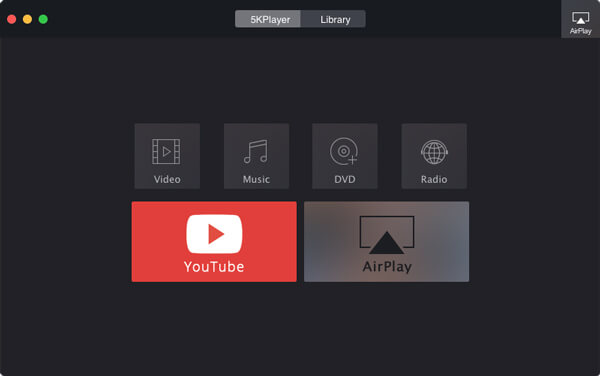 No. 4 - SMPlayer
SMPlayer is another free media player comes with built-in codecs to help you play video/audio files without downloading external codecs. Like the recommended video players for Mac above, it has the capability to play almost all media formats on Mac. One cool feature is designed in this free video player, it can remember the settings of all files you play. So it's very convenient for you to replay the media file with the same settings: audio track, subtitles, volume and so on.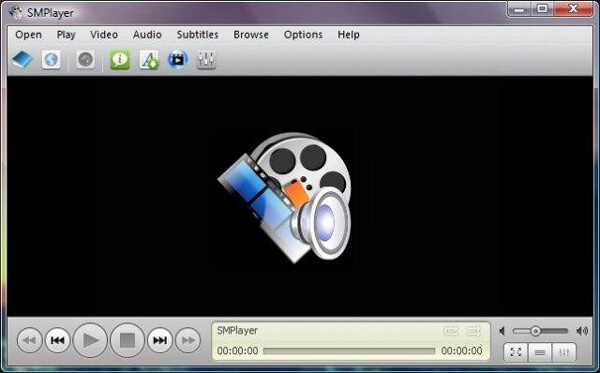 No. 5 - Miro
Miro is a popular and open-source media player which can play movie/music files on your Mac. As a good alternative to QuickTime Player, it can play any movie or music with marvelous visual and sound effects on your Mac. It can do you a great favor. Miro brings video channels from thousands of sources and has more free HD than any other platform. And it has a built-in video converter with tons of presets. You can also share your media files over your local network with your friends.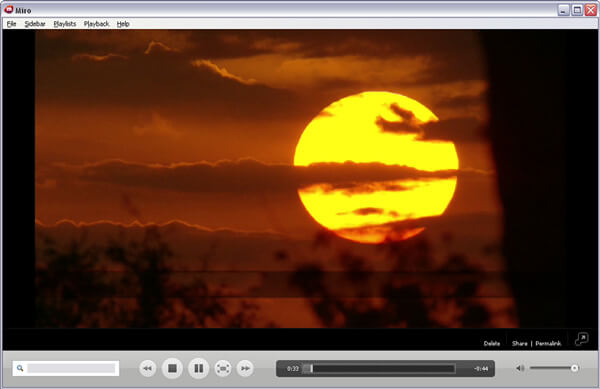 Best 5 video player for Android and iOS 17/16/15/14/13
Along with more and more people choosing to enjoy media files on portable devices, here we recommend 5 best video player for Android and iPhone. You can download and use any of them as you like.
PlayerXtreme Media Player (For Android)
PlayerXtreme Media Player is one of the most popular video player app for iPhone and iPad users. It can work as a good movie player to help you play videos and audios on your iOS device. PlayerXtreme is able to run files in almost any video format like MP4, MOV, MKV, AVI, RMVB, FLV, MP3, WAV, FLAC and more.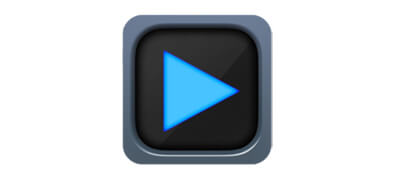 VLC Media Player (For Android/iOS)
When we talk about the top video players which you can possibly use, VLC Player definitely deserves being in the list. No matter you are using a Mac, PC, or Android/iOS device, there always be a suitable video player version of VLC Player for you to use. With the clean and neat interface, it can guarantees you a comfortable user experience.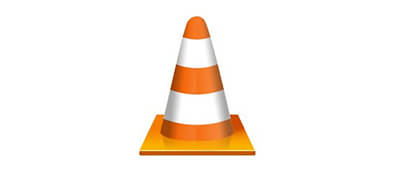 KM Player (For Android/iOS)
KM Player is quite a popular video player. It converts a broad range of file formats including MP4, MKV, WMV, MOV, AVI and more. KM Player for Android/iOS features subtitle support, library sorting. You can adjust the playback speed for speeding up or slowing down video playback on your smart phones. You are also allowed to use a floating screen for multi-tasking.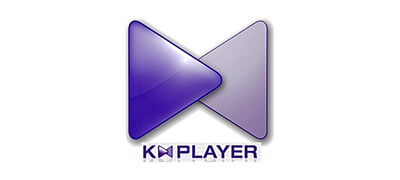 GPlayer (For iOS)
GPlayer is a smart video player for iOS users with many useful features embedded. As a free media player, GPlayer supports to play most video extensions like WMV, RMVB, ASF, H264, MKV, TS, M2TS, AVI, MP4, MOV, etc. It also gives you option to theme video player according to your need. With the multiple gestures support, you could control the playback settings including volume, brightness, and others. It provides several media playing modes, Loop off, Loop One and Loop all.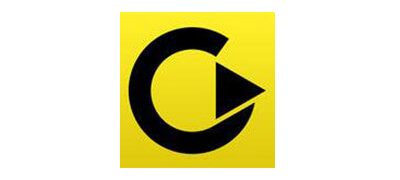 MX Player (For Android)
MX Player is the most popular movie player app for Android. As a free media player, MX Player offer so many features than you think. It was among the first to include things like hardware decoding, hardware accelerated playback. Besides, subtitle controls, variable aspect ratio and a screen lock are all within reach of the main view screen.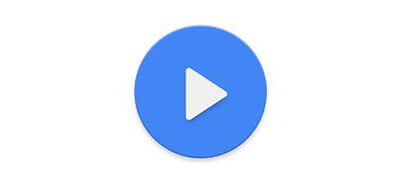 How to make video playable on iPhone/Android/Mac/PC
Besides video player, you can also convert video to iPhone/Android/Mac/PC supported video/audio formats for better playback on your device. To do that, you can rely on the professional Free Video Converter. First, you can free download and install it on your computer.
1Launch Free Video Converter
Download, install and open this free videos converting software on your PC/Mac.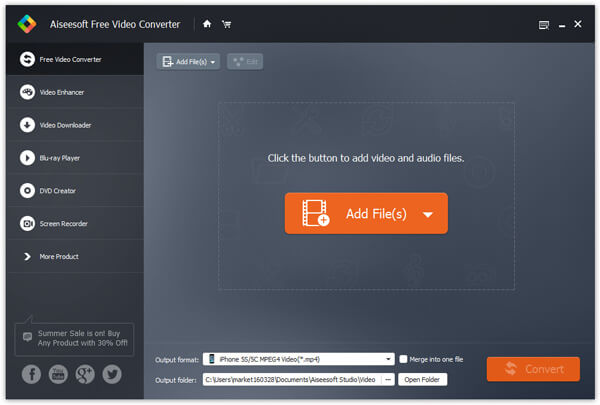 2Add video files
Click "Add File(s)" in the interface to load the unsupported video or audio files to this Free Video Converter.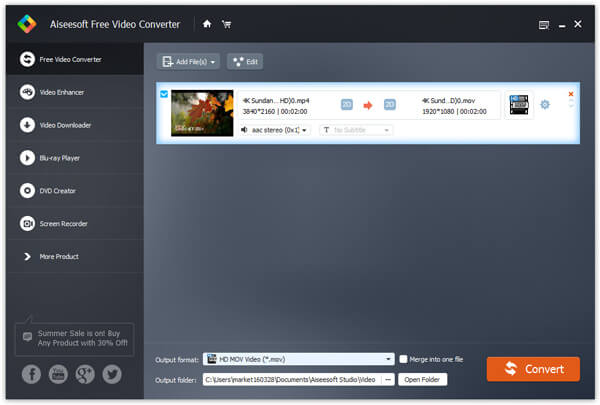 3Convert video to iPhone/Android/PC/Mac
Click "Output format" to choose the suitable video/audio format like MP4/MOV/AVI/MP3 format from the drop-down list. During this step, you are allowed to select the suitable destination file folder for the output videos. Then click "Convert" button to start to convert videos.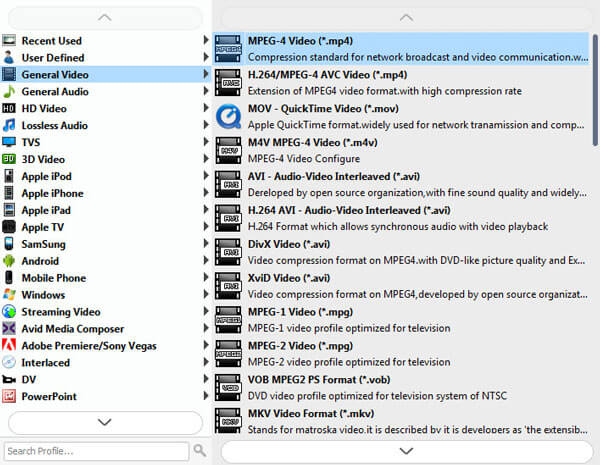 With the adoption of the latest acceleration, this Free Video Converter can give you a super fast converting speed. Only a few seconds later, the original unsupported videos will be converted to your preferred formats with high quality.
In this article, we mainly talk about some great video players. Whether you want to play video files on PC/Mac or portable iOS/Android devices, hope you can find your favorite best video player here.