[Solved] How to Recover Android Files without Rooting
Just yesterday I accidentally deleted one very important family photograph from my Samsung. I am suffering from the pain of my stupidity and need to know if there is any way to get back that photo without rooting my phone. I have not installed in any backup app like Dumpster or alike." - Albert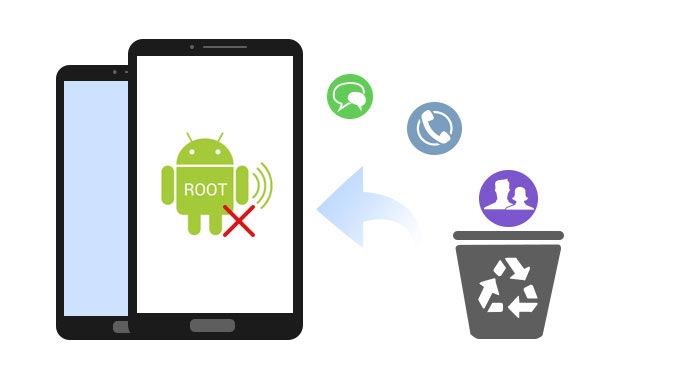 In daily life, some of you may have such problems that you accidentally delete photos, videos, messages or other files. The panic is not that you cannot retrieve deleted texts messages, or recover deleted photos from Android, but you have to root your Android phone for recovering deleted files with the help of some Android recovery apps. As you are told that, rooting Android is easy, but your phone will suffer more risks of being attacked and surely you will not enjoy the free warranty in the limited time.Here comes the question, how to recover deleted files Android unrooted? Two effective ways are provided to recover Android deleted files without rooting.
Part 1. Recover deleted files Android unrooted with Google backup
Google is a useful backup tool for Android, also does a good job in restoring Android backup. Google Drive provides you the free 15 GB storage for backing up Android files. Once you accidentally delete or lose those files, you could recover the deleted Android files from Google drive, without rooting your Android phone. Before you recover deleted Android contacts, text messages, photos, etc., you had better make sure you have backed up your Android data with "Auto Backup" and "Music Manager" to Google Drive with your Google account.
Back up Android data to Google
Google Drive can back up contacts to Google using your Google account. You could sync photos and video through "Google Photos" to Drive, upload music from "Music Manager" to Drive, and upload other files with "Auto Backup" to drive.
Restore Android data from Google account
Log in your Google Drive on the web, navigate "Trash" to find the deleted files > Click "Restore" to retrieve them to your Google Drive. For recovering your deleted files from Android on Google Drive, there are two situations for your reference.
Situation one: If you have another one Android phone, then you could add your Google account on that phone, and restore all your backup files from Google Drive. Those backup files include, contacts, photos, videos, settings, calendars, etc.
Situation two: If you only want to restore your deleted files on your original Android phone, then you need to log off your Google account, and then add this Google account again. When you add the Google account, you are asked if you are willing to sync Google Drive data to your Android, and you will definitely say yes.
Don't Miss: How to Sync Android Phone Contacts to Google
For recovering your deleted Android music, you should follow the above two situations to make it from "Music Manager". In this way, you could recover your deleted files without rooting your Android phone, but you will only recover part files, like messages.
Part 2. Recover deleted files on Android unrooted via Android Recovery
With the first method, you can handily recover deleted Android files without rooting. But you should know that, the method above doesn't allows you to retrieve deleted Android messages. To recover deleted files Android unrooted, you can rely on the Android recovery app, FoneLab for Android. It can recover your deleted messages and contacts without rooting. The steps are as following:
FoneLab for Android - Best Android Data Recovery/Management Tool
FoneLab for Android is the professional Android recovery and management program to recover deleted SMS, Videos, pictures, call logs, etc. unrooted.
Recover Android photos, contacts, messages, call history, etc.
Support Samsung, HTC, LG, Huawei, etc.
Recover deleted data from Android devices to PC.
1Free download this program on your computer, install and launch it. Select "Broken Android Phone Data Extraction" and then click on "Start" button.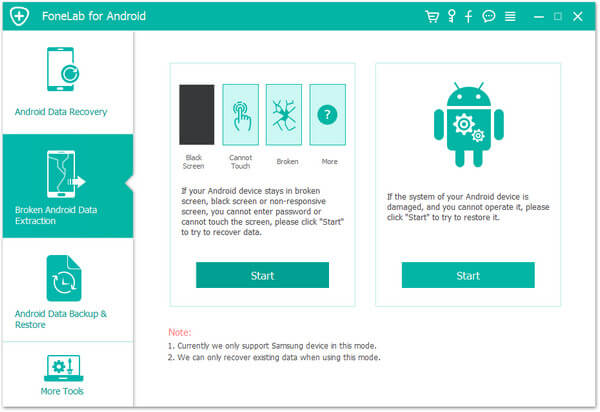 2Plug your Android phone to PC with USB cable. Select your Android device information and then click "Confirm" button to make sure the deleted Android files can be recovered.
3You need to put your Android into download mode to fix your phone first. Follow the introductions to fix your phone condition.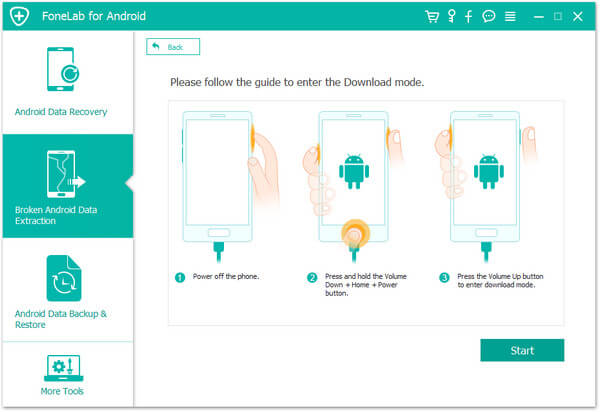 4After scanning, you could click it to preview the details. Then choose those you want to recover, click "Recover" to get back the deleted Android files to your PC.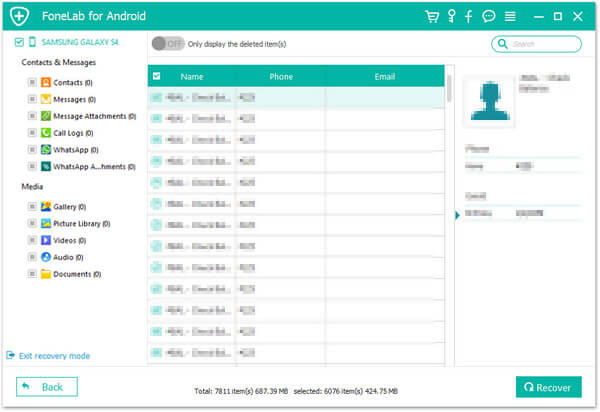 Kindly note that this way of recovering deleted files from Android without rooting is not 100% guaranteed. Sometimes, your Android phone may fail to scan some data. So for recovering all your Android data, you are advised to root your Android phone.