How to Block Phone Calls on Android/iPhone
It is nice to keep in touch with people through your phone, but not always. After the tenth time you get the annoying calls from your ex saying how sorry he/she is, or a telemarketer bugging you with their "best" product, or some other unknown calls, you might start to wonder the whole point of holding a phone.
Don't worry. Whether you are using iPhone or Android, there are plenty of methods for you to block unwanted calls. In this guide, I'll show you how to block a phone number.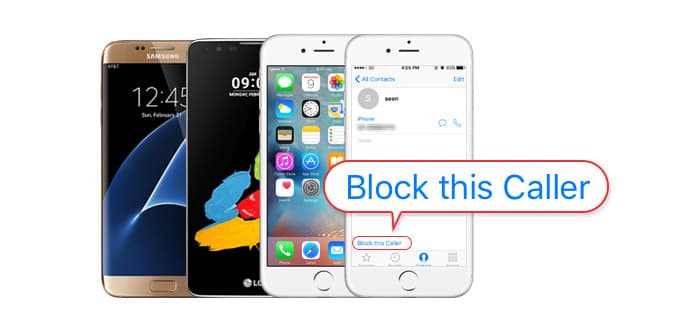 Block Calls
Built-in call blocking features
Most phone developers would take the phone blocking issue into consideration, therefore, most phones have their built-in ways to block incoming calls.
Block a call number on iPhone
Method one: Block Recent Callers
Step 1Open the Phone app on your iPhone, then click Recents at the bottom of the window. All the recent callers are listed here.
Step 2Click the corresponding info button of the phone number you intend to block.
Step 3Scroll down to the bottom and click Block This Caller.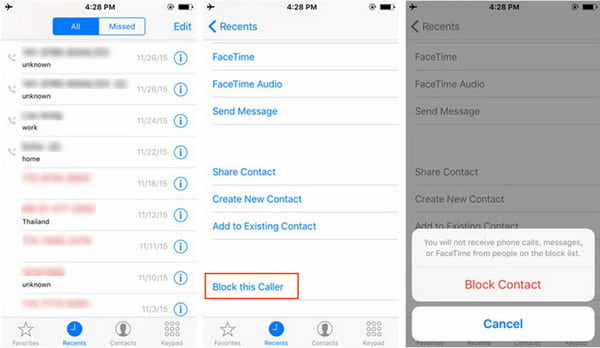 Method Two: Block Contacts
Follow the path Settings > Phone > Blocked > Add New, then you add your contacts to the block list.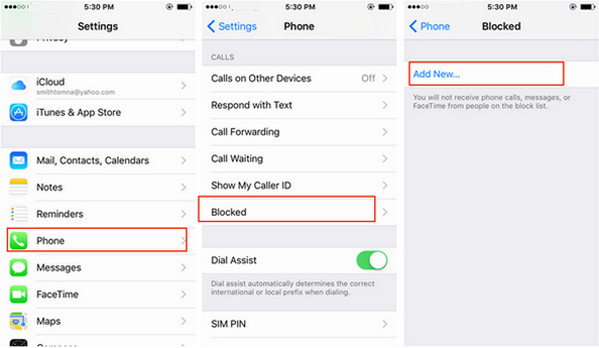 Block calls in Android
As there are too many types and brands of Android operating systems, the blocking process could be slightly different from one another. There is no need to say that it's impossible to go through all the specific steps for blocking calls on every single Android phone out there, but you can get the basic idea by learning how things are done with the most popular devices.
Stock Android
There are two ways you could find to easily block phone numbers on your stock Android Phones like Nexus 6P. The first one is to open Phone app, and find your recent calls. Long press on any of them and select Block number.
The second one is opening the Phone app and tapping on the 3-dot menu icon on the top right corner and select Settings. Then you could find the Call blocking option.
Samsung phone
1. Select the "Phone" icon on the home screen.
2. Tap "More" at the top right, and then tap Settings.
3. Click "Call blocking" or "Call Rejection".
4. Manage the numbers on you "Block list" or "Auto reject list". You can also set up automatic "Call-reject messages".
HTC phone
1. Open the "Phone" app on your home screen and navigate to "Call history".
2. Long press on the number you'd like to block and tap the option to "Block Contact" or "Block Caller".
3. Tap the 3-dot icon at the top right corner of "Phone" app, and you can review blocked contacts.
LG Phone
1. Open the Phone app and tap the 3-dot menu in the top right corner.
2. From the dropdown menu, select "Call settings" > "Call reject" > "Reject calls from".
3. Select the "+" icon, and then add the number you want to block from the call log or your contacts.
Carriers make call blocking easier
The built-in function truly makes call blocking very simple, but this can't help you get rid of the callers completely. For example, what if you have more than one phone, or you want to change a phone?
Actually, blocking phone number could be done in a more systemic way. Some carriers allow you to block specific numbers on a service level, and this does include four major carriers in the USA, Verizon, AT&T, T-Mobile and Sprint.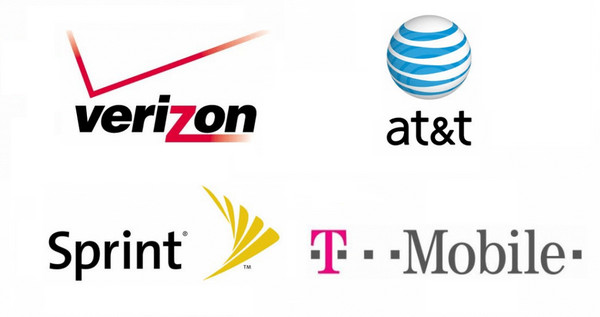 However, there are some limitations. Verizon only allows blocking up to five numbers on each account, and the block only lasts for 90 days. AT&T wants you to block numbers on a device-by-device basis. T-mobile allows blocking with family plans. Sprint seems to be more helpful on this.
Third-party apps for blocking phone numbers
If you find the built-in features of your Android phone or iPhone not able to meet your needs, there are also many third-party call blocking apps you can choose, including Mr.Number, TrueCaller, Call Blocker app, etc.
Take Mr.Number for example, and the following is the specific steps on how to block calls with third-party apps.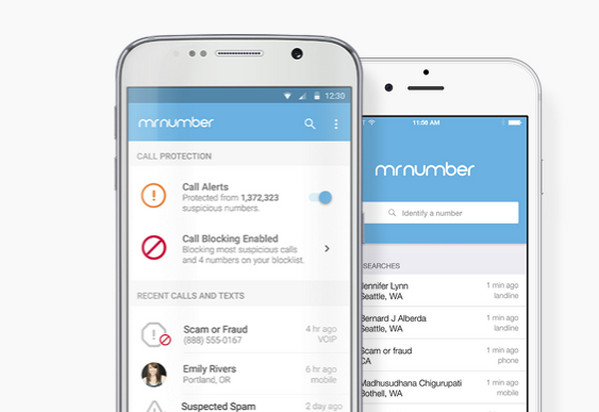 Step 1Download, install and run Mr. Number app on your phone.
Step 2View the "Blacklist" tab. The Blocklist contains three tabs: Hang Up, Voicemail and Exceptions.
For contacts in the "Hung up" list, your phone will automatically hung up the call. Callers listed under Voicemail will have their calls redirected to the voicemail box. You can add numbers to "Hung up"/"Voicemail" in various ways, such as "Suspected spam", "All private/blocked numbers", "Choose from recent calls or texts" and more.
Step 3You can enable automatic caller ID. This will convert any unknown number to their real name. With the "Reverse Lookup" feature, it allows you to look up for any number. You can also report number as spam or block it using "Reverse Lookup".
Step 4Tap on the "History", and you'll see a list of your call history, "green thumbs up", "red thumbs down" sign for the accepted as well as rejected calls respectively.
This post focuses on blocking calls on phone. If you have someone on WhatsApp to avoid some receivings or sendins, then you should go to refer to: block someone on WhatsApp.