2 Ways to Block and Deactivate Facebook Messages
If you are a Facebook lover, you may love sharing your daily life, personal opinions, etc. on Facebook, you may like chatting with friends with Facebook Messenger. No matter what you pursue, Facebook enriches your life. But there is still some trouble troubling you, especially when Facebook changed its privacy policy. So it is easier than before to send messages to any one. So disturbing!
In the past, Facebook have a function to disable the "Message", but now this function is gone. So many people want to find a way to block and deactivate Facebook messages from someone. Here, we will show you 2 ways to block and deactivate Facebook messages that you don't want to receive and see.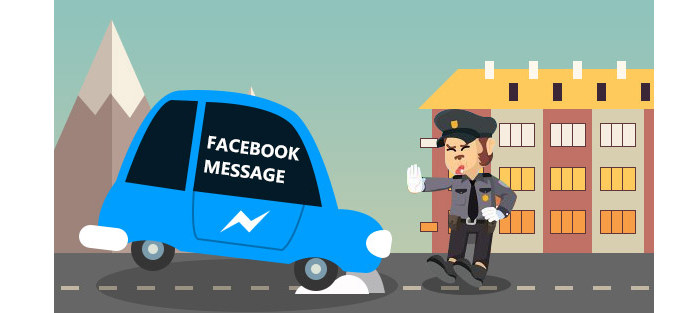 Block unwanted Facebook messages by "Strict Filtering"
If you want to block and deactivate Facebook messages, one way is to sending them to "Others" folder by "Strict Filtering". But in this way, you still receive the unwanted messages, but they won't appear in your inbox.
Go to Facebook website and log in your Facebook account via your browser.
Find "Privacy" icon on the top right of the screen, and click "Who can contact me" > "Strict Filtering" from the drop-down list.
"Strict Filtering" helps you block messages from anyone other than your friends by letting the messages go to "Others" rather than "Inbox".
If the "Strict Filtering" deactivates so many Facebook messages, you can try "Basic Filtering" to send most of messages to inbox.
If you want to block the messages from your friends with this way, just unfriend them. And you need to delete all the previous messages with your friends.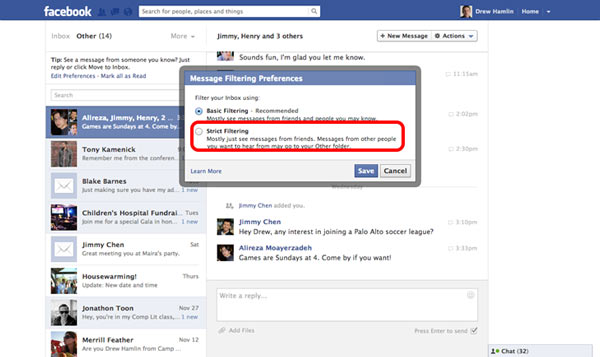 Block and deactivate Facebook messages by blocking the person
If you think "Strict Filtering" cannot meet your require and you never want to receive messages from someone, even if in "Others" folder. Or you think you cannot let your lovers, friends find the messages forever, maybe you should try to block someone.
This way makes people cannot send you Facebook messages, cannot see your profile, even add you as a friend. But you are not allowed to block them at the same time. Follow the next steps to block and deactivate Facebook messages by blocking someone.
Find the person's profile first. You can use "
Search
" function.
Block the person you want to deactivate or block his/her messages.
Open his/her profile, find three-bot button next to "Message" button, click "Block" from the drop-down list. By now, he/she cannot send you Facebook message, you cannot send him/her either.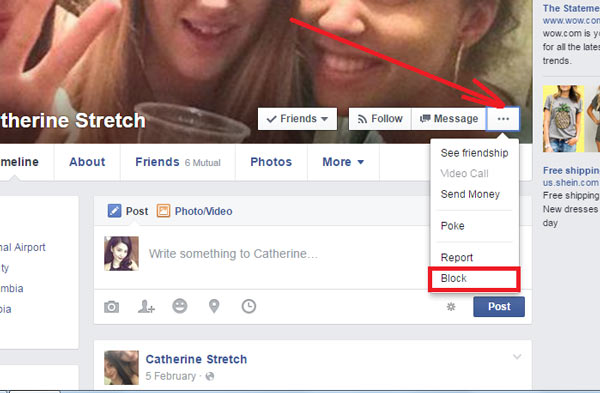 If you want to unblock someone, just go to "Settings" > "Blocking", and you will see the people you have blocked. You can tap "Unblock" to unblock them. But at the same time, Facebook will let you send them a friend request.
Block all messages on Facebook
If you do not want to receive Facebook messages or other messages from anyone, then you should read this part to block all messages or conversations from anyone on Facebook.
Open your Facebook web browser and sign in to your Facebook account and then click "Chat" at the bottom of the page to click the settings icon and select "Advanced Settings...".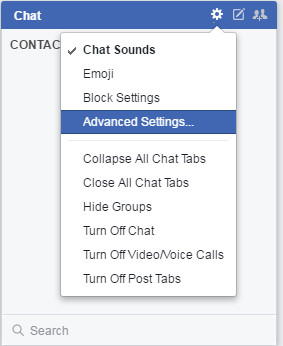 Checkmark "Turn off chat for all contacts" from the options to stop receiving messages from anyone in Facebook. And click "Save" to save the changes you made just now.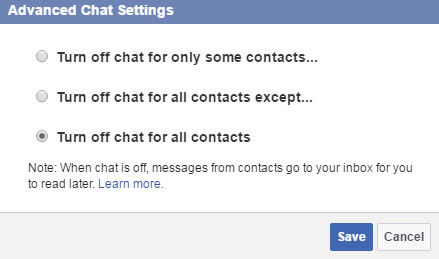 Also, you are allowed to block all messages except some contacts, or deactivate Facebook messages for only some contacts easily from the options.
In this article, you have known how to deactivate and block Facebook messages, if you want to, you can do it. And even, you can deactivate your Facebook account if you really have no choice. But why not give someone an opportunity?