How to Convert JFIF to PNG | 3 Feasible Solutions to Get This Done
JFIF is short for JPEG File Interchange Format. You can think of it as the compressed version of the original JPEG file. The drawback of this format is it has compatibility issues. You can only view this photo on several and not many programs. In this case, PNG is your best bet for viewing your photos without using a special program.
In line with this, we sorted out a bunch of helpful solutions that offer great features and functionalities to convert photos conveniently. Find out the best JFIF to PNG converter programs here.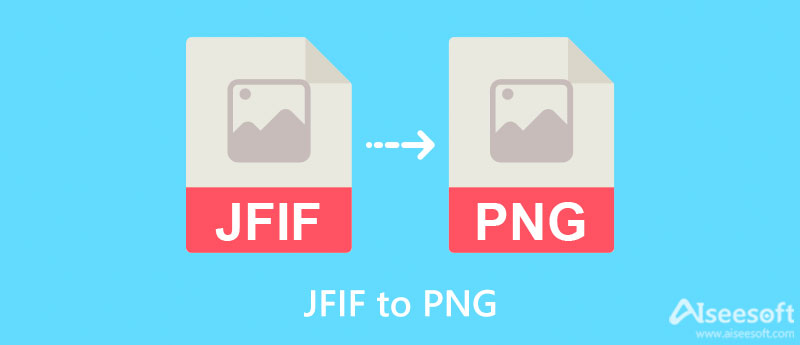 Part 1. How to Convert JFIF to PNG
When converting JFIF to PNG, you need a program to help you get this conversion done. That said, we researched for recommended tools. Here, you will discover online and offline programs, so you have the option of which method works for your best. Without further discussion, check them out below.
Aiseesoft Free Image Converter Online
Aiseesoft Free Image Converter can assist you in converting JFIF to PNG using just a browser and an internet connection. The program is solely developed to convert photos between JFIF, SVG, JPG, JPEG, PNG, GIF, etc. In addition, it converts images at a fast rate without sacrificing image quality. Furthermore, safety is a significant concern when processing files online. Nobody wants privacy disclosure.
Considering these, Asieesofr Free Image Converter comes out as our best bet. On top of that, it handles the batch conversion, allowing you to process multiple files. It is such a time and effort-saving benefit. Here is how to use this program to convert JFIF to PNG.
Step 1:
Access any browser on your computer and navigate to the program's official site. You will reach its homepage by simply typing the tool's link in your browser's address bar.
Step 2:
Before loading images, set an output format. Do this by ticking the
PNG
radio button. Next, hit the
Add Images
button and choose your target photo to convert. You may drop the JFIF photo from the folder to the program's upload area.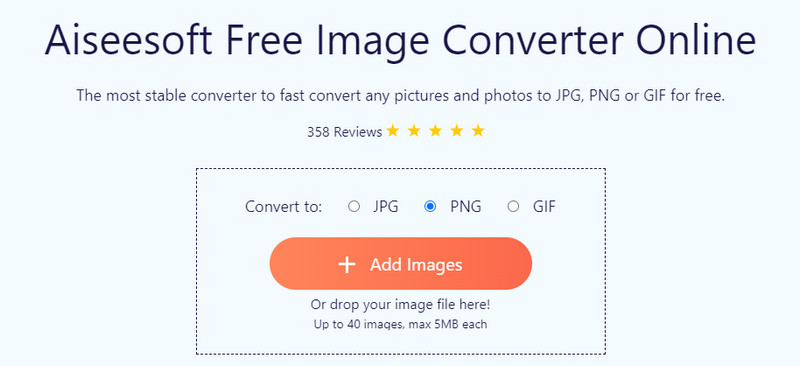 Step 3:
After that, hit the
Download
button associated with the photo. If you wish to save all the converted photos, hit the
Download All
button.

AConvert
Another program you can use for converting JFIF to PNG online is AConvert. Similarly, it is a web-based app that is free to use and handles conversions fast. Besides uploading local files, you can also import photos from Google Drive and Dropbox. Moreover, you can select from the target format depending on your needs. Most importantly, it includes PNG as the output format.
Apart from that, users also have the ability to set the image quality from 1-100. Hence, you can access other functions more than conversion. This program also includes resizing the image dimensions. You can change only the height, only the width, or change both. On the other hand, follow the simplified guidelines on how to use it.
Step 1:
Navigate to AConvert's official page using the browser you commonly use on your computer. You should be presented with a plan and a simple interface.
Step 2:
Click the
Choose Files
button and select your desired photo to convert. You can also tick the
File
drop-down button and choose the upload method.

Step 3:
After that, choose an output format by ticking the
Target format
menu. From here, select
PNG
from the list of options. Consecutively, you can set the image quality and resize the image.

Step 4:
Lastly, tick the
Convert Now!
button to commence the conversion process.

CloudConvert
CloudConvert is a browser-based program that may help you convert from .jfif to .png format. It can read JFIF images and other unfamiliar formats and export them to common or uncommon image formats. Additionally, it allows you to have access to its advanced settings. This feature enables you to adjust the dimension, add a watermark, remove metadata, and set the quality per your preferences. If you want to learn how to operate the tool and convert JFIF to PNG online for free, then check out the steps below.
Step 1:
Open a browser and navigate to the program's official website.
Step 2:
Next, tick the
Select File
button and pick the photo you like to convert.

Step 3:
This time, choose
PNG
from the Image menu and click
Convert
to begin converting from JFIF to PNG.

GIMP
If you are into a desktop program that converts JFIF to PNG offline, you should use GIMP. This free and open-source program enables you to modify the program according to your preferences. It comes with powerful photo editing tools, which are helpful in situations where you need to fix or restore damaged images. Ultimately, the program can read and write various common and uncommon image formats. That said, rely on the step-by-step procedure to convert JFIF to PNG offline.
Step 1:
Grab a copy of the program's installer from its official page. Then, set it on your computer and launch it.
Step 2:
Drop the JFIF image directly to GIMP or hover over
File
, select
Open
and choose your target photo.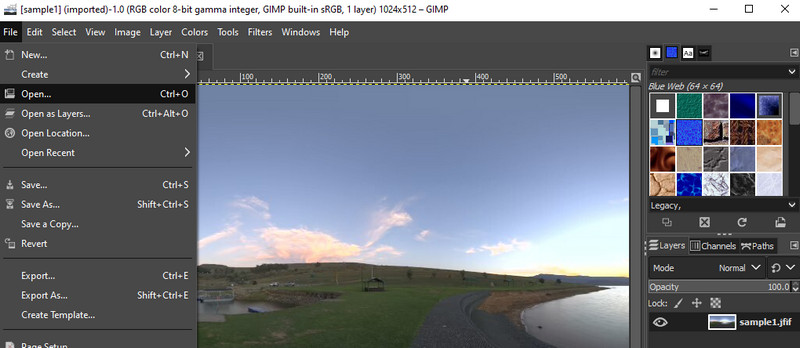 Step 3:
Next, navigate to
File > Export
. After that, click Select
File Type (By Extension)
and choose PNG from the format list. Finally, hit the
Export
button to convert to PNG.

Part 2. JFIF vs. PNG
Maybe you are still wondering what is up with these formats. Read on to discover more about JFIF and PNG, their description, uses, etc.
What is JFIF?
JFIF or JPEG File Interchange Format is a bitmap graphic format that uses JPEG compression. This file format can be renamed to JPG. It is like the compressed version of the corresponding JPEG file. Moreover, it has less amount of data to facilitate, and specific programs can only open this file.
One major drawback of this format is that it is only compatible with specific programs. Therefore, you cannot just share it with anyone and open them with their default photo viewer.
What is PNG?
Portable Network Graphic, commonly known as PNG, are usually photos without a background or transparent background. These images can be opened using almost any photo viewer, unlike JFIF. It is used on websites for displaying quality digital images.
That is the best thing about this image format. It is an open format, allowing you to view a huge range of programs. However, if you are into posting these images on the web, it might not be advisable because it could make the page load slower.
Part 3. FAQs About Converting JFIF to PNG
What is the difference between JFIF and JPEG?
In fact, JFIF and JPEG are almost the same. JFIF just became obsolete because JPEG is more familiar. On the other hand, JFIF uses JPEG compression.
Are PNGs vector or raster files?
PNG files are built with a group of pixels rather than mathematical algorithms used in vector files. In a sense, PNG is a form of raster file. One example of a vector file is SVG, and raster files are standard among JPG and PNG files.
Can PNG format play animation?
Unfortunately, PNG files do not support animation. But for the information of everyone, PNG developers developed an animation–friendly format called MNG or Multiple-image Network Graphic. However, it was not able to gain popularity, unlike GIF. If you want to make it animated, then you can try to convert PNG series to GIF.
When to use a PNG file?
Since PNG files support transparency, this attribute is essential for graphic designers to allow photos to place on top of a background color or another photo. That can help make logos, illustrations, engravings, and many more.
Conclusion
Both JFIF to PNG conversion methods are guaranteed to be effective and deliver efficient results. The first method is handy, especially if you wish to convert files without downloading software on your computer. The second method, offline conversion through a desktop app, is suitable when you do not have a stable internet connection.
You can utilize both methods, or choose the one you prefer. Nevertheless, the end goal is to convert your obsolete JFIF files to PNG, and you can take advantage of these programs.

Leave your comment and join our discussion