The Best Way to Make a Video with Music and Pictures
Photos can be the unique memories for most people. Nowadays, more and more people choose to make a video with music, photos and pictures, turning the digital memories into a perfect video. Making a video with music and photos provides a great way to save your precious memories. Here we recommend you the best way to make a video with music and pictures on your computer.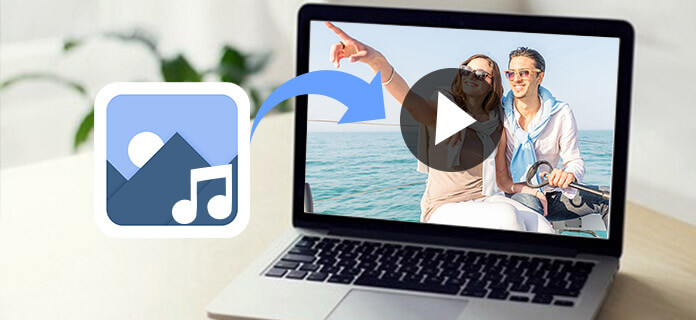 Part 1: The Best Slideshow Maker - Aiseesoft Slideshow Creator
To make a video with music and pictures in high quality, we strongly recommend Aiseesoft Slideshow Creator to you. With this maker, you may find it so convenient to make a good video. To explain why so many people choose it, we list the key features of this comprehensive tool.
• Supports adding videos and photos at the same time.
• Work with photos on the handy timeline.
• Powerful editing functions, including video effect, elements, and music editing, etc.
• Provide many transition effects between different video clips. Also they are editable.
• Add Themes, Text, Filter, Elements to your video to make it more attractive.
• Support many popular output video formats with different resolutions to choose from.
Part 2: How to Make a Video with Music and Pictures
So if you want to make a video, how can you make a video with music and pictures using Aiseesoft Slideshow Creator? In what follows, we list the steps for you in detail. Just follow the instructions and make videos with pictures and music by yourself.
Step 1. Download Aiseesoft Slideshow Creator
Download Aiseesoft Slideshow Creator on your computer. Follow the guide to run the program. Now you can begin to make videos with pictures and music.
Step 2.Add files to the program
The first step to make videos with pictures and music is adding your wanted files. It supports you to add not only photos but also videos. Just click the Add button and choose what you want to use. All the files you selected will be shown in the timeline at the button of this window.
Step 3. Choose a theme for your video
The Slideshow Creator has provided various themes for you, including travel, business, Christmas, wedding, etc. We will keep adding new themes to it. After choosing specific theme, related filter, transition and other elements will be added to your video automatically.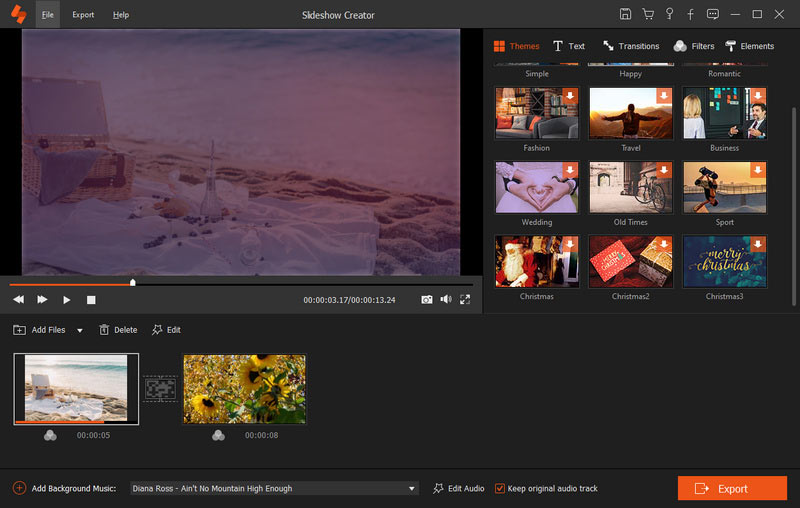 Step 4. Add Text and other Elements
If the current themes don't meet your needs, you can select by yourself. For example, Click Text, double click a Text style to preview it. Click the Plus button to apply it. Then input the words in the pop up window. You can also change the font, size, color and the time duration of the text. Then click OK to apply it. With the same method, you can select and edit Transitions, Filters and Elements as you like.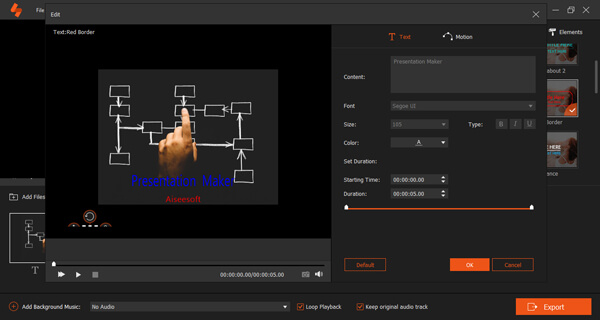 Step 5. Add music
Click the add button in the lower left corner and choose the local music file you want to use. Then click the Edit Audio button to edit the music length and loop playback or not. If you don' have satisfied background music, we have made a list of most popular background music for you. Click and learn best slideshow songs for different themes.

Step 6. Export your video
When you are done with all the steps, export your video with pictures and music. The step of saving you video is as same as saving the video made in easy mode. Click "Export" button and choose the format and saving path. Wait for a few seconds, then you can get the video made with music and pictures successfully.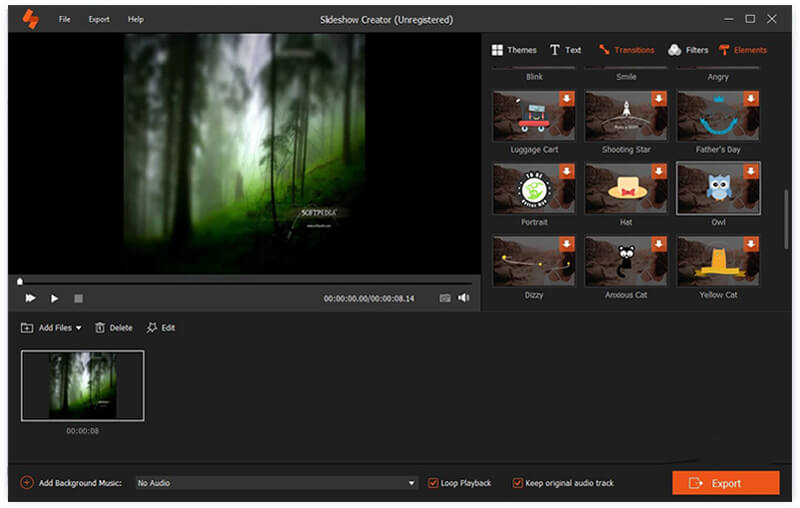 Here's the video about making slideshows for you. Click it to check.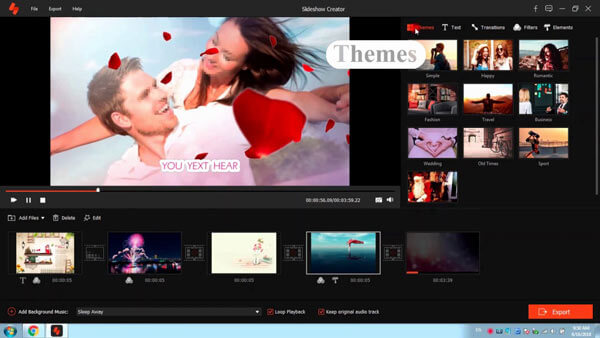 Conclusion
To answer the question about how to make a video with pictures and music, we introduce the best slideshow maker in detail. Both two modes you can use to make videos with music and video in this software are explained clearly. Hope you can gain helpful knowledge and get this best way to make your own slideshow.