Part 1. Best 3 Ways to Convert PNG to Word
This section will teach offline and online PNG to Word converter programs. Therefore, you can choose which option works well for you or which program will make it convenient for you. Without further explanation, we will introduce the tools one by one below.
Aiseesoft Free JPG Word Converter Online
If you are looking for an online PNG to Word converting tool, Aiseesoft Free JPG Word Converter Online is an excellent program. Users are not required to register for an account or install anything on your device since it is a web-based program. Using this tool, you can convert image files not only to Word but also to PDF, Excel, and PPT. Aside from that, you can also do it the other way around or vice versa. Converting Word to an image file is feasible.
Furthermore, the tool enables users to perform single and batch processing. In case you are converting multiple images to Word documents, you can do so. Additionally, you may choose to merge all images in one file. On top of that, you can add a layer of security by encrypting the document. That is especially helpful when the photo or document contains confidential information. On the other hand, here are steps to convert PNG to Word online.
Step 1:
Visit the tool's official website
You may begin by visiting the official website of the program. Simply key in the name or the tool's link on your browser's address bar to reach the home page.
Step 2:
Load your PNG image files
Now, add the PNG image by selecting the Add JPG Files button. Then, your computer file folder will appear. From here, choose the PNG photo you wish to convert and upload it to the program.

Step 3:
Convert PNG to Word document
After successfully loading the PNG photo, you will arrive at the conversion phase of the tool. Tick the Word radio button to set it as the output format. On the Document Encryption text field, you may enter your desired password to secure the document. Then, hit the Convert All button to begin the conversion process.

Step 4:
Save and download the output
Now, hit the Download All button if you wish to download all the converted PNG photos. In case you wish to download selectively, you hit the Download button associated with your chosen photo.

PNG to Word - Word.to
Another online PNG to Word program that will help you convert PNG to editable Word documents is Word.to. Its drag-and-drop interface will allow you to load photos from your local drive conveniently. Similarly, it enables you to upload in batches to help you out with processing multiple photos and getting them into the queue.
Apart from that, you can use the tool to scan documents and convert images like JPG to text. This feature allows you to copy the text from the photo directly. It is otherwise known as OCR, which converts scanned documents and photos to text. If you wish to enjoy the mentioned features, you can follow the process of converting PNG to Word online below.
Step 1:
First, access a browser you commonly use and type the program's name on your browser's address bar. Then, you should reach the leading site. Search for the
PNG to Word
conversion option using the search bar.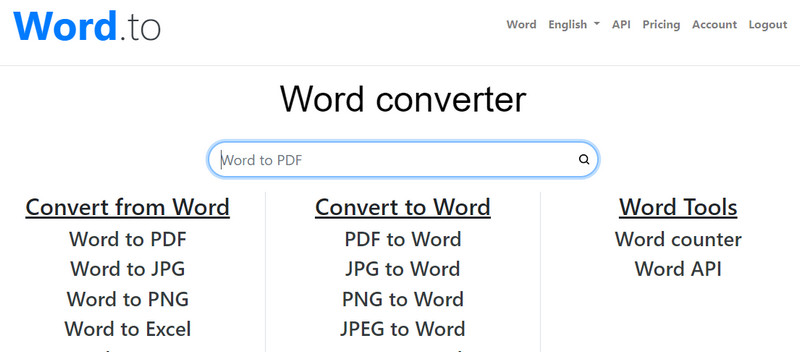 Step 2:
Following that, hit the
Select your files
button to load your PNG photos. Alternatively, you can open your computer file folder and drag the photos directly to the program's interface.

Step 3:
Then, tick the
Convert files
button to commence the conversion process and wait for it to finish.

Cisdem PDF Converter
Cisdem PDF Converter is a desktop tool you can use to convert between image and document files. Therefore, this program is for you if you want a stable converter that works with or without an internet connection. Cisdem is primarily developed for converting PDF files, hence, the ability to convert PDF to MS Office. Apart from that, you can also scan PDF and convert it to a searchable PDF. On the other hand, you may produce PDFs out of EPUB, HTML, PowerPoint, and Word.
Moreover, the tool supports different image file formats, including BMP, PNG, JPEG, JPG, GIFF, and TIFF. Additionally, you may convert to iWork, like Pages and Keynote. Beyond that, copying text from an image is easier because it comes with an OCR feature. Our only comment is that it is exclusive for Mac users. Below, we will walk you through the process of converting PNG to a Word document. Check it out below.
Step 1:
To begin, you need to visit the tool's official site. From the home page, acquire the app and install it on your computer. After that, run the app to its working interface. You may also circumnavigate the program to get familiarized with its interface and functionalities.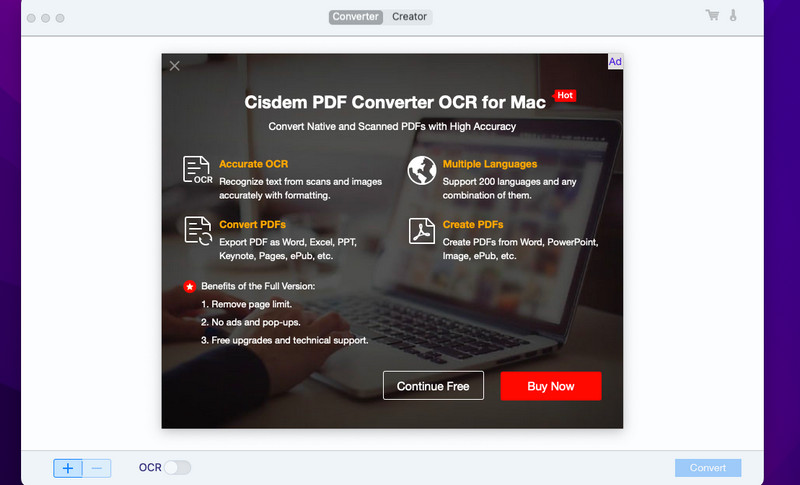 Step 2:
After successfully launching the tool, drag the PNG images you like to convert. You may also hit the
Plus
sign button at the bottom left corner of the interface.
Step 3:
This time, adjust some settings, such as the
Advanced Settings
, and set the output format to
Doc
.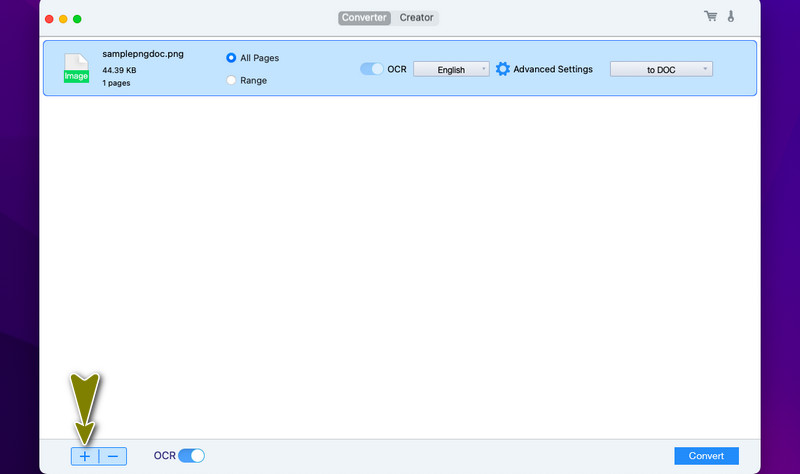 Step 4:
Lastly, hit the
Convert
button to initialize the process and select the saving path where you wish to save the converted photo.