All You Want to Know about AVCHD and MP4
- "Which one is better quality to film in AVCHD or MP4?"
- "What is AVCHD codec? What can possibly play AVCHD files?"
- "How do I import AVCHD footage from my Sony camera?"
- "I have my first Panasonic camcorder. It records in AVCHD (*MTS) format. However, I cannot find any program that recognize AVCHD videos …"
You may not be familiar with AVCHD, and this video format is not as popular as MP4 does. According to above questions, many people have no idea what AVCHD is and how to deal with AVCHD videos.

AVCHD
To solve these problems, this article offers the detailed introduction and easy solutions to convert AVCHD to MP4. Thus, be patient and read the following paragraphs to get the information about AVCHD you need.
Part 1. What Exactly Is AVCHD File Extension
Question 1: What is an AVCHD file?
Answer 1: AVCHD is short for Advanced Video Coding High Definition. It is a file-based format for digital recording and playback of high-definition videos. AVCHD file format is widely for recording footage by Sony and Panasonic cameras. Thus, your AVCHD videos can be created to DVD discs and played on Blu-ray players and HDTV, despite of its incompatibility is quite a change for editing.
Question 2: What is the development of AVCHD?
Answer 2: AVCHD format is firstly developed by Sony and Panasonic in 2006. It was firstly released for HD playback and digital playback in 2007. Later, AVCHD was amended with 1080 line 50 frames and 60 frame in the year of 2011.
Question 3: Why is it so difficult to edit and play AVCHD videos?
Answer 3: Your HD videos will be compressed up to 6 times the resolution of SD about the same files size. Moreover, AVCHD or h.264 is a finishing codec. The computer has to decompress your AVCHD video in advance. Things will be worse if you are using an old computer with slow processor.
Question 4: Pros and cons about AVCHD.
Answer 4: AVCHD file is captured up to 1080p at 60 frames per second, which offers a higher quality than common video files. However, it usually leads to an over-large file size, and AVCHD format is not compatible with most video editors and video players.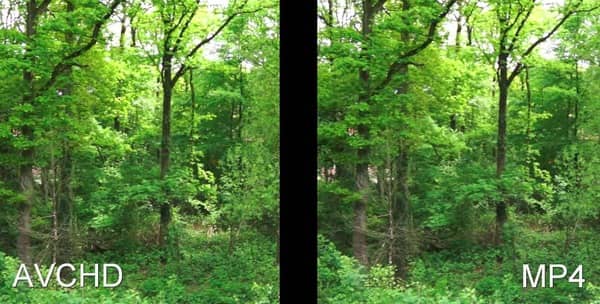 Part 2. AVCHD VS MP4 – Which One Is Better
The battle between AVCHD and MP4 has been existing for a long time. Many people want to know the comparisons between AVCHD and MP4 in detail. Therefore, this article collects some representative aspects about AVCHD VS MP4.
AVCHD
MP4
File extension
AVCHD file extension is .mts, .m2ts, tp, .mod, etc. It allows users to record videos in different resolutions including 1080p, 1080i and 720p.
MP4 file extension is .mp4. MP4 files are saved with PMB (Picture Motion Browser) software.
Video quality
AVCHD format can only be used in Sony and Panasonic cameras. Its image quality is excellent.
JVC make use of MP4 file format with the resolution up to 1080p at 60fps. Compares with AVCHD, videos in MP4 are in lower quality.
File size
Due to its high quality output, AVCHD files take much more space than MP4 files with the same resolution.
MP4 format can compress videos in a small file size while maintaining the quite good quality.
Compatibility
AVCHD format is compatible with Blu-ray Disc format and various recording devices.
MP4 can work with almost all media players and video editors.
Performance
If you want to record videos in high quality, then you can use AVCHD file extension.
MP4 video files have higher compatibility, smaller file size and access over quality than AVCHD files. And it is easy to share MP4 videos over the air.
Pros

• Work with Blu-ray disc format.
• Record live pictures in high video and audio quality.
• Shoot 1920 x 1080/60i, 50i (16:9) resolution footages easily.

• Compatible with almost all digital devices and players.
• Store and access single or multiple movie files.
• You can copy, move, share and upload MP4 files easily.

Cons

• It is difficult to save a AVCHD files in .m2ts format.
• Its file size is 3 or 4 times larger than other types of video formats.

• The audio codec of MP4 is low in quality.
• Its output quality is not high enough.
Part 3. How to Convert AVCHD to MP4 and other Formats in High Quality
Whether you need to convert AVCHD to MP4 or other formats, you can set Aiseesoft Video Converter Ultimate as your first choice. This all-in-one video converter allows users to convert, edit, download and enhance videos and music in high quality. You can monitor every small change instantly with a real-time preview window.
Key Features of the AVCHD Converter
Convert video and audio over 1000 formats on Windows and Mac.
Support HD/4K UHD and 3D converting.
Download online videos from YouTube and other sites.
Rotate, flip, crop, watermark and adjust video effects with easy-to-use filters.
Get a real-time preview window.
3 Steps to Convert AVCHD to MP4
Step 1Add AVCHD video
Free download and install Video Converter Ultimate on your computer. Launch this AVCHD converter and then choose "Add File". Later, you can add AVCHD video from your local folder to its main interface.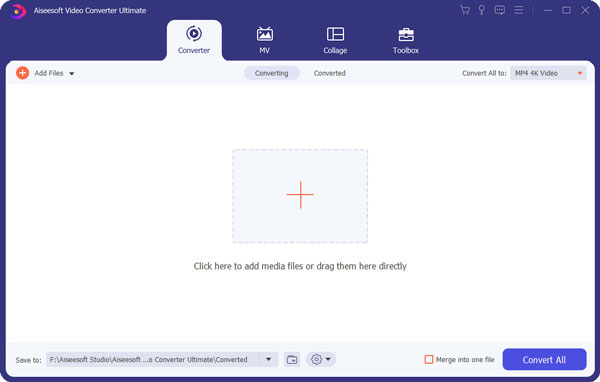 Step 2Set MP4 as the output format
Locate "Profile" at the bottom. Then select "General Video" from its drop-down list. Click "MPEG-4 Video (*.mp4)" as the output video format. Well, you can change it to other available formats as well.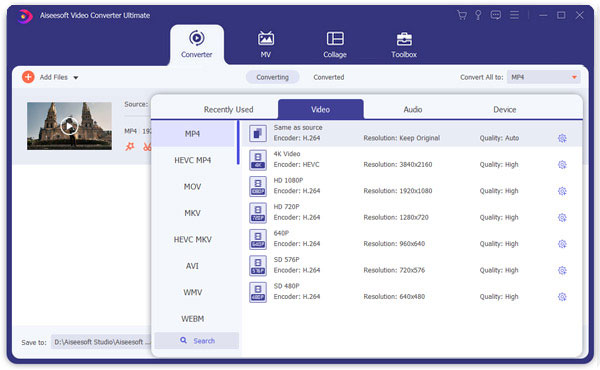 Step 3Convert AVCHD to MP4
Choose "Settings" option besides if necessary. There are basic video and audio settings you can get. Click "OK" to save your change. At last, choose "Convert" to start to convert AVCHD file to MP4 in high quality.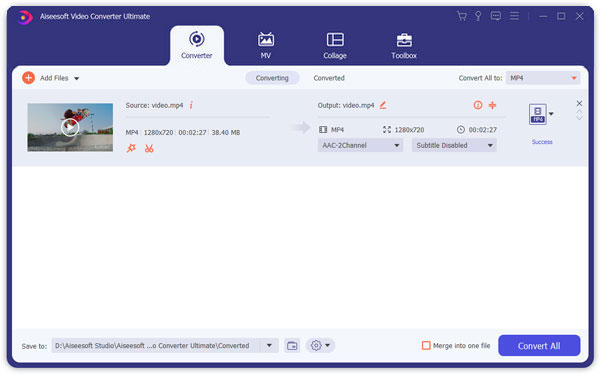 Actually, you can batch convert AVCHD to MP4 in a short time easily. Moreover, this program offers many video editing. So if you have large amounts of AVCHD files and other less popular videos need to be converted, then you should not miss Video Converter Ultimate.