Part 1: The Best Way to Backup WhatsApp Chats to Computer
When backup WhatsApp messages or chats on iPhone, you may focus on several elements, like data loss, easy to use, etc. In fact, it does not require a lot of technical skills, if you master the right method. Aiseesoft WhatsApp Transfer for iOS, for example, is a simple way to back up WhatsApp messages and other data from iPhone to computer. It does not need cloud storage or internet connection.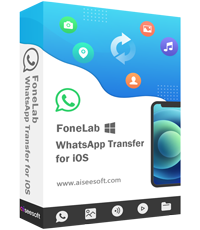 Downloads
Needless to say, it is the easiest way to back up your important WhatsApp chats from iPhone to computer quickly. Also, it offers the way to help you export WhatsApp chats quickly.
How to Back up WhatsApp Messages on iPhone
Step 1:
Install WhatsApp message backup tool
Install the best WhatsApp backup tool on your computer. Launch it and choose WhatsApp Transfer for iOS to enter the main interface.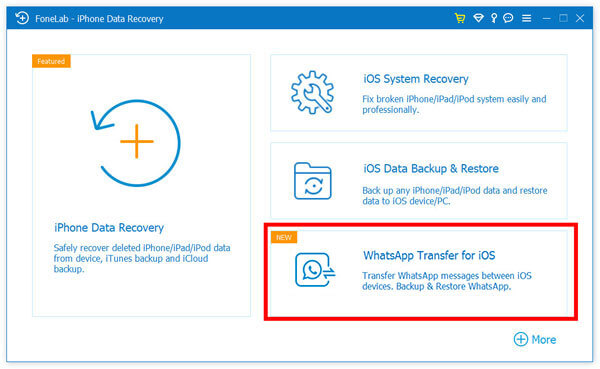 Step 2:
Preview WhatsApp messages
Plug your iPhone to the computer with a Lightning cable when you want to backup WhatsApp messages. Then the software will scan your WhatsApp messages on iPhone after device detect. Then click on Backup to move to the next window.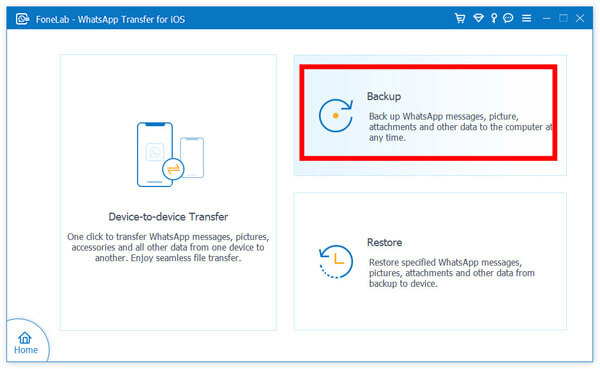 Tip: For iOS 13 or later, you need to enter your passcode to permit the connection.
Step 3:
Backup WhatsApp chats
Make sure that you see your iPhone appears in the Source panel. It means that the connection is successful and ready for message backup. If you messages are private and you do not want others to see them, check the box next to Backup encryption and follow the onscreen instructions to leave your password protection. Bear in mind that you need to unlock the backup when restoring to your iPhone if you have setup encryption. So, you'd better write down your password.
Next, move to the right panel and click the Folder icon to select a proper location for saving WhatsApp messages on your hard disk. Finally, click on the Start Backup button at the bottom to initiate the process. When it is done, disconnect your iPhone and quit the software. Now, you can feel free to clean up your WhatsApp messages on iPhone.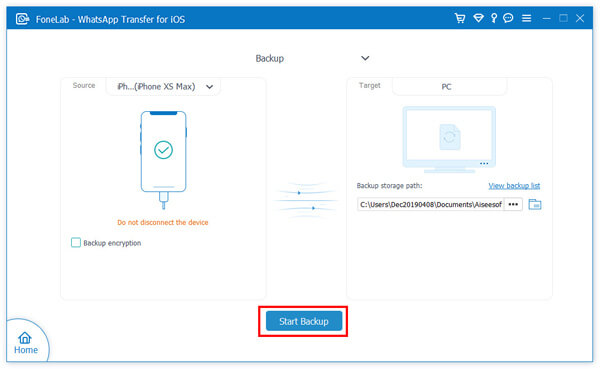 Part 2: How to Back up All WhatsApp Messages with Built-in Feature
How to Backup WhatsApp Messages with Settings
It is well-known that WhatsApp provides the backup feature to protect your messages and chats. However, there are somethings you need to know about it. Firstly, the built-in feature will backup WhatsApp messages to your iCloud, so it takes up your cloud storage. If your chats include a lot of video clips, your iCloud will run out quickly. Moreover, it requires a good network; otherwise, it won't work. This way won't let you preview your message. It can only backup all messages. If you do not mind it, follow the steps below.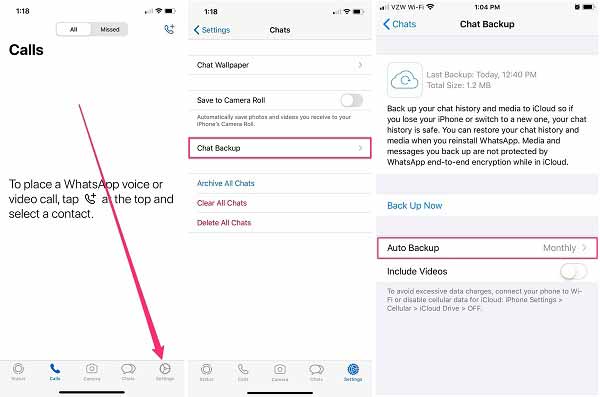 Step 1:
Connect your iPhone to a good network. Open your WhatsApp from the home screen and tap the Settings icon at the bottom right side.
Step 2:
Choose Chat Backup and you will get several options. Tap Back Up Now and WhatsApp message backup will begin. You can also set up Auto Backup.
How to Backup WhatsApp Chat with Email
If just need to back up a single WhatsApp chat, you can also use the Export Chat feature and send it to your mailbox.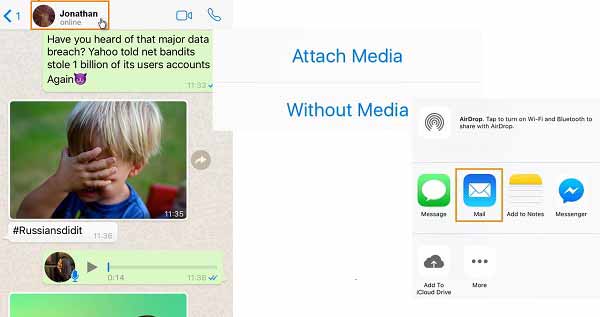 Step 1:
Run your WhatsApp app, and go to the chat that you want to backup.
Step 2:
Tap the contact name on the top of your screen, choose Export Chat, and decide to backup media files or not. To save photos and video clips along with the messages, choose Attach Media. If not, select Without Media.
Step 3:
Next, select Mail on the toolbox to open the new mail screen. Enter an available email address, type in a subject and tap Send.
Note: Once backup WhatsApp chat with email, you cannot restore it through this way.
Don't Miss: How Recover Deleted WhatsApp Chat