How to Change Background Color of Photo in Adobe Photoshop
While editing a photo, you often need to change its original background color. You can handily eliminate background or change background color to white using Adobe Photoshop.
This post will guide you to change background color in Photoshop step by step. Whether you want to remove an unwanted object in the photo background or change the background color, you can follow the below 2 methods of background removal.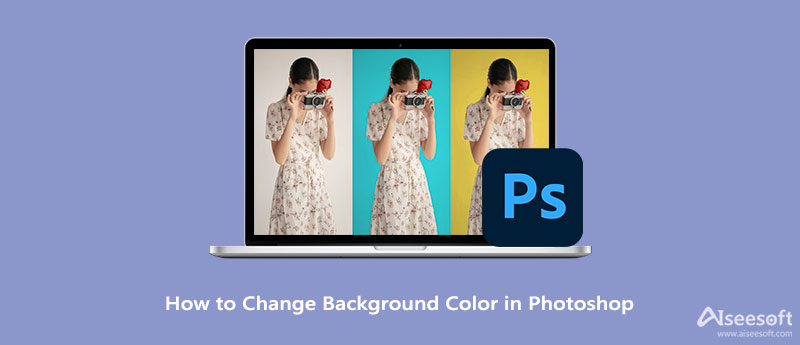 Part 1. How to Change the Background Color of a Photo in Adobe Photoshop
If you don't have Adobe Photoshop installed on your computer, you can directly move to the second part and use a free way to quickly change the image background. You should notice that, Photoshop is not a totally free image editor. On the contrary, it is quite expensive. But you can still choose to free use Photoshop to change background color for 7 days. You can download the latest Adobe Photoshop from its official website and then follow the steps below to change image background.
Step 1.
Open Photoshop on your computer and add your photo to it. Photoshop will create a background layer for this added image file for later editing. You can find it under the Layer panel on the right hand.
Step 2.
Right-click on the background layer and then click the
Duplicate Layer
option to make a copy of this layer.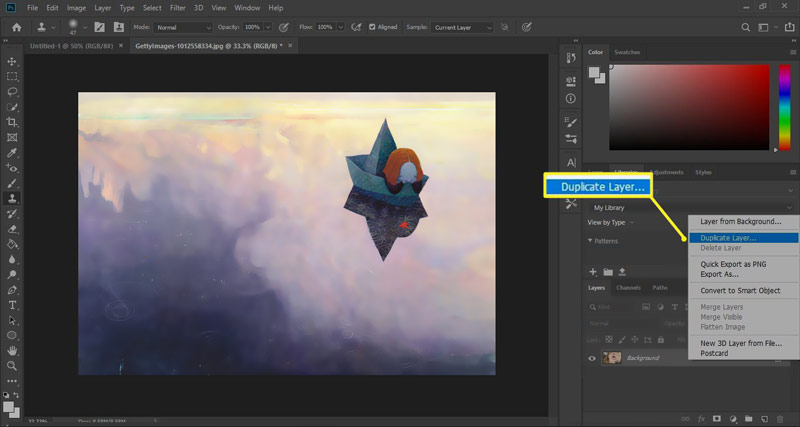 Step 3.
Now you can use the
Quick Selection Tool
or
Magic Wand Tool
to choose the background part you want to change. You can easily access the select features on the left toolbox.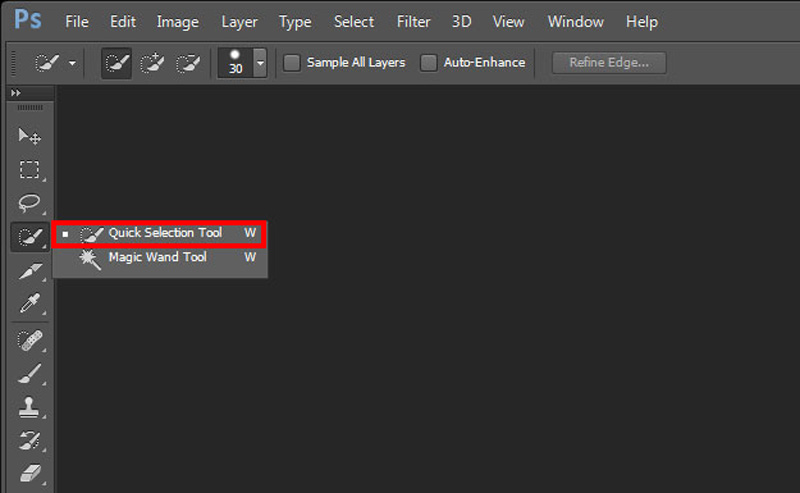 Step 4.
After you select the photo background, you should right-click on it and then choose the
Fill
option. In the new pop-up Fill dialog box, you can use the Content-Aware, Foreground Color, Background Color, Black, 50% Gray, or White to change the background in Photoshop.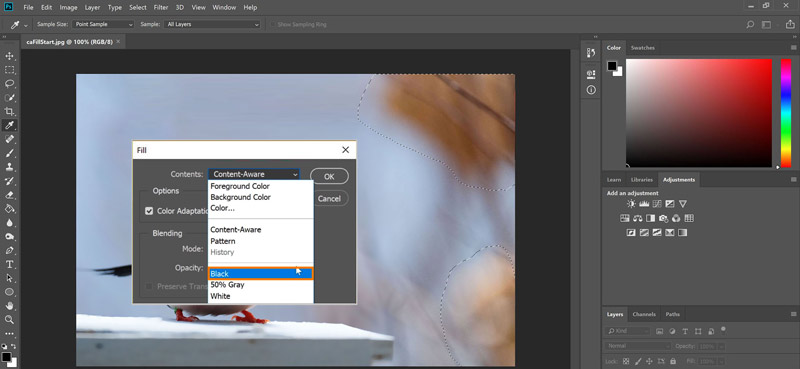 Step 5.
If you want to quickly remove your photo background, you can also rely on the
Remove Background
feature in
Quick Action
. You can click the
Window
menu on the top bar and then choose
Properties
b from the dropdown.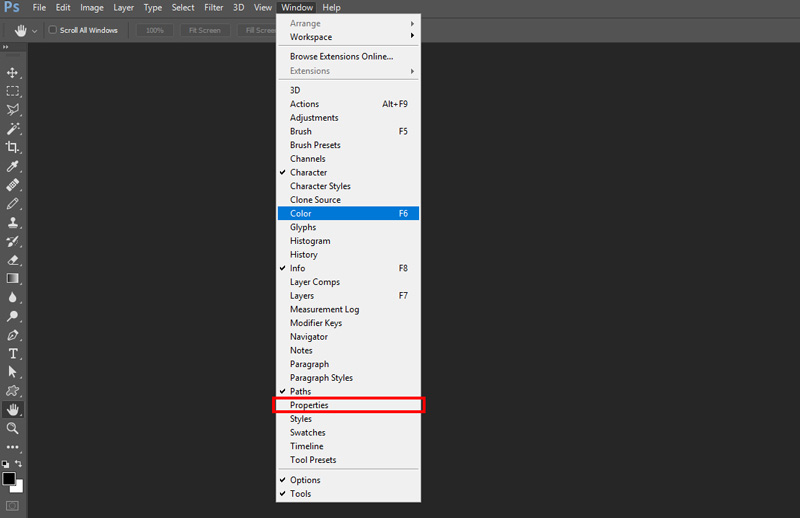 Step 6.
On the right hand, you can go to the
Properties
panel. Under the Quick Action, you can easily find and click on the
Remove Background
button to remove background from this photo.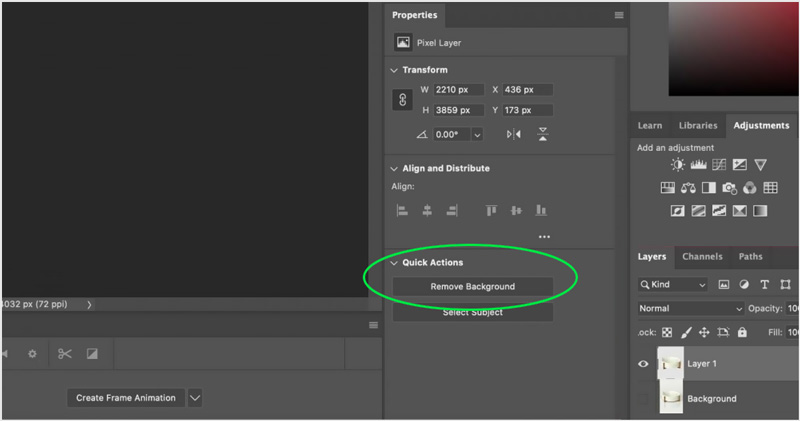 With these operations, you can make the image background transparent in Photoshop. In that case, you can simply export it as a JPG file to change background color to white.
Part 2. How to Free Change Your Photo Background Color Online
To quickly change an image background, you can also rely on some third-party background remover or changer tools. Here we strongly recommend the easy-to-use Free Background Remover Online for you. It can help you change the photo background to white, blue, black, or another color you need. Also, it allows you to replace the image background with a picture.
Step 1:
Open a web browser like IE, Firefox, Chrome, or Safari, and go to this free background eraser site. When you get to the page, you can click on the
Upload Portrait
button to upload your photo. All popular image formats including JPG, JPEG, HEIC, and PNG are supported.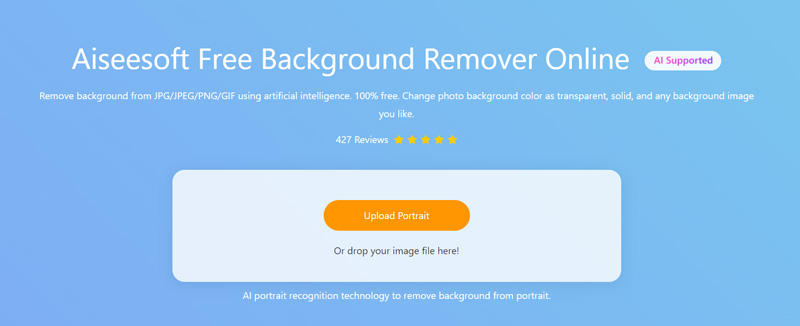 Step 2:
This free online background changing tool gives you the
Keep
and
Erase
ways to edit the image background. You can use either one to select the background. During this step, you can adjust the brush size to accurately select the background region.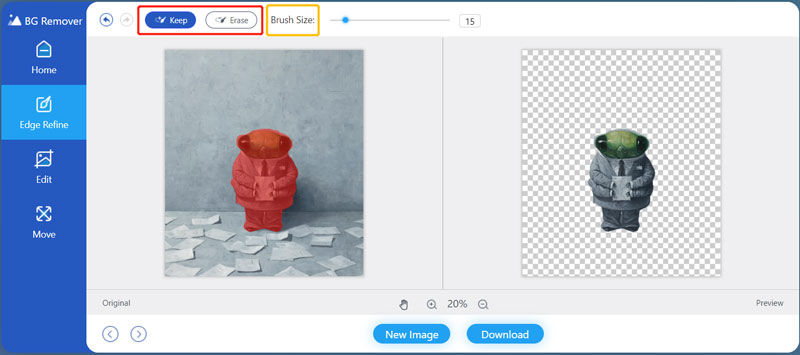 Step 3:
To change the background, you can click on the
Edit
option. Then you are allowed to change the photo background color or replace the background with another picture. Here you can also use its
Crop
feature to resize your image file.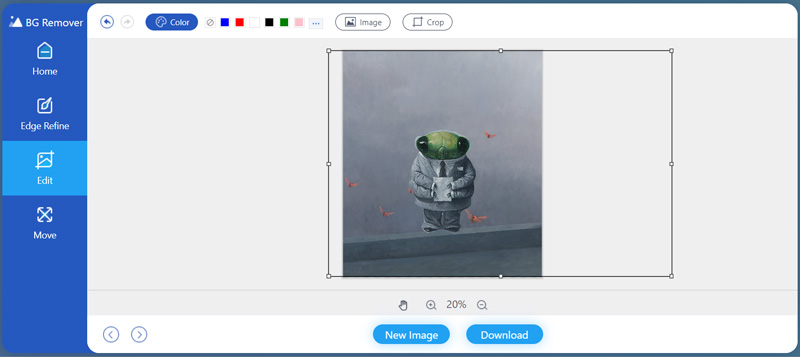 Part 3. FAQs of How to Change Background Color of Photos
1. How to change image background in Photoshop using the Brush tool?
You can easily find and use the Brush tool on the left toolbox in Photoshop. After selecting the background, you can click on the Brush icon, set the Foreground color to white, red, blue, black, or another color you need, and the use fill the background with the color.
2. What are the shortcut keys for filling background color in Photoshop?
If you are using Adobe Photoshop on a Windows 11/10/8/7 PC, you can press the Alt + Backspace keys on your keyboard to fill the select part with Foreground color, and press Ctrl + Backspace to fill with the Background color. On a Mac, you should Option + Delete and Command + Delete keys to fill background color in Photoshop.
3. How to make a photo background black or white on my iPhone?
The built-in photo editor in iOS doesn't offer a feature to directly change photo background to white or black on iPhone. To do that, you should go to the App Store and find a photo background changer app. Also, you can open the Safari app, go to an online background editing site like the recommended Free Background Remover Online to change the background color of a photo.
Conclusion
This post mainly talked about how to change background color in Photoshop. You can get a detailed guide to remove or change an image background using Photoshop. Moreover, a great free online background editor is introduced to help you free change your photo background color.

Leave your comment and join our discussion