Make White Background Transparent on Different Devices for Free
When you are not pleased with the white (or other solid colors) background on your image, using a qualified background eraser will be the best solution to help you remove the white background. But now you may wonder what can be defined as a qualified background eraser.
Whether the removing process is automated or manual, a good background remover should erase the unwanted area to transparency without damaging the foreground object. The Background Eraser tool from Photoshop is a great example.
So today, we are going to show you how to remove the white background with Photoshop. And we will also offer you some other tools and techniques to cope with various needs on different devices.
Part 1. Remove White Background Online for Free
Looking for a free background remover? Then you must try Aiseesoft Free Background Remover Online. It is the easiest background eraser tool designed for web browsers, which means it can run on almost every operating system including Windows, Mac, and Linux. Unlike many other online removers, it is completely free to use and has no hidden fee, no ads, and no limits.
Thanks to the advanced AI recognition technology, Aiseesoft Free Background Remover Online can recognize the edges of the main object, remove the unwanted background, and produce a modified image in seconds automatically.
Once the erasing process is done, you can change the background to a different color or image at ease. If the size or position of the foreground object doesn't fit, you can resize, crop, rotate, mirror, and move it as you like and preview the instant effect.
Here are the steps to operate this online erasing tool.
Step 1.
Open this webpage:
Aiseesoft Free Background Remover Online
. You will see 2 background removing modes. One is for portrait, and the other is for objects. For example, to remove the white background from a cat photo, please click on the
Upload Photo
button and select the photo you want to change.
Step 2.
This background remover will automatically erase the white background and keep the adorable cat for you. Because this photo is with a solid-color background, you can get a perfect picture without manual adjustment. But if you want, you can refine the edge of the foreground object with the
Reserved
and
Erased
tools.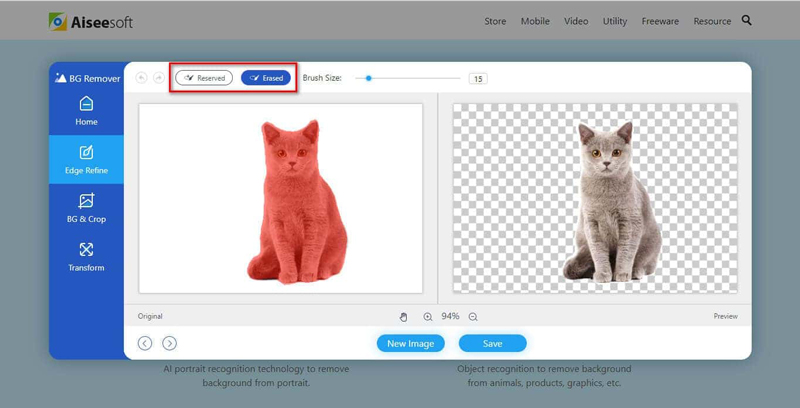 Step 3.
Zoom in on the unnecessary portion of the photograph and use the eraser to remove it. Be careful not to erase the cat's paw. When you finish adjusting, please
Save
the refined photo to your computer. You will get a
PNG
image file by default.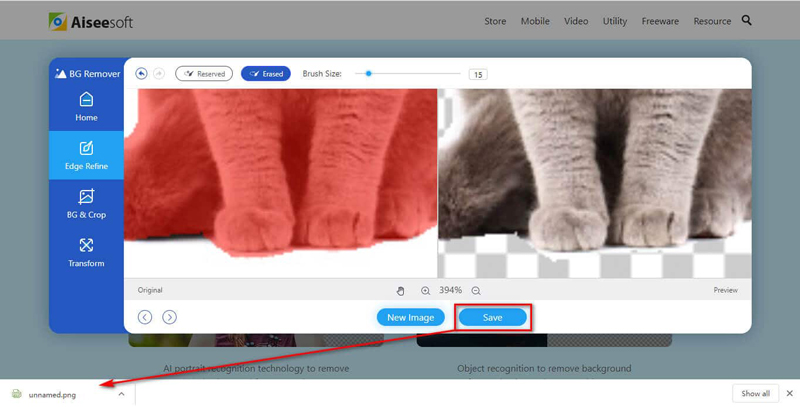 Part 2. Make White Background Transparent in Photoshop
It goes without saying that you are familiar with Photoshop, at least the name. With no doubt, it is the most professional photo editing software. Besides making the background transparent, you can also utilize this program to create/enhance pictures, refine photos, remove watermarks, etc. Using a magic eraser, you can easily delete the white background from the original image. Please see follow.
Step 1.
Open the image in Adobe Photoshop. Double-click the image and click
OK
to unlock the layer.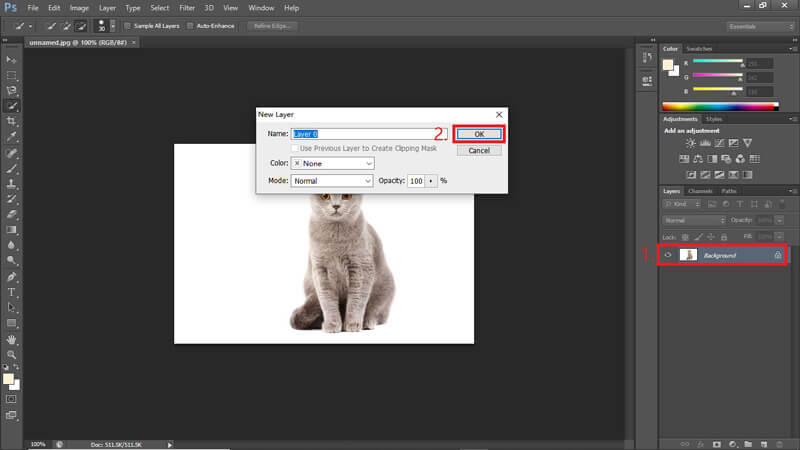 Step 2.
Right-click the
Eraser
icon in the left toolbar and select
Magic Eraser Tool
. Then adjust the preferences above. Make the
Tolerance
value 30, enable
Anti-alias
, and change the
Opacity
to 100%.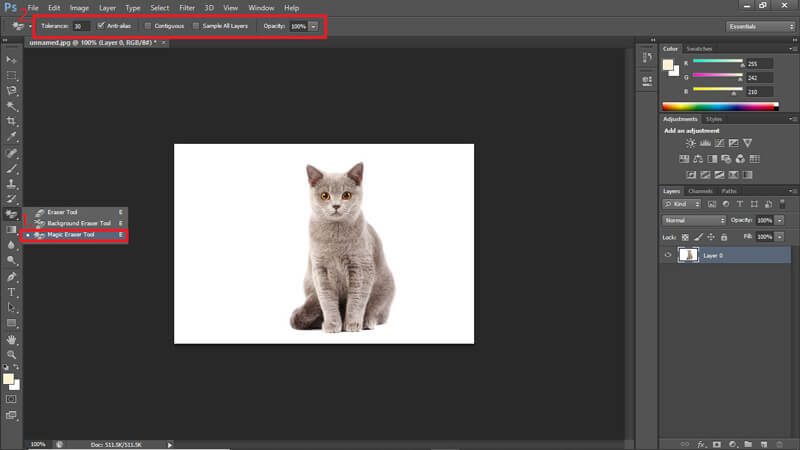 Step 3.
Move the eraser to the white background area. Click once. See? The background has been removed.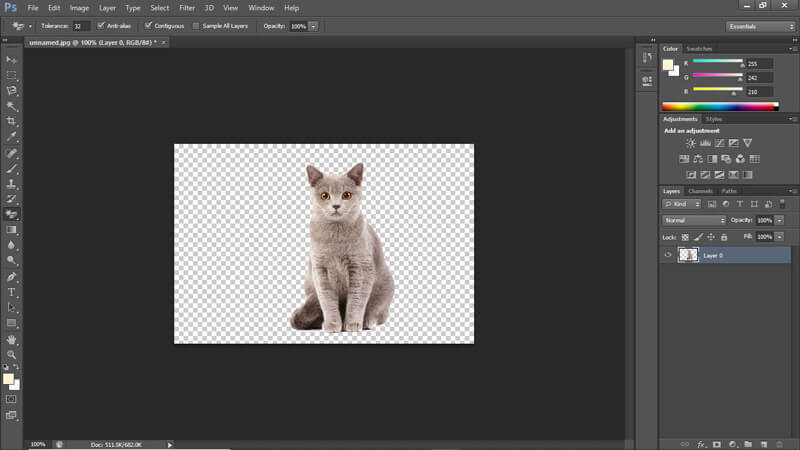 Step 4.
To save the image to your computer, please go to
File
>
Save As
and export a
PNG
file.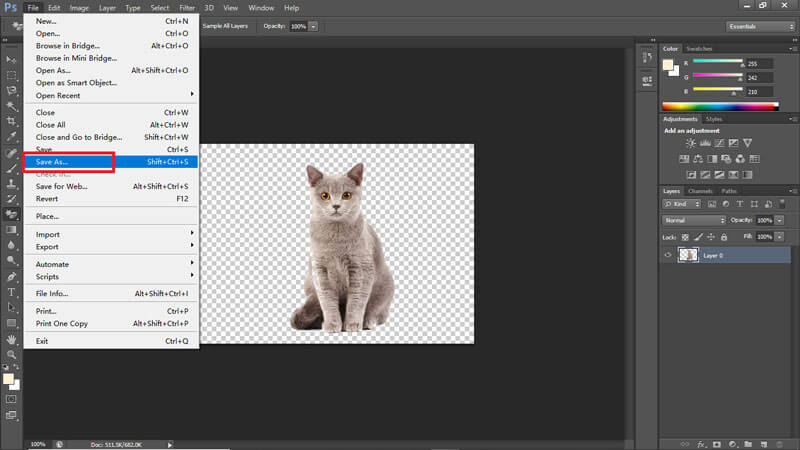 Part 3. Erase White Background on iPhone/Android
If you want to replace the white background with transparency on your phone, you can give Apowersoft BG Remover a try. It is compatible with both iOS and Android systems. Like Aiseesoft Free Background Remover Online, it supports various image formats and can remove the background automatically.
What's more, it offers paid users a pro version to access other advanced features like editing. However, we don't recommend you to purchase the license. Because you can have a better editing experience on Photoshop after transferring the picture from phone to computer.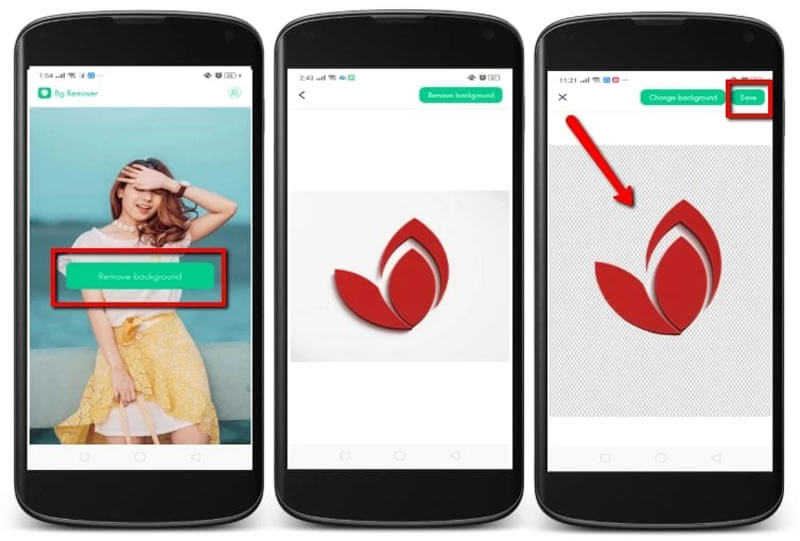 Step 1.
Download this app from Google Play Store or App Store.
Step 2.
Open the remover on your phone. Tap the
Remove background
button and upload the image that carries a white background.
Step 3.
After uploading, you need to wait until the removing process is over. This app will automatically keep the foreground object and cut out the unwanted part.
Step 4.
If the changed image is good to go, tap
Save
in the upper right corner to download the image to your phone.
Part 4. FAQs of Removing White Background
1. Can I remove white background from a logo?
Yes, you can. With the help of Photoshop or Aiseesoft Free Background Remover Online, you can easily remove the logo background and make it transparent.
2. How to remove white background from an image with GIMP?
Open the image with GIMP. Go to Layer > Transparency, and select Add Alpha Channel. After adding transparency to your image, choose Tools > Selection Tools > Intelligent Scissors and click nodes to surround the foreground object. Press Enter when you finish adding nodes. Invert the selection and click Delete to remove the background.
3. How do I erase the white background in Illustrator?
Launch Adobe Illustrator. Open the file you want to adjust. Go to View and Show Transparency Grid. Then find the Window menu and select Image Trace. Now create a trace with following settings: change Preset to default setting, choose Tracing Result from View, adjust Mode to Color, make Palette a Full Tone, alter Advanced to Expand, and then change Method to Abutting. After that, you can select Preview to make sure the image background is successfully removed.
Conclusion
So far, you have learned 3 ways to remove white background from the image. Among these methods/tools, Aiseesoft Free Background Remover Online can be used on both Mac and Windows PC without installing any program. Photoshop contains more features. But notably, the free trial period for Adobe is one month. Apart from the removers we have mentioned above, you can also try PowerPoint, Word, Paint, LunaPic, etc. to remove the white background.
Leave us a message if you have any suggestions or comments.

Leave your comment and join our discussion