Part 1. 3 Ways to Convert Image to BMP
All the converters added here are carefully inspected to see if they work in converting the file into a BMP extension without a problem. Since all of these are web converters, you will need a strong internet connection and a web browser on your device to use them. Select which of these three fits your needs in converting image files into a BMP format.
Convertio
Convertio is a typical use to convert images to BMP on the web. It has one of the unique ways of converting files with its features and intuitiveness. Though you aren't experienced in converting files, you can use this software to turn almost anything, images, videos, documents, text, etc., into a new format. Though it is as effective as a converter, there are limitations to file size, so if you want to remove these limitations, you will need to purchase the highest tier this app offers. Here are the steps on how to use this app.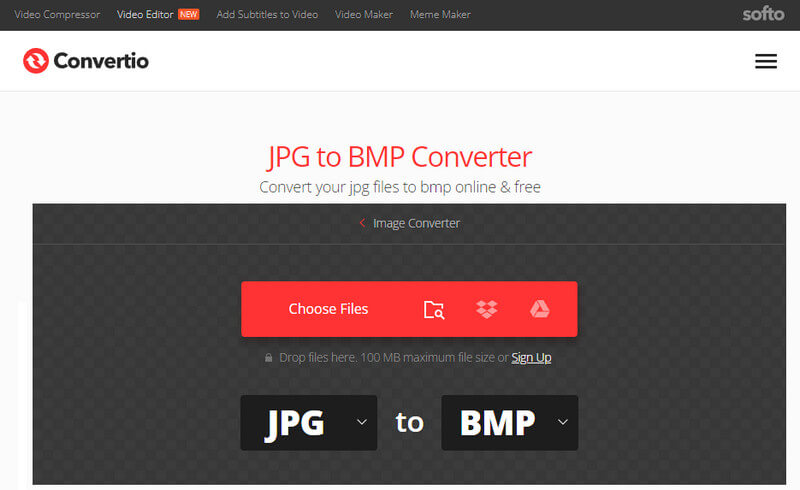 Steps on How to Use Convertio:
Step 1:
Launch the web converter by visiting its official web page.
Step 2:
Press Choose File and upload the images you want to convert into a BMP.
Step 3:
Hit the drop-down button and choose BMP.
Step 4:
Next
, click
Convert
, then
Download
to save the final output.
CloudConvert
CloudConvert is a popular file conversion solution you can access on the web that can merely convert 200+ videos, audio, images, docs, archive, spreadsheets, and more into a standard format. With it, you can convert BMP to PDF when it is needed. Due to its offers, many users became fond of this app's abilities. This app has a simple interface that makes it intuitive for beginners who need to convert. In addition to its converting process, you can also use this to learn how to edit BMP images by tweaking its advanced options. So, if this tool is what you prefer the most, then follow the indicated steps below.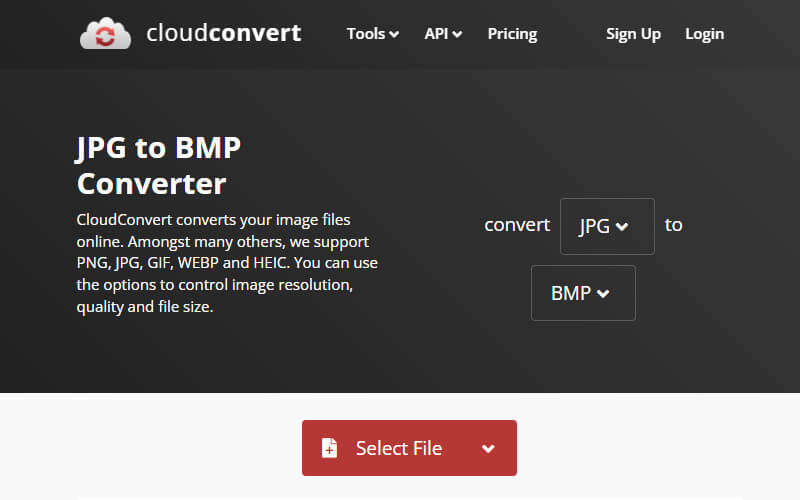 Steps on How to Use CloudConvert:
Step 1:
Access the tool by searching its main domain on the web.
Step 2:
Press Select File, and locate the image you want to convert on your local drive.
Step 3:
After uploading the image, choose the
BMP
once you click the
drop-down
button.
Step 4:
To start the image conversion, press
Convert
.
Zamzar
Lastly, Zamzar is the most commonly used to change the image to BMP. It became most commonly used because you will have your desired format for your file after three processes. Same as the other converters, you can change more files here other than images. Though the converter supports batch conversion, it is still limited to processing five images at max for free. You will need to acquire a plan to do more with this application. So, if this app is your solution, follow the steps here.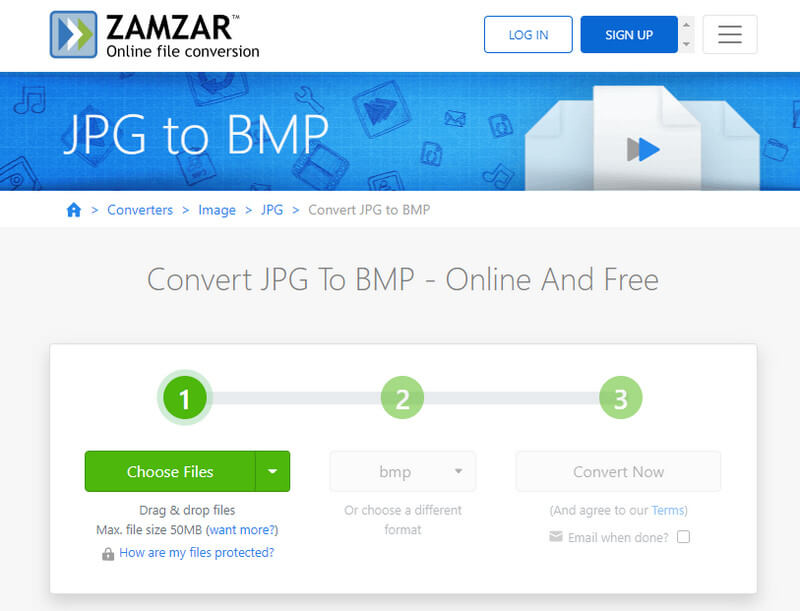 Steps on How to Use Zamzar:
Step 1:
Using your browser, search the official webpage of this converter.
Step 2:
On the web interface, click
Choose Files
and import the images you want to convert here.
Step 3:
Press
Convert To
, and choose the desired output you want the image to be. For this time, choose BMP.
Step 4:
When you choose the desired format, click
Convert Now
and wait several minutes for the app to convert your images.
Part 2. Best BMP to Popular Image Format Converter
Aiseesoft Free Image Converter Online is our recommended app to convert BMP into a new format without quality loss. Even though BMP is widely used, its file size is larger than JPEG, PNG, and GIF. So, if you want to keep the file size smaller with the same quality as the BMP produces, you better start converting images with this app. With its speed and batch conversion, there seems to be nothing stopping you from converting multiple BMPs into a new format. Want to know how this app works? If so, follow the steps included below.
Steps on How to Use Aiseesoft Free Image Converter Online:
Step 1:
Go to its official webpage by searching the Aiseesoft official website, click Free Tool, and look for Free Image Converter Online.
Step 2:
First, select the output format you want to achieve; you can select JPG, PNG, or GIF as a newer extension.
Step 3:
Next, click
Add Images
to upload the BMPs you want to convert into a newer format. Search the file on the folder that will appear on your screen, click it, and press
Open
.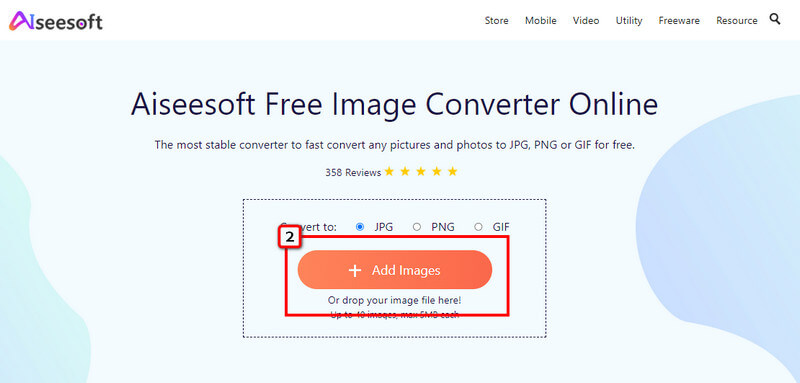 Step 4:
Wait for the application to process the images you upload; on the result, click
Download All
to save the images you convert here.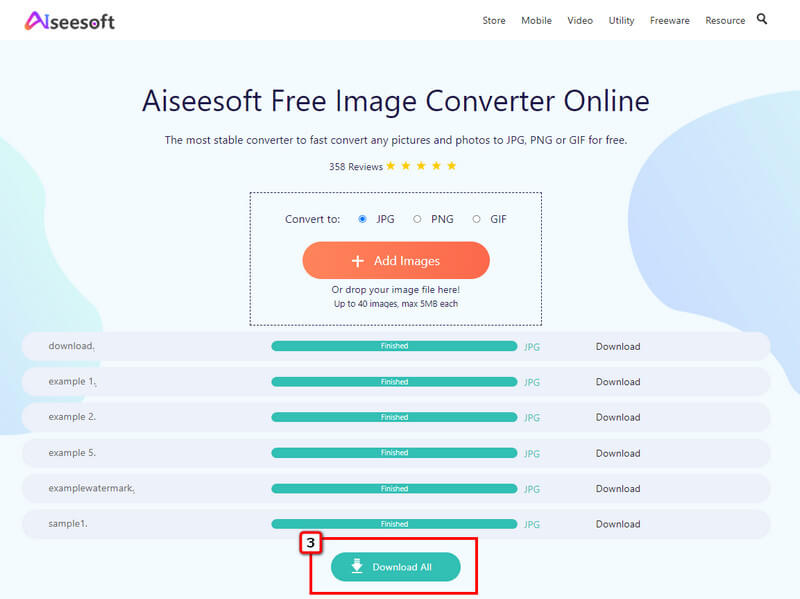 Part 3. FAQs on How to Convert Image to BMP
Is there any way to reduce the BMP size?
Well, you can use a BMP resizer to reduce the file size of it so that you can store more BMP files in your storage. Since BMP is an uncompressed file, there are times that you will lose some data when you compress it, so it is better to search for the best way to resize BMP without reducing quality.
Where can I convert the image to BMP?
Since the included app here is web-based, you can start using them to convert images into BMP using Safari or other third-party browsers on your Mac.
Is BMP a raster format?
Yes, BMP is a raster image format, like PNG and JPEG. However, it doesn't support transparency, like PNG, and is not used for photography like JPEG. Yet it fits best for displaying high-quality images for storing printable photos on Windows.
Conclusion
In converting images to BMP, you wouldn't need to download a converter on your desktop. Instead, use the online converters on the web that we mentioned in this article. Though they provide exporting images as BMP, their ways and effectiveness in converting a file are different from each other. Sometimes, users look for a way to convert BMP into a new standard format, such as JPG, PNG, and GIF. You can have the final output as mentioned by using the tools included in part 2.

Leave your comment and join our discussion